5 Things That the Hyundai Veloster N Does Better Than a Civic Type R
The Hyundai Veloster has always been an oddball. It is a coupe on one hand and a two door hatch on the other. It has been billed as a hot hatch, but there was nothing "hot" about it. Hyundai isn't usually associated with the word "performance car," but now, that all changes with the 2019 Veloster N.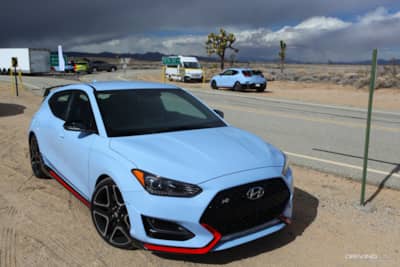 The N isn't just a Veloster with N badges, bigger wheels, red brake calipers and more aggressive bumpers. The N gets 128 more horsepower than the base Veloster, bringing power up to 275hp out of a turbocharged 2.0L four-cylinder. To back up the added power, the N Performance Package gets 13-inch brakes, an electronic LSD, a six-speed manual with rev matching, additional chassis stiffening and tunable performance settings.
With all the focus on the driving experience, it's only natural to compare it to the Honda Civic Type R, another performance-oriented hatchback that features two more doors and 31 more horsepower than the Veloster N. That said, more doesn't necessarily mean better. Here are five things that the Hyundai Veloster N does better than the Honda Civic Type R. 
1. Sound
The best engines don't just go fast; they sound great while doing it. This is one area where the Veloster N excels, giving off a very satisfying snap, crackle and pop when you lift off the accelerator. In comparison, the CTR's turbo VTEC motor doesn't have the screaming VTEC crossover of older B-series motors but is still pleasant at high RPMs. The Veloster N makes beautiful music at any RPM.
2. Blending In
The CTR's giant wing, fender flares, vents and bright red seats scream racer. Fortunately, the Veloster N turns the "look at me" styling down a couple of notches, from the CTR's 10 down to a seven.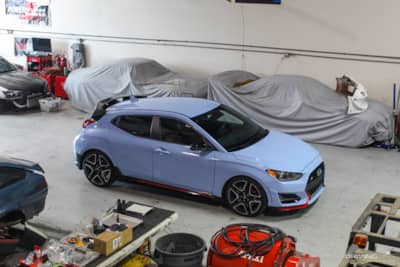 The styling both inside and out is more subtle in general. Red accents, a more subtle rear wing, bigger wheels and bright red brake calipers are telltale signs that this isn't your standard Veloster. Inside, the seats aren't as aggressively bolstered (or loud in color) as the Type R but still supportive in the corners, comfortable on long drives and easier to get in and out of.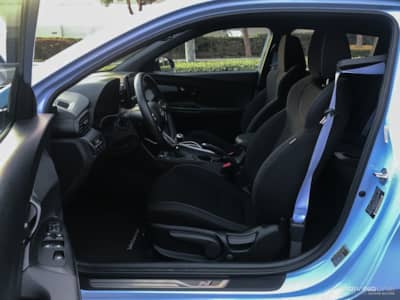 3. Price
The Veloster N has a base price of $27,785. If you want to step up to the Performance Pack with an LSD, 19-inch wheels, bigger brakes, electronically adjustable dampers and an active exhaust, that brings you up to $29,885. Considering what it comes with, the Performance Pack is a bargain. An even bigger bargain is the $5,710 savings over the CTR's $35,595 sticker price—if you can even find one for sticker. That price difference leaves plenty of cash for mods.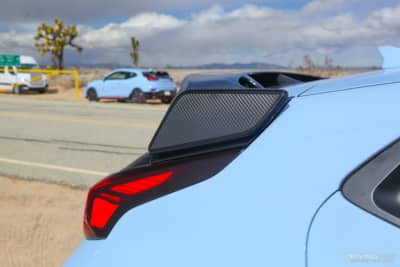 If you're serious about racing, you can even get a turn-key race car from Hyundai Motorsport in Germany, shipped for about $140,000.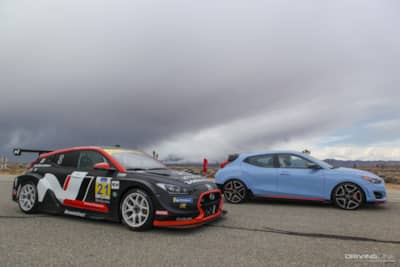 4. More Driving Modes
The CTR offers three driving modes (Sport, Comfort, +R) while the Veloster N offers five (Normal, Eco, Sport, N, N Custom).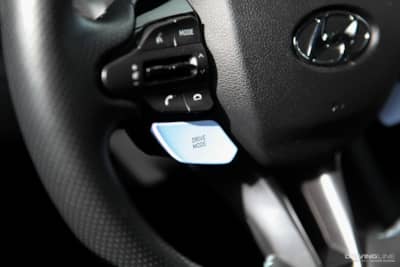 A drive mode button on the left of the steering wheel toggles through Eco, Sport and Normal. I found myself driving in either Eco or N Custom. A checkered flag button on the right takes you to N mode. N opens up the exhaust, stiffens the suspension and makes the steering weight heavier. The N Custom mode allows the driver to tune their own blend of throttle response, damping, steering feel, rev matching, stability control and exhaust note. You can dial it up for a twisty road then dial it down for the drive home. In Normal or Eco modes the exhaust no longer pops when lifting off the gas—perfect for not annoying your neighbors upon start up or quietly sneaking past cops, which leads me to the N's next benefit.
5. Easier to Daily Drive
The Veloster N offers more bottom end torque than the CTR. In the N, peak torque arrives around 1,400-4,700 RPM. Peak torque in the CTR comes in at 2,500–4,500 RPM. Peak torque from a lower RPM, coupled with a softer clutch than the CTR, makes the N easier to drive on the streets and in traffic—where most drivers of either car will be spending most of their time.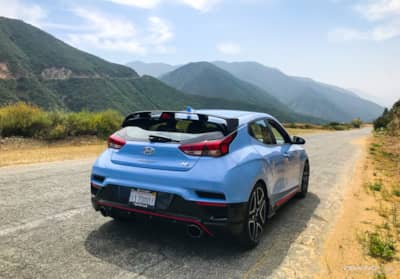 The CTR begs to be revved high, which might not be fun if your commute is mostly stop-and-go. In the N, you can drive it like a standard Veloster if you want and still have passing power without downshifting.
As mentioned in number four, the active exhaust can switch the exhaust note from Dr. Jekyll to Mr. Hyde. Change the drive mode to be loud on an open, winding road or a quiet tone for driving into a neighborhood. Coupled with the less aggressive styling, I was able to pass police cars without the same stress of driving a Type R or STI.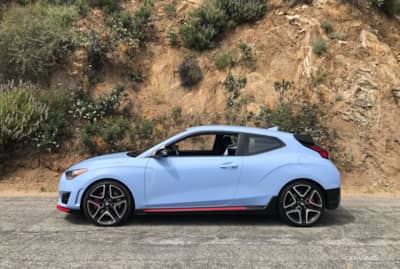 Overall, the Veloster N is a fantastic driver's car. You can tell that the engineers really worked to make it well-balanced. With the Performance Package, the N can be driven off the lot ready for an autocross or track day. When driven hard, the Veloster N never makes you question what the car is doing, regardless of how experienced of a driver you are. Point it at a turn, downshift and the transmission will rev match for you, grip through a corner with no understeer, exit with speed and be ready for the next turn.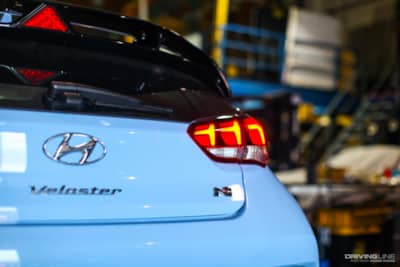 Hyundai seems to have gotten it right in their first attempt at a performance car. They have shown that they've done their research and are serious about performance. They've also found success at the race track in various professional racing series with the N models, as well. Hyundai has finally developed a proper hot hatch, and we can't wait to see what Hyundai to wears an N badge next.
Love hot hatches? Did you see the 2019 Ford Focus ST that won't be coming to America?