6 End-of-World Overland Rides Designed To Outlive the Apocalypse
When the asteroid hits, do you have what it takes to survive sitting in your garage? While a full-size pickup or off-road ready SUV might get you far enough away from civilization to avoid the initial effects of apocalyptic societal collapse, just how long will you be able to sustain yourself—and your family—in an off-the-shelf truck?
Judging by the rides out there aimed at the hardcore survivalist crowd, probably not long enough. Picking up the pieces when disaster strikes means not only clambering over obstacles, but also bringing along food, water, electricity and other gear required to live without a safety net.
Check out these six specialized rigs that are custom-built to offer the latest in end-of-world overland acumen.
1. Global Expedition Vehicles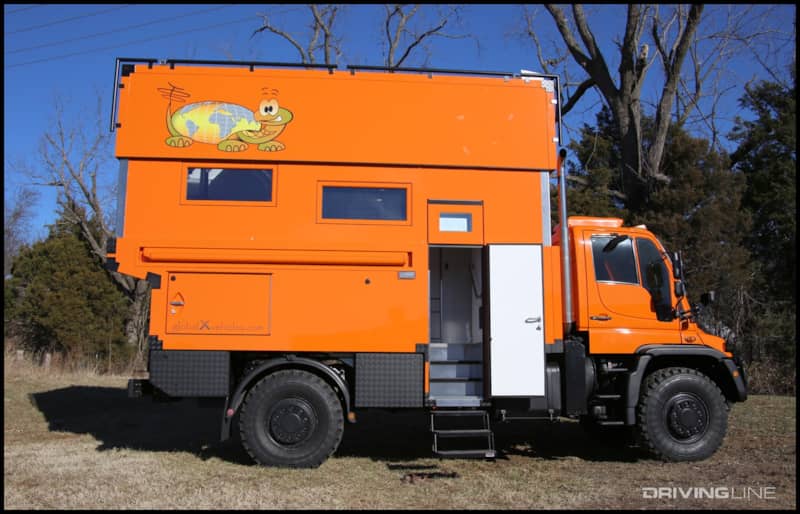 With perhaps the most diverse line-up in the survivalist niche, Global Expedition Vehicles (GVX) provides both commercial truck-based setups as well as pickup-sized options. The Adventure Truck and Turtle sit on a heavy-duty pickup platform and resemble an integrated camper while the Pangea (with lifting roof), Patagonia and Safari Extreme are aimed at 4x4 and 6x6 medium-duty truck designs. Each of these models provide safe and secure sleeping and cooking accommodations backed by all-terrain capability, and if that's not sufficient GVX will of course go full custom and build you the kind of vehicle that can survive an epic tsunami or even a Jurassic Park-style genetic accident.
2. EarthRoamer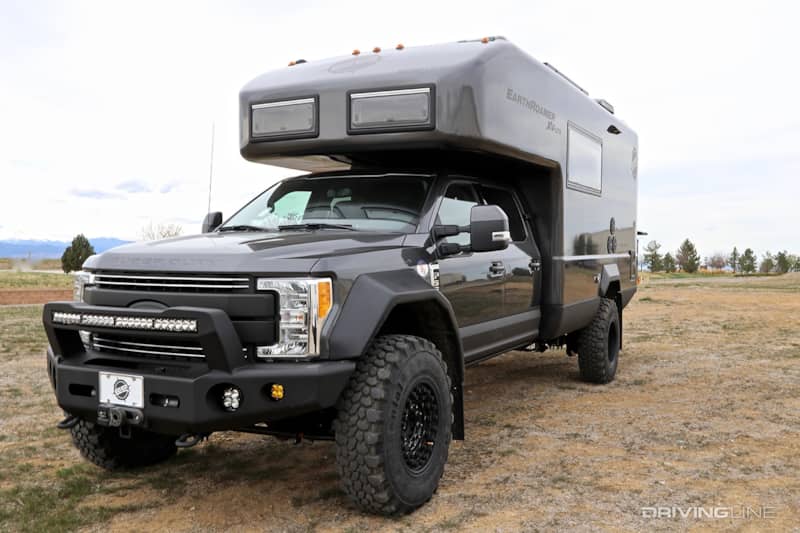 EarthRoamer brings the luxury to the bug-out set with a pair of super-rugged survival rigs. The XV-LTS is the smaller of the two, but this Ford F550-based machine can haul 85 gallons of fresh water and has a range of 900 miles before you need to top-off its diesel tanks. It can also generate 1,320 watts of electricity with its solar array, and charge a massive battery when the skies are filled with the burning embers of once-proud cities. The XV-HD offers much more space to go with its $1.5 million price tag while almost tripling the water storage, doubling energy capacity and resting on a commercial truck chassis.
3. UNICAT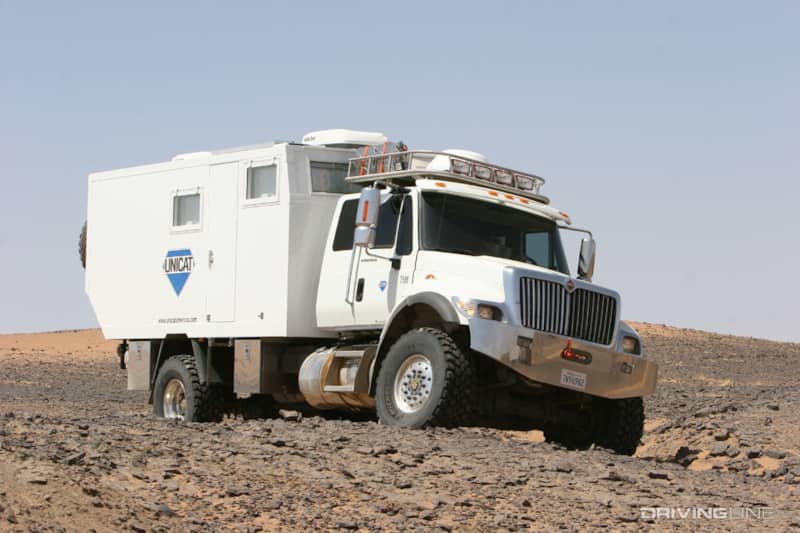 Here's where things start to get a little more serious. UNICAT is known for providing companies around the world with customized off-road vehicles based on the venerable Unimog and MAN all-terrain truck. If asked to choose, most apocalypse survivors want the TerraCross line of vehicles parked in their driveways as the world shatters around them, whether they need to take just their spouse and kids or their entire family into the hills until the heat dies down. With enough power generation capability to light up a small town when it's time to rebuild, built-in water filtration to keep the fallout at bay and four-wheel drive with a locking center differential, the UNICAT TerraCross scoffs in the face of extinction-level events.
4. Mercedes-Benz Zetros 2733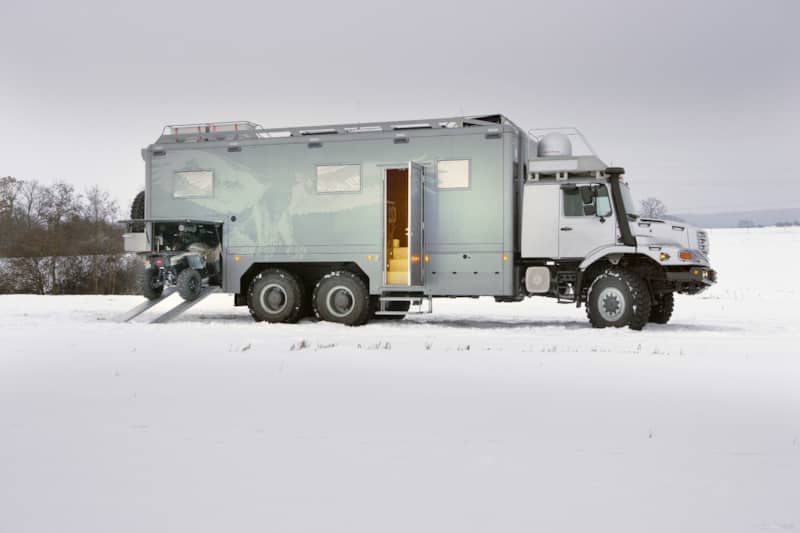 Have you ever wanted a post-apocalypse palace on wheels with a heated marble floor? Mercedes-Benz has just the truck for you: the Zetros 2733.  You know, so you can relive what life was like before the black rain made your hair start falling out in clumps. Three locking differentials, a crawl ratio for the gearbox and an exterior shower for those days when you're willing to risk a bandit attack to get clean round out the list of the Zetros' upscale features.
5. Campa EVS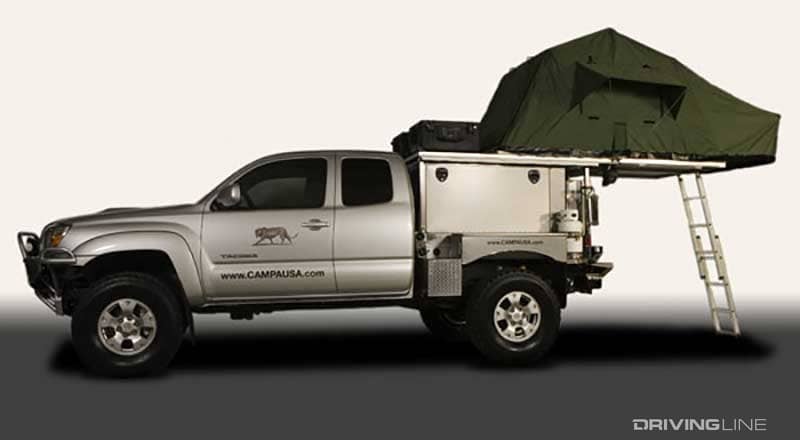 Campa is a company focused on outfitting vehicles for camping, and they offer the discrete bug-out enthusiast a chance to travel lightly. The Campa Expeditionary Vehicle System fits onto the back of a Toyota Tacoma, and delivers an elevated camping platform for your tent, a fully lockable secure storage area in the cargo bed, and room for just the bare necessities required to survive when everyone else has given up. The most affordable setup on this list also happens to be the least likely to attract attention from curious neighbors in the weeks leading up to the end of days.
6. Sportsmobile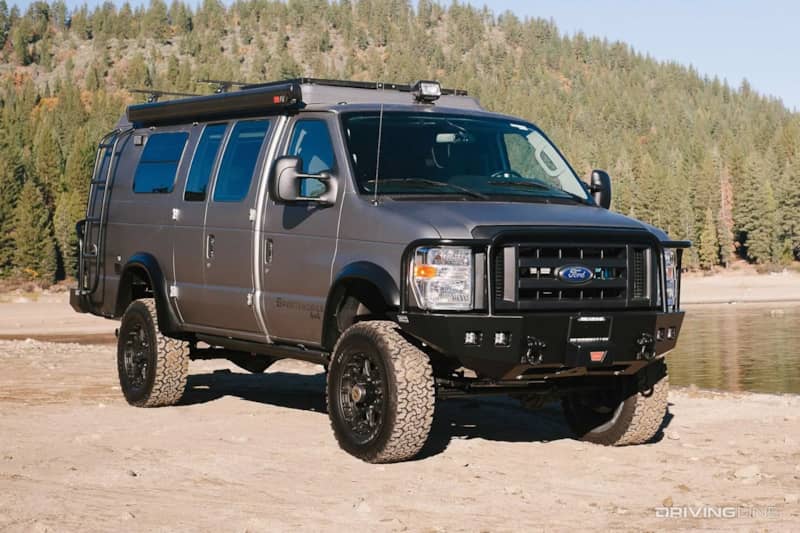 Full-size vans might have fallen out of fashion, but Sportsmobile has approached these cavernous cargo haulers and used them as the basis for its Ultimate Adventure Vehicle package. Whether you're a Ford E-Van, Mercedes-Benz Sprinter or Dodge Promaster fan, Sportsmobile offers you four-wheel drive, better ground clearance, a tough suspension and a live-in interior that is perfect for the couple on the run from the roving gangs of bikers that rule the wastelands.
Check out another outrageous overlander option, the Alpha Van.