Alpha Van: The Ultimate Overland Ford E-350 4x4 [Video]
Long before the overland trend took hold, Ujoint Offroad was building 4x4 vans capable of conquering on- and off-highway adventures. With over ten years of builds under his belt, Ujoint owner Chris Steuber has created hundreds of Ford E-series vans to fit each customer's specific needs. This was one of the reasons we were so excited when we heard about the Chad Christy's Alpha Van build.
Having owned modified E-series vans in the past, Christy knew going into this build exactly what he wanted and needed. The purpose of the van would be to serve as his home on wheels as he takes the roads less traveled from Colorado to Baja California. Seeing how reliability was the number one goal, he also wanted the highly sought after 7.3L diesel engine. Working with Steuber at Ujoint, he was finally able to locate a stock 2003 E-350 fit with the legendary Power Stroke engine.
From there, the crew at Ujoint proceeded to tear the van apart. This included stripping the frame and body completely. Over the next 18 months, the van underwent the most thorough transformation of nearly any build to roll out of the Ujoint shop. With thousands of proven miles already under its belt, the Alpha Van made a pit stop in North Carolina. This is where we caught up with the incredible van and the man who spearheaded the build. While you can learn more in the video above, we're highlighting the details in the feature breakdown below.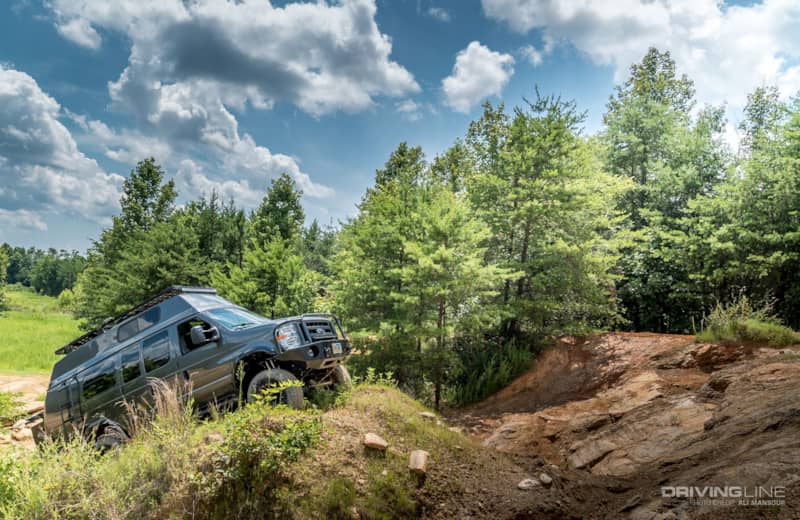 Axles and Suspension
Ujoint Offroad put its name on the map with the company's 4x4 conversion kits for the Ford E-series vans. This leaf-sprung setup utilizes a high-pinion Dana 60 front axle that's stuffed with a Detroit Truetrac and 4.10 gears. A TRE Stage II series axle is fit with Ujoint's RSC upgrade kit, giving it brakes from a Ford F-550 truck and a more easily serviceable free-spin kit from Dynatrac.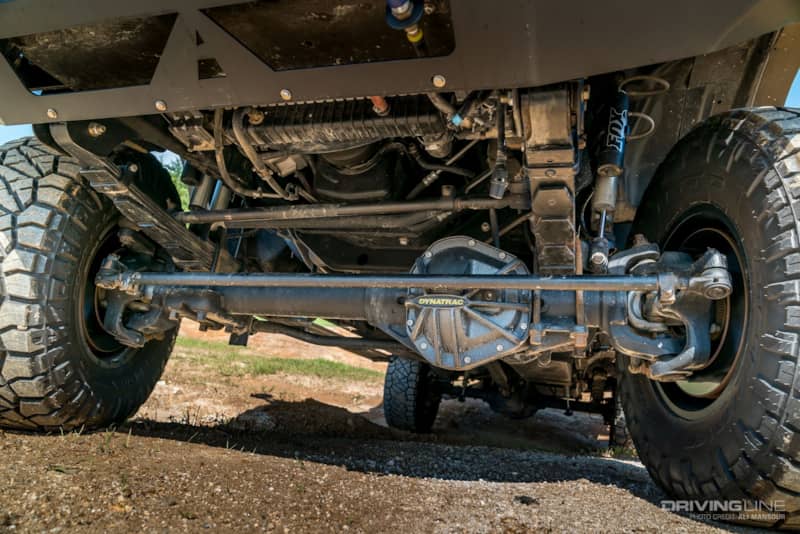 The van rides on custom six-inch lift springs, which are aided by a set of helper air bags out back. Up front, dual Fox 2.0 remote-reservoir shocks help keep the suspension travel under control, while single Fox 2.0s are used out back. Increasing the overall stability of the setup is a front sway bar sourced from a Ford Super Duty truck.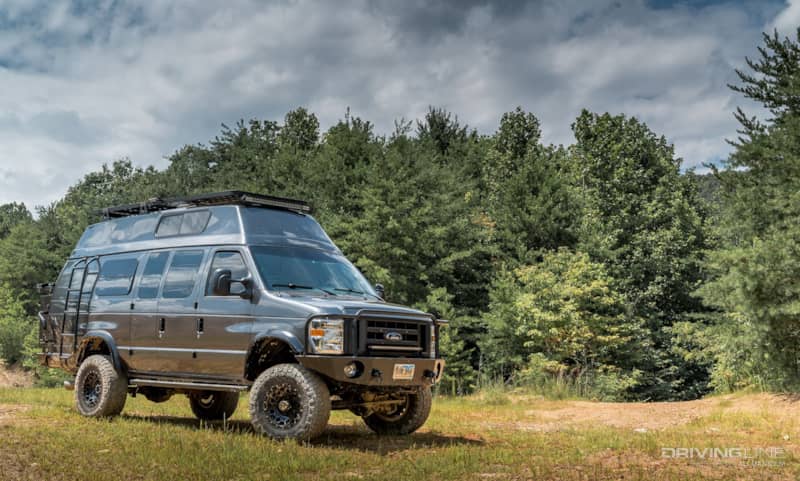 Another critical part of the four-wheel drive conversion is the inclusion of the NV271 transfer case. This particular unit is set up as a manual-shift T-case for improved reliability and feeds a custom set of 1350 CV series drivelines. Tucked neatly next to the powdercoated framerails is a 35½-gallon Ujoint-built fuel cell.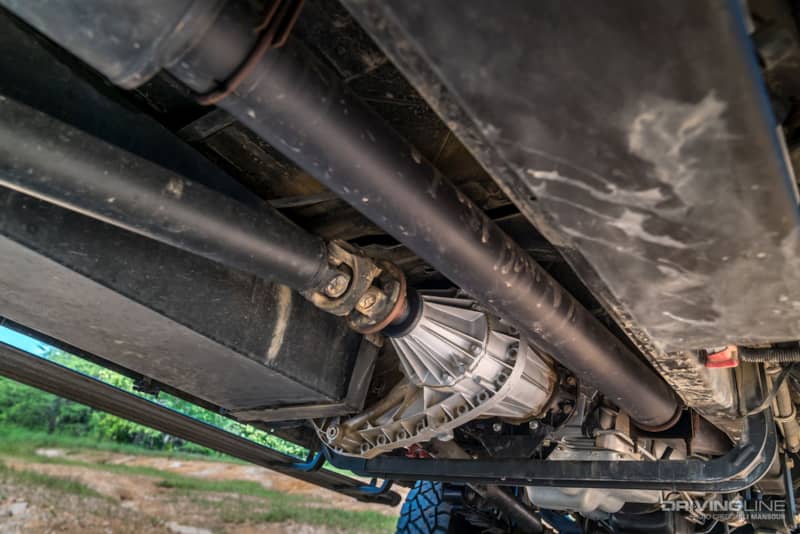 Replacing the stock rear axle is full-float Sterling 10.5-inch unit. To ensure both rear tires would fit for traction when the van left the tarmac, an ARB Air Locker was paired with a fresh 4.10 gearset.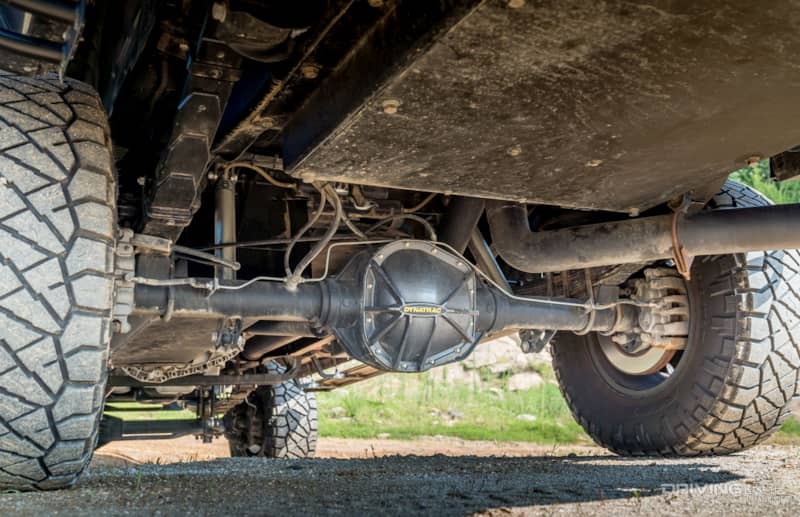 Power Stroke Power
The heart of the build is a 7.3L Power Stroke diesel built by Swamps Diesel in Tennessee. It's backed by a built 4R100 automatic transmission designed to handle the V8's 435hp and 850 lb-ft of torque. To help feed cool air to the turbocharged engine, Ujoint modified a fullsize truck intercooler and mounted it neatly behind the grille.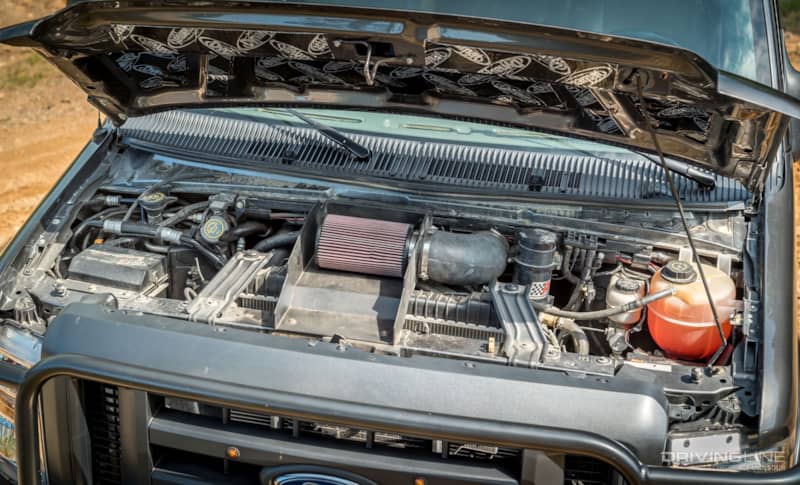 The More Gear the Merrier
To increase the overall interior comfort and storage of the van, a 24-inch fiberglass top from Fiberine was grafted on. Attached to it is a custom rack from Ujoint. This full-length rack houses a series of Rigid LED lights, 200 watts of solar paneling, dimpled-died flooring and a set of Maxtrax.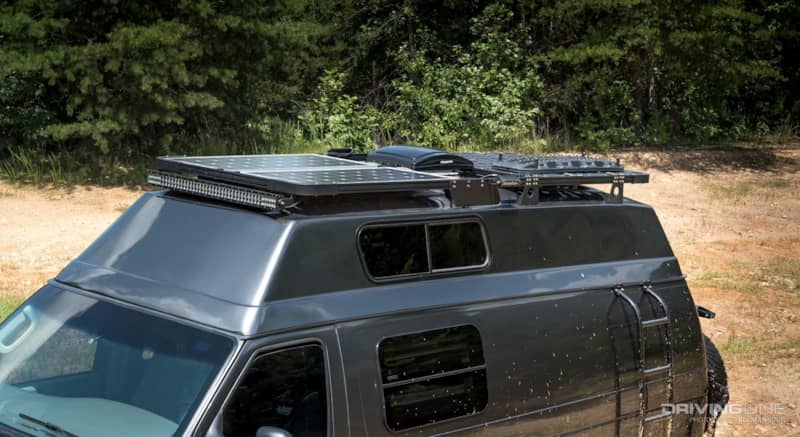 To haul additional gear along with his fullsize spare, a dual swing out tire carrier and bumper system from Aluminess was added. Like the ladders secured to each side, all of the Aluminess products are comprised of lightweight aluminum. Adding a place for his mountain bikes to securely mount is a bike rack from 1Up.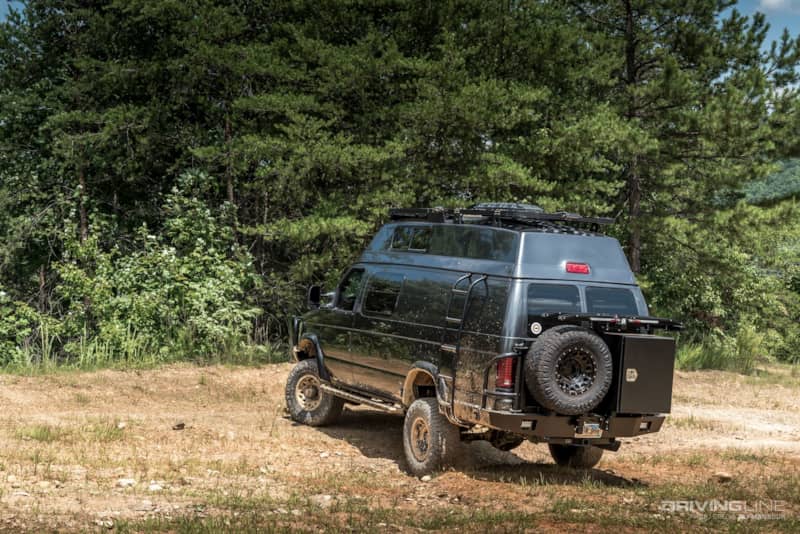 While the added height from Fiberine top and 140-inch wheelbase makes for a sizeable rig, this van is perfectly capable off-road. In case Christy literally runs into trouble, there's a winch front bumper from Aluminess to help out.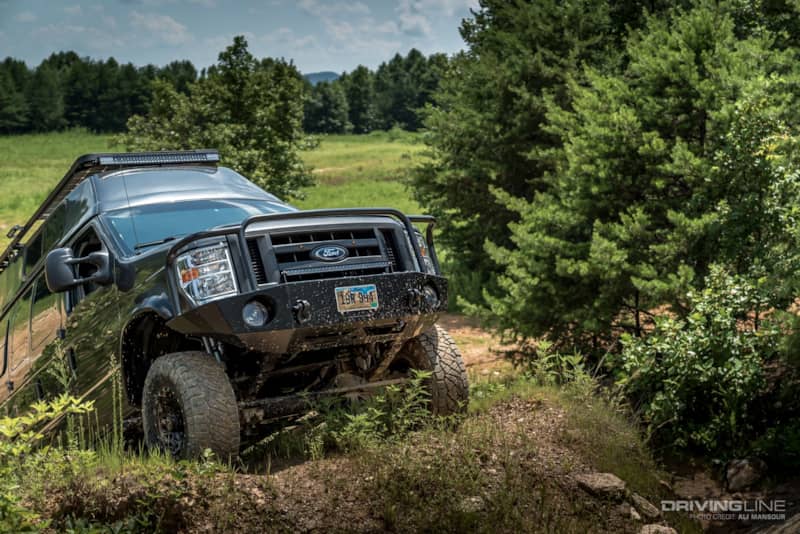 The Right Tires
Tires were a critical part of the equation as long distance travel, often hundreds of miles from service, demands reliable equipment. For this build, a 35x12.50R17 Nitto Ridge Grappler was picked for its ability to handle the off-highway demands, while providing proper on-road handling and comfort. The unique best-of-both-worlds rubber was paired with a set of 17x9 KMC Wheels.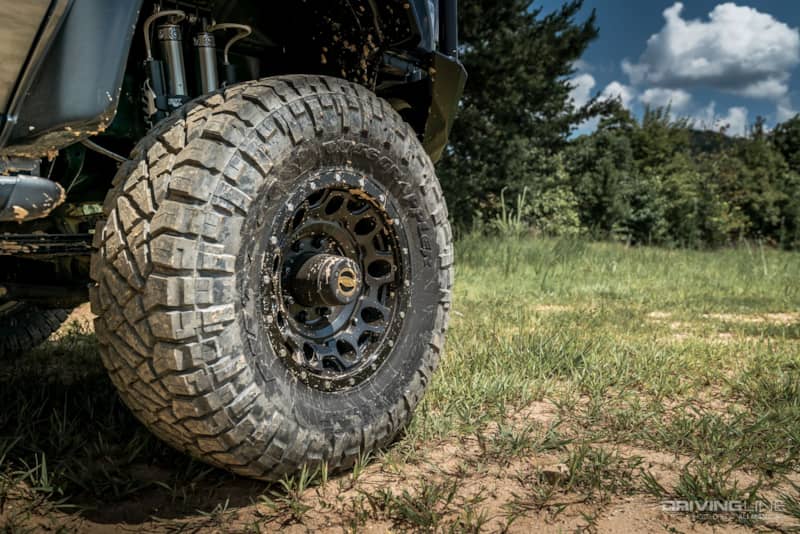 Storage and Comfort Inside
To finish out the interior, the van was shipped to Sportsmobile in Texas. There, the team crafted a setup that would balance the owner's storage and comfort needs.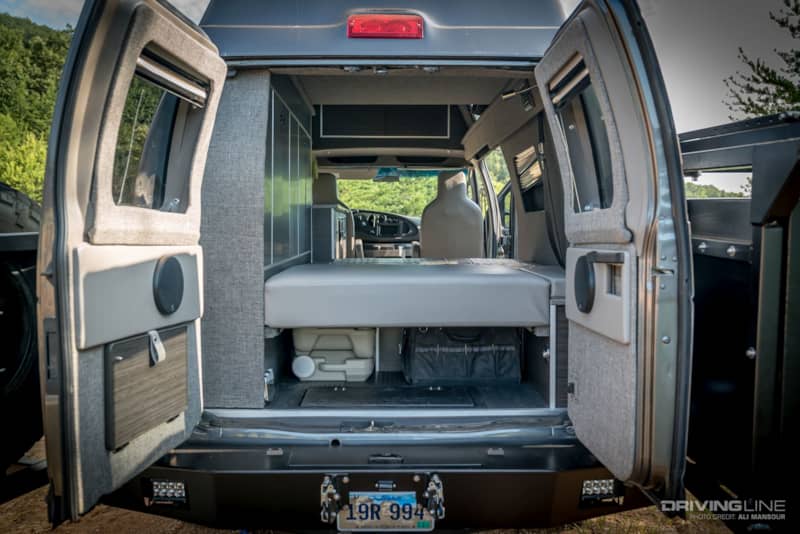 Given this isn't Christy's first expedition-style van, he knew what interior comforts he needed and what bells and whistles he could easily live without. While storage was very high on the priority list, the addition of a fridge, sink and usable counter space makes living off the grid much easier.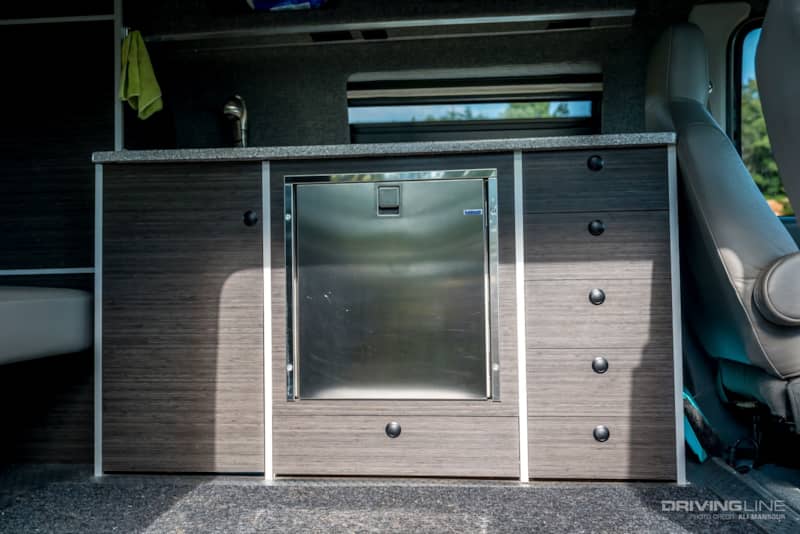 The amount of work that went into the build is astonishing. From switch placement to the cleverly placed storage nooks throughout, the attention to detail of this expedition van is second to none. We like that it's not a generic setup and especially dig the fact that it frequently gets used.
Want to see more incredible overland 4x4s? Be sure to check out these rides!