6 of the Sickest Cars from Big Socal Euro 2019
Born in 2001 as a web-forum-organized, Euro-community response to the popular judged shows of the day (Hot Import Nights, Battle of the Imports … remember those guys?), the Big SoCal Euro was first founded.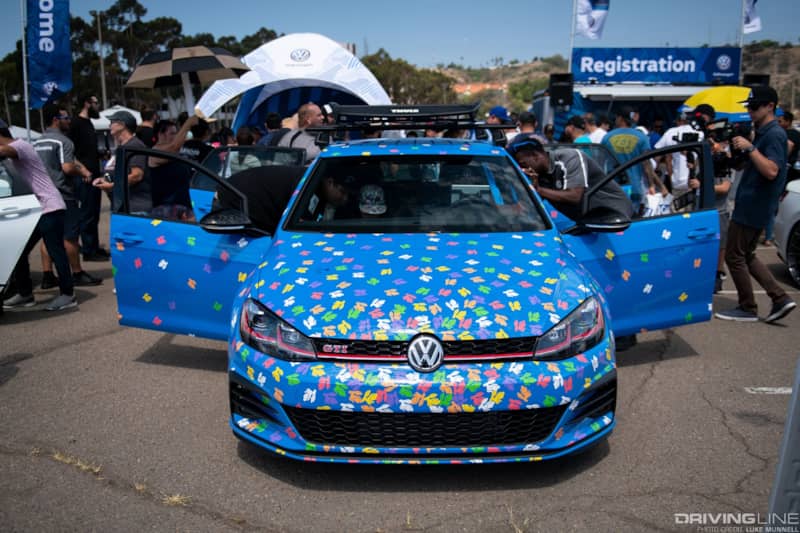 Their first "Big SoCal Euro Gathering" show was held two years later in Anaheim, CA, and by 2007 the group would find their long-term home for the annual bash at Qualcomm Stadium in San Diego (nigh the SDCCU Stadium), which would make 2019 either their 18th or 16th or 12th annual bash. Either way, this crew and this event have become a mainstay in the Euro scenes.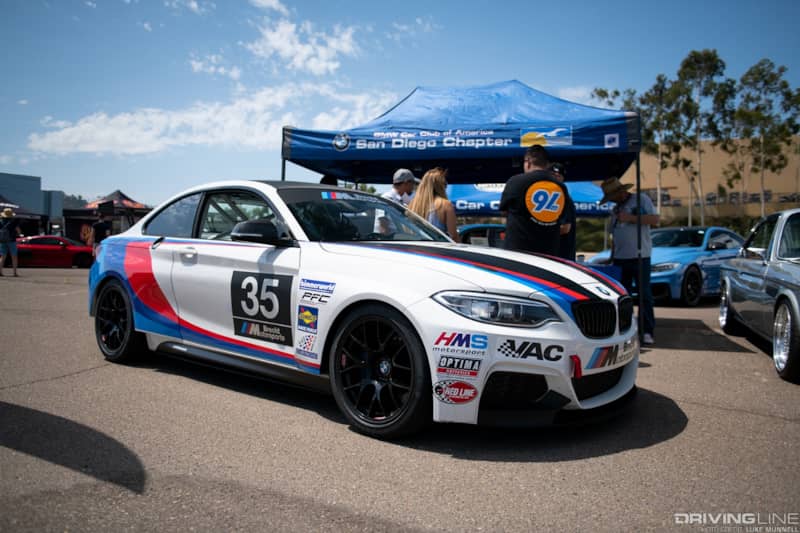 And yet, somehow in my 16 years working in enthusiast automotive, this is the first I've attended or even heard of the show. Crazy, right?! But in all fairness, I've never really been into the Euro scene, until I bought a used BMW and had to become familiar with it just to keep it running.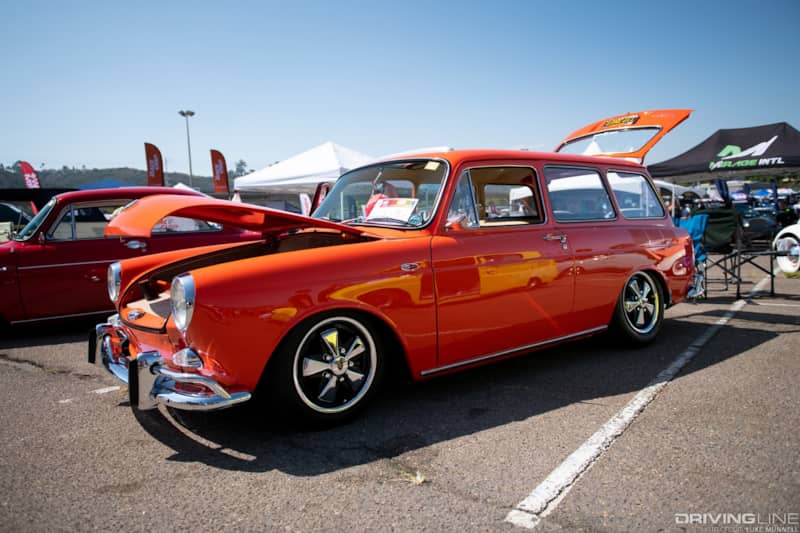 Whatever the reason, I'm steadily warming up to the Old World's greatest, and this year's Big SoCal Euro was an awesome first for me. Here's some of what I liked best:
1. Dashing Dauphine
Justin Fon Cashmore's Renault Dauphine was probably my favorite car of the show.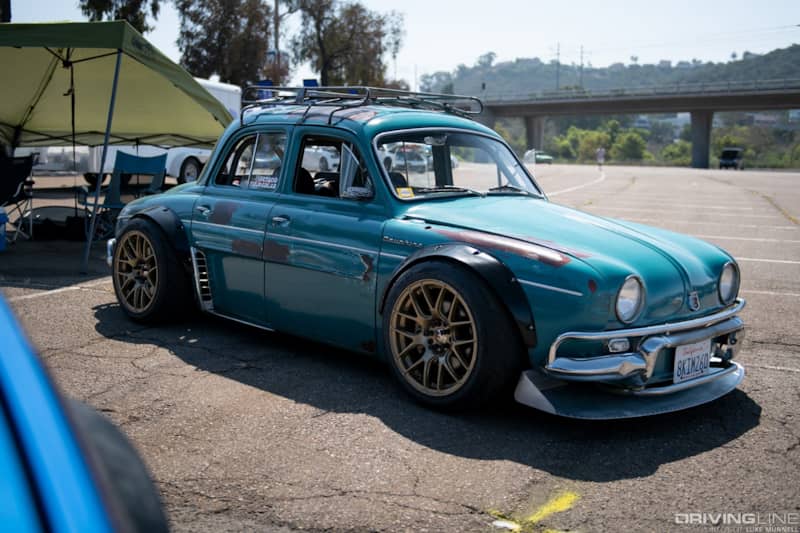 A short-lived nameplate, the Dauphine was manufactured between 1956 and 1967, and took one form: a pinty "three-box" rear-engined sedan.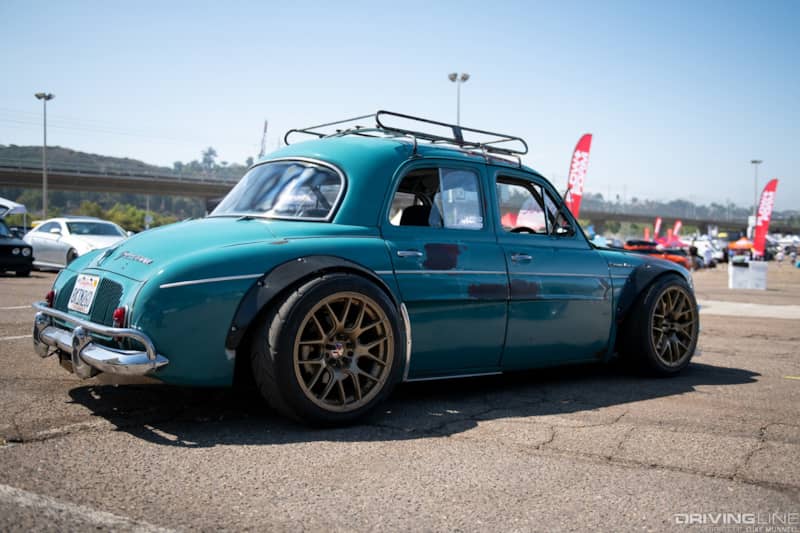 Its characteristically '60s lines make it an already stylish car on its own. Slam it and add a plus-sized set of lightweight racing wheels under bolt-on fenders, and it begins to look downright sinister.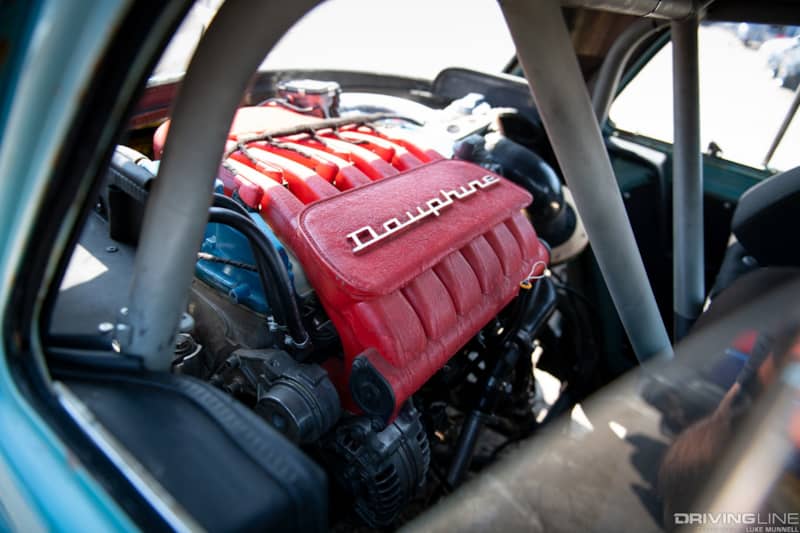 But for power to match that stance, you'll have to get creative, like Justin did. His solution: yank the car's Big Wheels-esque factory 845cc inline-four engine and three-speed trans, and replace it with a monstrous 24-valve, 2.8L VW VR6 staggered six-cylinder engine, and six-speed manual.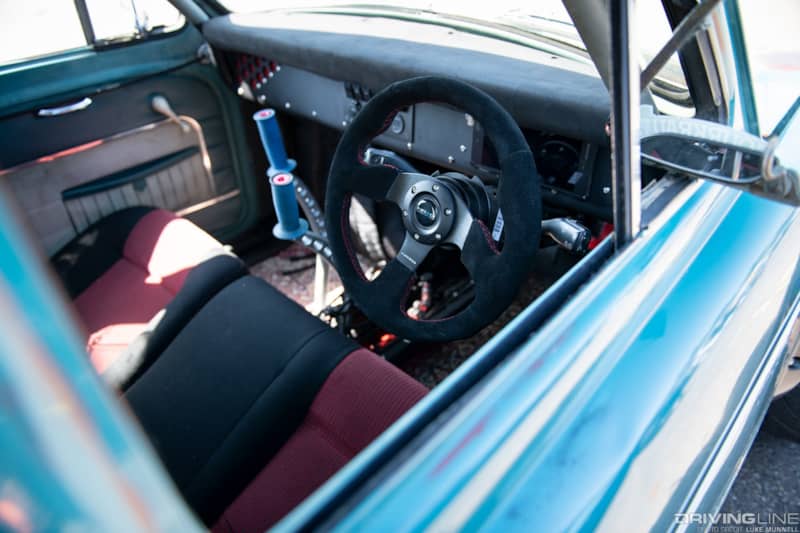 Add a rear roll bar (probably more for structural support than anything), some humble interior appointments, and hit the open road. Pre-1974 construction means CARB can shove off, and modern fuel-injection and engine management make this unknown gem more reliable—and much faster—than it's ever been.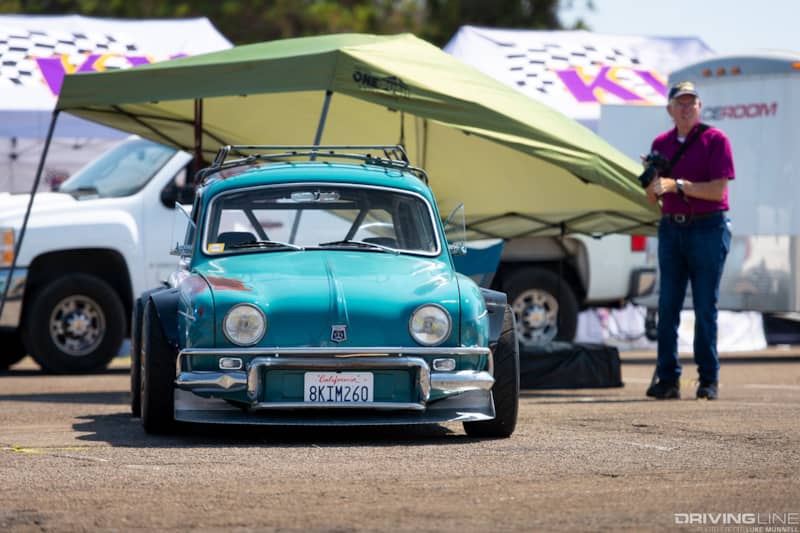 2. World's Craziest VW Golf
Even more radical was Steven Berchtold's front/mid-engine, turbocharged, LS V8-swapped, RWD, VW Golf R32 on Nitto NT01s, which proved the age-old ethos that while not every show car can be a track car, every strong track car does make a great show car.
The high-level specs are a lot to process, but here's the gist of it. Turbo LS V8 = loads of power and torque, generous aftermarket support and big reliability.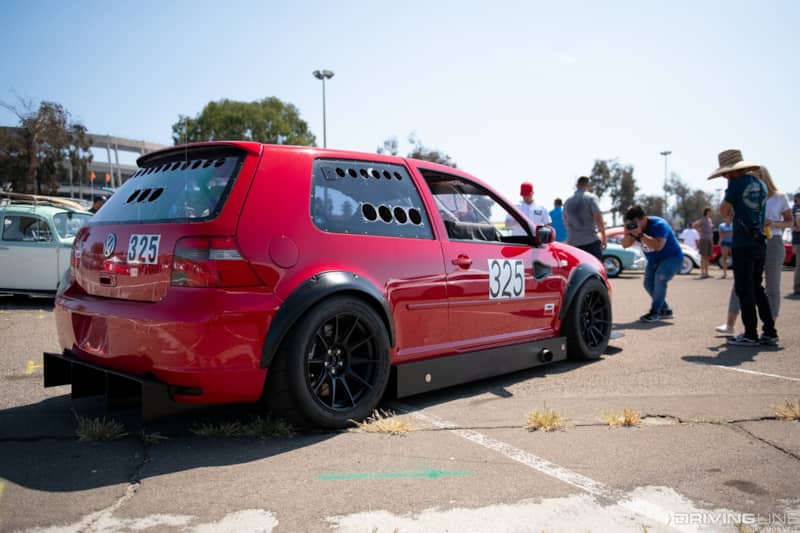 Front/mid-engine placement = 50/50 weight distribution (which also places Steven's driving seat in roughly the rear seats' stock location), and R32 = performance-designed chassis, and easier conversion to rear-wheel-drive.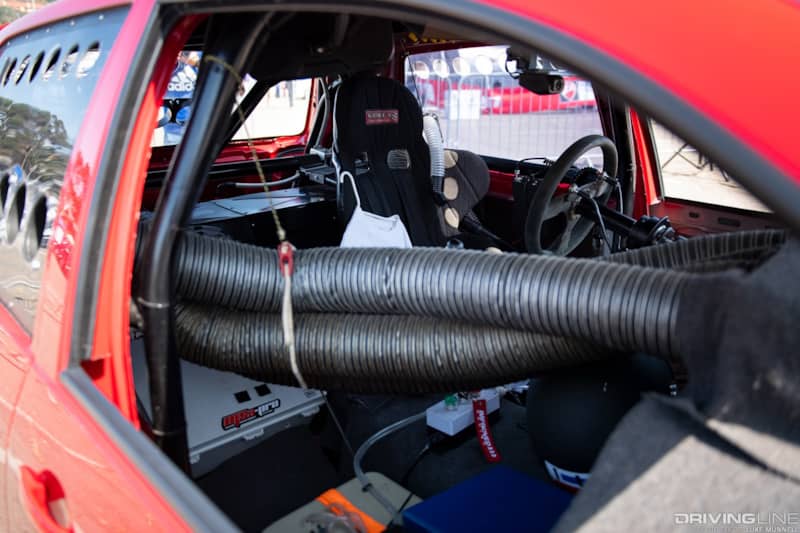 Add lots of aero and airflow management for cooling engine and driver, ultra-sticky Nitto NT01 rubber, one of the most venerable suspensions in the game, and lots of safety gear and you have a machine that absolutely cleans house at Speed Ventures track days, with an eye set toward possible professional time-attack competition.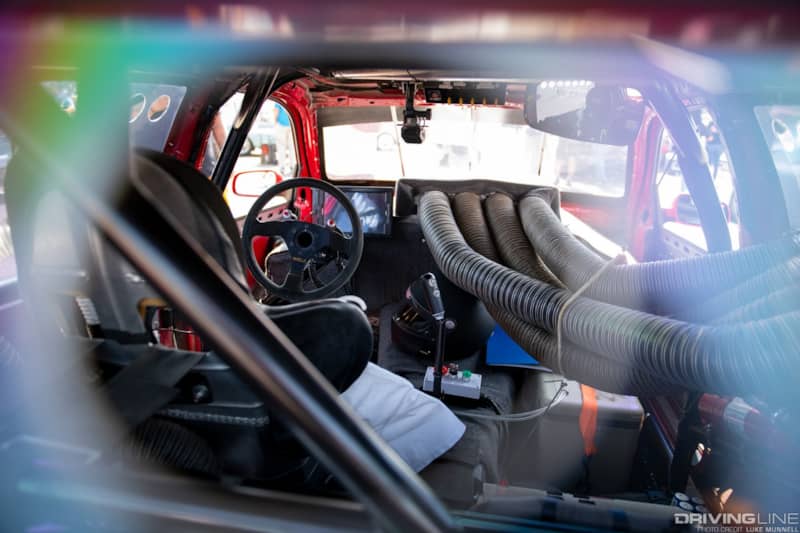 For even more of this amazing contraption, check out our full feature, here.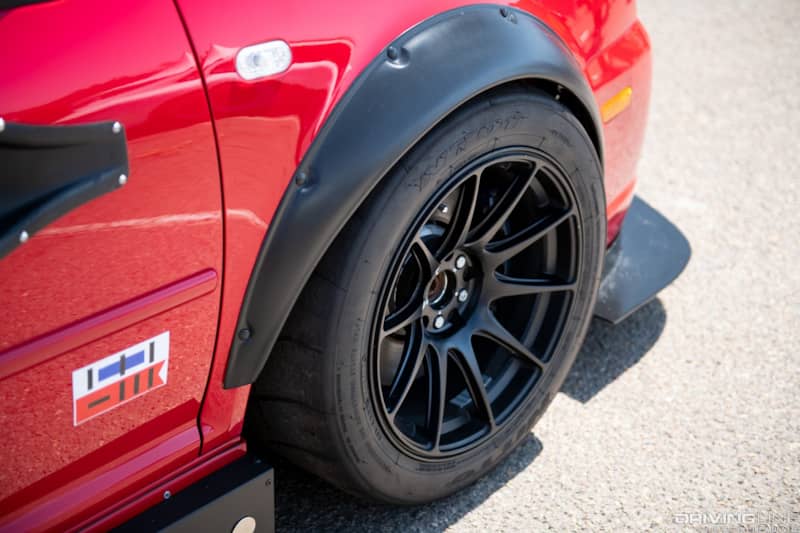 3. World's fastest Audi RS4, X2
Further proving the point about race cars stealing attention at shows were the brothers Tsitlakidis's two big-turbo Audi RS4s, which those in the know will recall from Shift Sector half-mile drag racing.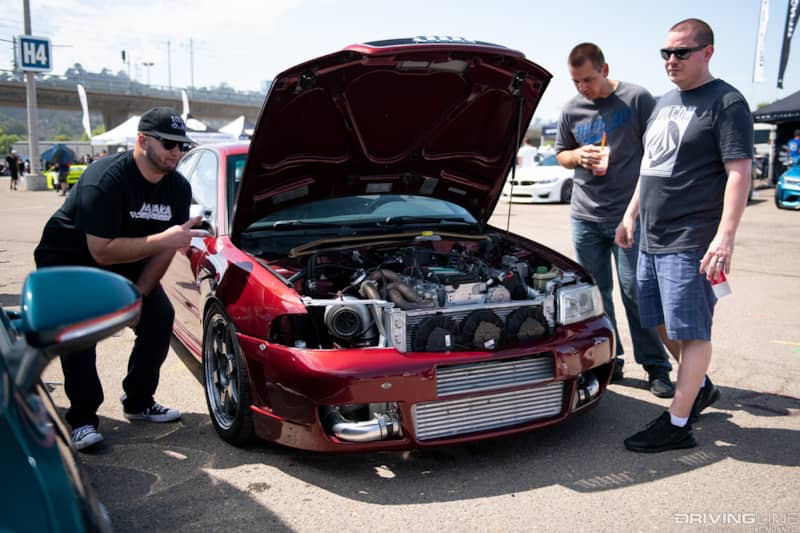 Outputting in the 700-800hp range, one 2018 Audi RS4 with this type of power is impressive on its own, but the fact that George and Stav Tsitlakidis built two of them is, well…doubly impressive.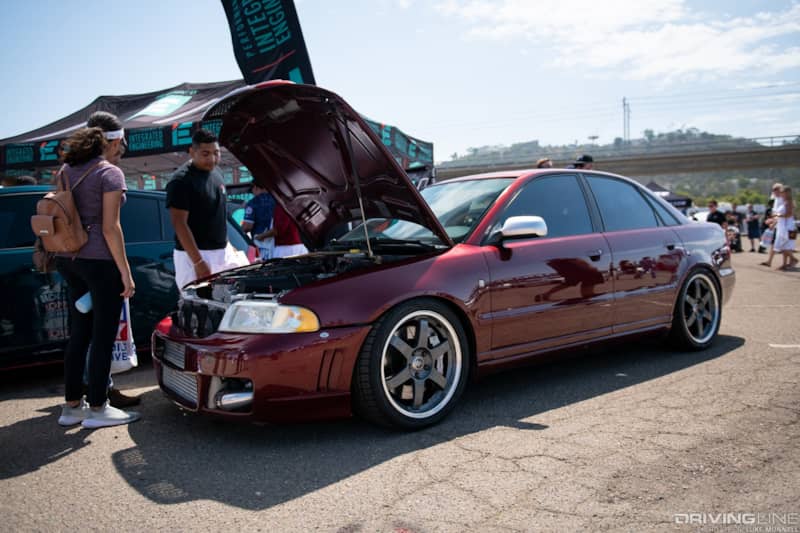 The brothers' Malaka MotorSports gets our nod as Audi gurus after witnessing their work here, and after seeing the repeat 9.8-second quarter-mile time slips George managed with his silver RS4 at a sweltering Sacramento Raceway late last year, with a smaller turbo.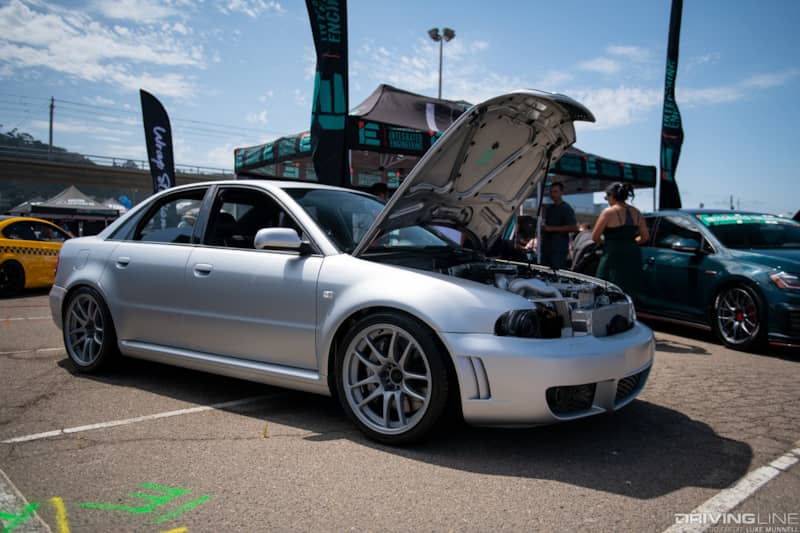 Now with more power than ever, we're looking forward to seeing just what these two matching machines can really do.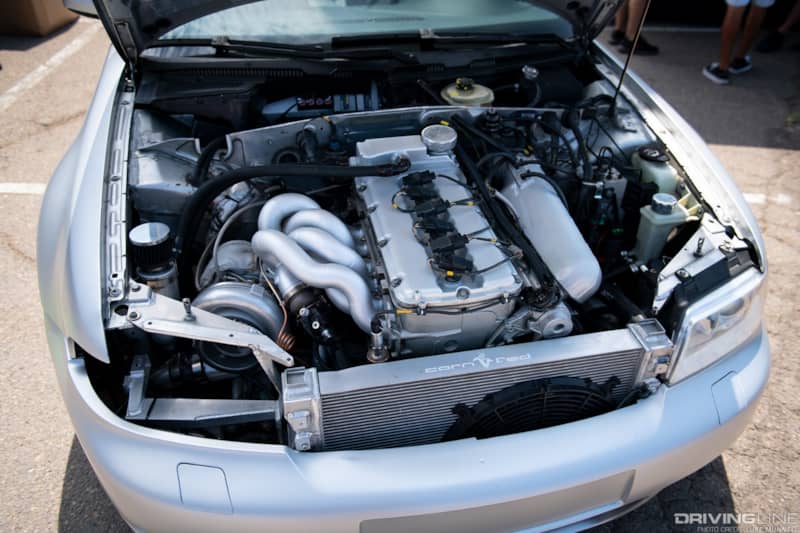 4. "Ebayblt" Corrado
I might've not always been the biggest fan of European cars, but like anyone with a pulse and at least a modest IQ, I've always liked Porsches, and the VW Corrado.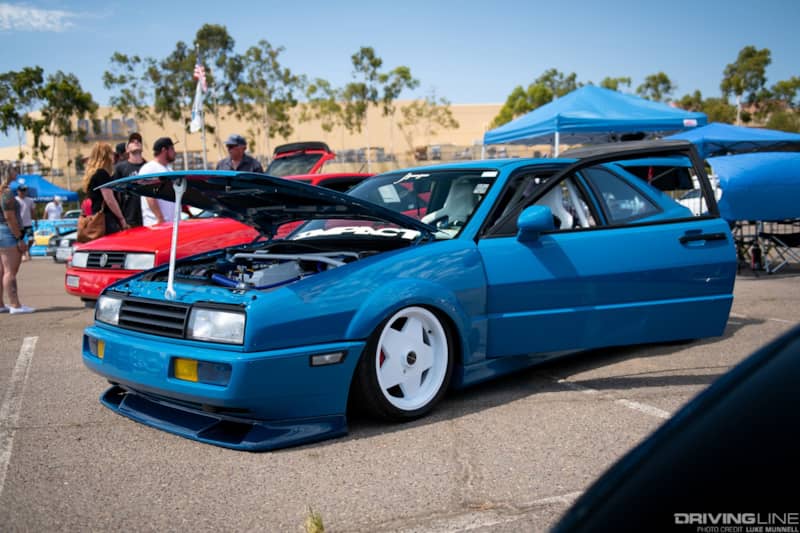 And while there were strangely few Porsches at the Big SoCal Euro (click here for more of them!), there was a whole corral of Corrados.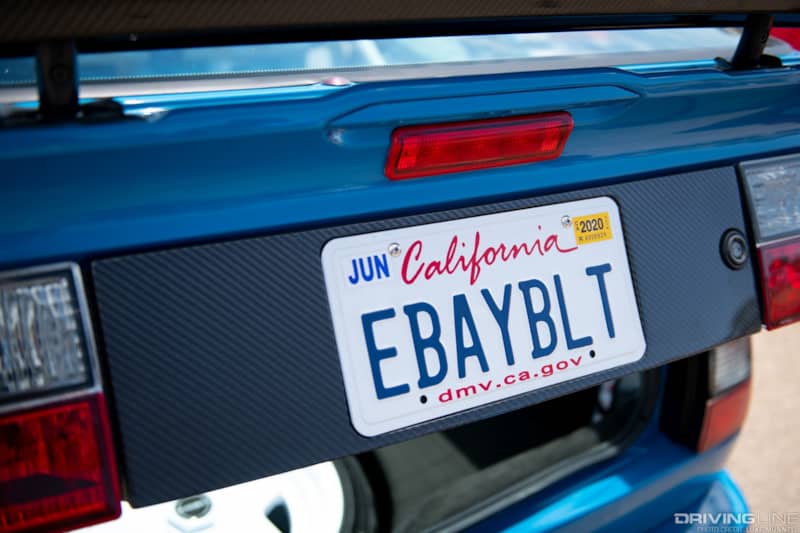 I also came of car age in the late '90s and still have a big ol' soft spot in my heart for bright paint and white interiors, and Josh Linburg's 1990 Corrado made me feel all kinds of nostalgic.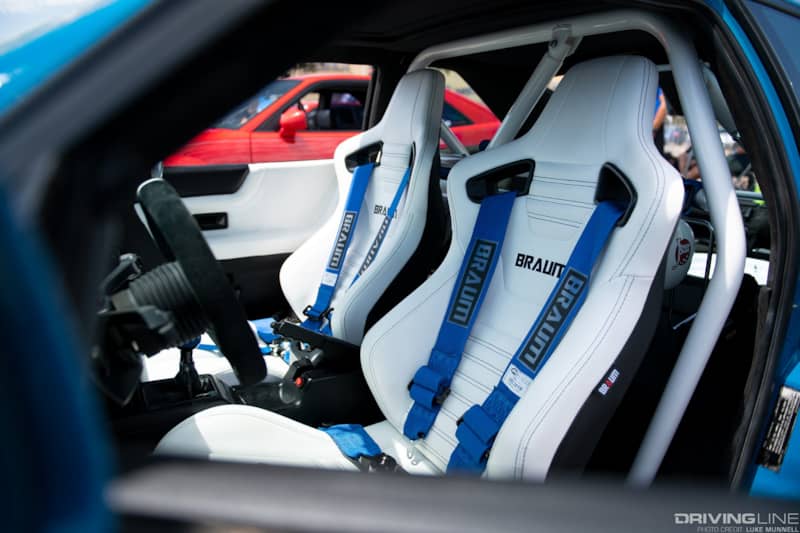 This thing is DTM through and through. Its BMW Laguna Seca Blue hue is still one of the raddest (there's just no better word for it) to ever come from an OEM, its authentic white Borbet A wheels hail from the Fatherland, and while its matching and FIA-compliant Braum Elite-X seats are made locally in SoCal, they're about as close to authentic BMW Performance seats as anything actually available on this continent.
Underhood is the factory 1.8L inline-four with an upgraded Sprintex USA supercharger and a host of bolt-on mods, which should be good for at least 300 hp by my maths. And if that's not enough, there's a killer air suspension system and integrated roll bar setup in the trunk—also color-matched in white.
5. V10 + ITBs
BMW's S85 V10 engine is a thing of beauty. Even a JDM guy like myself can admit that.
Inspired by the brand's F1 successes and developed in tandem with its racing program, the oversquare 5.0L, 90-degree V10 aspirates naturally, compresses air and fuel at a ratio of 12:1, produces about 500 brake HP, and sounds awesome doing it all.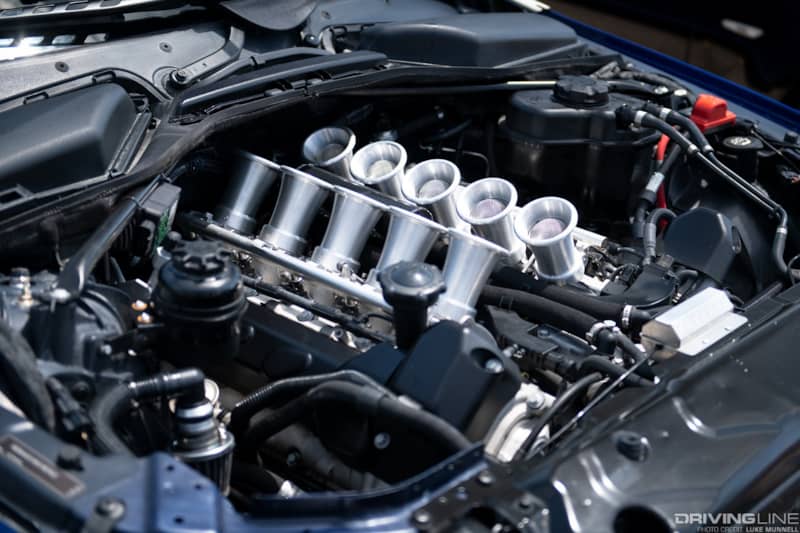 The BMW S85 also includes electronically actuated individual throttle bodies right from the factory, which makes harnessing that awesome V10 power and growl just about as easy as ditching the factory plenum and plastics, adding a set of polished billet velocity stacks, and doing some MAP tuning.
6. VW Buses
Fun Fact (for the remedial Euro fan, like myself): the proper name for the venerable VW Bus is the Volkswagen Type 2, since it was the brand's second vehicle after their Type 1 (the original Beetle), beginning all the way back in 1949.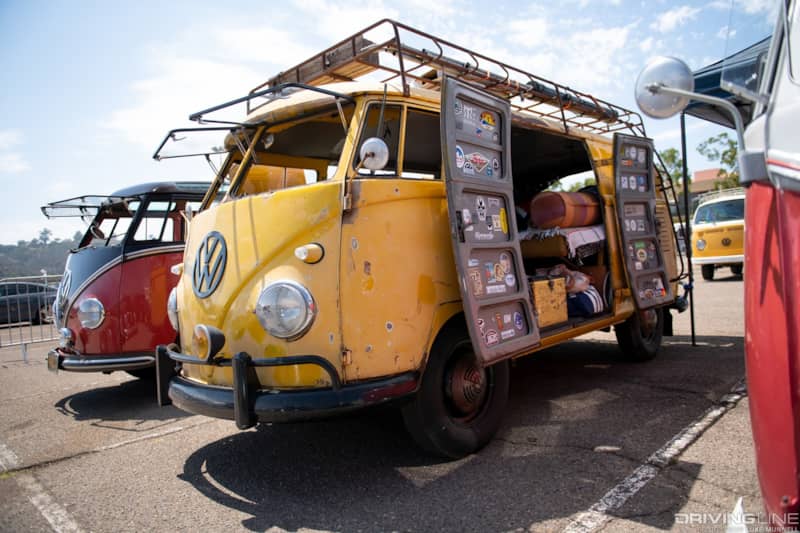 Some might even say the VW Bus' forward-control-panel design actually inspired the modern van (Dodge A100, Ford Econoline, etc.).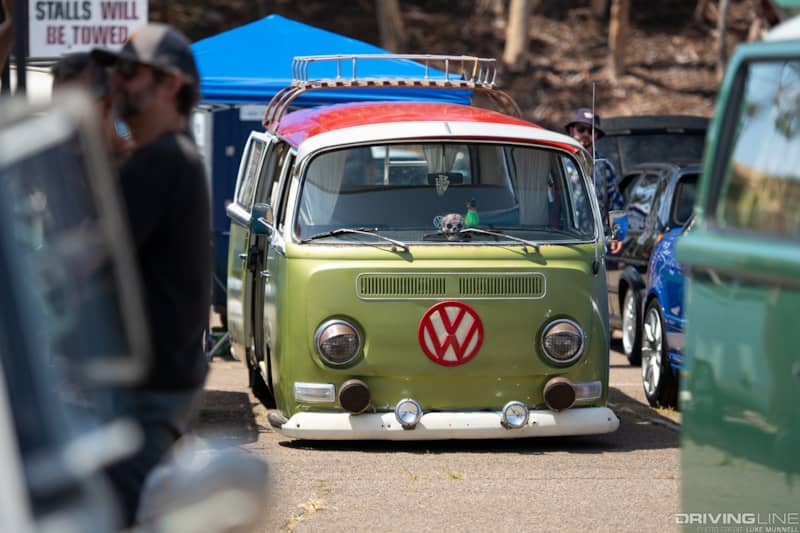 That alone makes it a hugely significant European automotive export, and rightly so there were a handful on display at the Big Socal Euro.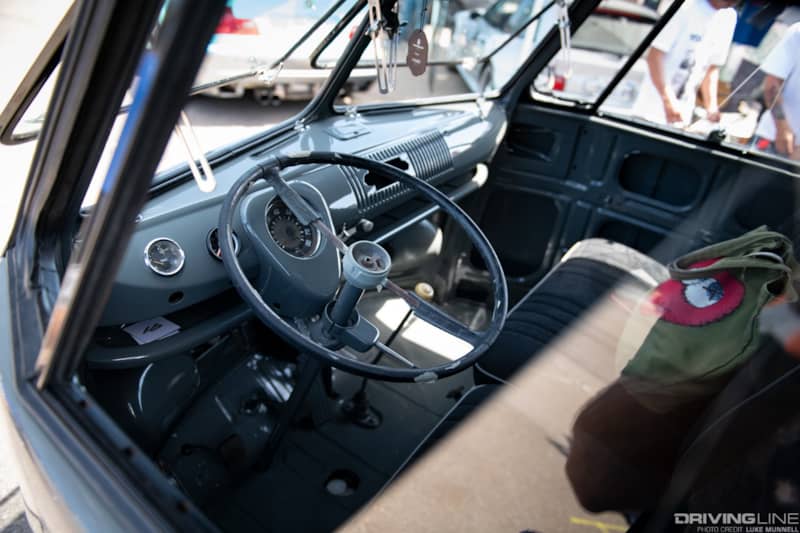 Whether ratty or restored, show or go (as in "go off the grid"), clean or … well loved, there's something about the versatility and freedom of the original Bus that automotive enthusiasts from all walks of life can admire.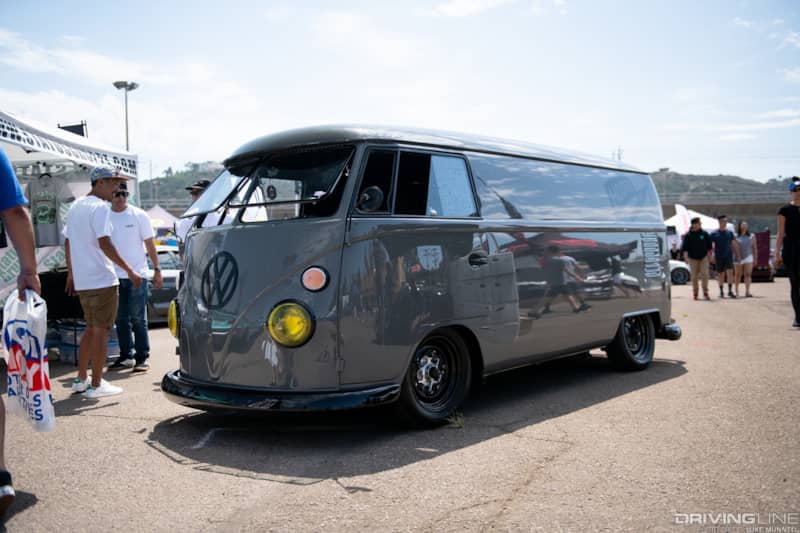 BONUS: All the rest
Of course, this is only the proverbial tip of the iceberg. The 2019 Big Socal Euro lived up to its name hundreds of times over, and you can see more of our favorite takeaways from it in the gallery below. To get involved and plugged in, be sure to follow the links below:
https://www.big-euro.com/big-socal-euro/
https://www.facebook.com/SoCalEuro/