9 Most Influential Competition Diesel Trucks
Judging by the number of eight-second quarter-mile passes and 3,000+ hp pulling trucks, an outsider might assume that diesel performance has been around a while. On the contrary, big things have only been happening in compression ignition for the past 15 years or so. Wind the clock back to 2003 or 2004 and you'd be hard-pressed to find an oil-burner running 10s or clearing more than 1,000hp. However, the few rides that were helped set the tone for the future of diesel motorsports and the diesel industry as a whole. Because the vehicles we see kicking the competition's tail at the track often influence the way we modify our own daily drivers, the early pioneers of high-powered diesels helped mold the diesel performance segment into what it is today—a place where not even grandpa's dually goes unmodified. The following trucks brought diesel in front of the masses, and their achievements are just as impressive now as they were back then.
1. Richard Madsen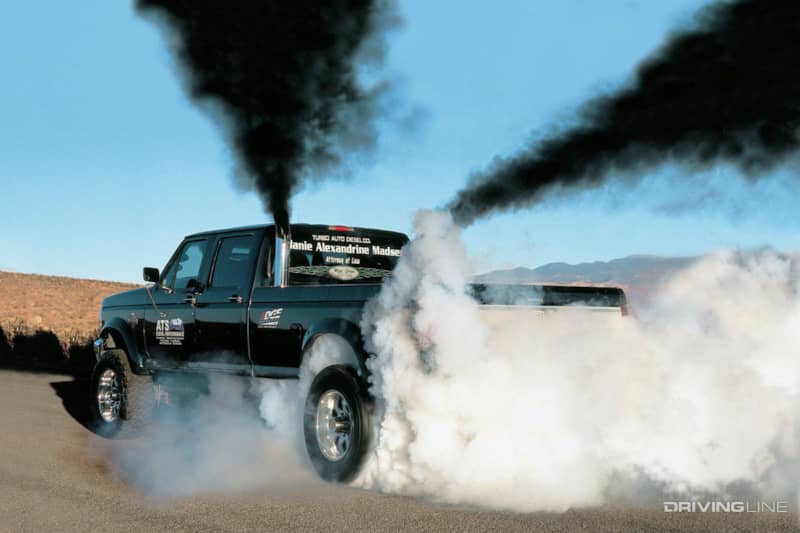 Whether he knew it or not, Richard "Mad Dog" Madsen's Cummins-swapped '95 Ford F-350 became the face of high-powered, street-driven diesels in the early 2000s. Madsen proved that a full weight (7,140 pounds per the scale at the drag strip), diesel-powered truck could be extremely fast yet still serve as a tow-rig and daily commuter (which indeed it was for Madsen). At the height of its fame, the old-school Ford sported a balanced and blueprinted 5.9L 12-valve, a ported head, worked over Piers Diesel P-pump, big Dynomite Diesel Products injectors and a compound turbo system that produced 115 psi of boost. High 11s came easy (in fact, the truck never ran a 12 at the track), more power yielded mid-to-low 11s and before it was all said and done Madsen was able to squeak into the 10.50s with the truck, at 130 mph. A few years ago, Madsen began tinkering with the Fummins once more and ended up making more than 1,200hp on the chassis dyno and ripping off 6.60s in the eighth-mile (roughly 10.30s in the quarter).
Watch an 11.42-second pass Madsen made way back in 2003.
2. Dale & Jimmy Smith, Followed by Seth Sullivan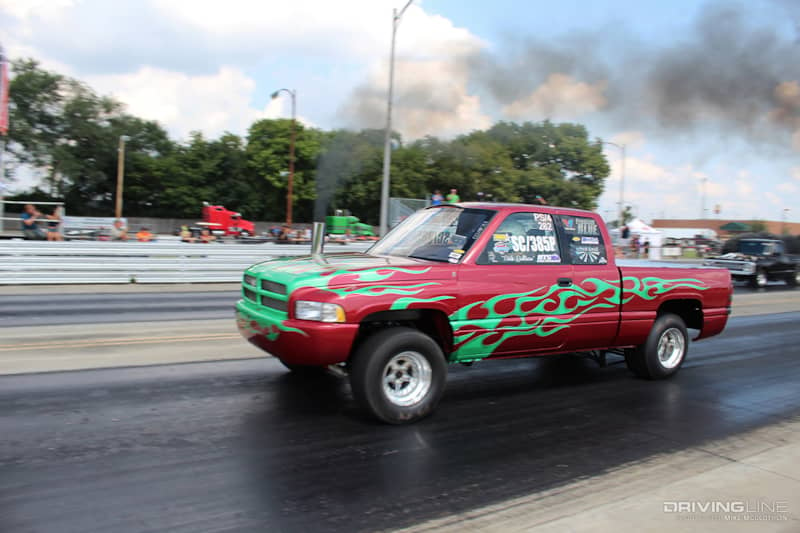 Even though the truck has been sold and out of racing the past few years, the '98 Dodge originally put together by Dale Smith and son Jimmy Dale Smith (and later owned by Seth Sullivan) is one of the wilder diesels to ever grace the drag strip. The truck was known for its nasty four-wheel drive launches and once even skipped across lanes when leaving the starting line. But make no mistake, when this truck hooked it was uncatchable. It was powered by a Scheid Diesel-prepped 12-valve, set up much the same way a Super Stock truck pulling engine would be: a healthy P-pump and massive compound turbos. Before Sullivan sold the truck and it effectively left the diesel racing scene, he was able to pilot it to an 8.83 at 162 mph in the quarter-mile.
3. Buck Spruill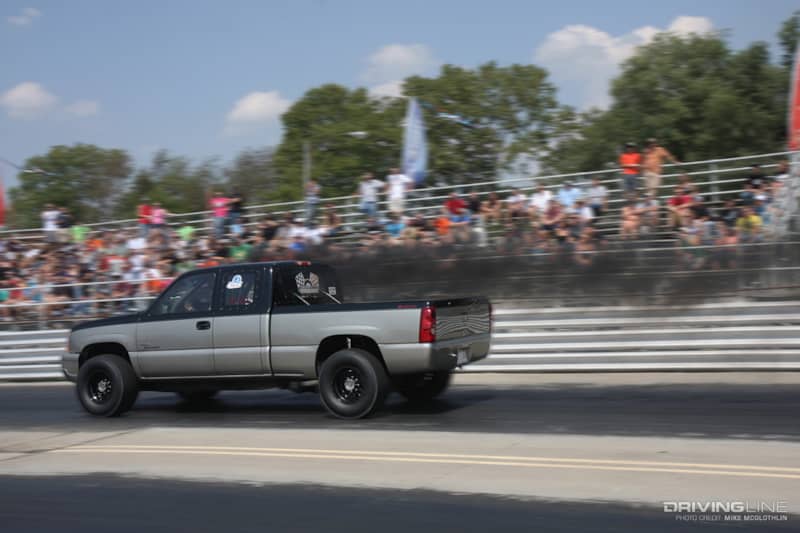 Farm-truck turned drag racer…you've heard it a hundred times. However, in this particular case we can vouch that it's 100-percent true—and it's also a big reason why Buck Spruill's '03 Chevy Silverado 2500 appealed to so many diesel enthusiasts. Anyone that watched the truck's transformation from 11-second farm-hand to full-blown, nine-second Pro Street rig was privy to seeing Spruill prove the Duramax could compete with the Cummins competition. In triple-turbo trim, the LB7-powered Bow-Tie sent 1,400hp to the wheels, pulled off 1.3-second 60-foots thanks to four-wheel drive and ran a best pass of 9.24 at 151 mph through the 1320.
4. Scott Vorhees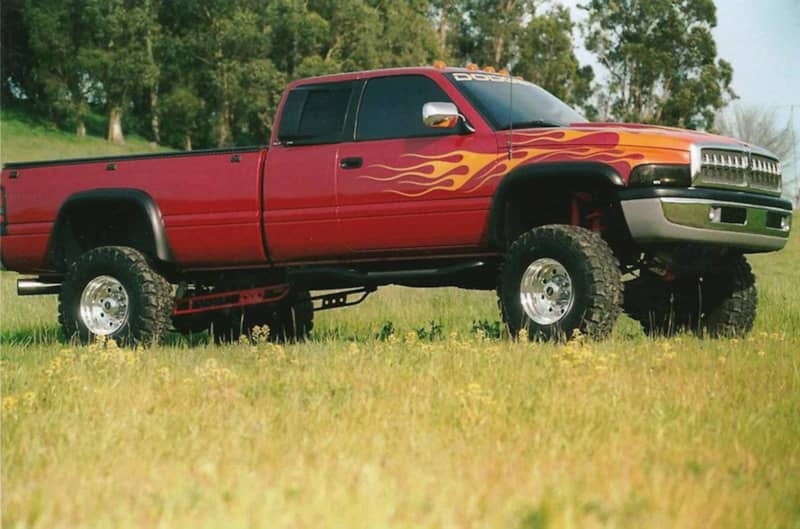 Beginning his truck pulling career with a daily drivable 650hp '97 Dodge Ram 2500 known as Big Bad Dodge, Scott Vorhees helped grease the wheels for what was to come in diesel performance. To stay ahead of the game in 2006, Vorhees sold his second-gen and upgraded to a purpose-built puller originally put together by the late Chris Watson, which sported a proven Steve Barker tube chassis, an 1,800hp 5.9L Cummins and a Ford body (forcing Vorhess to name the truck Big Bad Diesel rather than Big Bad Dodge). A couple years later, the Big Bad Dodge nameplate was reestablished after a third-gen Dodge quad cab body was bolted in place.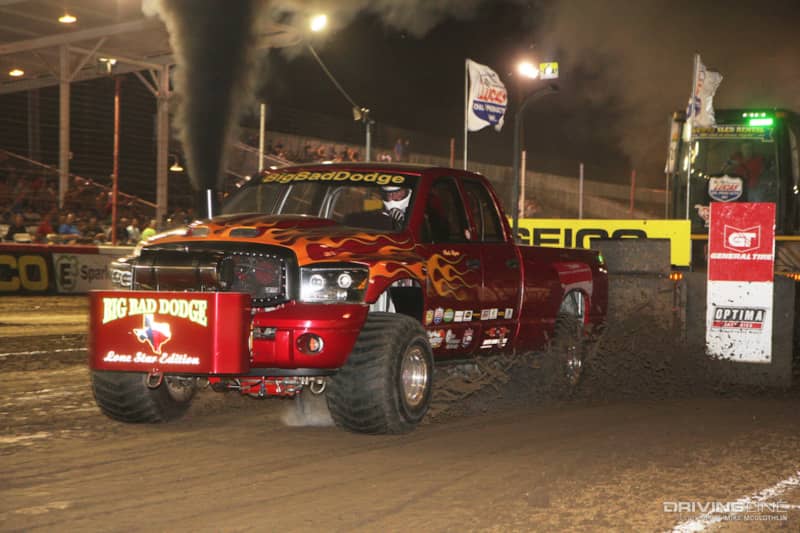 Just as he'd done with the original BBD, Vorhees would travel all over the western U.S., putting on a show wherever he ran the truck. Although he spent much of his time in California, not exactly a hot bed for truck pulling by any stretch of the imagination, when Vorhees hooked to the sled on the West Coast he often did so in front of huge crowds. It might not have been the most powerful Super Stock puller in existence, but it was arguably the most recognized thanks to its vast crowd exposure. Today, the truck is owned by Chris Ryan, a Texan that fittingly renamed the truck "Big Bad Dodge: Lone Star Edition."
5. Wes Kusilek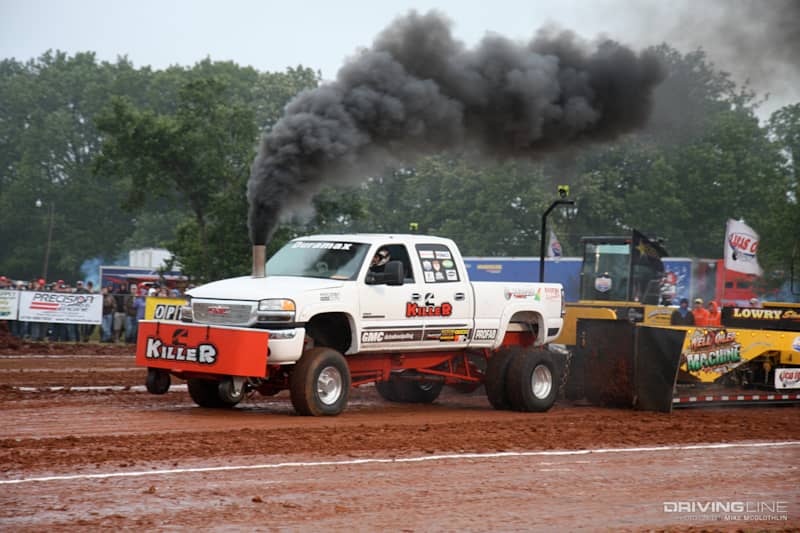 Following a string of successes in the Pro Stock diesel truck pulling class, Wes Kusilek decided to rename his Duramax-powered '02 GMC ¾-ton "Cummins Killer" a decade ago. With a bold name like that, Kusilek definitely had his work cut out for him to deliver, and over the years he's made the most of it. He and his team are well-known for trying new things to keep their Duramax competitive—or at the front. Cummins Killer was one of the first common-rail pullers to sport three or more CP3s, a tilt cab (a rarity in Pro Stock) and to give the ultra-aggressive Nitto Mud Grappler a try in the dirt. All of the above have led to various wins amid incredible competition. These days, you can find a totally different version of the Cummins Killer GMC, which competes in the Super Stock class against the most powerful Cummins-equipped trucks on earth.
6. Ben Miller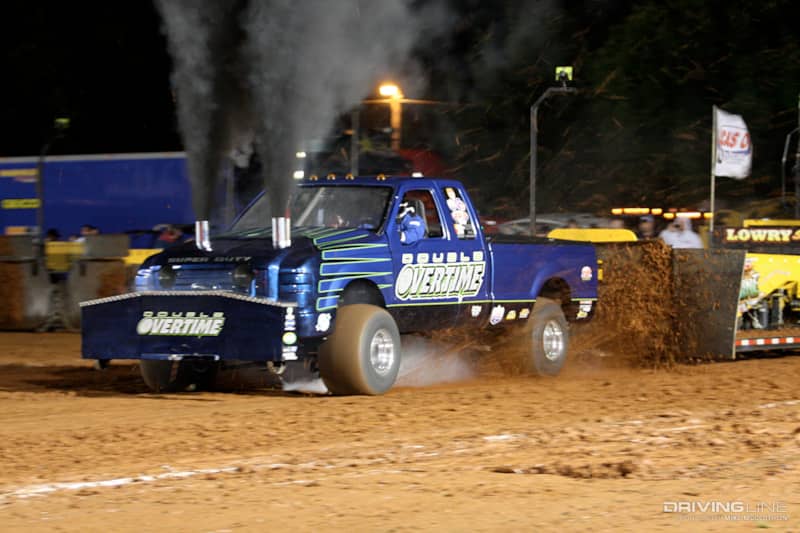 Looking to compete with something different than all the Cummins-propelled pullers in the Super Stock circuit, Ben Miller came up with something truly unique in the mid-2000s. The result was a one-off Power Stroke creation called Double Overtime and—thanks to sticking with a Navistar-based power plant—earned him countless followers. It certainly didn't hurt matters that the truck could run neck-and-neck with the most powerful I6s in the Super Stock class. The '05 Super Duty relied on a 7.3L Power Stroke to get it down the track, but the V8 between the frame rails was no ordinary Power Stroke. Built by Tom Tormoehlen (TFS Performance) out of Vallonia, Indiana, the HEUI injection system was scrapped in favor of a one-off mechanical injection system based around the use of a V-style P-pump. However, the factory-based 7.3L block was retained (and held up surprisingly well under 160 psi of boost made by a massive compound turbo setup), along with the OEM-derived cast-iron heads, although they were completely re-worked to accommodate the mechanical injectors and move more air.
7. Earl Stuckey, Robert Donalson and Phillip Palmer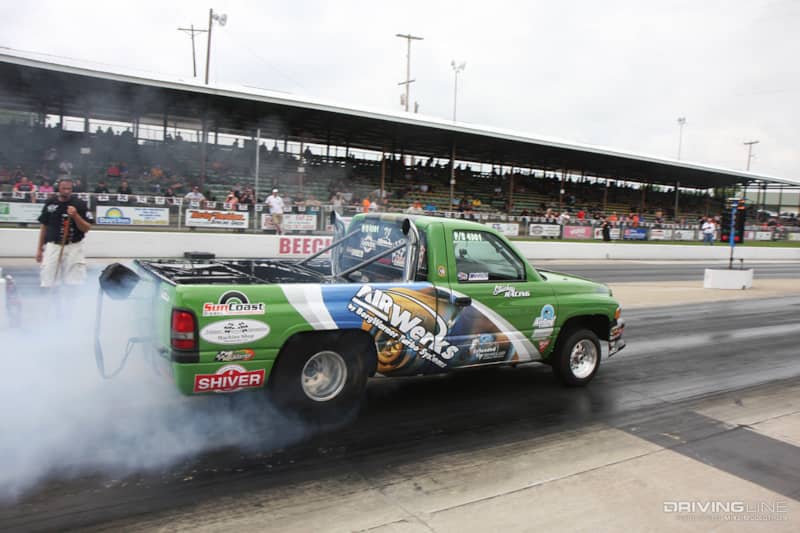 Along with other notable trail blazers for diesel performance such as Jeff Prince, Scott Bentz, Jeff Garmon and countless others, Earl Stuckey was a household name by 2005/2006—and the crew he pieced together all but became the face of diesel drag racing. Team Stuckey (or "Team Green" as it was known) consisted of Earl Stuckey (owner), Robert Donalson (crew chief) and Phillip Palmer (driver). Their horse? A short bed-converted and back-halved, two-wheel drive '94 Dodge Ram 2500 with a relatively simple 12-valve Cummins under the hood. Team green was in the nines by 2006, running eights by 2010 and even made a TV appearance on the late Speed Channel's "Pass Time" program. For nearly 10 years, this little green monster was a force to be reckoned with in the Pro Street class.
8. Gale Banks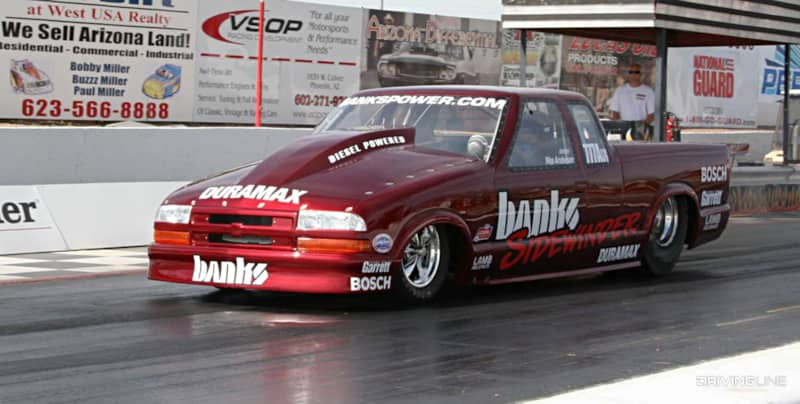 Though Gale Banks catapulted diesels into the limelight with a 217 mph Cummins-powered Dodge Dakota land-speed racer back in 2002, he and his team soon moved on to the Duramax platform and pieced together this Pro Mod "Sidewinder" S10. The purpose-built mini truck was radically different than anything else on the diesel drag race scene at the time in that it ran virtually smoke-free, turned 5,500 rpm and sounded like a big-block. Thanks to a finely-tuned common-rail system, a perfectly matched (and properly wastegated) twin-turbo combination and a little nitrous, Banks showed the world that diesel could be fast and clean at the same time. In March of 2008, the Sidewinder laid down its best pass of 7.72 at 179 mph. There have since been faster Pro Mod trucks, but Banks' S10 was smoke-free back when smoke was a regular part of the program at a diesel drag race. It made diesels look clean, smooth and refined—something virtually every serious diesel enthusiast strives for today.
9. Aaron Rudolf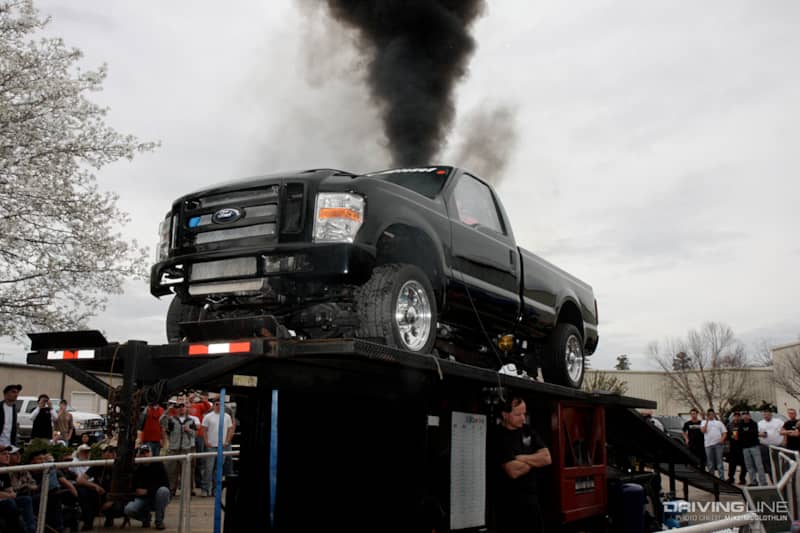 Back in the mid-to-late 2000s, the aftermarket surrounding both the Cummins and Duramax was thriving. While it existed for the Power Stroke camp, too, it was hard for Ford loyalists to keep pace with their HEUI-fired V8s. But after the 6.4L Power Stroke—a compound turbo'd, common-rail engine—debuted for the 2008 model year, things began to change. At the forefront of showing the industry what the new Power Stroke was capable of was Aaron Rudolf. In early 2010, he was the first to push a 6.4L-powered Ford past the 1,000rwhp mark, with minimal engine mods (and a healthy dose of nitrous), no less. Still a big believer in the 6.4L, at present Rudolf holds the Power Stroke record for horsepower, which he obtained during the chassis dyno competition at Ultimate Callout Challenge 2016—a whopping 1,987hp at the wheels. In addition to awing crowds at dyno events, Rudolf has also piloted a 6.4L Super Duty into the 9.70s in the quarter-mile.
Want to know how to get the most out of your diesel? We have the single best upgrade for your Cummins, Power Stroke and Duramax!