Anatomy of a Super Stock Diesel Truck
Back by popular demand, it's time to shed some light on the heaviest hitters in diesel motorsports: The Super Stock pullers. With Frankenstein fuel systems, 150 psi of boost and 3,000 horsepower on board, these 4x4 trucks are beyond extreme. But, there's a lot more to these earth-shredding machines than the exotic engines that power them. What about the massive axles, the bulletproof transmissions and the state-of-the-art data logger systems that help them get down the track consistently and reliably?
In addition to showcasing the wild engine and turbo setups that exist in this class, we've spelled out the individual pieces of the 3,000+ hp puzzle below in an effort to give them their due diligence:
"Super B" (Haisley Machine)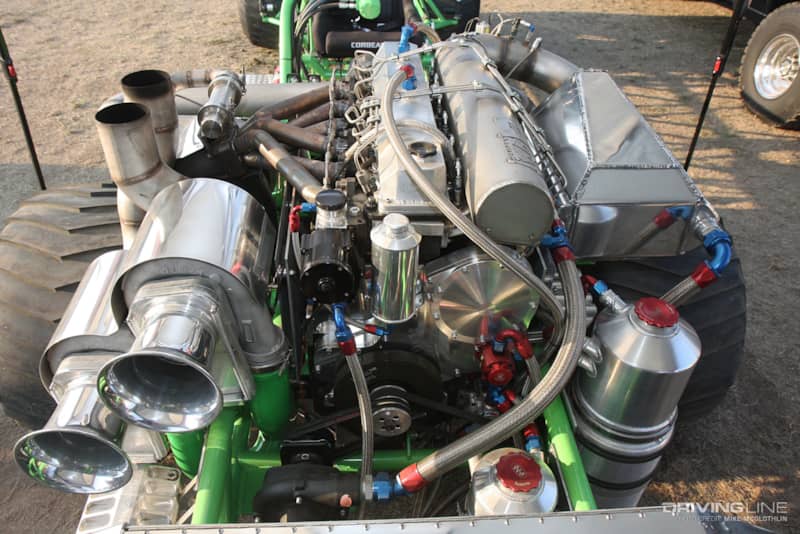 The Cummins platform is the undeniable favorite in the Super Stock class, be it factory-based or 100-percent aftermarket. As far as engine building goes, there are two big names in town: Haisley Machine or Scheid Diesel. Although some one-off Cummins power plants are still put together, most competitors end up here to get the best performance and reliability per dollar spent.
The "Super B" Cummins offered by Haisley Machine utilizes the factory 6.7L B-series block as its foundation, but the water jackets are filled with concrete, Darton sleeves that protrude past the block's deck surface are added to the cylinders, and a deck plate is utilized to eliminate cylinder bore distortion. Haisley also integrates a one-piece bed plate, billet-steel connecting rods, low compression pistons (typically in the realm of 12:1) and a roller cam into its short block builds. Displacement on a typical Haisley-built Cummins competing in the Super Stock class ranges between 390 and 400 cubic inches, dry sump oiling systems are employed and (depending on driver preference) engines carry anywhere from 4,500 to 6,000 rpm as they head down track.
Aluminum Block (Scheid Diesel)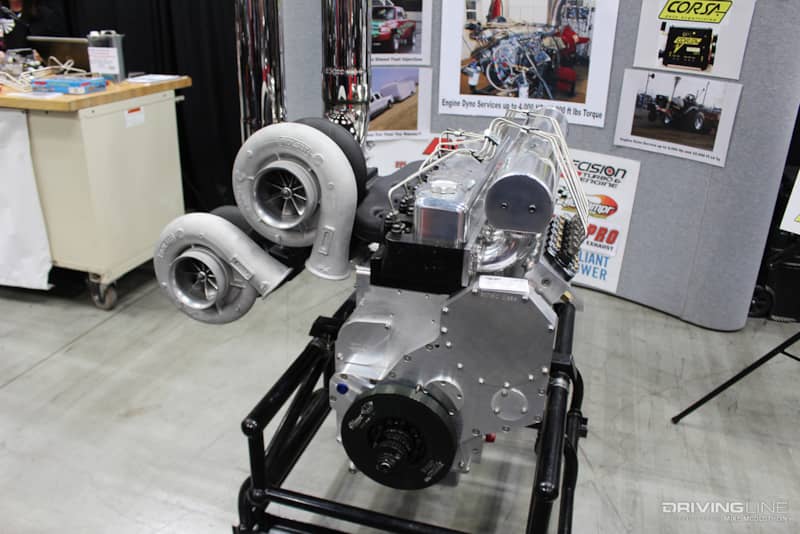 While Scheid Diesel puts its fair share of deck-plate, 6.7L-based Cummins mills together as well, its billet-aluminum blocks have become the crankcase of choice for its Super Stock customers. Built with similar rotating assembly components, Scheid's aluminum blocks also feature steel cylinder sleeves, but a deck plate is no longer necessary. Scheid's billet-aluminum blocks are holding up to 3,000 hp and boost pressures in excess of 120 psi in half a dozen Super Stock applications.
At these incredible power and boost levels, you might think the engines are on borrowed time virtually every time they go down the track. On the contrary, they're darn reliable — and built to last the entire season. That means somewhere between 40 and 50 trouble-free hooks each summer. It goes without saying that aluminum is considerably lighter than billet-steel or cast-iron. The weight savings over an OEM, cast-iron block are roughly 130 pounds — heft that can be added back into the truck (namely up front in the weight box).
12-Valves Trump 24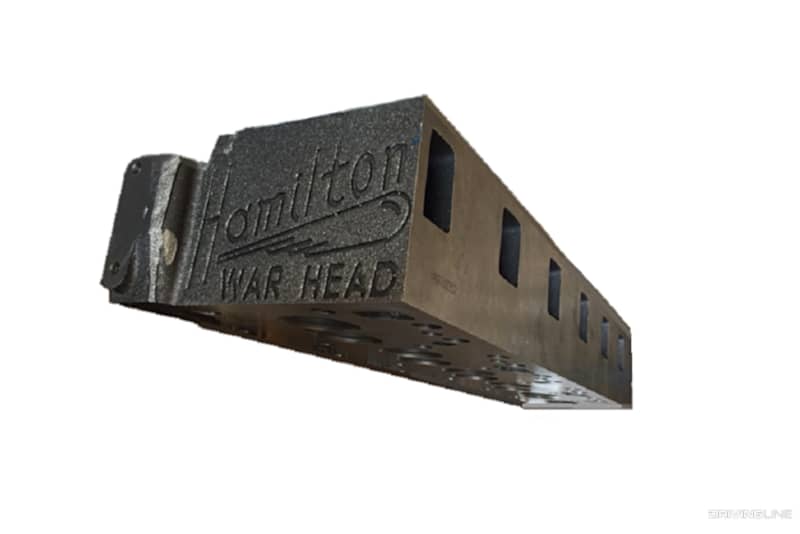 When it comes to cylinder heads, all competitive Cummins mills make use of the 12-valve design, and engine builders have turned to the experts at Hamilton Cams to get them in the winner's circle. Called the War Head, the iron piece is cast with a thicker deck and more material around the port walls, which means more material can be removed via CNC porting for vastly improved airflow. Heads that have received extensive port work (via companies such as Scheid, Haisley, Wagler Competition Products and Nye's Automotive) and been fitted with larger valves can flow more than twice what a factory unit can on the intake side (310 to 340 cfm vs. 150 cfm stock).
Two-Stage, Triple-Turbo Arrangements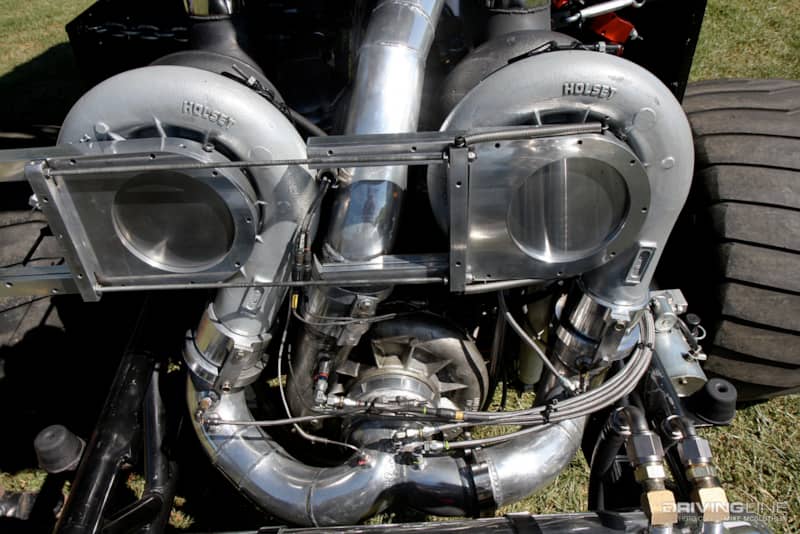 It's no secret that big boost garners a lot of attention, and the Super Stock trucks see plenty of both. With most engines sporting two-stage, triple-turbo arrangements these days, 120 to 150 psi of boost is produced at full power.
What do we mean by "two-stage, triple-turbo?" We mean there are three turbochargers, two of which are equally sized and serve as one atmospheric (or low-pressure) unit, while the third charger bolts to the exhaust manifold (i.e., manifold charger or high-pressure charger) and is tasked with bringing the other two to life.
To survive the insane boost that's produced, ball bearing center cartridges are often employed and some setups incorporate a wastegate (or two) to help bleed off excessive drive pressure. Holset HX82 and HC5A-based turbos are the most commonly used windmills in these triple-turbo configurations, with compressor wheel inducers sitting in the 104 mm to 117 mm range. A combination of water-to-air intercooling and elaborate water injection systems help cool off the super-heated, twice-compressed air before it enters the engine.
Exotic Injection Pumps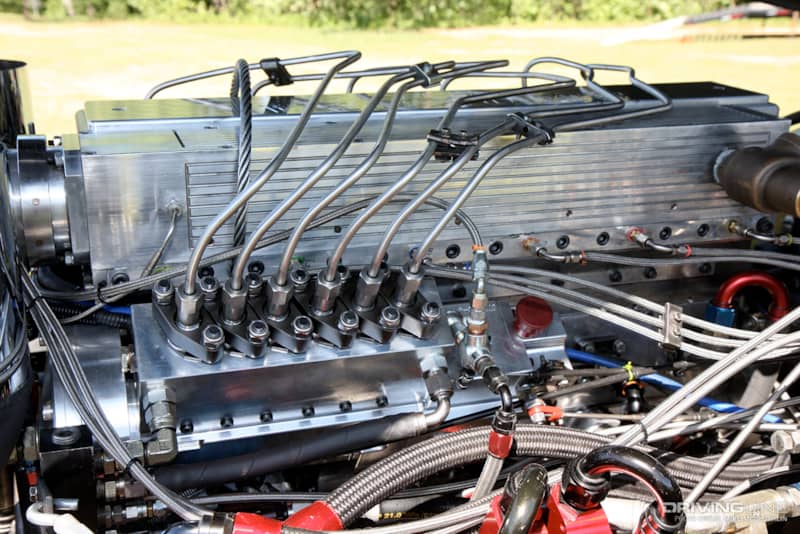 On the fuel injection front, the goal with these engines is to inject massive quantities of fuel, and do so as quickly as possible. To achieve this, most competitors rely on the French-imported Sigma injection pump. Columbus Diesel Supply unofficially owns this aspect of the Super Stock class, with its Sigma or Sigma-based P-pumps being present on virtually every mechanical engine.
Cast-aluminum 16 mm Sigmas are the norm, but some competitors go all out and opt for the full billet (aluminum), 17 mm plunger version shown above. We suspect most injection pumps are configured with 40+ degrees of timing advancement. In-cylinder fuel distribution is usually left to custom, John Deere or International-derived injectors with triple-feed bodies. Oversize, stainless steel 0.120-inch diameter injection lines are typically used to route the highly pressurized fuel to the injectors.
One-Speed Transmission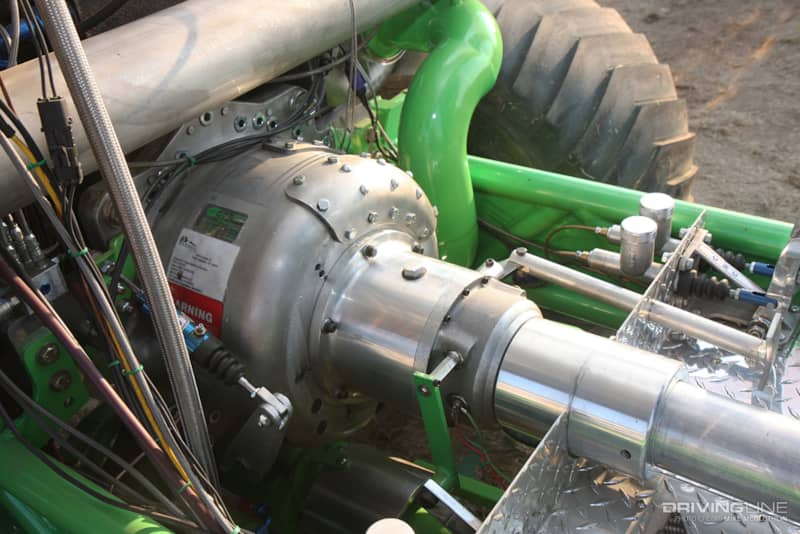 It might not look like much, but the tiny transmission bolted to that Probell bellhousing is a vital part of the immense power transfer that has to take place on these trucks. Called a reverser, the transmission houses only a forward and reverse gear (hence the name "reverser"). The unit shown came from SCS Gearbox in Bellevue, Ohio. Inside the blow-proof bellhousing, it's typical to find a four-disc Molinari, Hays or Crower clutch.
Drop Box Transfer Case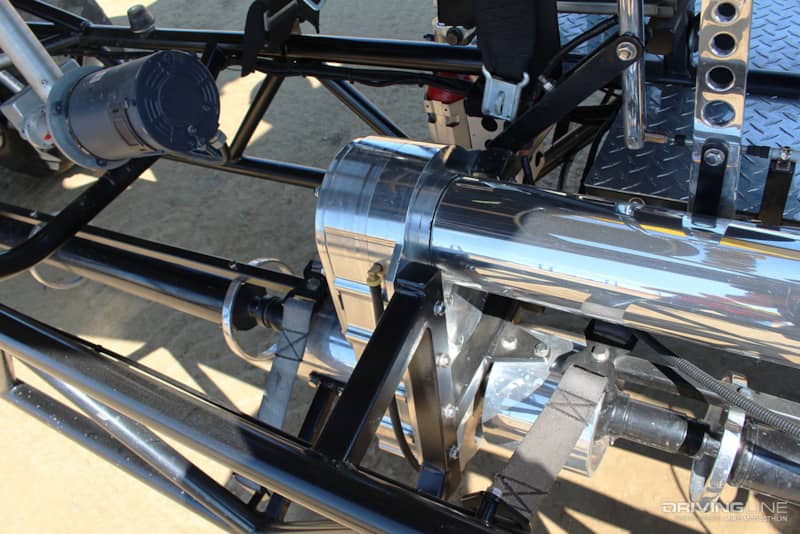 Once through the multi-disc clutch and one-speed transmission, horsepower and torque ends up here — a Quick-Change transfer case — where it's routed to both the front and rear axles. Also known as a drop box, quick change transfer cases (built by both Pro Fab Machine and SCS Gearbox) provide for fast gear changes.
In fact, gears can swapped so quickly that many competitors wait until they've arrived at the event and analyzed the track before deciding which gear they'll use. We've even seen some competitors make a gear change while waiting in line to pull. Changing gears in the drop box effectively alters the truck's final drive ratio in the easiest manner possible.
Overkill Axles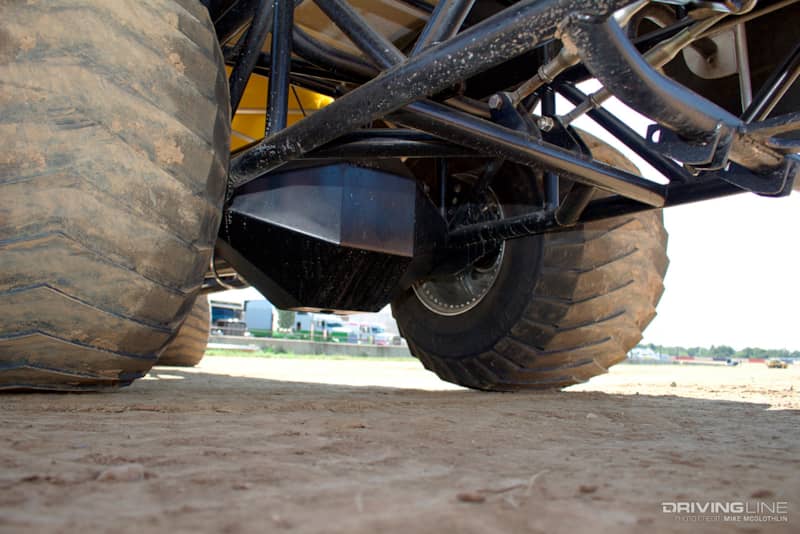 To cope with all the horsepower and torque sent their way, massive axles are employed on Super Stock trucks. The most common rear axle is the Rockwell SQHD, most of which are sourced from semi (Class 8) applications. As you can imagine, the rear end out of a semi is pretty heavy — hence the reason company's that cater to the Super Stock class offer gun-drilled axle shafts, differential housings fabricated from sheet metal or aluminum and lighter weight spindle and (aluminum) hub options.
Remember, these trucks have a maximum weight limit of 7,500 pounds, and competitors want as much of that heft positioned up front as possible. Up front, it's typical to find the SQHD's smaller cousin: the Rockwell F106 (which has to be fitted with steering knuckles). The most frequently used ring-and-pinion ratio is 6.20:1.
Tube Chassis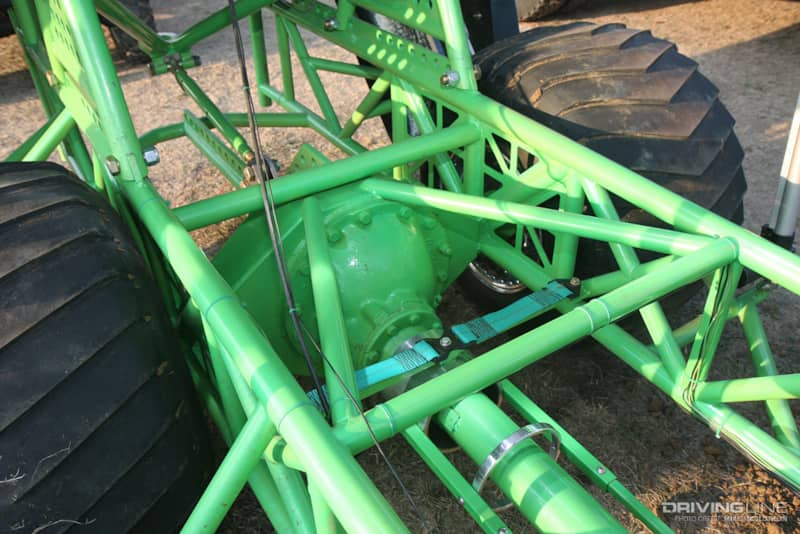 Although a select few trucks are still making the stock frame work, most competitors take advantage of the tube chassis allowance that's written into the rulebook. Barker Machine and Fabrication in Ohio and Engler Machine and Tool in Indiana are the big names in town when it comes to tube chassis work, but also fabricate drawbar and hitch setups, along with axle work. With no suspension to speak of out back, adjustable shocks (coil overs are common) can typically be found up front, which allow fine-tuning of the front suspension.
Cut Tires and REAL Wheels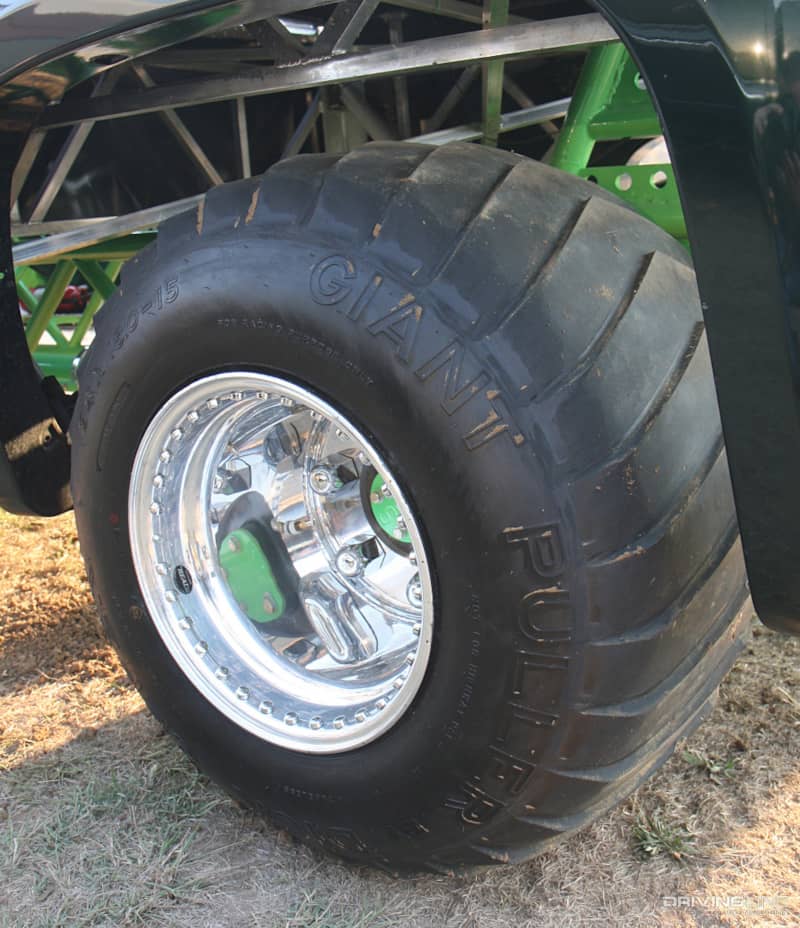 For optimum bite, cut tires are used to help these trucks claw their way through the dirt. The most common sizing measures 34x18x15, as the maximum width allowed is 18 inches. Real Racing Wheels' 15-inch diameter wheels can essentially be found on all Super Stock trucks, as their aluminum rims are said to be the lightest, strongest and roundest products on the market.
Tilt Body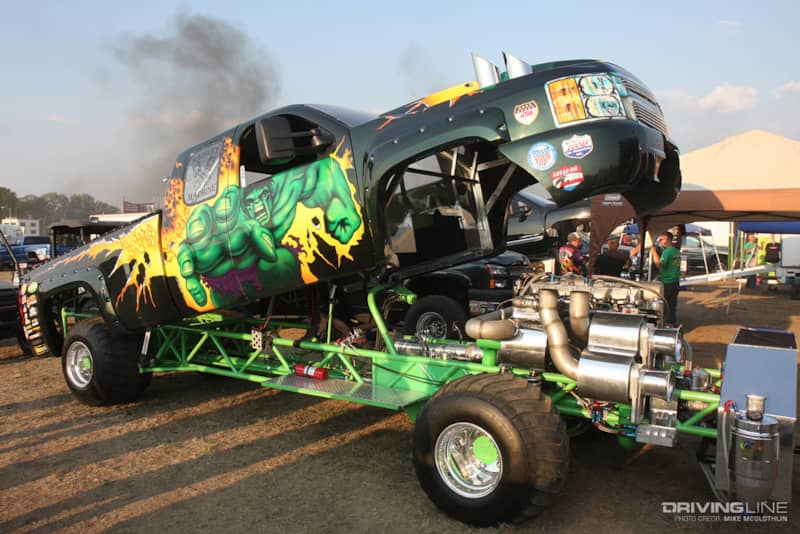 Optimum serviceability comes in the form of a hydraulically-operated, tilt-body. Matt Clemons' Hulk-themed "Alter Ego" truck, which sports a fiberglass '12 Chevy Silverado body from GTS Fiberglass & Design, is shown here. While most Super Stock trucks are tilt-body, Clemons' is one of few that positions the driver in the center of the cab (i.e. center-drive). Notice the massive triple-turbo arrangement hanging off a Haisley-built Super B Cummins, the tube chassis and the 34x18x15 cut tires mounted on Real Racing wheels.
Gathering and Evaluating Data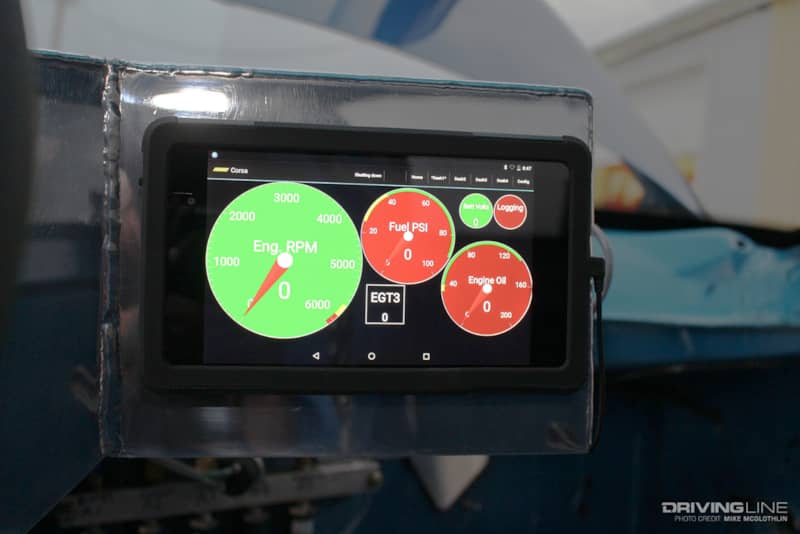 To log and eventually analyze each pull, competitors use high-tech data loggers which utilize various analog channels to keep tabs of key parameters like engine rpm, ground speed, exhaust gas temperature, boost pressure, drive pressure, turbocharger shaft speed, water injection pressure and a host of other vitals. A 7-inch Corsa Smart Dash monitor is shown above, which is being used in conjunction with a Corsa EZ2 data acquisition system.
Driver Skill Is Paramount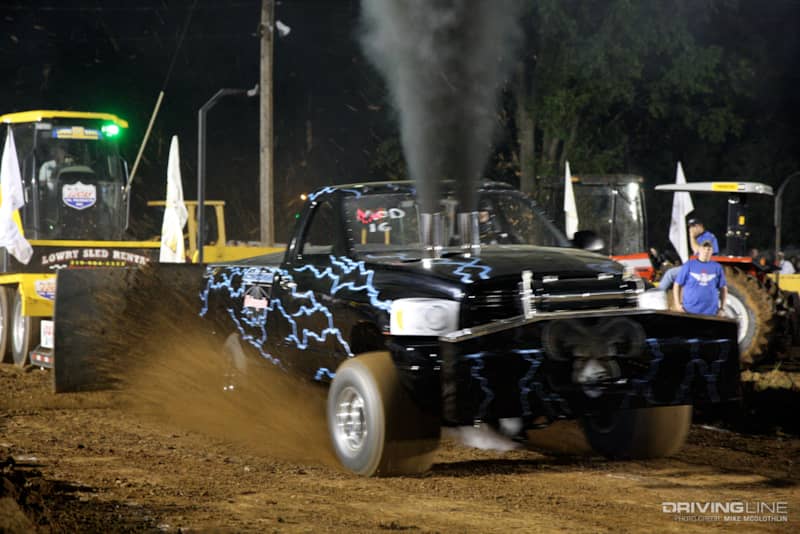 Even with the aforementioned cut tires in the mix, traction can be hard to come by with 3,000 hp on tap. Believe it or not, the biggest challenge isn't making and surviving huge power, but being able to manage it. This makes driver skill the most crucial part of any high-end Super Stock truck's success.
Knowing exactly when to apply power to the track is essential. Too much too soon, and you'll blow the tires off. Too little too late, and you'll never build up enough ground speed to win. This is why you'll see most competitors ease their trucks out of the hole (walking them out slowly) and not go wide open until roughly mid-track. As you can imagine, waiting until the 150-foot mark to whack the throttle doesn't leave much room for error on a 300-foot track — hence the importance of having an alert, experienced driver that knows the truck, inside and out, behind the wheel.
Technology Pioneered by Tractors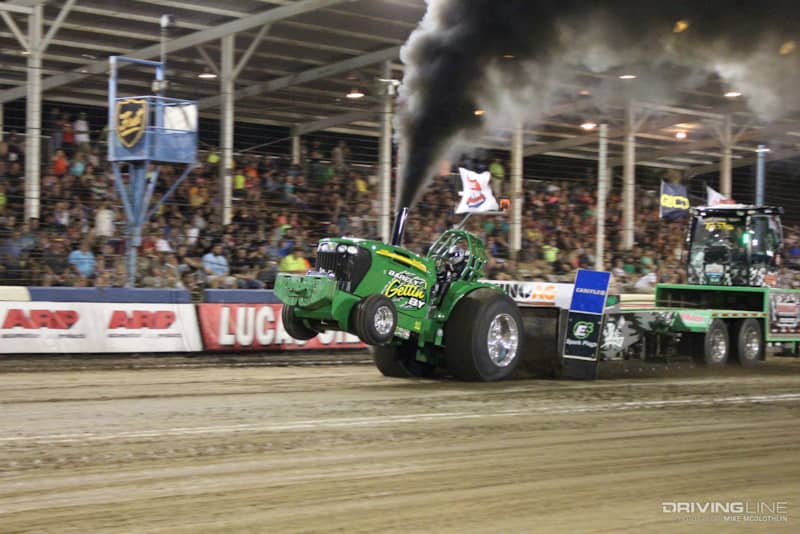 We would be remiss if we failed to mention where most of the wild technology found on the Super Stock truck's stemmed from — and you're looking at it. Be it in terms of cutting-edge injection systems, hard part advancements or turbocharger innovations, a direct correlation can be drawn from the top tiers of tractor pulling to the Super Stock truck class. Super Stock trucks are the beneficiaries of all the R&D that's been dumped into tractor technology over the years. As a result, not only are trucks making more and more power, but they're doing it more reliably than ever before.
Watch the Super Stock trucks in action below:
Awesome, right? Here's where you can see these diesel behemoths competing this summer:
Lucas Oil Pro Pulling League Schedule
| DATE | EVENT | LOCATION |
| --- | --- | --- |
| July 15 | America's Pull | Illinois |
| July 29 | Rocky Top Diesel Shootout | Crossville, Tennessee |
| August 11-12 | Hillsboro Charity Pull | Hillsboro, Wisconsin |
| August 25-26 | Scheid Diesel Extravaganza | Terre Haute, Indiana |
| September 2 | Southern Nationals | Springfield, Tennessee |
| September 9 | Lucas Oil Mega Pull | Waynesburg, Pennsylvania |
| September 15 | PPL Nationals | Wheatland, Missouri |
| September 30 | Champions Pulling for Children | Jefferson, Ohio |
| October 6-7 | Rudy's Diesel Truck Jam | Julian, North Carolina |
See the full PPL schedule at ProPulling.com.