A JL with Ultra4 DNA? Loren Healy's Race Inspired Jeep Wrangler Unlimited [Video]
He's one of the most accomplished Ultra4 racers of all time. However, long before Loren Healy was taking the checkers at King of the Hammers, he could be found behind the wheel on any given weekend exploring the Southwest backcountry for fun. Now, a father of three, the Nitto team racing driver has merged his racing background with his latest family wheeler—a 2018 Jeep Wrangler Unlimited Rubicon. Teaming up with the same shop responsible for his legendary Red Dragon race machines, Jimmy's 4x4, Healy was able to seamlessly blend the same parts that have made him a winner in the dirt under the most refined Jeep Wrangler to date.
We got a chance to chat with him about his new Jeep on the first annual Nitto Tire JL Experience.  While the video above offers an excellent rundown of the Jeep from the man himself, we're diving further into the details of this JL in the feature breakdown below.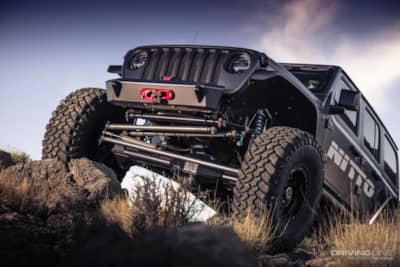 Upgraded Axles
Taking the place of the stock Rubicon axles are four-inch-O.D. heat-treaded chromoly axlehousings from Spidertrax. Each axle was fit with a GearWorks high-pinion 10-inch third member using a new prototype 5.43 gear set from U.S. Gear. This "curved gear" is designed to allow more contact between the ring gear and pinion. Mated to the heavy-duty ring gear is an ARB Air Locker that feeds 40-spline 300M axleshafts from Spidertrax.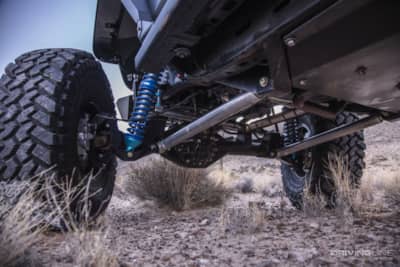 King Shocks
Resting at all four corners of the Jeep are King 2.5 internal bypass shocks and 2.0 air bumps. This setup allows for 14 inches of total wheel travel (set up for five inches of up and nine inches of downwards travel). Controlling the travel is a three-link with track bar up front and four-link out back using triangulated upper control arms. Going with triangulated uppers required a custom Pyrotect fuel cell to be secured behind the rear axle.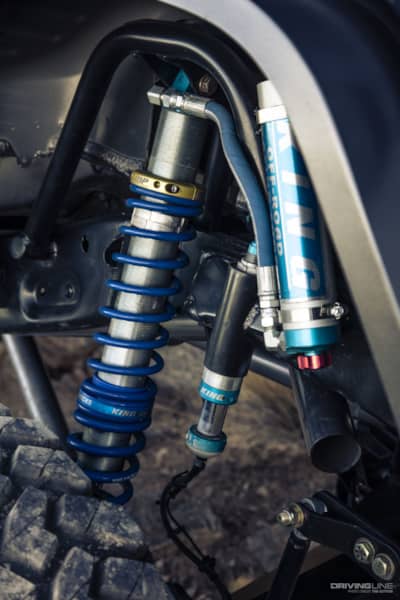 JK Steering Gear Box
At the time when Healy was building the JL, aftermarket steering kits weren't available. To work around this issue, he used an XD JK steering gear box and hydraulic-assist ram from PSC Motorsports. This allowed him to retain the factory electric steering pump. Since PSC Motorsports now offers a full steering conversion for the JL, Healy will be moving to that setup soon.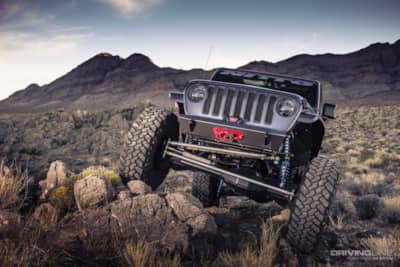 Final Touches
Adding breathing room for the 40-inch treads are custom set of fenders from Jimmy's 4x4. These, along with the dark satin gray 3M vinyl Wrap were some of the final touches done before setting off on the 2018 JL Experience.
A few other custom touches can be found front and rear thanks to a set of high-clearance bumpers made by Jimmy's as well. Just in case Healy finds himself or a fellow wheeler in a jam, a Warn Zeon 10-S winch along with a Factor 55 UltraHook is there to help out.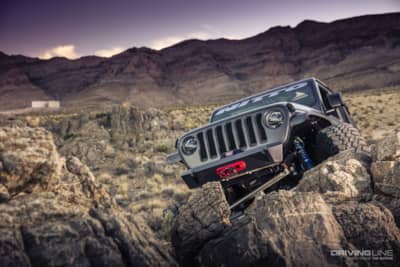 Wheels and Tires
Not running a spare tire might sound a little risky, but years of experience with the 40x13.50R17 Nitto Trail Grappler has given him enough confidence in the tire to build his Jeep's accordingly. Paired with the race-proved Trail Grappler is a 17x9 KMC Machete beadlock.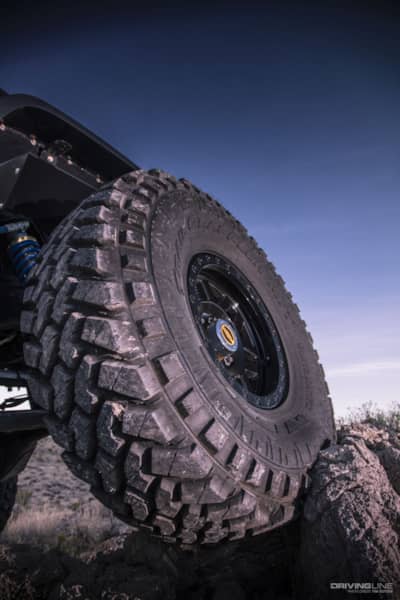 Mostly Stock Powertrain and Interior
Aside from a set of 1350 series drivelines from JE Reel, the powertrain remains mostly stock. Though Healy states the new eight-speed automatic is a big improvement over the previous JK transmission, there's a good chance the 3.6L engine will eventually get replaced by something more substantial.
Inside, the Rubicon remains mostly stock with the exception of an ARB Fridge/Freezer and slider rack. The extra fuel cans were added just in case his 22-gallon fuel cell wasn't enough to complete some of the longer desert days on JLX.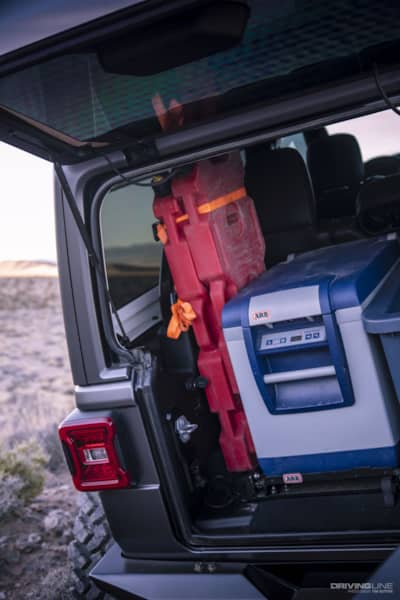 Quick Specs
2018 Jeep Wrangler Unlimited Rubicon 
| | |
| --- | --- |
| ENGINE | 3.8L Pentastar V6 |
| TRANSMISSION | 850RE |
| TRANSFER CASE | NVG241 OR |
| AXLES (F/R) | Spidertrax 4-in Chromoly housings, GearWorks HP 10 3rd Members, U.S. Gear 5.43 gears, ARB Air Locker, 40-spline 300M Spidertrax axleshafts, Warn hubs  |
| SUSPENSION | 3-link front w/track bar, triangulated 4-link rear, aluminum links, PAC sway bars, 14-in-travel King IBP coilovers |
| STEERING | PSC Motorsports hydraulic assist, Spidertrax steering knuckles   |
| TIRES | 40x13.50R17 Nitto Trail Grappler  |
| WHEELS | 17x9 KMC Machete beadlock |
| ARMOR | Jimmy's 4x4 bumpers and skidplates, stock Rubicon sliders  |
| MISC. | Warn Zeon 10-S winch, Factor 55 UltraHook, ARB Fridge/Freezer, ARB onboard air, Pyrotec 22-gal fuel cell, MBRP exhaust, Optima battery |
Want to see more JL's in action? Check out the first annual JL Experience!