Breathing Fire: An In-Depth Look at Loren Healy's Red Dragon
"It's the winningest car in all of Ultra4." It's a statement made with a smile by the man who has piloted car #67 to each of its victories—Loren Healy. Built in 2013 by the metal magicians at Jimmy's 4x4 in Cortez, Colorado, car #67, better known as the Red Dragon, is one of the most unique 4x4s in all of Ultra4 Racing. The inspiration for the design came from the Pro 4 trucks used in the Lucas Off Road Racing Series. With so many of the Ultra4 races at the time sharing the same Short Course challenges that the Pro 4 trucks faced, it was a bold, but calculated move.
The idea was to achieve an extremely low center of gravity, which is partly accomplished by moving the powertrain quite literally next to the driver in the cockpit. This makes for a great weight balance overall, but eliminates the possibility of a co-driver. In long distance and punishing races such as King of the Hammers, being without a co-driver can be a major drawback. Despite this, Healy has managed to put his car on the podium consistently throughout the years.
Recently, we caught up with the 2-time King of the Hammers champion and his Red Dragon machine (watch the interview). With so much history in one car, we decided to give it a proper feature breakdown so you can see all of the incredible parts and pieces that's allowed this one-of-a-kind race car to survive years of Ultra4 Racing.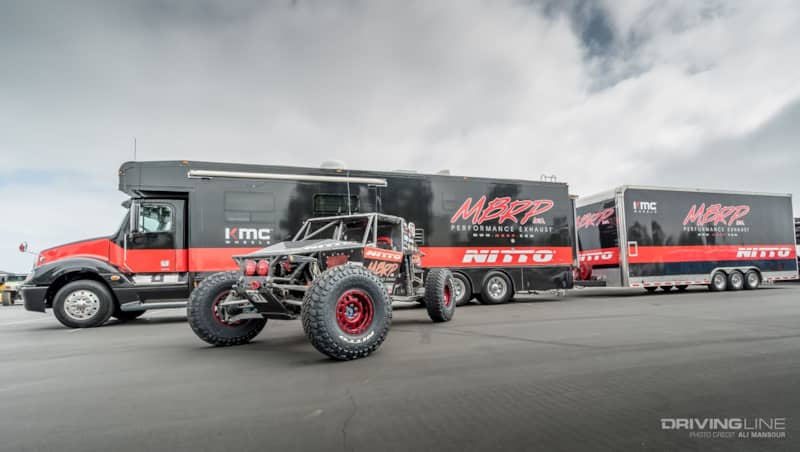 A 4,400-pound race weight might not sound like much, but when you factor in the type of terrain this rig is trying to race over, it becomes a notable part. To ensure he stays at the front of the pack, a 448ci LS7 from Turnkey Engines is shoehorned in place. Using Brodix heads, Pac Racing Springs valves, Holley fuel injection, Fast intake manifold, and custom exhaust by MBRP, the engine puts out an impressive 720 hp @ 6,500 rpm and 600 lb-ft. of torque at 6,000 rpm. A Dailey oil pump circulates the fluid on the dry-sump system, while an Optima Battery and Holley wiring harness keep things firing as needed.
Hanging out next to Healy in the cabin is a fully built TH400 transmission with a manual valve body, which is controlled by an Art Carr shifter. The custom dual air-intake setup is to ensure clean, filter air is all that makes it to the engine. Auto Meter Elite series gauges provide the car's vitals, while a Lowrance and Lead Nav help keep him on course.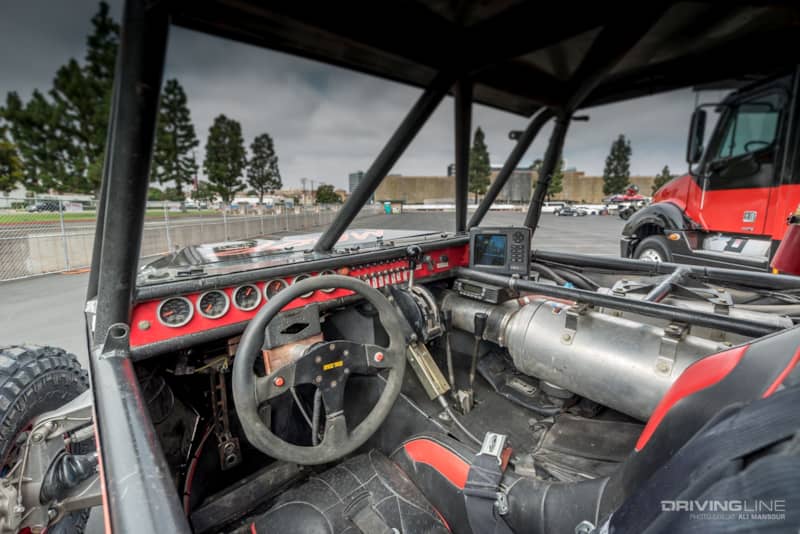 In terms of occupant safety, Healy uses suspension seats from Twisted Stich to keep him in place, while a 1.75-inch, 0.120-wall chromoly main chassis ensures the Red Dragon can take a roll. The mesh behind the seat provides protection and air flow to the series of fluid coolers mounted behind the cockpit.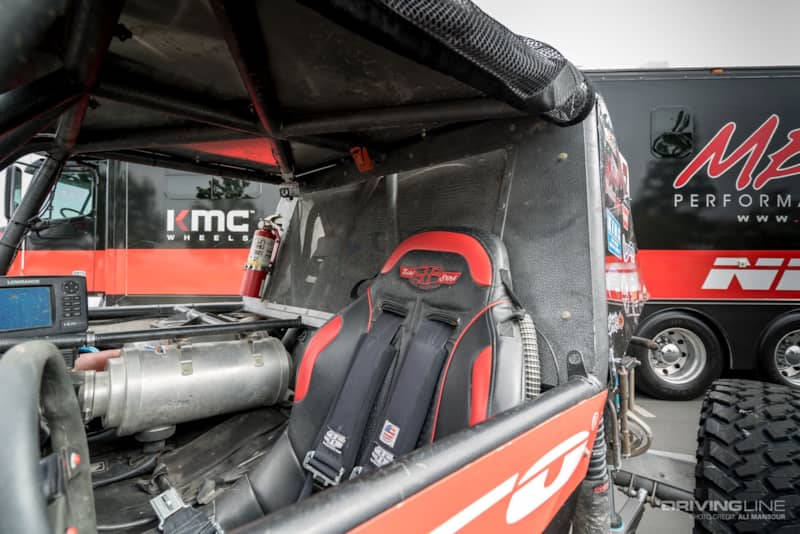 A vertically mounted CBR radiator nabs the majority of the air passing through the cabin, while individual CBR coolers are used for the engine oil and transmission fluid. Tucked just out of sight is a custom 50-gallon ATL fuel cell.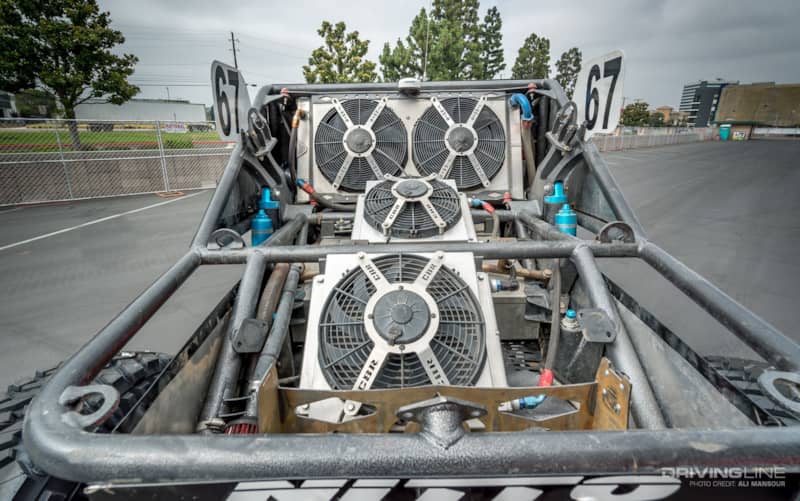 When 'crawling is needed, Healy engages his Advance Adapters Atlas II transfer case. The gear-driven unit is fit with a 3.0:1 low range, making for ample gear reduction. Protecting the vital underbelly components is a 1/4-inch AR500 belly pan. This same through-hardened AR500 steel is used in the skidplates as well.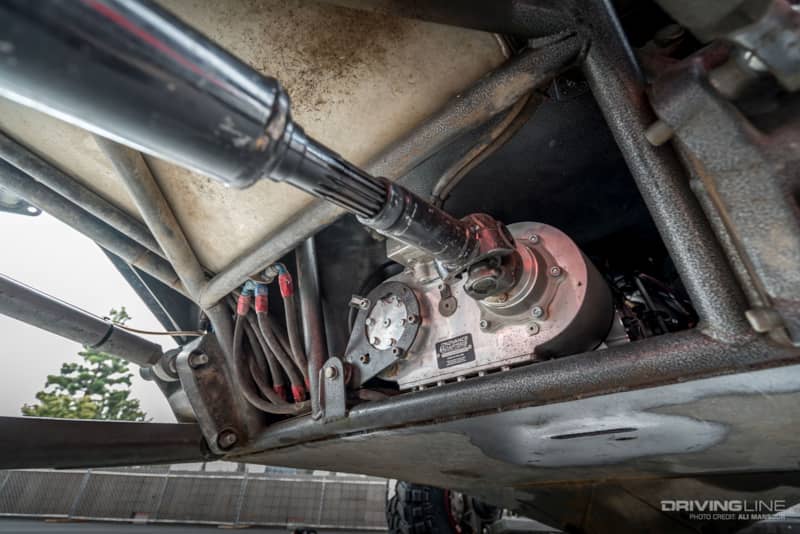 Feeding the GearWorks 3rd member is a 3-inch-diameter, 0.120-wall JE Reel Driveline, using 1350 U-joints. Since Healy uses a front mounted engine configuration (as opposed to mid/rear as many of the other IFS Ultra4 cars) Healy's able to use a GearWorks big bearing low-pinion 3rd member. While a touch of ground clearance is sacrificed with the low-pinion differential, the strength advantage is worth it as the pinion powers the stronger drive side of the ring gear.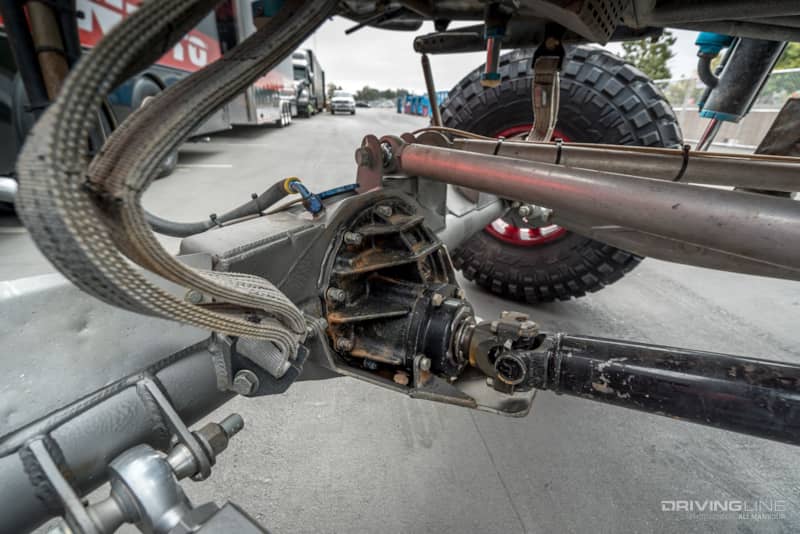 Inside the Spidertrax 4-inch chromoly axlehousing, you'll find a Gearworks spool used to rotate 40-spline, 300M Spidertrax axleshafts. To hault the 5.43:1 gearset, StopTech calipers are used to clamp down on Spidertrax rotors. The custom rear sway bar comes from Pac Racing Springs.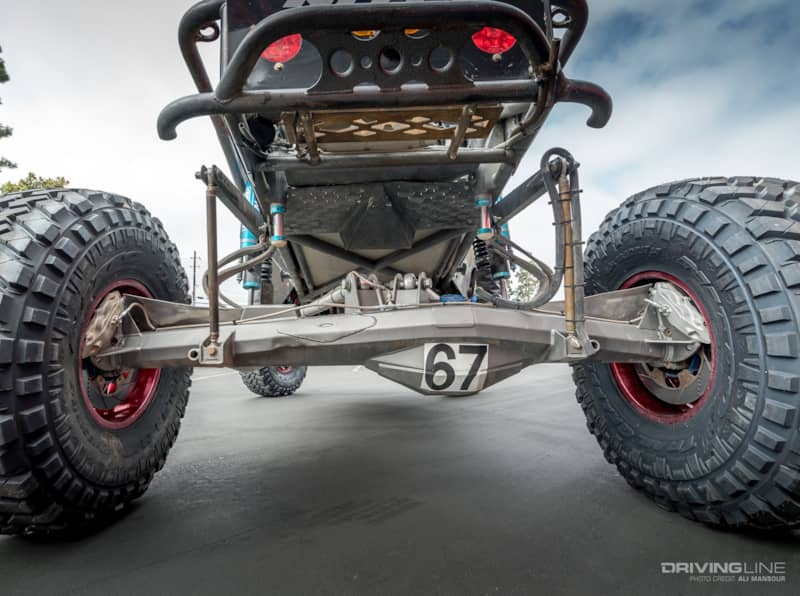 Going fast off-road means you need plenty of vertical wheeltravel. To accommodate this, a trailing arm system was fabricated that secures a 14-inch-travel King 2.0 coilover alongside a 16-inch-travel King 3.0 bypass shock. Using a spring rate of 250-over-300, the suspension cycles 26 inches of total travel (14 up, 12 down). Like the trailing arms, the triangulated upper control arms are all comprised of chromoly.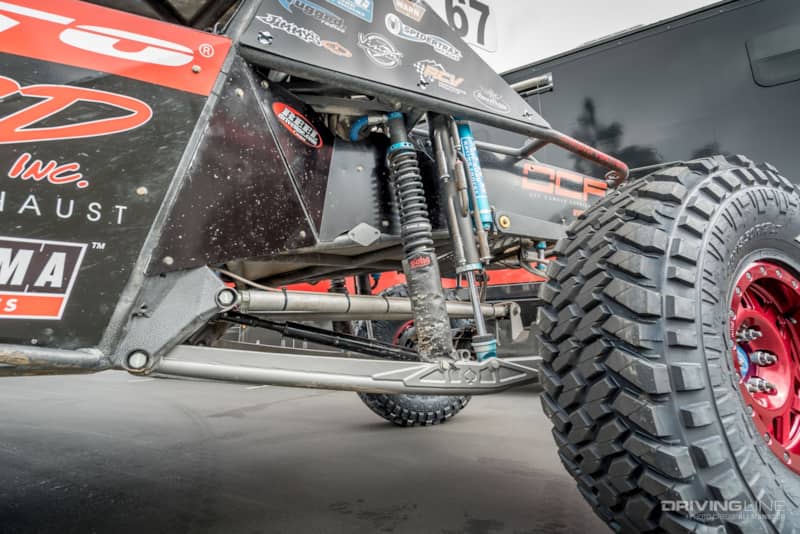 Up front, an Armada Engineering IFS system was attached to the Jimmy's 4x4 chassis. This long-travel plated A-arm system works a GearWorks high-pinion IFS differential that feeds RCV Performances Series 30 CV's and 35-spline Spidertrax axleshafts.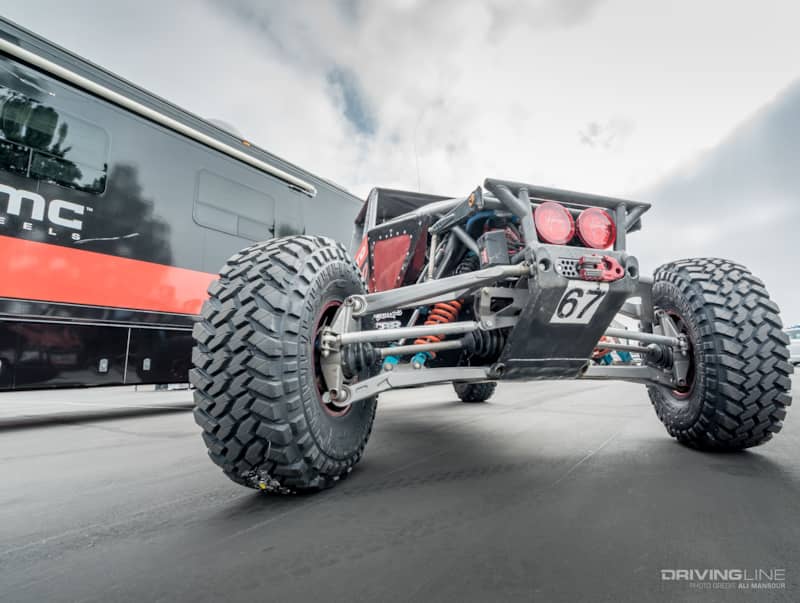 A 10-inch-travel King 2.0 coilover is paired with an 18-inch, 800-pound coil spring. Running next to the coilover is a King 3.0 seven-tube bypass shock. This limit-strapped setup allots for 18 inches of total travel (7 down, 11 up). To steer the custom front end reliably, a Howe Performance Truggy steering rack was installed.
A signature look for the Red Dragon is its illuminated LED front Vision X lights. Tucked just behind the red glow is a Warn 9.0 Rc winch.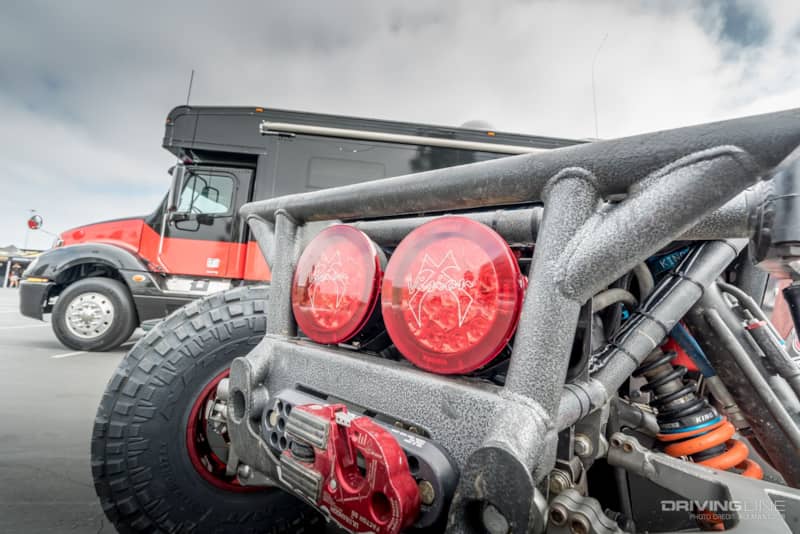 A proven combination for years has been Healy's 40x13.50R17 Nitto Trail Grapplers. To ensure the race-proven mud-terrains stay attach to the wheel, a set of 17-inch Forged KMC Machete beadlock wheels are used. The proven track record of this combo is also why you don't see a spare tire mounted to the Red Dragon.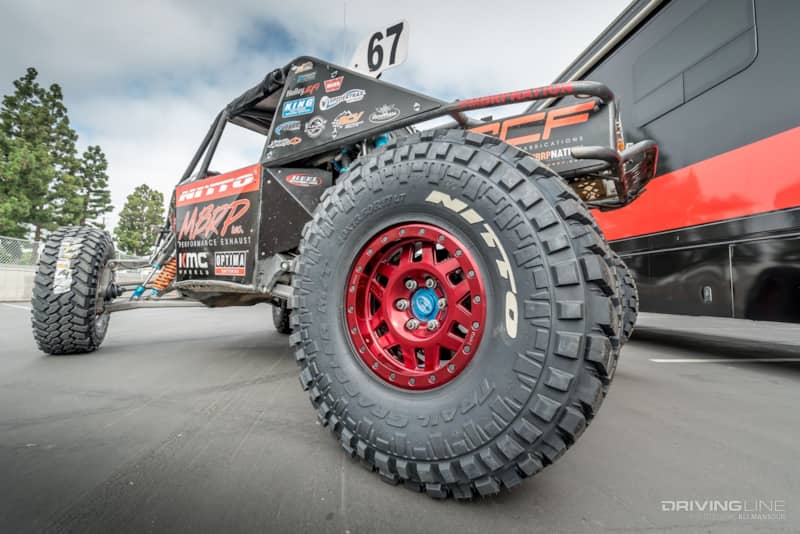 Resting with a 122-inch wheelbase, 91-inch track width and 18-inch belly height, the Red Dragon is far from small. Helping to give the Red Dragon its shape are custom aluminum panels built by Jimmy's 4x4, which were all wrapped in vinyl thanks to The AdArt Company.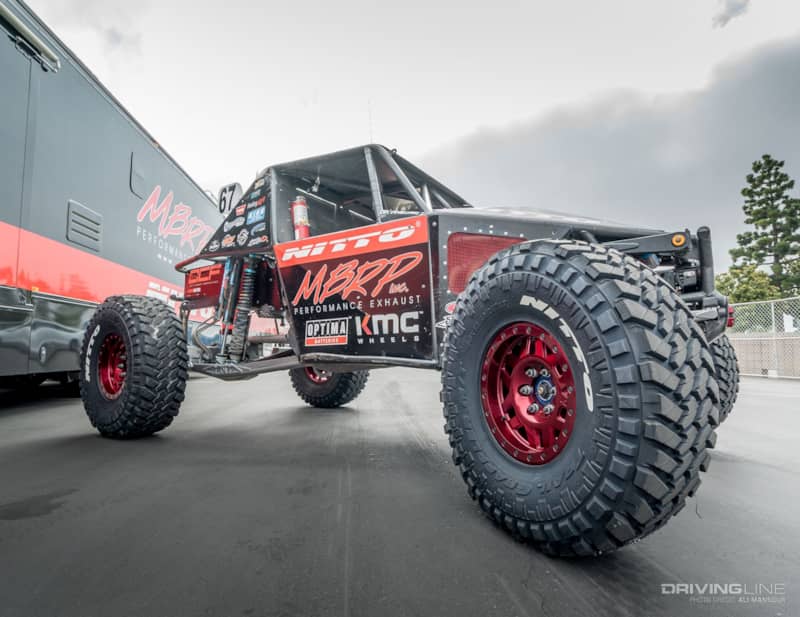 For 2018, Healy is building an all new two-seater chassis. While he hopes to keep the Red Dragon around for some Short Course events, he's been more than pleased with the success he's had over the years with the car.