A Mazda Axela Designed to Turn Heads & Styled to Change Minds
One of my favorite things about car events are the hidden gems found in the parking lots. A 2014 Mazda Axela (Mazda3, in the U.S.) may not be everyone's idea of a gem, but I found the clean lines and execution worth waiting around for the owner to show up.
While waiting, I had some time to look over the car. What stuck out to me at once was the fact that nothing stuck out at me; it was a well thought out, cohesive build, following Mazda's design philosophy called "Kodo."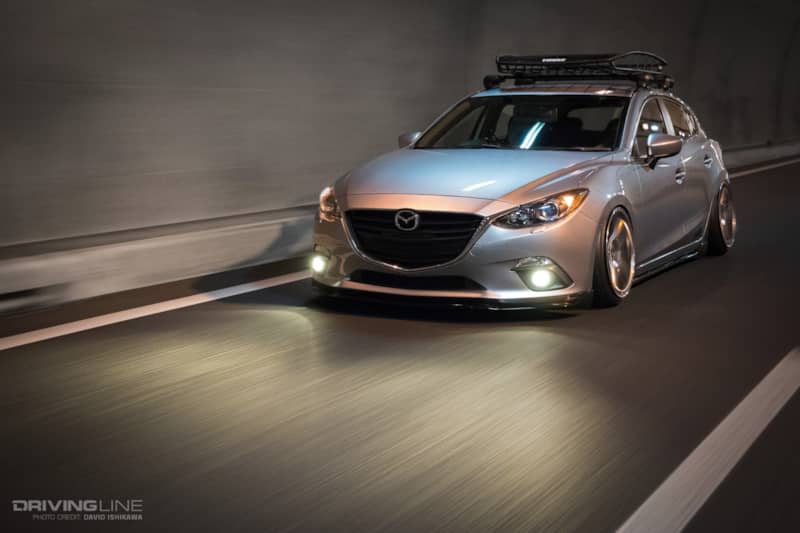 Soul of Motion
Kodo means "Soul of Motion" and focuses on simplicity of form. Mazda describes that as "self-restrained dignity and sensuality." The Mazda Axela in front of me kept to this design principle even with its customizations.
The exterior was simple with only Mazdaspeed lip spoilers, side steps and rear lid spoiler. The car was perched with mere millimeters of clearance between the fenders and the 19-inch Work Ryver S005s. The Hyper Silver Mirror Cut finish complemented the body nicely, keeping with a very monochromatic theme.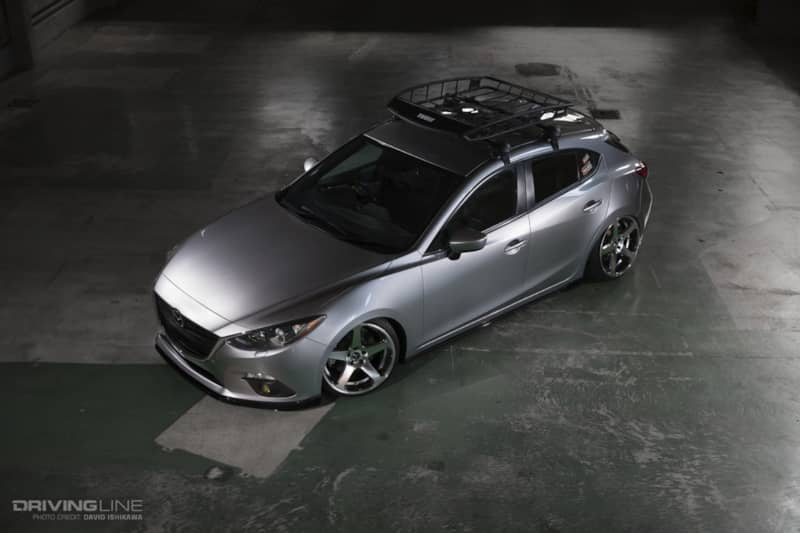 Peeking inside, I noticed Bride seats. In fact, both front seats were Bride, and even the back seats were re-covered by Bride. Continuing with the Bride theme, all the door inserts were also covered in the signature gradient Bride pattern.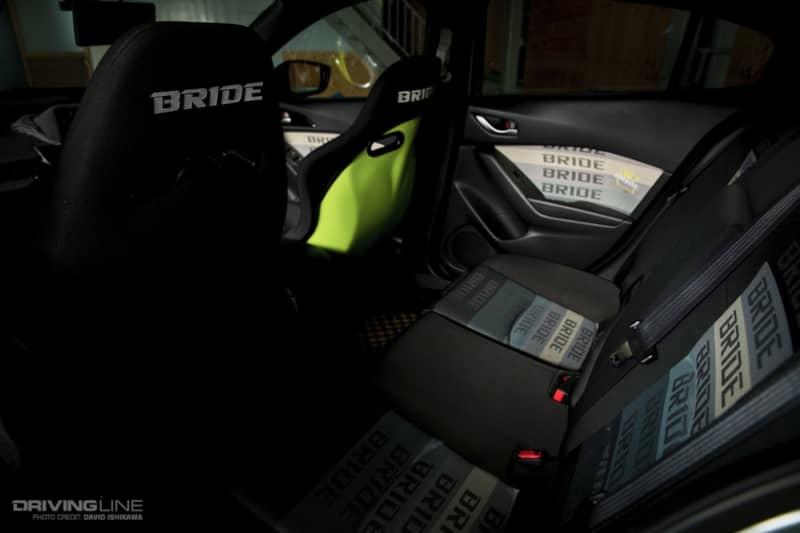 Best of Both Worlds
When the owner, Mr. Yatabe, returned, he told me that he is the owner of a tire and wheel distribution company called Deep Japan. The Axela serves as a rolling showcase but also doubles as a family car. As soon as I heard that, curiosity struck me, and I had to ask him if he drives it around at this height. To my surprise, he replied that the car is static (meaning, yes, he drives it at that height), but he did add air cups that raise the car up by 2 inches if needed. However, Mr. Yatabe prefers not to raise it, and I share the same sentiment.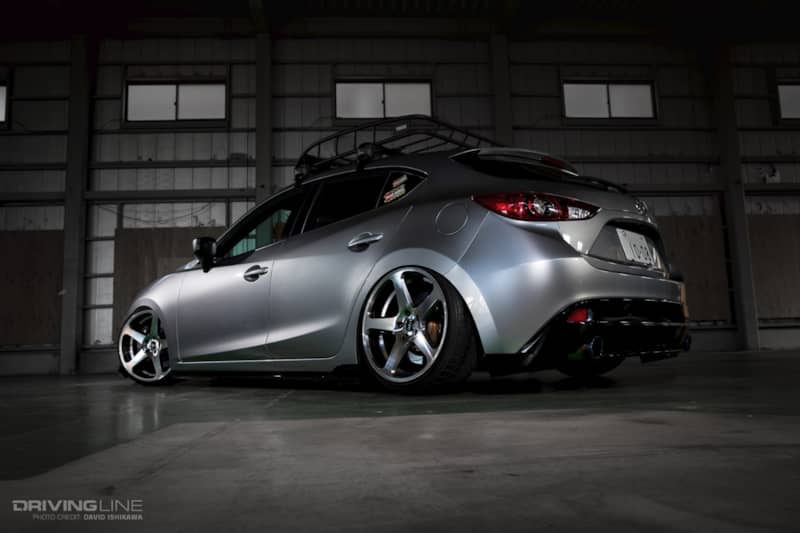 His suspension is made up of Balance Static original coilovers plus Roberta air cups with a front rate of 21 kg and rear rate of 11 kg. Sorting out the camber are adjustable upper strut mounts and Balance rear adjustable upper arms. Rounding off the suspension and keeping everything rigid are Tanabe strut tower bars.
Perfect Balance
When running 19-inch Work Ryver S005s, the stock brakes would look pretty misplaced. To account for that, and of course help with stopping, is a full set of Wilwood 4-piston calipers mated with 2-piece 340π rotors.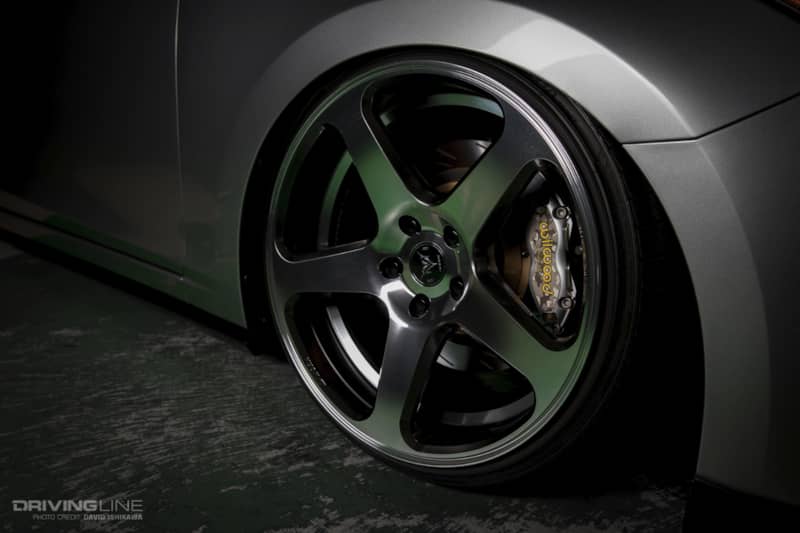 The rear Ryver S005s are wrapped in Nitto Tire NT555s with a 40 mm spacer pushing them to +5 mm from the original +45 mm. Mr. Yatabe's favorite feature of his car is the rear fenders, which have been pushed out 15 mm to accommodate this wider stance. It is so clean that I would not have noticed if it had not been mentioned.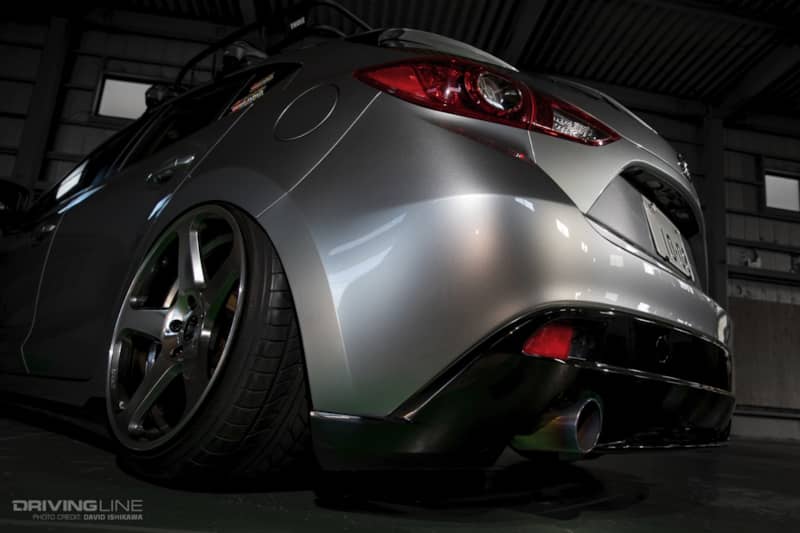 Monsters Inside
Earlier I mentioned the massive amounts of Bride goodies making up the interior. Besides the seats and all of the custom Bride covers, Mr. Yatabe proceeded to point to the headliner, which (you guessed it) has also been given the Bride treatment. Not only has virtually every fabric been replaced with Bride, but the Bride monster logo has also been custom embroidered in various areas.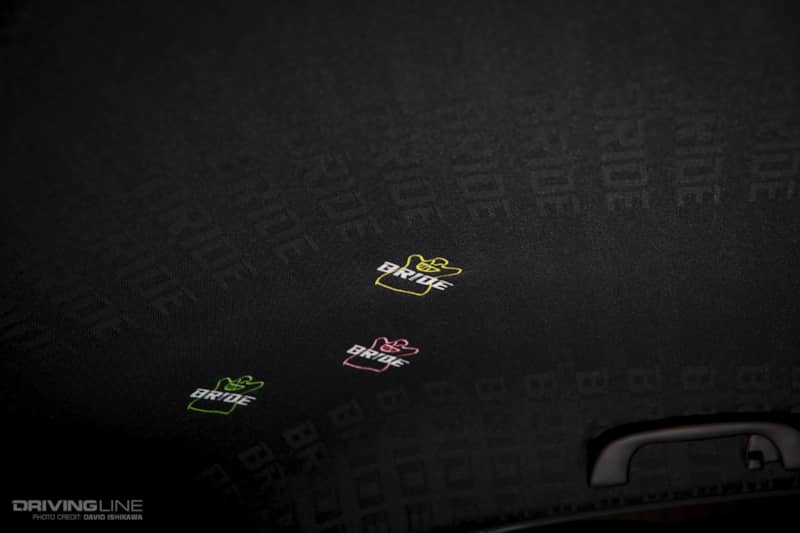 The driver's seat and the Momo Spider steering wheel have been custom painted a custom yellow to match the Bride monster logo. Fitted with yellow Karo floor mats and Momo shift knob, the interior follows the same design principle as the exterior.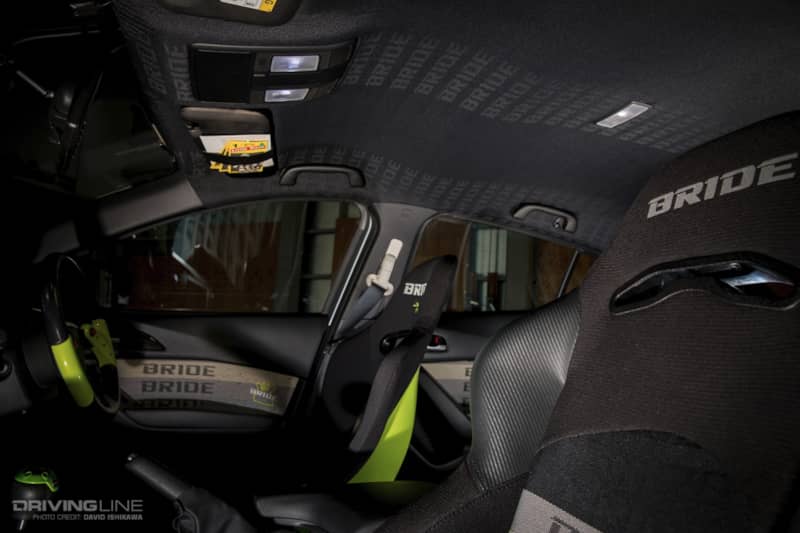 The Road Less Traveled
The Mazda Axela is not a popular choice among car enthusiasts, so I was curious to hear why Mr. Yatabe chose it. He stated that he first saw the new Mazdaspeed 3 at the 2013 SEMA Show and thought it was really cool, but he also thought he could make it even cooler.
The following year, he started his Axela project, and after two years he completed it to where it is today. His goal was to be the first to customize this model Axela with original parts. I believe he has succeeded.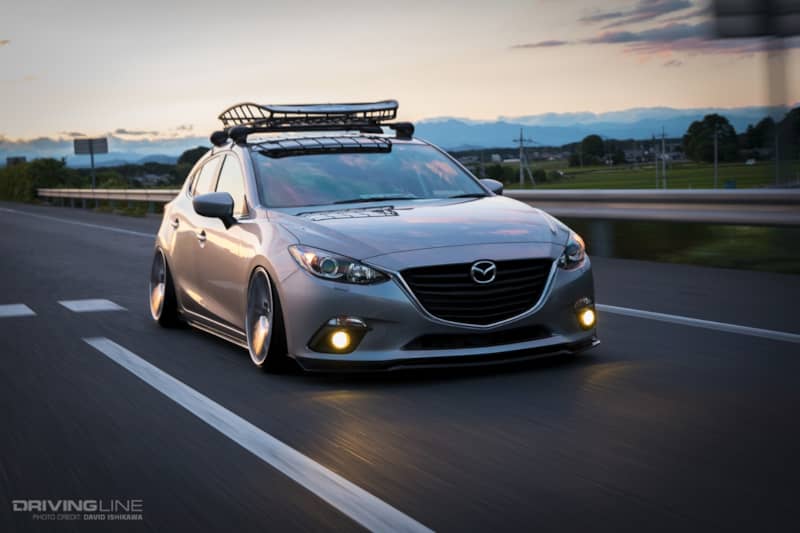 Mr. Yatabe would like to thank Body Make Paint Garage Sparkle and Suspension R.E.I for all their help and support.
Check out more of Mr. Yatabe's Kodo Mazda Axela in the gallery below.