A Rusty Custom '66 Chevy Pickup Named LokJaw
From barn find to SEMA Show, it's the build that captivated social media followers the world over. And it all started with a rusty pasture ornament of a '66 C20 that was sold to the folks at Banks Power for one measly dollar. It's called LokJaw, but don't let the name fool you…the body is the only rust-riddled piece of metal left on this classic bodied ¾-ton Chevy. The frame, suspension, axles, transmission and—most importantly—the engine are all brand-new. Chosen as a way to showcase the company's upcoming diesel crate engine program, Banks elected to stuff a supercharged and nitrous-fed L5P Duramax under the hood.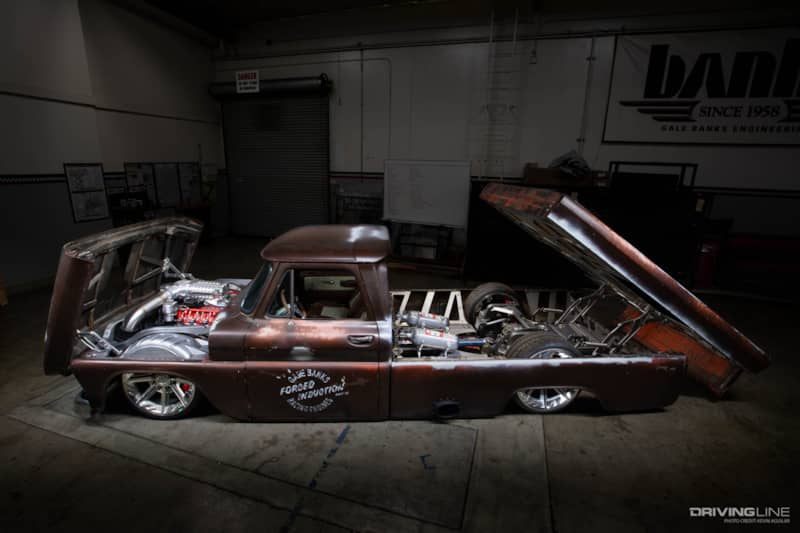 But while the engine package was certainly an intended focal point, the build was never meant to be based solely around the exotic power plant between the frame rails. Not even close. The guys at Banks called on more than 30 industry partners to take the build to the next level. In time, LokJaw would be treated to a new chassis, a custom 9-inch rear-end, air ride, topnotch fab work, bigger brakes, an Allison transmission, one-off 8-lug wheels and even a tilt-bed system. If you followed the LokJaw video series, you were watching world-class R&D being performed in real-time. If you're just tuning in, enjoy Banks' frame-laying C20 as they originally envisioned it.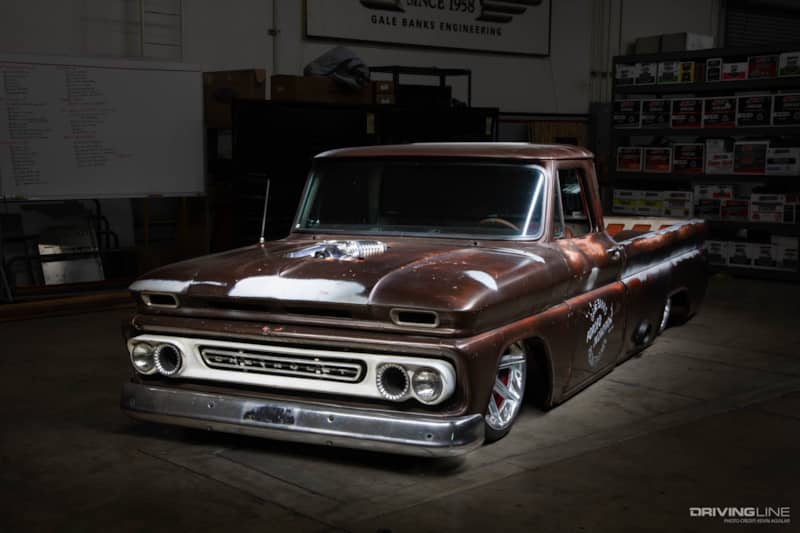 State-of-the-Art Air Ride
Aside from the wild powertrain set to propel LokJaw, this is what the build was all about: being able to lay frame. Many aspects of the LokJaw undertaking have been designed around being able to accomplish this feat, and Ridetech makes it all possible with the touch of a button. The company's RidePRO E5 air ride suspension control system is automatically adjustable, features dual Thomas 150 psi air compressors, an aluminum 5-gallon air tank, a BigRed Air Valve Block with large, 3/8-inch ports and eight independent solenoids to control each wheel separately. Ridetech even supplied a RidePRO E5 ride height sensor kit for the build.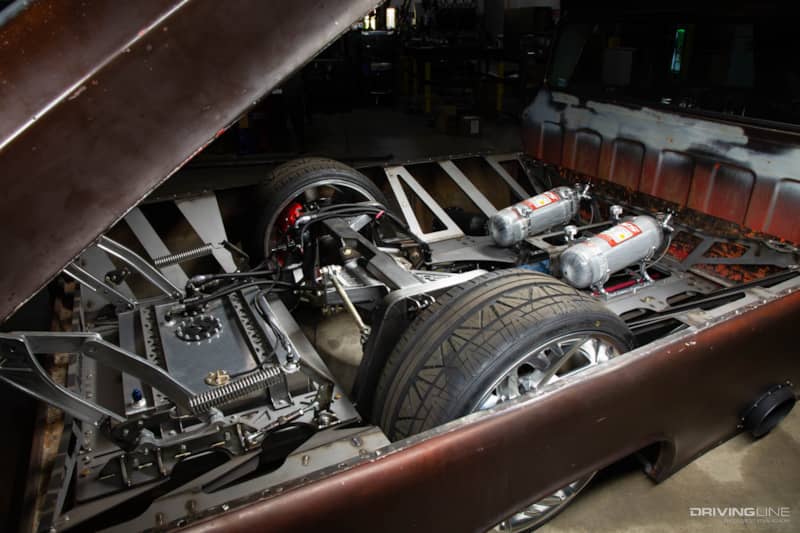 Why Diesel?
To get right to the point, Banks has been big on diesel since the '80s, and in recent years they've spent a ton of time around GM's 6.6L Duramax. If anyone can build a reliable Duramax, make it crank out stupid horsepower and be able to offer it to you in turnkey form, it's Banks. The company's R866SC crate engine is based on the L5P version of the Duramax initially released for the '17 model year, but that's been fitted with a proprietary camshaft, valve spring package and pushrods, along with an in-house-designed wet sump oil pan. The R866SC version also happens to come void of a single or even twin turbochargers. Instead, it's graced with a Whipple supercharger. According to Banks, the R866SC produces 600 to 650hp to start, and the number goes up from there.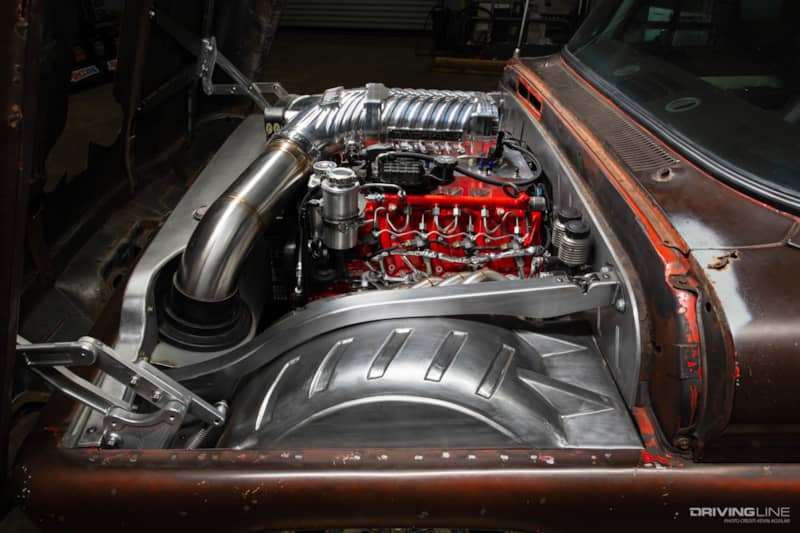 Why A Supercharged Diesel?
Why supercharge instead of turbocharge a diesel? In the words of Gale Banks himself: "'Cause it's sick and wrong." Beyond the wow factor of bolting a blower on top of the Duramax, the benefits are instant throttle response and simpler packaging. Speaking of packaging, the Gen 5 3.8L all-aluminum, twin-screw blower from Whipple Superchargers is coupled to an air-to-water intercooler—one of the most efficient methods of keeping boosted intake air on ice. The Whipple supercharger is driven via a fluid-filled, race viscous damper designed in-house at Banks with a 12-rib belt spinning up the twin-screw unit. Also notice the twin intake tubes. They're part of LokJaw's trick dual ram air intake system.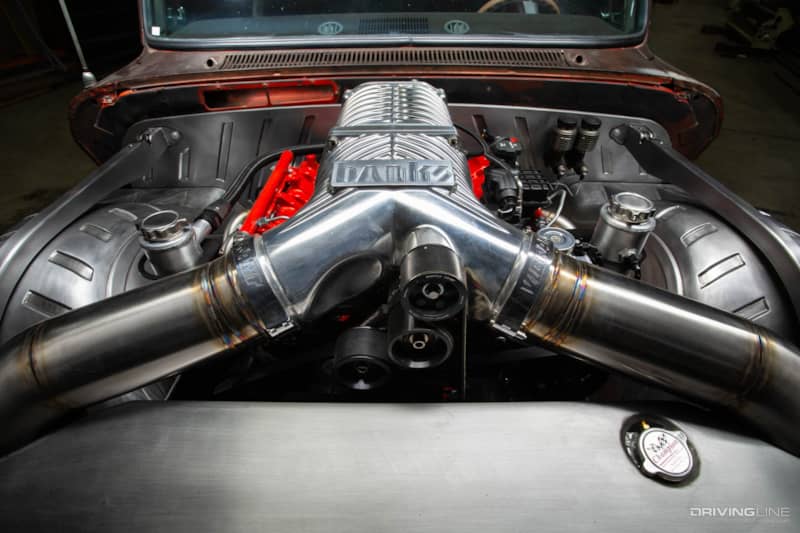 Roadster Shop Chassis, Strange 9-inch and Nitrous
For the ultimate foundation, Roadster Shop supplied Banks one of its Spec Series C10 chassis, which has been modified to accommodate LokJaw's Duramax engine and Allison transmission combination. The rear boxed sections and added gusseting help stabilize the 9-inch rear end from Strange Engineering, which is a full-floating, 8-lug unit with 35-spline HyTuf axles, an Eaton TrueTrac and relies on a Watt's link to keep it centered. And just in case the blown Duramax's fuel-only horsepower number isn't enough, two carbon fiber nitrous bottles—with lines plumbed into the Banks-built intake manifold—will help send the C20 further into orbit. No doubt, the Nitto Invo tires out back will be given a run for their money when it comes time to maintain traction.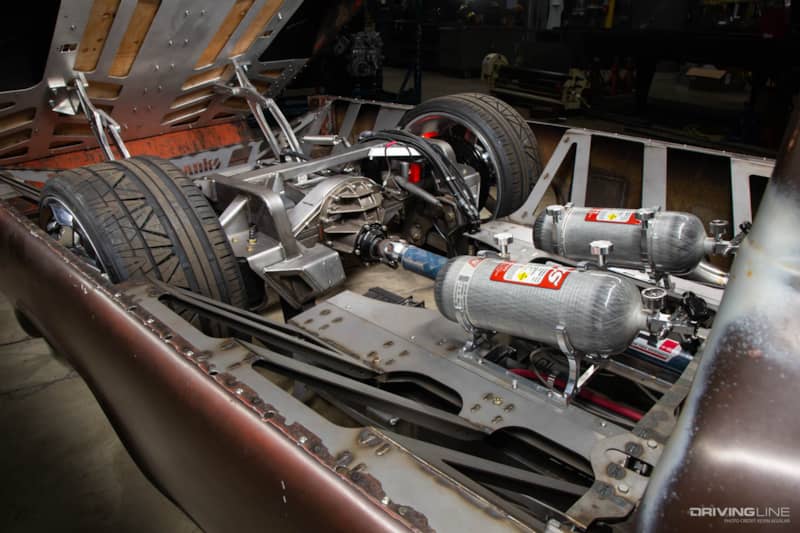 Engine Access and Tilt-Bed
LokJaw's engine access and tilt-bed operation were both masterfully done in-house at Banks, thanks in large part to Matt Gamble's extensive knowledge of CAD and the fabrication skills of Erik Reider. Angle brackets, under hood hinge brackets and core support brackets were all homemade at Banks' Azusa headquarters, with full adjustability built in to perfectly align the hood. The hinge system for the bed is equally impressive. Stiffening ribs are present throughout the bed floor to create torsional stiffness when the bed is raised.
Alterations for Airflow
Maximizing the twin air intake system led to a myriad of front-end modifications, one of the most noticeable being an earlier model grille. The '60 model year grille was chosen for its dual headlight design, with each inner head lamp hole being used to feed the air box (populated with a 9-inch OD filter element) positioned on the other side. With a significant amount of cutting and reworking, the air boxes were mounted to the C20's factory core support.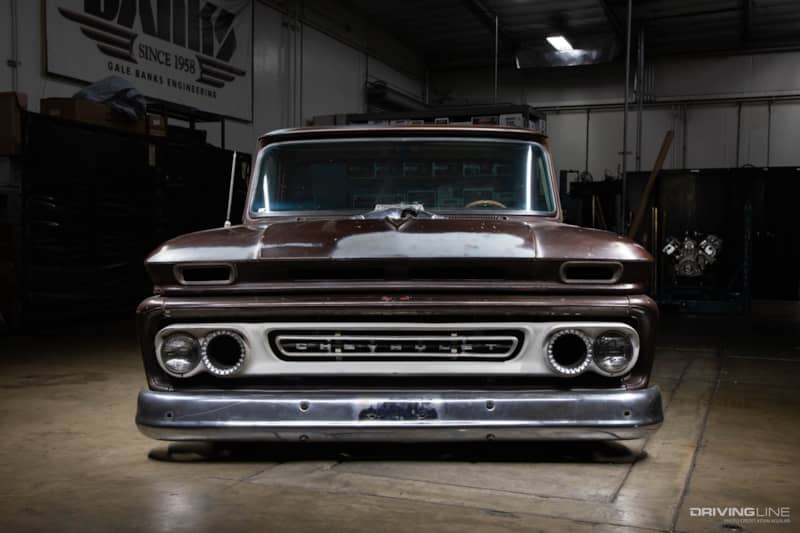 A fully-functional set of 22-inch, 8-lug wheels came from Sparc Industries. Each wheel was cut from a 500-pound billet of aluminum for strength and was designed for both heat dissipation and optimum aerodynamics. They adequately showcase the truck's Wilwood TX6R Big Brake kit and do it all with top-shelf curb appeal. Notice the shark-like fins machined into the wheel that—in addition to attracting the eyes—actually serve to pull hot air out of the engine bay.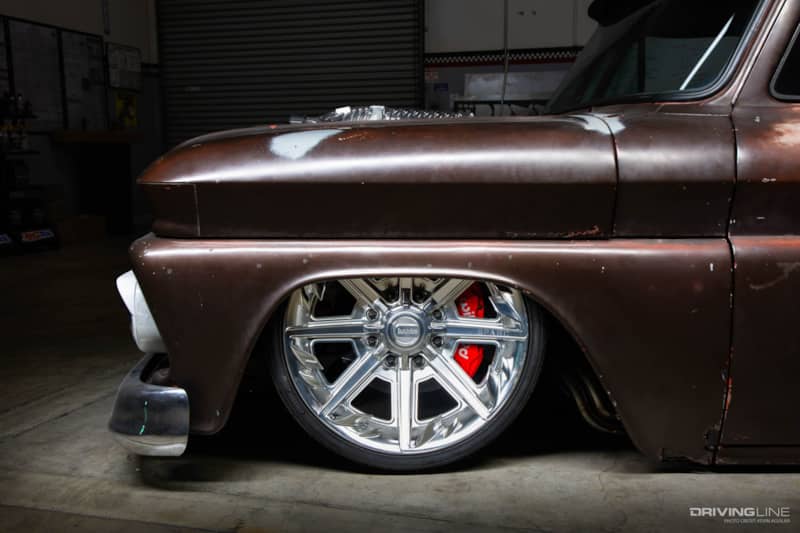 Keeping with the top-shelf theme of the build, the custom wheels were mounted to Nitto Invo ultra high-performance tires at all four corners.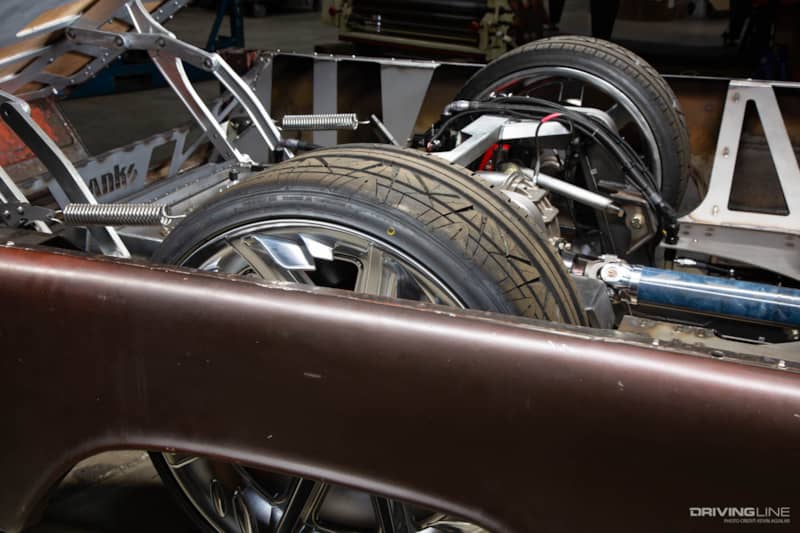 The Right Touches, Inside and Out
In the cab you'll find custom-molded upholstered door panels, bucket seats, a center console and a steering wheel from TMI Products. A MoTeC M142 stand-alone ECU and PDM30 (power distribution model) sit in the glove box, while a MoTeC C127 monitor mounts to the bottom of the dash near the steering column, allowing high resolution viewing of LokJaw's key powertrain parameters. Also notice the raw finish transmission tunnel, which looks huge because it is. Built by Empire Fabrication, it integrates a commercial-grade Allison 1000. The six-speed automatic was reinforced by ATS Diesel and its shifts are commanded via a Powertrain Control Solutions' GSM Push Button Shifter kit.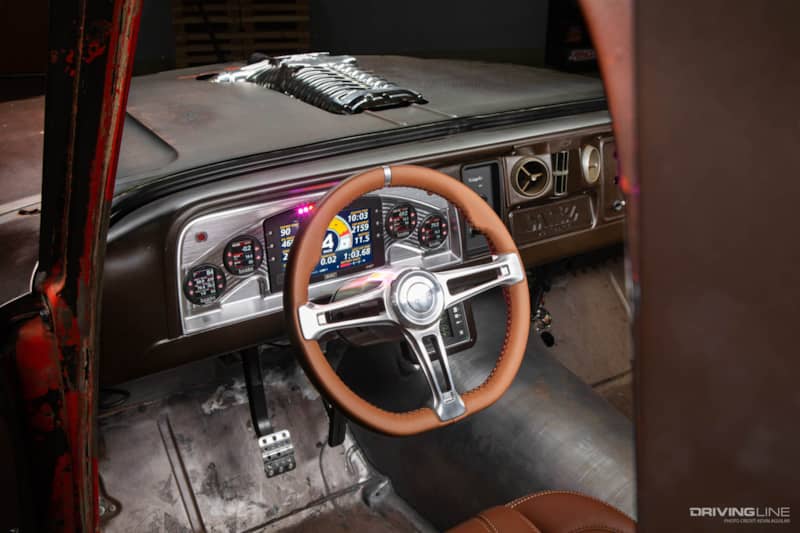 LokJaw Hard Facts
| | |
| --- | --- |
| Owner: | Banks Power |
| Vehicle: | 1966 Chevrolet C20 |
| Engine: | Banks R866SC 6.6L V8 Duramax Diesel with Gen 5 3.8L Whipple supercharger and air-to-water intercooler |
| Transmission: | Allison 1000 automatic, six speed, built by ATS Diesel |
| Suspension: | Ridetech RidePRO E5 air ride suspension control system |
| Chassis/Axles: | Reinforced Roadster Shop Spec Series C10 chassis, Strange Engineering 9-inch 8-lug axle |
| Tires: | Nitto Invo, Front 245/30ZR22, Rear 295/25R22 |
| Wheels: | Sparc Industries 8 on 180mm, billet-aluminum 22x10.5 (rear), 22x8.5 (front), Wilwood TX6R Big Brake kit |
| Exterior: | Tilt bed, true dual exhaust, Empire Fabrication body work |
| Interior: | TMI Products bucket seats, center console, steering wheel and custom-molded upholstered door panels; Powertrain Control Solutions' GSM Push Button Shifter kit; MoTeC C127 monitor and stand-alone M142 ECU |