A Sky-High White Knight from the Seaside
Whenever the Pacific Northwest comes to mind; one usually envisions fog-filled forests, grunge music, the Goonies and fancy bean water. But it is getting close to having full-blown custom diesel trucks added to that list. One of the shops helping to push that trend is the husband and wife team at Seaside Muffler and Off-Road. Tim and Danielle Wing continued and expanded their local muffler shop into an off-road truck customizing business in Seaside, Oregon over a decade ago.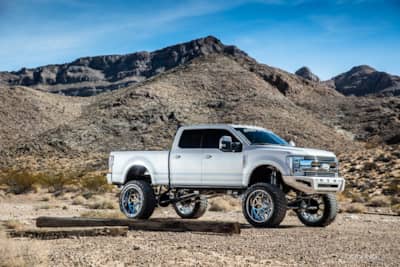 Specializing in performance and suspension upgrades on diesel trucks; their shop has touched the gamut of enhanced daily drivers and work trucks to full-blown show rigs that help showcase the capabilities of the shop. This has lead to working with a variety of companies on their latest projects.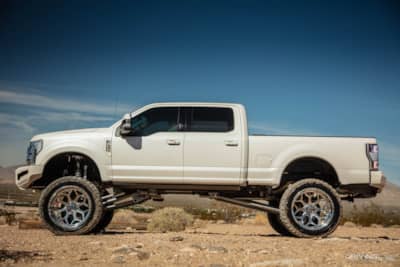 Recently, that involved building a 2017 Ford Super Duty diesel truck, complete with 40-inch tires on 26-inch rims, for Nitto Tires to help push the latest trends in the lifted truck world.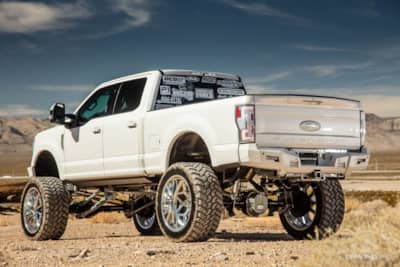 Fresh Rubber: A Big Deal
Tim and Danielle looked to make an impact at SEMA and show-off a set of one of the largest off-road tires that Nitto has to offer.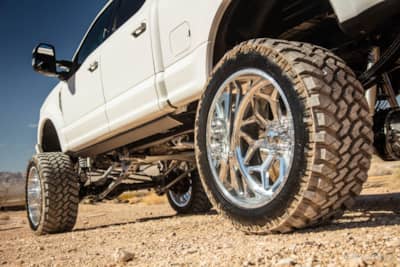 The massive 40-inch Nitto Trail Grappler tires were mated to a set of 26x14-inch American Force Concave Cortex wheels.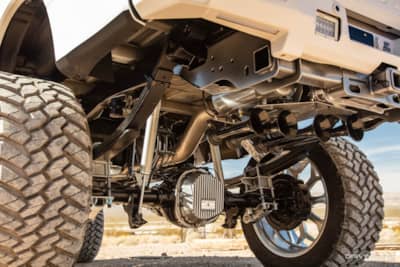 With a set of rollers that massive; the stock spare tire wouldn't do any good; so it was tossed aside and a spare tire replacement train horn setup from Hornblasters was bolted up under the Ford's bed instead.
Suspension Upgrades
The entire suspension system was beefed up and elevated to accommodate its new legs. A 12-inch BDS Suspension setup featuring FOX DSC adjustable coilovers and an adjustable 4-link was installed.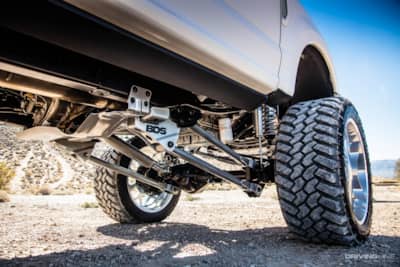 The steering was upgraded as well with a FOX dual steering stabilizer and the front and rear axles saw Mag-Hytec differential covers. BDS Recoil Traction Bars and FOX 2.0 shocks complete the tailend setup and keep the wide, off-road tires planted on the ground. 
Armored Up
Next, a full set of front and rear armor was bolted up to the crisp white Super Duty thanks to color matched Road Armor Identity bumpers complete with Rigid LED lighting. The color matching was continued throughout with the grille and emblems sprayed white and the factory lights replaced with custom Recon headlights, cab, and tail lights all meant to blend into the body.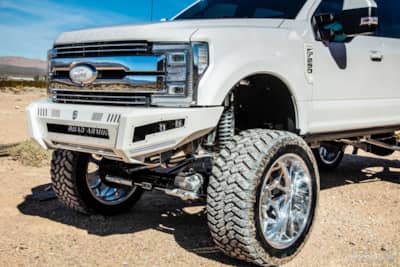 Having the foundation of a custom exhaust shop; it was natural to upgrade the performance of the truck as well; a 5-inch MBRP exhaust was bolted up while an S&B cold air intake took care of the front end of the truck. The end result is a massive diesel that demands attention with its clean style and size that Seaside put together for SEMA…Say that 5 times fast.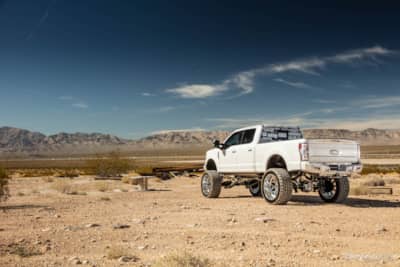 White Knight Hard Facts
| | |
| --- | --- |
| VEHICLE | 2017 Ford F-250 Super Duty: White Knight |
| OWNER/BUILDER | Tim & Danielle Wing/Seaside Muffler & Off-Road |
| ENGINE | 6.7L Power Stroke Diesel, S&B Cold Air Intake, 5-inch MBRP Exhaust, Mag-Hytec Transmission & Oil Pans |
| FRONT SUSPENSION | BDS Suspension 12-inch Lift, FOX DSC Adjustable Coilovers, Adjustable 4-Link, FOX Dual Steering Stabilizer, Mag-Hytec Front Differential Cover |
| REAR SUSPENSION | BDS Suspension Lift, BDS Recoil Traction Bars, FOX 2.0 Shocks, Mag-Hytec Rear Differential Cover |
| WHEELS | 26x14-inch American Force Concave Cortex Wheels |
| TIRES | 40x15.50R26 Nitto Trail Grappler |
| ACCESSORIES | AMP Research Steps, Hornblaster Shocker Spare Tire Delete Train Horn Kit |
| BODY | Road Armor Identity Bumpers, Roll-N-Lock Tonneau Cover |
| LIGHTS | Rigid Industries LED Light Bar & Rock Lights, Recon Taillights, 3rd Brake Light & Cab Lights |