Aluminati: Hanro's Custom Engraved F-250 Pickup Truck
Story By Jason Mulligan
Photos By
Having spent over 8 years in the U.S. Army; Hank "Hanro" Robinson saw tours in Afghanistan, Kosovo and Iraq. He fell into turmoil after leaving the Army, dealing with PTSD and the memories of fallen friends. He had always enjoyed metal work and started taking a welding course in Phoenix, Arizona.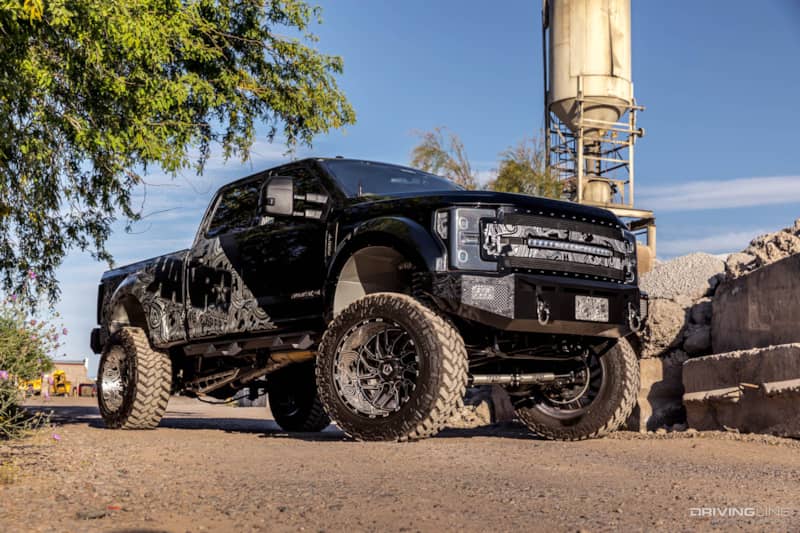 But he truly found his calling when he picked up an engraving tool in class. The creative craft allowed him to channel his experiences and emotions into his art; providing an outlet to help heal and honor those that serve in the military.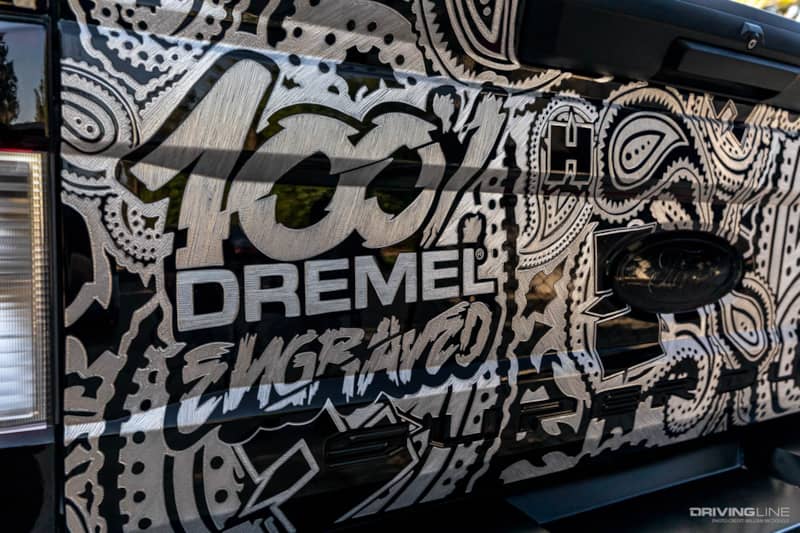 His art and ambition has since taken him to new heights creating partnerships with companies like Dremel and Monster Energy and creating custom pieces for musicians, celebrities, racers, events and tradeshows. Hank paid tribute to his fellow vets and soldiers lost with Freedom Blues, a fully engraved Ford F150 he built for the SEMA show several years ago. For his next big build, he looked to showcase his artwork and skill first and foremost to help inspire others and demonstrate the craft of engraving. He kept with the Ford truck platform as it offers an all aluminum body, ripe for engraving. But he opted for a bigger canvas with a 2017 Ford F250 Super Duty, and with the help of FX Autobody, Hank rebranded it as his "Aluminati H250."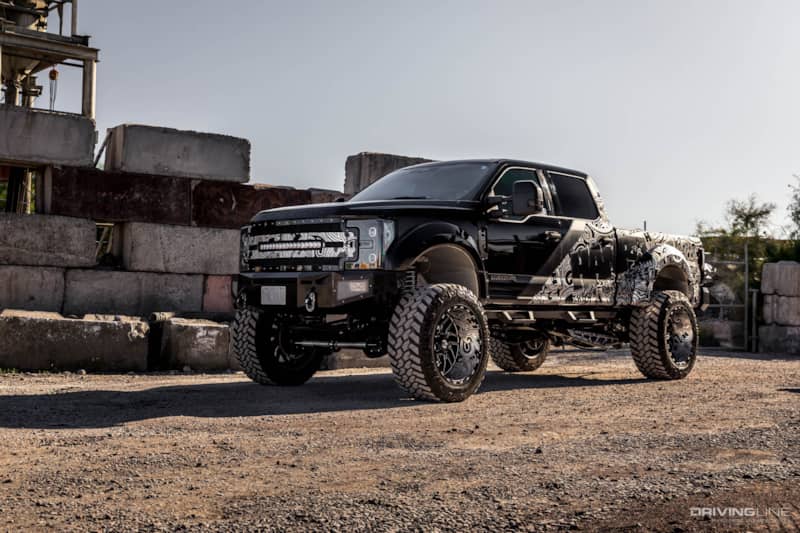 1,600 Hours of Engraving
Nearly every surface on the truck has touches of Hank's engraving work with the largest of course being the body itself. A twist on classic filigree with the Hanro logo fills the panels and accents custom parts throughout.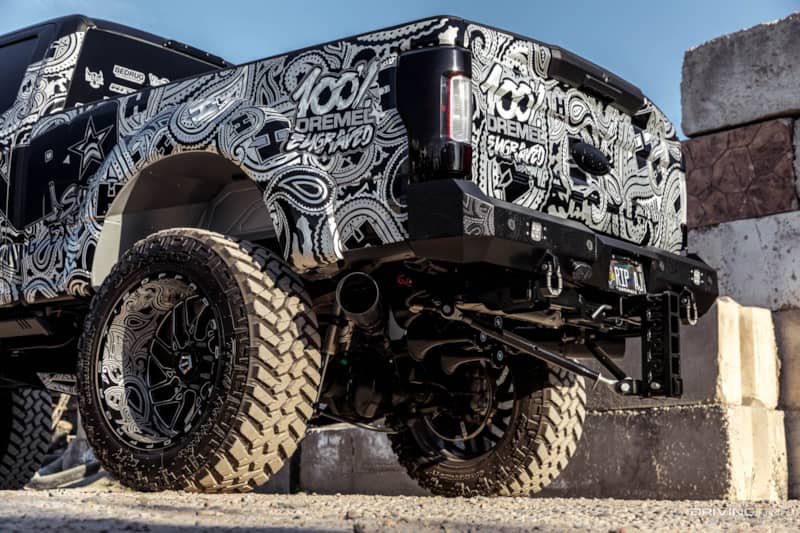 The engraving was continued onto the Royalty Core front grille insert and steel Fusion bumpers which were then powder coated black for a ghosted engraved effect. The suspension, emblems, speaker panels, air tank, wheels and other parts were all engraved by the Dremel in Hank's hand.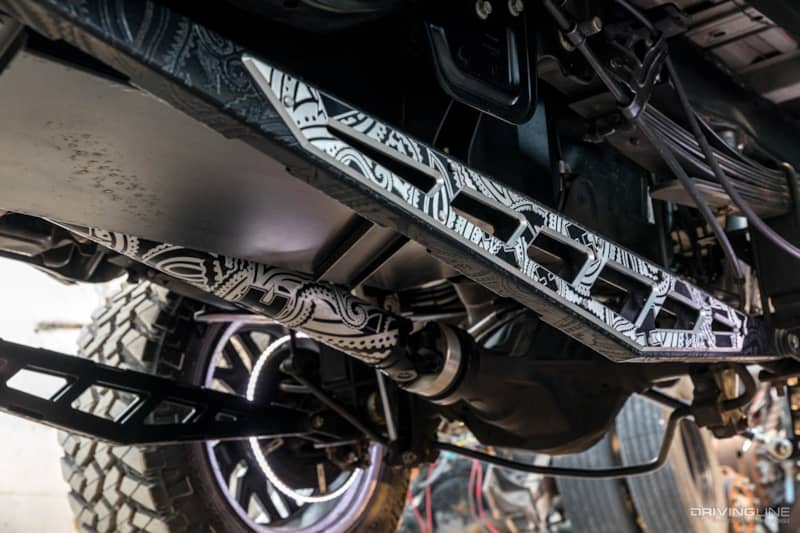 After being carved by Hanro; the aluminum body was sprayed with BASF Black by Sosa's Custom Paint before being fully clear coated to protect Hank's artwork. Custom aluminum wide body fenders and inner fender liners to accommodate the 24-inch wheels and 40-inch Nitto Trail Grappler tires were fabricated by Rad Fab.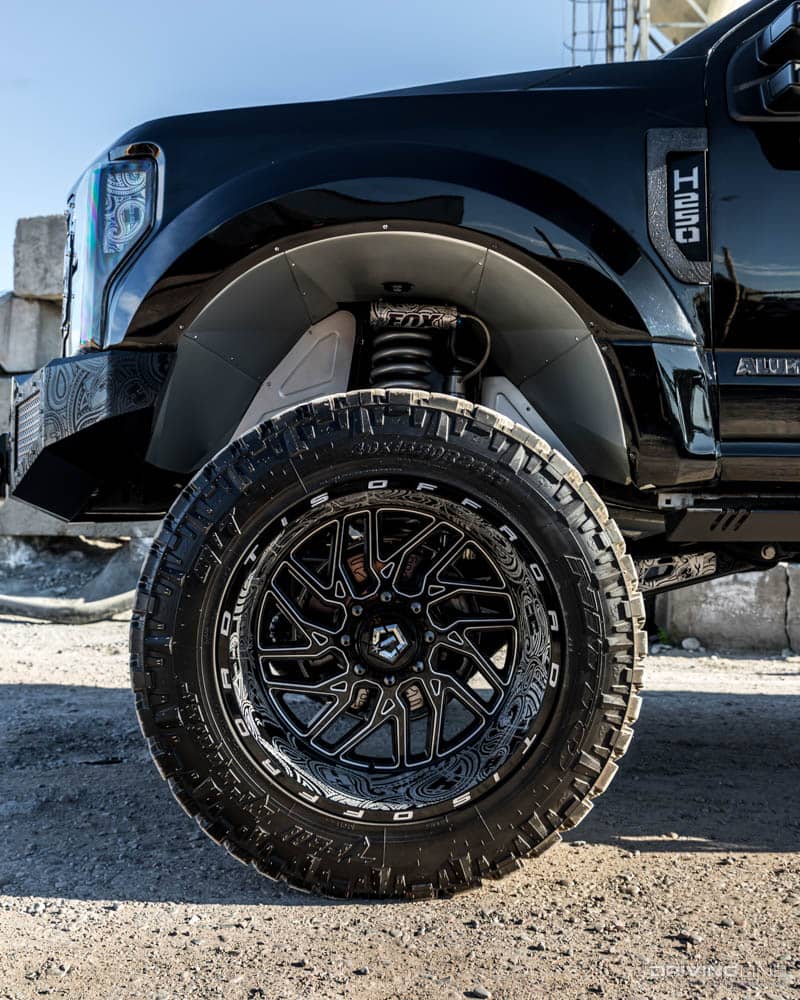 Rolling Art
Each year at SEMA, you can usually find Hank setup outside engraving a set of massive wheels. So for the H250's rollers, a set of 24x14-inch TIS 544 wheels were set on his table and the lips were fully engraved. Wrapped around the engraved wheels is a set of aggressive-looking 40x15.50R24 Nitto Trail Grappler tires that are stopped with R1 Concepts brake rotors. The engraving continued onto the driveshaft and lifted suspension with the arms and traction bars for the McGaughy's 8-inch Phase 2 lift kit and FOX 2.0 Shox with the remote reservoirs seeing the custom filigree as well.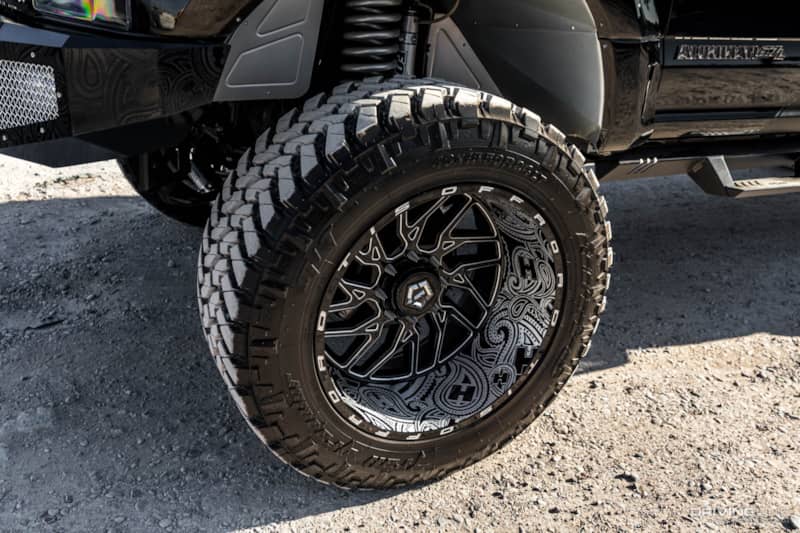 Command Center
On the inside, the truck is setup for comfort, luxury and sound. One of the biggest mods was done Status Auto Gallery flush mounting a 13-inch iPad Pro in the center of the dash, replacing the factory head unit and control screen. The iPad also controls the Audiofrog speaker system complete with engraved speaker covers. A Roadwire black leather seat kit with silver diamond stitch inserts was installed and the same stitching was used on the door panel inserts and custom headliner by Kevin Kinsey at Scottsdale Auto Upholstery.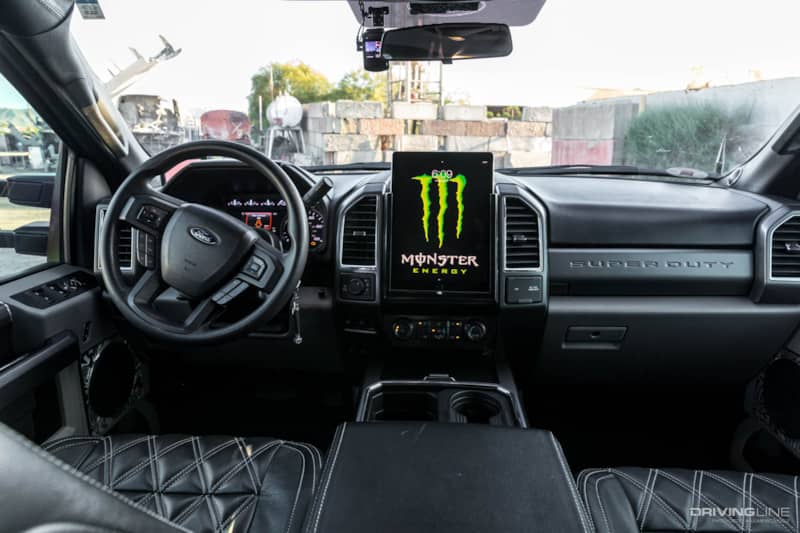 Engraving on the Go
Hank's Super Duty doesn't just serve as a show truck, advertising his craft on the road; but as a mobile engraving station for demos at events and shows. To get the proper work station setup in the bed of the truck, the first step was to get power and air for his Dremel and tools. Power is supplied via an Optima battery up front and dual rear 6V batteries in Savior cases. On board air is taken care of thanks to a VIAIR compressor and engraved FLO billet air tank. Acting as his work table and tool box; a Truck Vault setup was installed with a pair of 6.5-foot drawers and a 4-foot table that allows Hank to share his skill and passion with his fellow veterans, art fans, celebrities and truck enthusiasts anywhere he goes. Hoping to inspire others; Hank has been teaching art therapy with the Wounded Warrior Project to help others find the same creative outlets that helped change his life.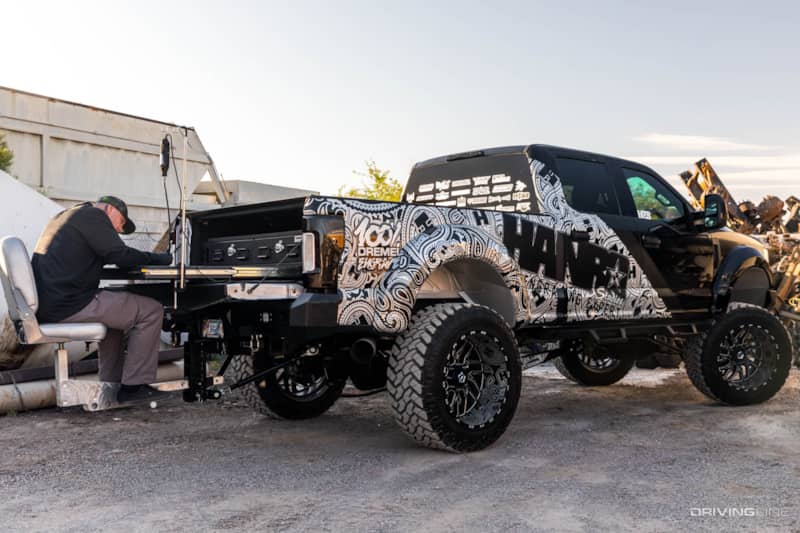 HARD FACTS
VEHICLE
2017 Ford H-250 Super Duty
OWNER/BUILDER
Hank "Hanro" Robinson/FX Autobody
ENGINE/TRANSMISSION
6.7L Powerstroke, K&N AirCharger Intake, Gibson Dual Exhaust with 6-inch Tips, Transferflow 60-gallon Fuel Tank, TorqShift 6-Speed Automatic, HUBB Oil Filter, Optima Batteries

 

FRONT SUSPENSION
McGaughy's 8-inch Premium Phase 2 Lift, Engraved Plates on Arms and Traction Bars, FOX 2.0 Shox with Engraved Reservoirs, R1 Concepts eLine Brake Rotors
REAR SUSPENSION
McGaughy's 8-inch Premium Phase 2 Lift, Engraved Plates on Arms and Traction bars, FOX 2.0 Shox with Engraved Reservoirs, R1 Concepts Brake Rotors
WHEELS
24x14-inch TIS 544 Wheels with Engraved Lips, True Spike Lugnuts
TIRES
40x15.50R24 Nitto Ridge Grappler
LIGHTS
Vision X XPR 40-inch LED Light Bar, Dura Flush Mount and Rock Lights

 

INTERIOR
Roadwire Black Leather with Silver Diamond Stitch

 

Seat Covers, Headliner and Door Panels, Audiofrog Speakers with Engraved Speaker Panels, Husky Liner Mats, Custom iPad Pro Head Unit Conversion
BODY/

PAINT

Dremel Engraved Body, Painted with BASF Black and Clear Coated, Custom Wide Body Fenders with Aluminum Inner Liners, N-Fab Podium side steps, Bed Rug, Extang Solid Fold 2.0 Bed Cover, Custom Badges and Emblems by Rad Machining and Main Event Emblems, Engraved Fusion Bumpers, Royalty Core Grille
ACCESSORIES
Royalty Hooks Recovery Hooks, Truck Vault Mobile Dremel Engraving Station, Gen-Y Hitch for Engraving Chair, Hornblasters Katrina 5 Air Horn, Dremel Engraved Flo Air tank and VIAIR Compressor, DUB IR Window Tint
ENGRAVED ITEMS
1600 Hours Total, Aluminum Body, Wheels, Air Tank, Suspension, Bumpers, Driveshaft, Grille Insert, Speaker Panels
Click here to see Superior Off-Road's custom, lifted F-350 show truck.