Best Way to Prevent Truck Rear Suspension Sag: Add-A-Leafs Or Air Springs?
Ever since the first pickup trucks debuted nearly a century ago, owners have been pushing their capabilities to the limit. And with ever more work to be done, it only makes sense that payload and towing capacities have reached the colossal figures we see today. But just because today's trucks are more capable than they've ever been doesn't mean their owners show them any mercy. In fact, many truck owners routinely match (or even exceed) their workhorse's factory maximum gross vehicle weight rating (GVWR) or gross combined weight rating (GCWR). When this happens, you get the inevitable: rear suspension squat (or sag).

But why do trucks, which are designed almost specifically to perform heavy work, experience rear suspension squat? Primarily because truck makers utilize rear leaf spring configurations which, while engineered to provide exceptional load-carrying and load stability, are designed to provide sufficient ride quality while empty. Unfortunately, with leaf spring arrangements it's impossible to get the best of both worlds (i.e. good ride quality whether the truck is towing or unladen). Because of this, a sacrifice has to be made—and in nearly every case it results in a truck that squats with a formidable load in the bed or a heavy trailer attached.
This time, we're highlighting two of the best methods for combating rear suspension squat: add-a-leaf kits vs. air spring systems. We'll compare the costs, durability and versatility of each system, along with the ride quality characteristics and added ride height they can provide.
Add-A-Leafs: An Age-Old Mechanical Solution That Still Works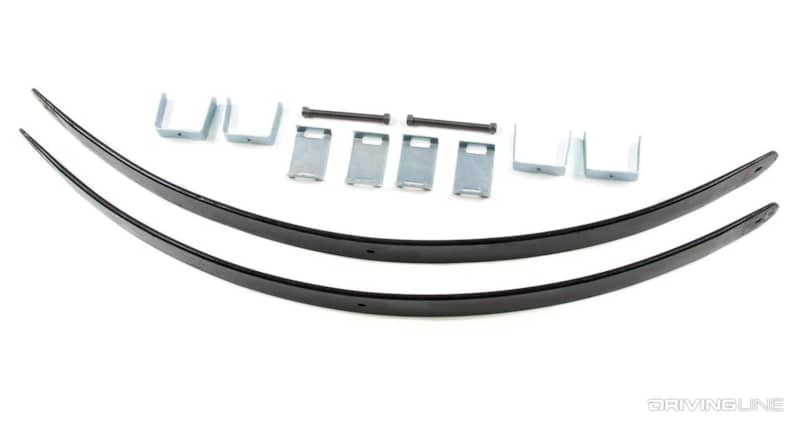 Long before air springs became common aftermarket (and in some cases, factory) additions, throwing another leaf spring onto each pack was a widely used method of combating rear suspension sag. To be sure, it's still practiced today despite the other options that are available. For pickup purists and truck simpletons alike, the add-a-leaf route represents a "set it and forget it" proposition—a bolt-on solution with no real failure points or complexity associated with it.
Air Springs: The Convenient And Adjustable Suspension Solution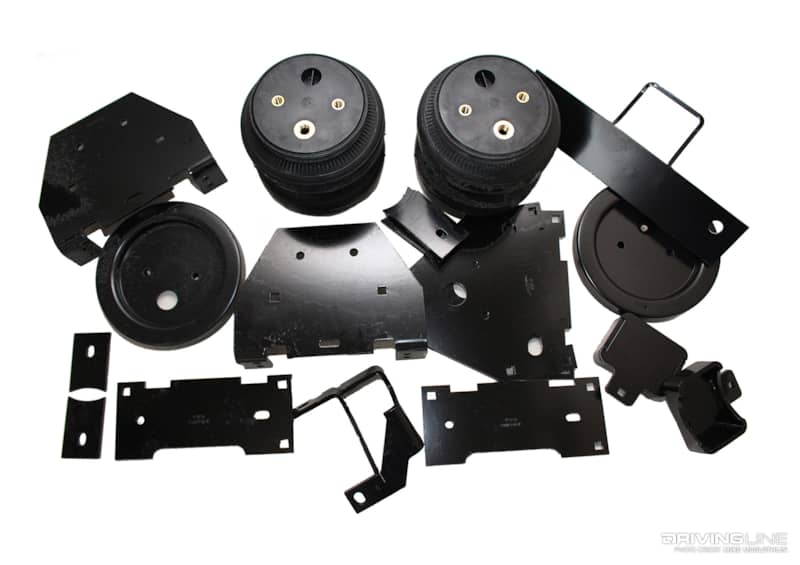 Air springs also provide a bolt-on solution for addressing rear suspension squat. However, they do require extra effort in terms of having to inflate the springs—be it manually or (much more commonly) through the use of an accompanying onboard air compressor. In the latter scenario, where an additional air spring compressor system is combined with an air spring kit (complete with lines and fittings), the air pressure in the springs can usually be adjusted on the fly, which allows you to fine-tune your truck's rear ride height and ride quality. Having adjustability available at the touch of a button is highly convenient for most truck owners and it stands to reason why this is a major selling point for air spring systems.
Add-A-Leaf Drawbacks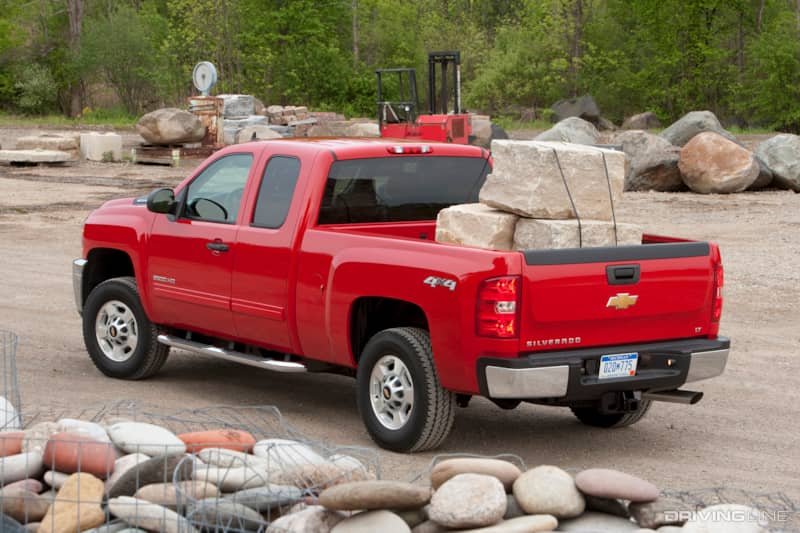 Of course, there are cons with any suspension system. For add-a-leaf systems, the drawback is that you're stuck with whatever ride the extra springs provide. And although leaf springs are arguably more durable than air springs, contrary to popular belief they won't last the life of your truck. Nothing lasts forever, right? In particular, leaf springs can weaken and lose spring rate over time. This is often due to use, but can also occur from corrosion, abuse and age.
Air Spring Downsides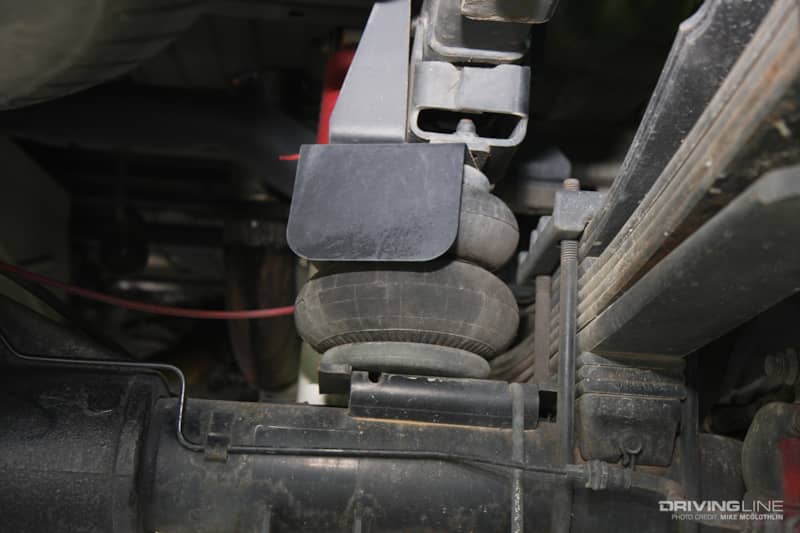 A frequent misconception about air springs is that they're prone to failure via blowing out. While this can happen it's a very rare occurrence. However, a much more common problem associated with air spring suspension systems is an air leak—and not from the air bag itself. Most problems develop via a cracked air line, a failed fitting or a dead onboard air compressor. When air springs are employed as an aid for the factory leaf springs, failure of the air spring system means you still have the OEM leafs to fall back on to get you home. The biggest worry with air spring systems stems from failures that occur on a truck that is fully dependent on air suspension.
Ride Quality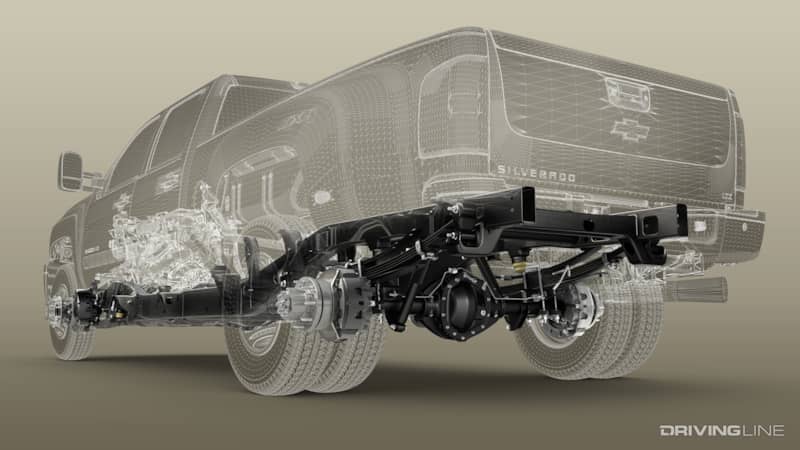 Add-a-leafs, depending on the springs' tensile strength and specific rate, can make for a truck that rides fairly rough when empty. And unlike with an air spring system, the ride quality is fixed and non-adjustable. With air springs, inflation pressure can help take some of the harsh ride characteristics out of a leaf spring suspension system, which are abundantly apparent with a truck that's empty. As you can imagine, ride quality is vastly different, especially empty, when comparing a half-ton pickup with a dual rear wheel 1-ton truck. The spring counts, spring widths and spring rates between those two types of vehicles is night-and-day different, with the half-ton geared more toward lighter load carrying and comfort when empty and the 1-ton engineered to haul twice the payload and tow considerably more.
Ride Height Differences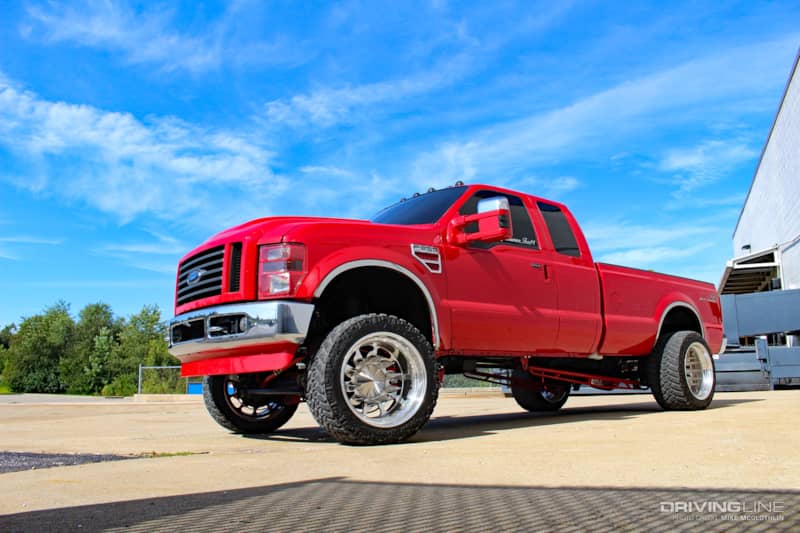 Temporary vs. permanent ride height changes are part of the air spring vs. add-a-leaf debate as well. A typical add-a-leaf kit will add roughly 1-to-2-inches of unchangeable rear ride height to an empty truck. This is in contrast to an air spring system, where ride height is unaffected until the springs are inflated. This is important to keep in mind if curb appeal or a specific stance factors into your decision to go with an add-a-leaf system or air springs.
Comparing Cost
If your decision to address rear suspension squat is driven by the almighty dollar, you may find yourself entertaining add-a-leafs. Depending on your particular truck, add-a-leaf systems range from $100 to $280. Just don't forget new U-bolts when you order and thoroughly inspect all shackles and hangers. By comparison, retail pricing for air spring systems typically starts around $350 and goes up from there. Additionally, most truck owners desire the convenience of having an air compressor on board to inflate the springs. Supporting air compressor kits can run between $500 and $1,000 depending on how advanced the system is.
Every Situation Is Different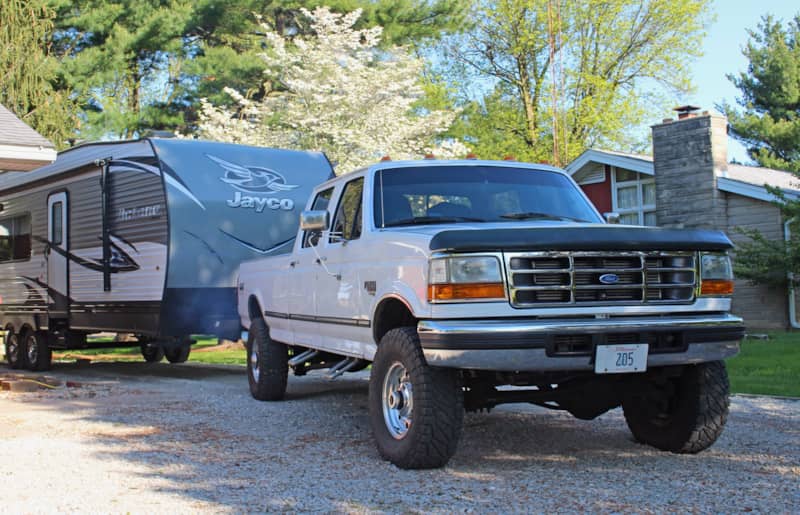 Just like cosmetic upgrades, there is always more than one option when it comes to getting what you want for your truck. As for our '97 F-350, a truck that sees different trailers and varying loads, we opted for air springs to complement the factory leaf springs. For utmost durability, we installed Air Lift's Load Lifter 5000 Ultimate Plus system, which comes with stainless steel hardware and air lines, but also boasts internal jounce bumpers within the air springs for additional shock absorption. A Wireless ONE air compressor system is also along for the ride and affords us the ability to fine-tune air pressure (between 5 and 100 psi) on the fly via a handheld remote control.
Improved Experience On A Budget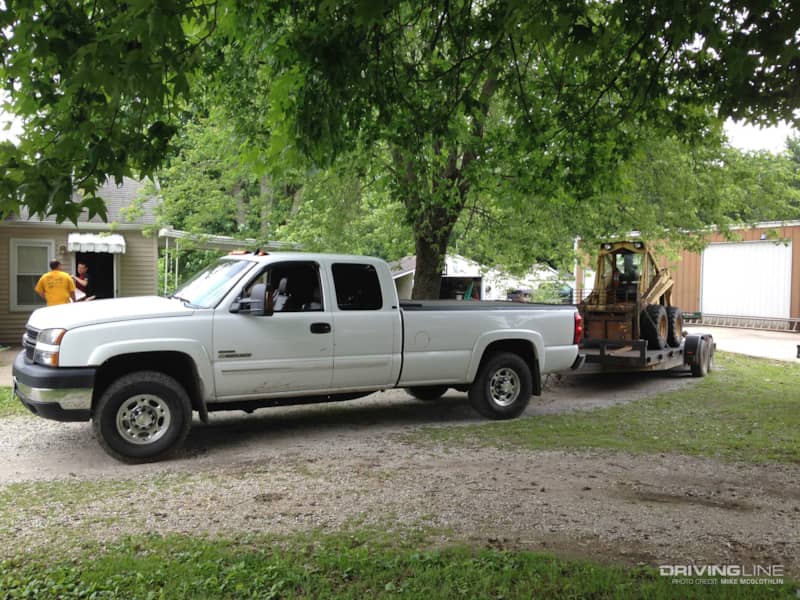 Prior to the addition of an add-a-leaf kit, this Duramax-powered '06 Chevrolet Silverado 2500 HD was suffering from noticeable rear suspension sag, even with what could be considered a moderate-to-light load for a modern ¾-ton truck. Not only did the $110 solution prove highly economical, but the truck's rear ride height was restored with its regular tandem axle, bumper pull equipment trailer and skid steer combination in tow. Added benefits were improved load stability, steering feel and headlight aim.
More From

Driving Line
Need further convincing that air springs are the way to go? Check out the huge difference they made on an F-250 tasked with towing a 44-foot, 16,000-pound camper right here.