All-Motor Mustang: Christina Lee's Cobra Jet S197
Growing up, Christina Lee was surrounded by classic Mustangs. Her father was a huge Ford guy, and so her introduction to the car world was filled with blue ovals and sprinting ponies. It's no surprise, then, that after owning a twin-turbo Infinity G35 she'd return to the Ford family for her next build—a 5.0 2013 all-motor Mustang.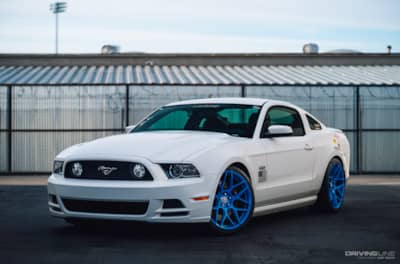 Originally, this car wasn't supposed to be a "build" at all. Like so many before her and so many that will come in the future, Christina bought the Mustang to drive and enjoy as it rolled off the line, not to tear into and swap parts on. Also, like so many before her, she would be wrong about that, too.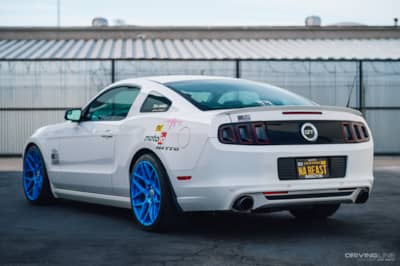 Not long after posting her new purchase on Instagram, she was approached by MotoIQ about taking on an all-motor Cobra Jet build and the ball started rolling on what was to become the very definition of a sleeper.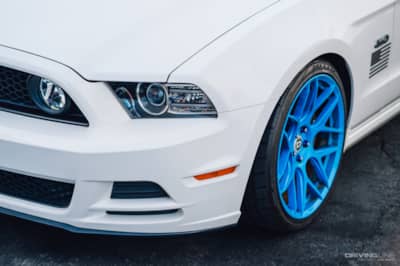 From the outside, besides a few decals on the rear haunches and the bright blue HRE FF01s, the only indication anything's been done to the car are the meaty Nitto NT555 G2s on the four corners. If one were to look closely, the upgrade to larger 14" rotors might be a hint as well.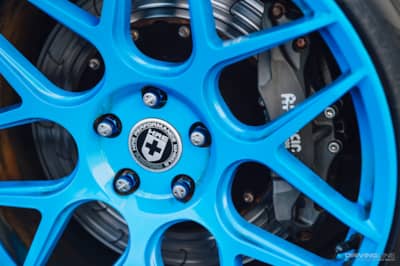 However, when the key turns and the motor starts, the Borla long tube headers and custom Magnaflow exhaust don't do much to hide what's under the hood. A slew of parts—a full list can be found at the bottom of this article—from both the Cobra Jet and Boss 302R families come together to make 498 rwhp and 418 ft/lb without the help of forced induction.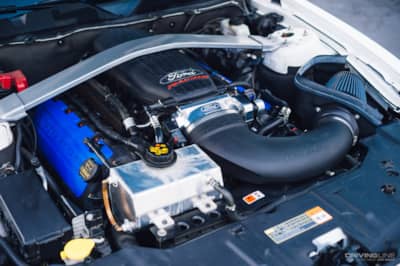 Underneath the car upgrades can be found throughout, stiffening up the chassis for its track duties. Front and rear swaybars, tubular trailing arms, an upper third link, watts linkage, endlinks and urethane bushings all pitch in to create a much more predictable and stable 'stang.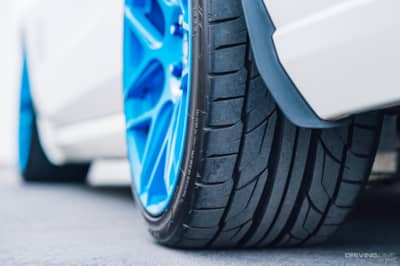 While it's pretty hard to hide once it's driving. Christina has built a killer road-and-track double-duty machine. With enough power to hang on the track and carve canyons but draped in a sedate-enough exterior to not be hassled by the police, we're excited to see this build get out on the tracks of California.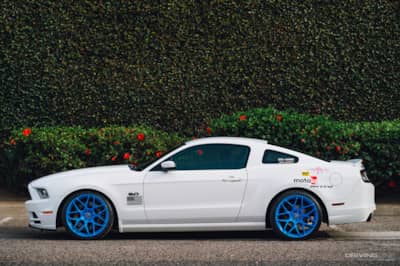 TUNING MENU: 2013 Ford Mustang GT
| | |
| --- | --- |
| Owner | Christina Lee |
| Engine Mods | BOSS 302R heads, intake cam; Cobra Jet exhaust cam, intake manifold, dual-bore throttle body; Canton Racing oil pan, overflow tank; Ford Performance oil pump; Ford Racing cold air intake; JE forged FSR pistons (11:1); JE pro seal head gaskets; K1 Technology H-beam rods; King XP p-max bearings; CSF radiator; Borla long tube headers; Magnaflow custom catted exhaust system; OEM ECU with flash tune via Church Automotive; ACT Sport clutch, Prolite flywheel; 3.71:1 factory upgraded gears |
| Suspension | KW Suspension Clubsport coilovers; Whiteline front swaybar, rear swaybar, tubular trailing arms, upper third link, watts linkage, endlinks, urethane bushings |
| Wheels | HRE Flow Form FF01 20" x 10.5" +45 |
| Tires | Nitto NT555 G2 285/30R20 |
| Brakes | Essex Parts AP Racing Radi-Cal Kit with Pro5000R calipers, 372mm x 34mm 2-piece rotors, Ferodo DS1.11 pads |