Aussie Beast: A 950HP, Holden-Converted Pontiac G8
For car enthusiasts in America, it's a common phenomenon to desire the cars and parts that we don't have in this country. Just ask any JDM fan who dreams of driving a Skyline on U.S. shores or the European fanatic who dreams of home market-only BMW models or other Euro brands which aren't imported.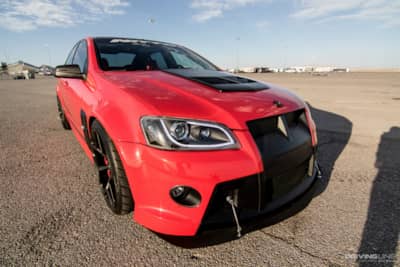 What's a little less common however is for the owner of a V8-powered, American-branded machine to feel the same way. But that's exactly what happened with Nathan Tejada of Las Vegas, Nevada, who is the owner of the 2008 Pontiac G8 GT you see here.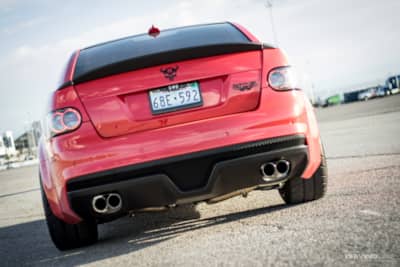 Nathan knew he wanted the power of GM's legendary LS series V8, but he wanted it in a platform that was both more roomy and more unique than your typical Corvette or Camaro. Known as one of the last great Pontiacs before GM shut down the brand in 2009, the G8 was essentially a rebadged VE Holden Commodore sedan imported straight from Australia, much like the Chevy SS that came a few years later.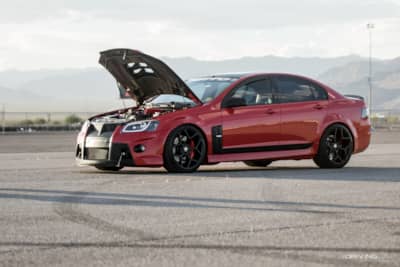 While he knew the G8 would satisfy his need for classic V8 performance in a family-friendly sedan, Nathan wasn't going to stop with a factory-issue model. Instead, he wanted to use the already-rare Australian import as the basis for a one-of-a-kind build, and he teamed up with the team at Revolution Street Cars in Vegas to help realize his goal.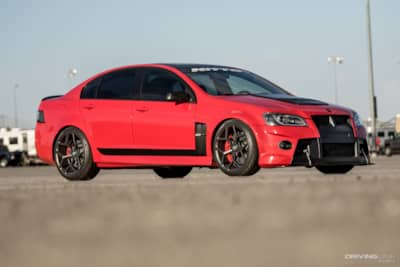 When looking for inspiration for the G8 project, it made sense to look toward the car's homeland where the Holden Commodore has a large and passionate fan base. More specifically, Nathan wanted his car to have the look of the hot Commodore HSV W427 model.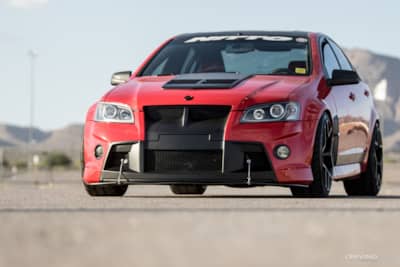 When it came to the cars exterior, Nathan went right to the source - converting the Pontiac into a Holden by doing full HSV W427 conversion in both the front and rear, as well as adding a Commodore hood fitted with a custom Camaro ZL1 hood scoop. He also added a trick front splitter to further build on the race car look.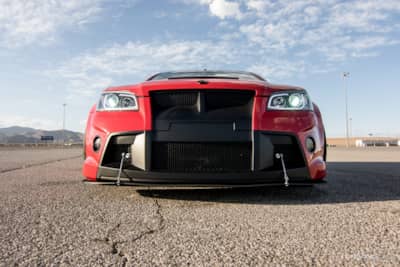 Not content to just have the car look like a Holden on the outside, Nathan also gave the interior a big makeover, converting the steering wheel to Commodore-spec and also adding a pair of HSV GTS leather seats.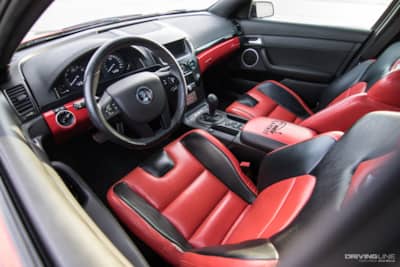 From the factory, the Pontiac G8 GT came equipped with a potent 6.0L V8, but you won't find the stock engine under the hood of Nathan's car. He's since upgraded to a fully built LSX 427 with upgraded internals, a Trick Flow cam and an 1.9 liter Eaton LSA style supercharger up top.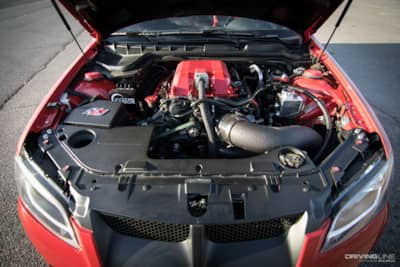 On an engine dyno the setup was good for 950 horsepower and 900 ft lbs of torque, which gives the Pontiac-turned-Holden more than enough thrust to back up its exotic looks. In fact, the idea of a 950 horsepower sedan with more-than-plenty of room for the family is just plain awesome.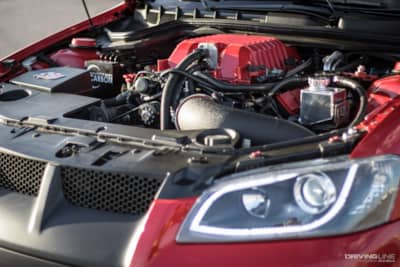 To handle the additional power, the 6L80 transmission was built by Revolution Street Cars with a 3,800 RPM stall converter and an Earl's cooler, upgraded pan and the addition of custom paddle shifters inside.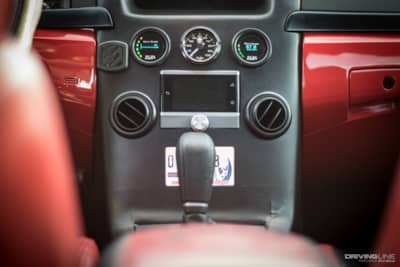 To help keep all of that additional horsepower in check, the car has also been fitted with a set of Maverick Man adjustable coilovers, Spohn trailing arms and a set of Cadillac CTS-V Brembo brake calipers up front.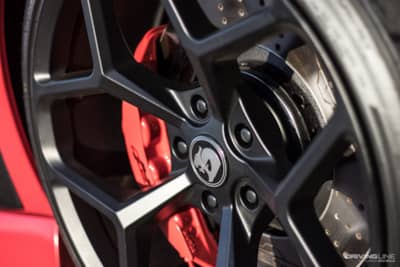 Rounding things out are a set of MRR M228 wheels styled after the ones that come on the Camaro Z/28. The wheels measure 20"x10 in the front and 20"x11 in the rear and have been fitted with a set of Nitto NT05 tires measuring 255/35R20 and 275/35R20, in the front and rear respectively.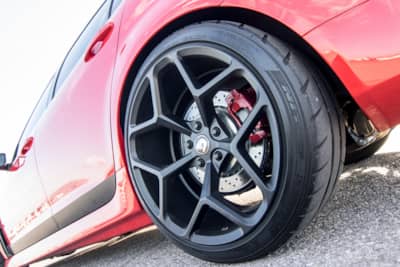 When you combine a unique base car, an engine outputting nearly 1,000 horsepower and a whole lot of influence from The Land Down Under, it's not hard to see why Nathan's G8 was one of our favorite cars at the recent LS Fest West event. We're already looking forward to seeing what Nathan does next with his "ADM" beast.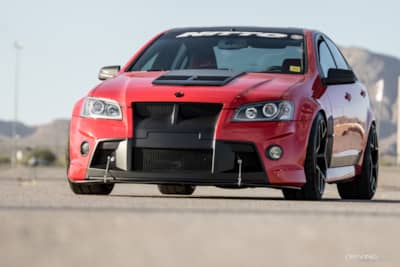 Photos by Kyle Wells
SPECS
| | |
| --- | --- |
| VEHICLE | 2008 Pontiac G8 GT |
| OWNER/HOMETOWN | Nathan Tejada / Las Vegas, Nevada |
| ENGINE | Chevrolet Performance LSX 427 V8, Wiseco pistons, K1 Tech rods, Manley crank, Trick Flow cam, Injector Dynamics fuel injectors, Eaton 1.9L "LSA" supercharger, AFCO supercharger heat exhcanger American Racing headers, catback exhaust, Fore Innovations twin fuel pump, 950 horsepower, 900 ft lbs of torque (engine dyno) |
| DRIVETRAIN | GM 6L80 built by Revolution Street Cars, upgraded Camaro transmission pan, Precision 3,800 RPM stall converter, Earl's transmisison cooler, custom paddle shifters |
| EXTERIOR | Holden HSV W427 front and rear end conversion, Holden hood with custom ZL1 scoop, G8 Only front splitter |
| INTERIOR | Holden Commodore HSV GTS seats, PLX devices boost, A/F and trans temp gauges, Speed Hut fuel pressure gauge |
| SUSPENSION | Maverick Man coilovers, Spohn trailing arms |
| WHEELS | MRR M228 wheels 20x10" (front) and 20x11" (rear) |
| TIRES | Nitto NT05 255/35R20 (front) 275/35R20 (rear) |
| SPONSORS | Revolution Street Cars, AFCO/Speedway Motors, Nitto Tire, G8 Only, Demon 8 Designs |
Check out more photos of the Holden Pontiac G8 in the gallery below.