Best Tires for Diesel Truck Competition Pulling and Drag Racing
In the diesel truck segment there are literally dozens of tire options to choose from. From highway terrains to mud terrains to the ultra-popular all-terrain category, there is no shortage of competition. But in the motorsport realm, a few select tires seem to get the nod over all others—and many of them are manufactured by Nitto. In the dirt, a lot of truck pullers gravitate toward the most aggressive mud terrain in Nitto's comprehensive lineup, the Mud Grappler. In drag racing, many drivers turn to either the Terra Grappler G2, NT420V or NT555 RII.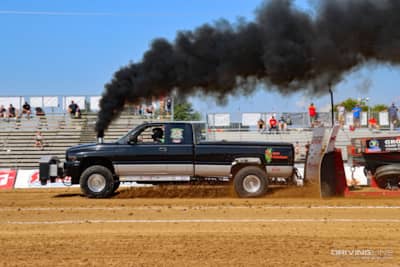 As a result, Nitto's Mud Grapplers dominate the dirt and its street and radial variants are a top choice at the drag strip. You'll see what we mean below, as we profile some of the top-running pulling trucks in the nation along with a former ET class drag racing champion who might win a second ring this season.
Why Truck Pullers Like The Mud Grappler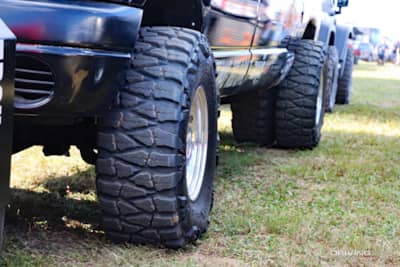 So why exactly have so many truck pullers gravitated to the most aggressive tire Nitto manufactures? It started nearly a decade ago when a few big-name pullers showed up with Mud Grapplers under their trucks and proceeded to finish out front. That was all it really took to get truck pullers to try something more aggressive than an all-terrain tire. The Mud Grappler's large tread blocks take huge bites out of any surface they're used on and many competitors believe they load an engine harder than any other DOT tire—and in a turbocharged diesel engine, more load means more boost, which (usually) equates to more power.
2022 PPL Limited Pro Stock Champion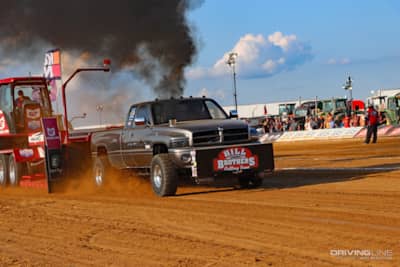 Adam Kincaid relied on Mud Grapplers to dig his Hill Brothers second-gen (which packs an O'Bryant Diesel Cummins) to a Lucas Oil Pro Pulling League points championship in 2022. In one of the most competitive truck pulling classes in existence, it's no easy feat to conquer the Limited Pro Stock diesel truck category. After winning night one of the Horsepower in Horse Country event in Shelbyville, Kentucky back in August, Adam qualified both days at the Scheid Diesel Extravaganza. Consistency and a tendency to finish in the Top 5 were a big part of his championship run this season.
A Truck You Can Never Count Out
Last year's Limited Pro Stock diesel truck class champion, CW Cartmell, is always in the hunt for a win—and many times pulls off an upset when the distance to beat seems unbeatable. In 2021, he swept the Scheid Diesel Extravaganza, winning on both nights, which is something we'd never seen before. In 2022, CW turned in Seventh Place and Fourth Place efforts at the Scheid show. CW's Dodge sports a Haisley Machine-built, mechanical injection Cummins that's rumored to be in the 1,500 hp range (if not higher). Part of his winning combination includes a pair of 35-inch Mud Grapplers up front, clawing for every last inch of ground.
Kenny Smith's Front-Running Ford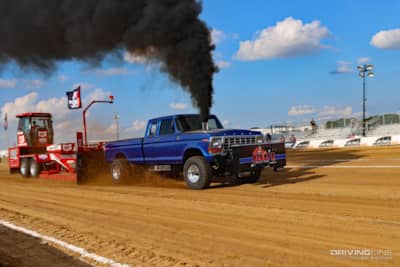 When your livelihood consists of building custom-spec clutches for truck pulling, what better way is there to advertise your products than by successfully campaigning a Limited Pro Stock truck? This is exactly what Kenny Smith of Kenny's Diesel and his Cummins-powered, dentside Ford do. Kenny won his first pull of the year back in June, then won again later in the month and ended up competing at the top of the heap at the Scheid Diesel Extravaganza in August. There, Kenny's Ford moved the sled 330.42-feet on Friday night, which was good enough for Sixth Place. The following day, Hunter Smith piloted the old Ford to the First Place qualifier, which once again got the truck into the nighttime show. Like CW Cartmell and so many others, Kenny opts to run Nitto Mud Grapplers up front.
The Underdog Duramax's Chances Increase With Mud Grapplers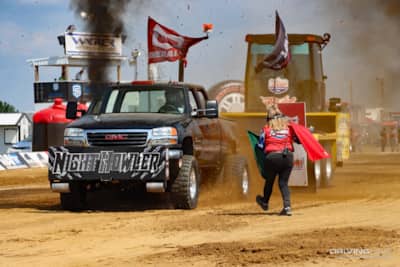 One of a handful of Duramax-powered GM's in the mix within the DOT-tire, Limited Pro Stock diesel truck field is Matt Loucks' GMC coined "Night Howler." Like other Duramax owners in the class, wins are hard to come by, but at the same time these 6.6L-based V-8 propelled trucks often shake things up in the standings with occasional front-of-the-pack performances. At the Scheid Diesel Extravaganza back in August, Matt earned a spot in both nighttime shows after having qualified Ninth Place on Friday and Sixth Place on Saturday. And just like the previously-mentioned competitors, Matt trusts Nitto's Mud Grappler to always get him past the full-pull mark.
All Juiced Up—And Poised To Challenge For A Championship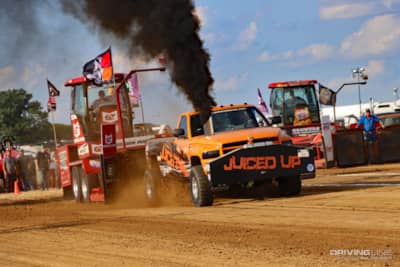 Another second-gen Cummins with winning potential belongs to Stacy Gwinn. In fact, his Mud Grappler-graced Dodge is currently sitting in Second Place in the Ohio State Tractor Pullers Association (OSTPA) Limited Pro Stock diesel truck class standings. With one event left on the schedule, he'll have one last crack at the championship on September 30th. Stacy gets help in his 3.0 smooth bore class efforts thanks to industry leaders, Scheid Diesel and Hart's Diesel, as well as Attitude Diesel.
Mud Grapplers Earn Their Keep In Pro Street, Too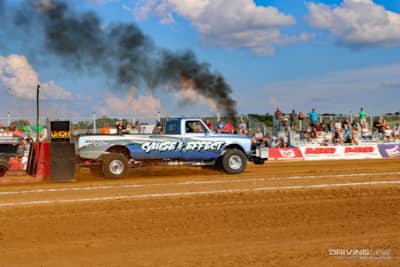 Ed McConnell's beautiful, Duramax-powered '67 Chevy mixes it up in the 8,000-pound Pro Street Diesel Truck Class, a category that calls for DOT-approved tires and a smooth bore turbocharger with an inducer no larger than 2.6-inches (66mm). For ultimate traction, Ed runs a proven tire: Mud Grapplers. For a turbo that maximizes horsepower, he runs a charger from Hart's Diesel. Most recently, we watched Ed and his '67 Chevy qualify fourth and place seventh overall at the Scheid Diesel Extravaganza. In a tightly-packed, unreal-competitive field of trucks, Ed's Seventh Place distance was less than a foot away from the Third Place finisher.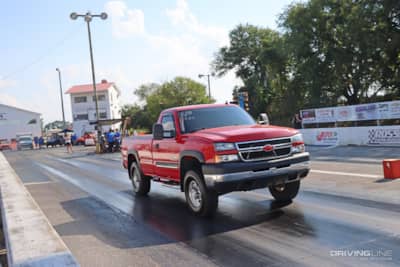 In diesel drag racing, the NT555 RII drag radial is popular, as is the NT420V, but the unexpected all-terrain that gets it done on the drag strip is the Terra Grappler G2. Bracket racer, Ken Phillips, has proven this with both trucks he campaigns in the Outlaw Diesel Super Series' ET Bracket class. His new addition, the standard cab Duramax pictured here, landed him in the winner's circle back in June at the Outlaw Diesel Revenge race in Indy—even though he'd never even raced the truck before… Whether it's the truck, the tires or Ken's driving talents (most likely a combination of all three), his 2022 racing season has been nothing short of impressive. After grabbing the runner-up spot at the Scheid Diesel Extravaganza, Ken is the ET Bracket points leader heading into the final race of the season.
More From

Driving Line
Nitto tires have had a long run in diesel motorsports. From truck pulling to drag racing to dyno competition and back to the dirt for dirt drags, there is a tire for 

every

 

diesel purpose.