Which Tires are Used by Diesel Motorsport Pros?
When you're a tire manufacturer fueled by enthusiasts, it only makes sense that your designs will flourish in motorsports. While Nitto Tire's presence is known in virtually every corner of the automotive world, the diesel industry has embraced the company's product more than any expert ever could've predicted it would. On the street, 'strip and dirt, and be it for daily driving, towing a trailer, drag racing or sled pulling, Nitto offers a light truck tire that performs as advertised, or better. From its all-season NT420V all the way to the Mud Grappler, the diesel truck market is sold on Nitto. Here's why.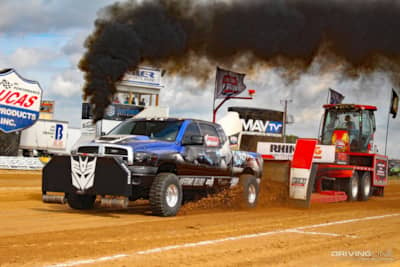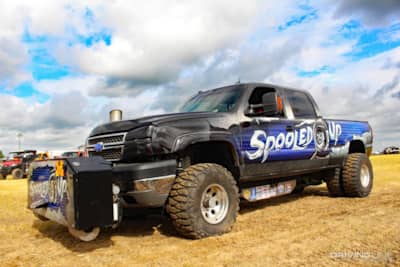 While Nitto's Terra Grappler G2, Ridge Grappler, Recon Grappler and Trail Grappler are extremely popular daily driver options, the Mud Grappler has seen immense success in truck pulling. From entry-level trucks competing at your local county fair to the national stage, the large-lug mud terrain has proven itself capable of grabbing hold of virtually any pulling surface. Even if you don't find a Mud Grappler at every corner of a pulling truck, you're still likely to find a pair up front. There are no disappointments with this tire in the dirt. They bite hard and continue digging at the end of the track, where those precious last few feet can mean the difference between winning and losing.
The DOT Tire Of Choice In Truck Pulling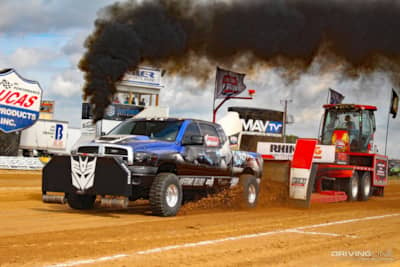 At the national level, the Mud Grappler often cleans house within the ranks of the Limited Pro Stock diesel truck class. Combined with the 1,400-plus horsepower engines that propel the trucks in this category (where rules specify the use of a single, smooth bore 76mm/3.0-inch turbo and no injectables), Mud Grapplers can almost always be spotted on the top finishers. According to truck pullers, its high void ratio between tread blocks is especially beneficial on looser tracks. Where all-terrain tires can spin when encountering inconsistencies on the track, the Mud Grappler keeps digging. With roughly half of the Limited Pro Stock trucks you encounter at a national event sporting Mud Grapplers, it's clear they've been entrusted to get the job done in the dirt.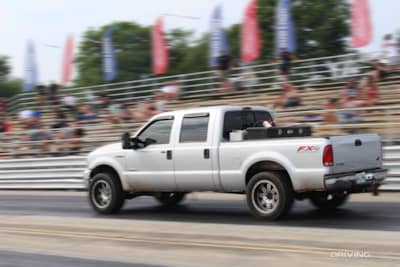 For trucks that work hard all week and then double as a bracket or index racer on the weekend, Nitto's Terra Grappler G2 can take on the versatile role and excel at both. After trailering a pair of trucks to the track, Adam Doan unhooked his 6.0L Power Stroke from the gooseneck and entered it in the ET Bracket class. He and his Super Duty then proceeded to go rounds on a set of E load range Terra Grappler G2 tires. When horsepower gets into the realm of 700 hp many diesel owners make the switch to a more track-friendly tire (more on those options next), but up until then the G2 is a utilitarian type of tire that's extremely well-suited for any occasion and purpose.
NT420V: Drag Racing, Street And Towing
After years of offering the NT420S, a tire that found a home and much success in diesel drag racing, Nitto developed a replacement all season designed for heavy ¾-ton and 1-ton trucks. Specifically, the NT420V features higher load carrying capacities, even F load range versions, which are suitable for street-driven diesel trucks that tow and race. The 420V is becoming one of the premiere pavement do-everything tires for diesels. Its large outer tread blocks increase contact surface area for optimum traction and its wide circumferential grooves offer exceptional wet weather performance. Above, Dylan Ansteatt's late-model Super Duty turns in one of its repeatable mid-8-second eighth-mile passes.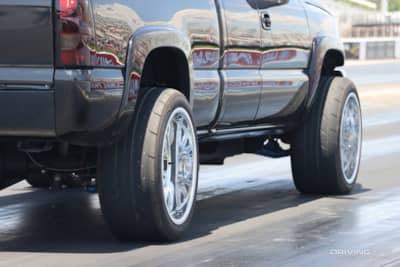 For streetable yet high-horsepower diesels that spend most of their days on the drag strip, the NT555 RII competition drag radial is right at home. Its high-grip rubber compound provides for consistent launches at the starting line and when combined with a 4x4 diesel leaving the line in 4-Hi tire-slip is non-existent. After making the switch to Nitto's newest DOT-compliant drag radial for the 2022 racing season, Nick Morris's Duramax-powered (and compound turbocharged) Silverado has been ultra-consistent in the 7.70 Index category. What's more is that, with a potential 1,100 hp on tap, Nick believes 6.70s could be achieved with a more aggressive tune-up. He has zero worries about the NT555 RII's not being able to help him get out of the hole in hurry.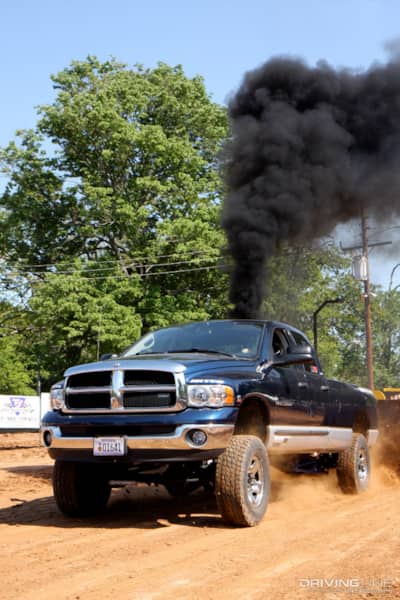 Despite all the success the Mud Grappler has seen in diesel truck pulling, all terrains remain the preferred tread in lower horsepower and even entry-level-type classes. Not surprisingly, the choice for some here is the multifaceted Terra Grappler G2. It's a year-round, do-anything tire that works as well in the dirt as it does in the snow and it doesn't have to be swapped out to hop back on the highway for comfortable, quiet cruising. Whether you're a weekend warrior-type truck puller, a drag racer or you simply use your truck as a truck, the Terra Grappler G2 is one of the most well-rounded light truck tires in the industry.
Tacking another motorsport onto the Terra Grappler G2's long list of capabilities, the all terrains also shine at the dirt drags. The short-track style of racing calls for tires that can dig in and maintain traction for the duration of the runs—passes that entail boosted four-wheel drive launches and only one or two gear changes before it's time to bring everything to a halt. We've seen countless drivers competing on Nitto Terra Grappler G2 tires at the dirt drags—and winning, too. A potent horsepower setup, a good reaction on the tree and a set of aired down G2's are a winning combo in this game.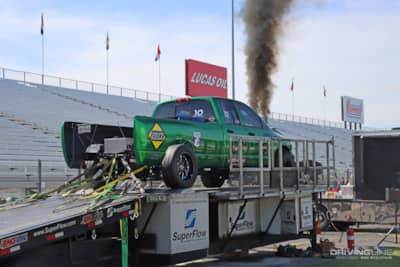 In an era wrought with mega-horsepower diesels making obscene torque numbers on the chassis dyno, using a tire that can maintain traction on the rollers is paramount. To register the 2,614 hp and 3,611 lb-ft his crew cab Dodge 3500 laid down at this year's Ultimate Callout Challenge, Chris Patterson relied on Nitto NT555 RIIs to get the job done. Beyond that, his third-gen Cummins wears the same set of drag radials on the street, albeit with a few ponies pulled out of the equation. Last we checked, Chris even planned on running Rocky Mountain Race Week on his NT555 RII's.
More From

Driving Line
Find out why one of diesel's most talented index racers runs Nitto NT555 RII drag radials on his compound turbo'd Duramax right 

here

.