Big Off-Roading Adventure in Big Bear
There's no better place for off-roaders in Southern California to escape the summer heat, then the Big Bear area in the San Bernardino National Forest. With 900 miles of well-maintained SUV trails and 104 miles of challenging 4x4 trails, including the infamous black diamond John Bull (mini Rubicon) trail, there is something for everyone looking to get off pavement while enjoying the fresh mountain air. Trails are marked using the green, blue and black rating system which makes it easy to know if you and your vehicle are up to the challenge.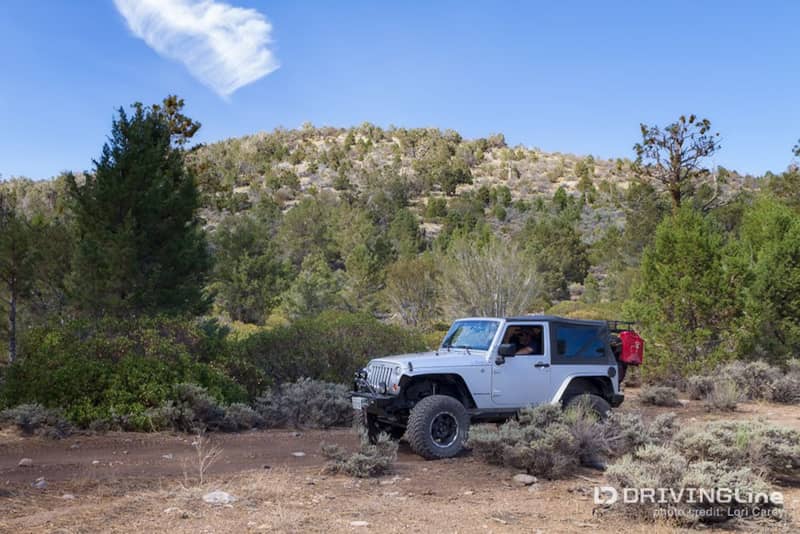 There are also many trails to explore which are not shown on maps. There is nothing I love better than exploring "off the map," so when a friend invited us to spend the weekend exploring lesser-known trails, where he has a gold mining claim, we couldn't resist. His claim is in the area above Upper Holcomb Valley near Arctic Canyon - this area of Big Bear has a rich history in gold mining, beginning in 1859 when William Francis Holcomb discovered gold while out hunting. Remnants of the gold rush days can be seen scattered throughout the area, where prospectors continue to recover gold to this day. Despite the weather forecast calling for a 30% chance of rain, we headed up to Big Bear early Saturday morning before the break of dawn. As we climbed up into the mountains, the sky turned gray and overcast. The rain held off and we were encouraged by an occasional glimpse of sun. Our first stop was the Big Bear Discovery Center to get a new Forest Adventure Pass and a free Campfire Permit. Big Bear offers 6 developed campgrounds and 8 Yellow Post (dispersed) campsites in addition to backcountry camping.  Fire restrictions are very high right now; meaning that campfires are only permitted in developed campgrounds, but a Campfire Permit is still required to use gas and propane stoves and lanterns in Yellow Post or backcountry sites.  The Discovery Center is also a good place to pick up trail maps for the area.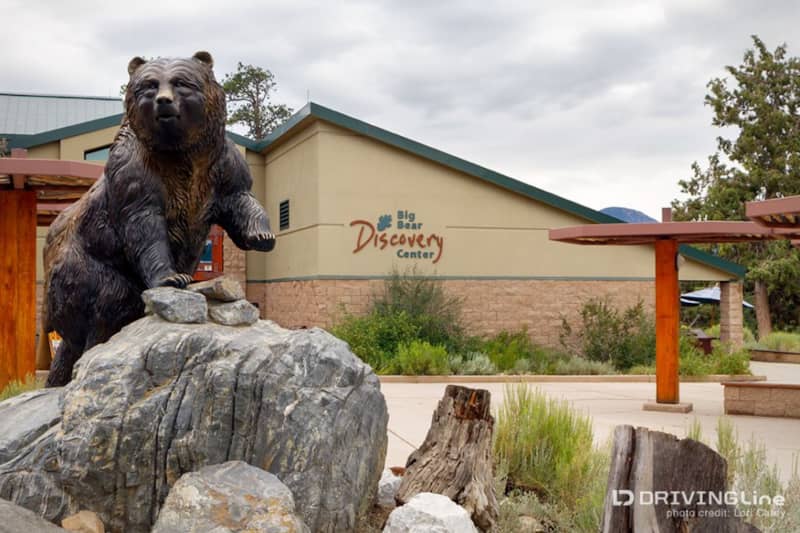 From the Discovery Center we set off up Polique Canyon Road (2N10) toward Holcomb Valley, then did a little sight-seeing along 3N16 where some remnants of the old mining community of Belleville can be seen.
We also spotted a couple American Overland Expedition (AOE) rigs, but they left before I had a chance to check them out up close.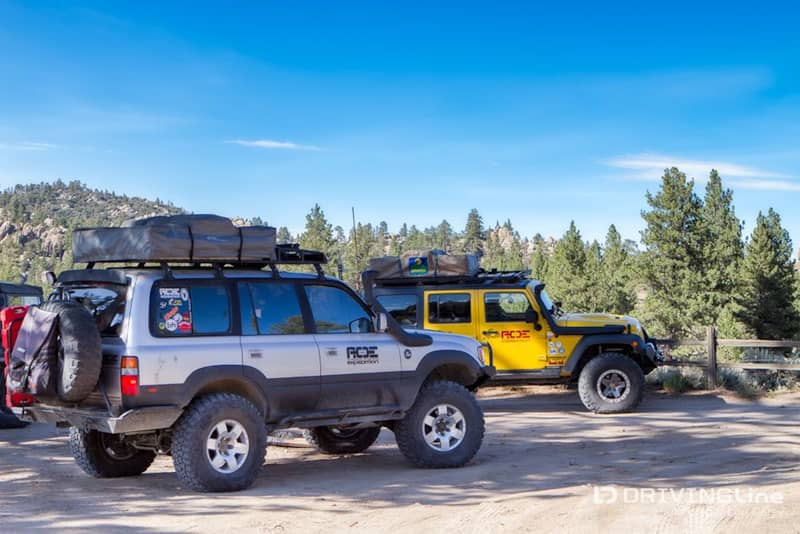 Next we moved on to 3N10 to find the spot set to meet up with our friends.  A few people had bailed out because of the weather forecast, but after some time to stretch our legs and enjoy the mountain air our caravan of six jeeps and trucks had arrived and we headed down the trail.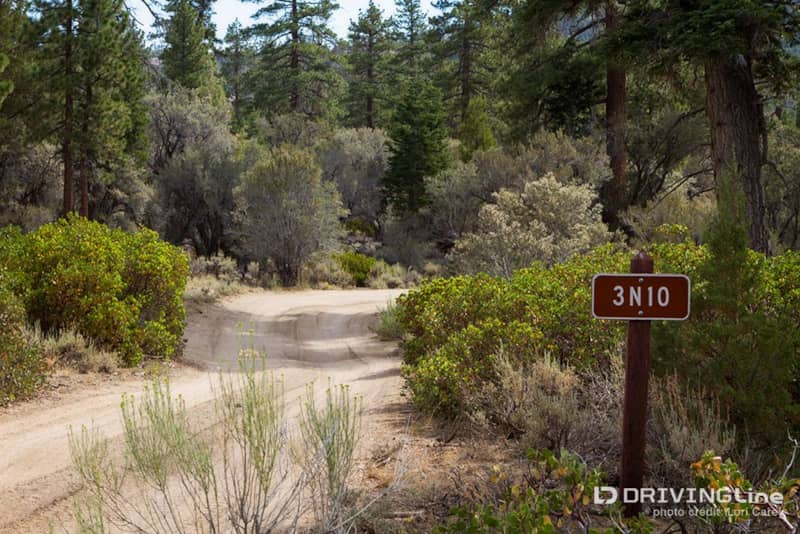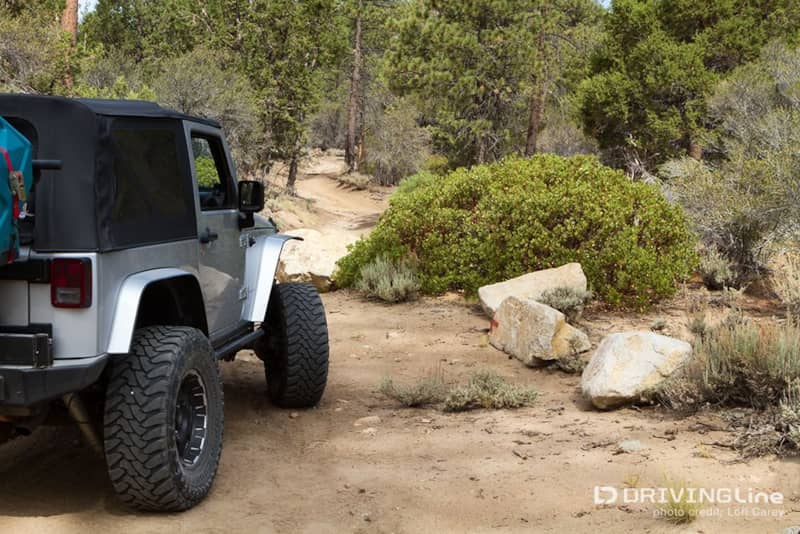 When travelling trails not on a map, a GPS with a breadcrumb feature is important to have. Even if you are travelling alongside someone familiar with the area, there is always a chance of becoming separated and needing to find your way out on your own. When we reached our destination (around 8,000 ft. elevation) we chose a good spot to set up base camp, then some of the group set off to mark the claim boundaries and I went for a hike to scout out photo locations.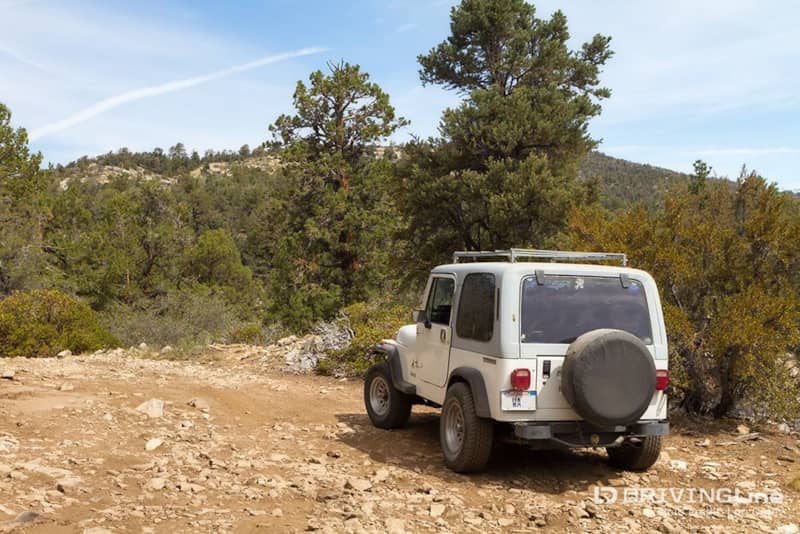 It wasn't long before the rain started and everyone met back at base camp to decide what to do. The trails were getting slick and muddy - a few people decided they wanted to get down the mountain before trails got any worse, the rest decided that they didn't want to camp in the rain. Bill and I were the only ones who decided to stick it out, so after waving goodbye to our friends we set about prepping our camp for rain. Here in Southern California, especially in the desert regions we usually travel in, we don't get much rain - so this made for a good opportunity to test how prepared we and our gear were. I always carry a multi-purpose tarp; it can be used to provide life-saving shade if you break down in the desert, you can put it on the ground if you have to climb under a jeep to do repairs in the mud, you can use it to make a shelter, it can even be used to collect water. This time, along with some bungee cords and zip ties, it would be used to shelter our kitchen area from the rain using the Jeep as one of the anchor points.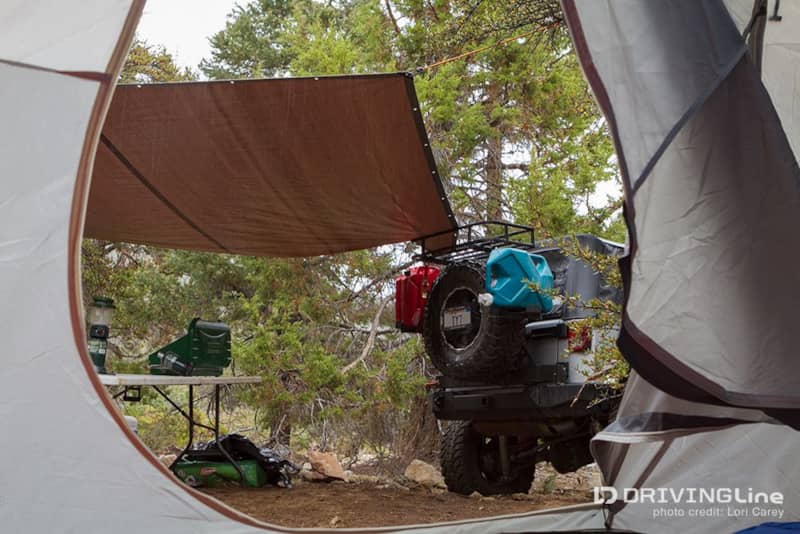 Next up was a pot of coffee to get rid of the chill. With a deck of cards that was stashed in our kitchen box, we settled in for a cozy game of Rummy.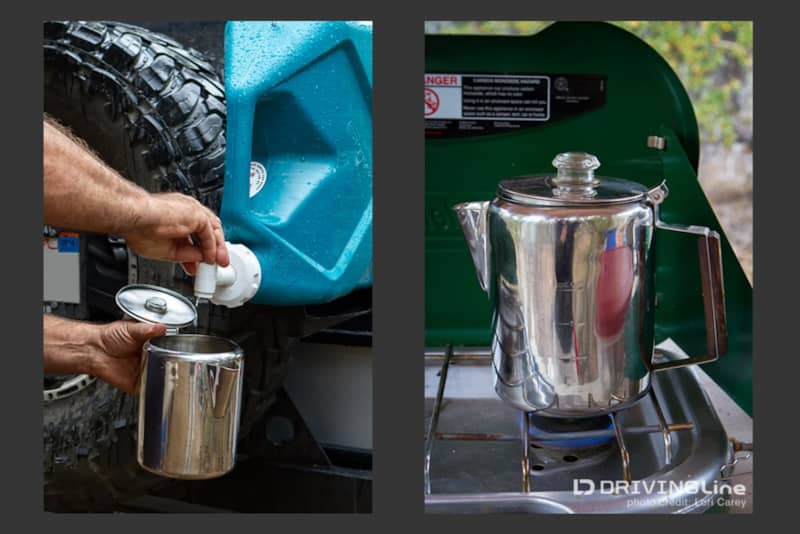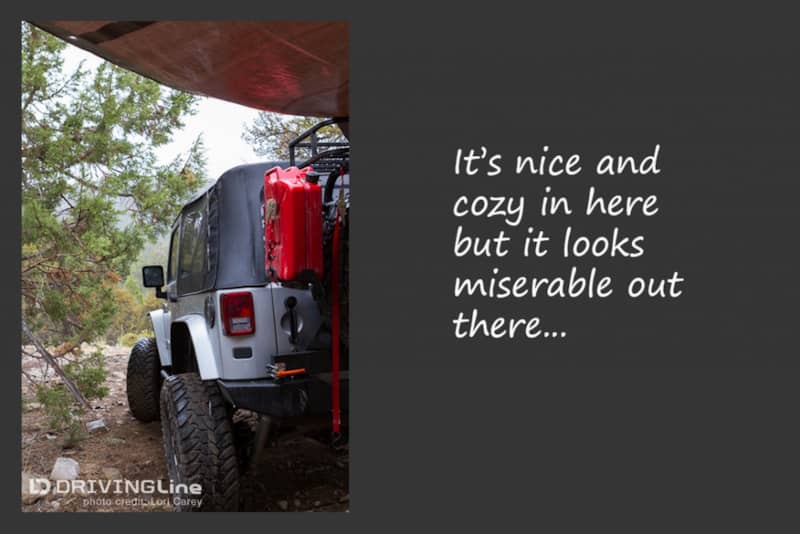 Luckily the rain only lasted a few hours; I had solidly won the card game and we were telling ourselves we'd made the right decision to stay rather than go. With plenty of daylight left, we headed out to do some more exploring. Van Dusen Canyon Road (2N09). While it is just a well-maintained forest service road, it has beautiful scenery so we followed it quite a ways before turning around.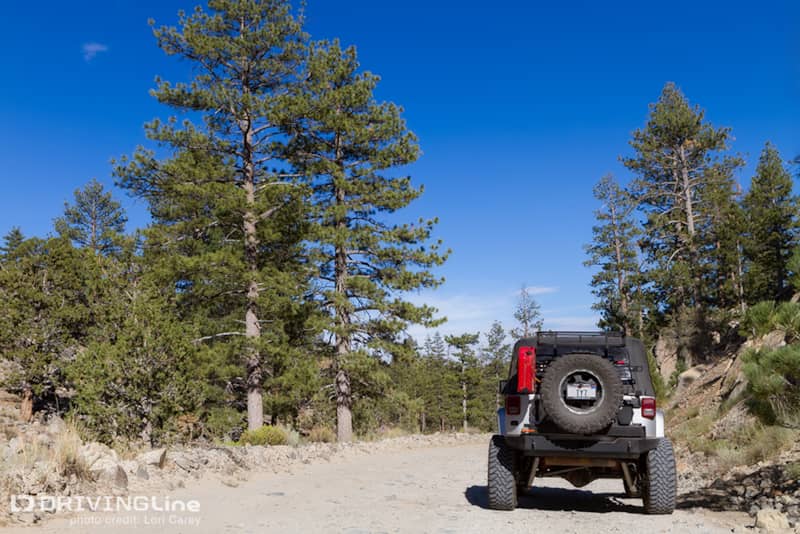 As the sun sank low, we headed back toward camp so we didn't have to try and find our way back in the dark.  I made a dinner of Walking Tacos (my husband's request) and as we ate dinner I kept watch on the sky -  happy that it looked like the storm had passed and we might have a good sunset.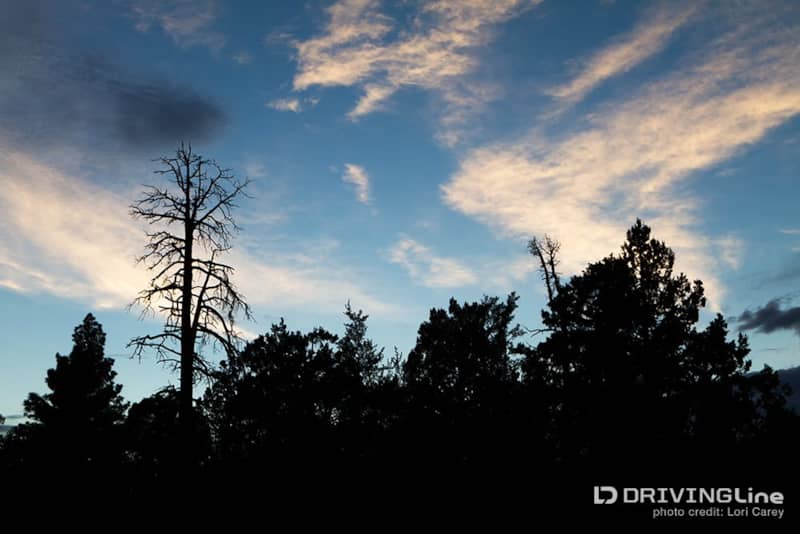 The clearing skies were short lived though and after the full moon shone, storm clouds returned. Instead of going out and shooting photographs, we settled in for a few more rounds of Rummy. Playing cards and listening to the hiss of the propane lantern brought back great memories of camping with my parents when I was young. After winning the next round, we decided to play best two out of three. My winning streak continued to round three, which means it will likely be quite a while before this deck of cards sees the light of day again! After settling into our tent for the night, the real storm arrived. A wild thunderstorm brought torrential rain and rolling thunder that lasted all night long, but we were cozy and dry inside of our tent.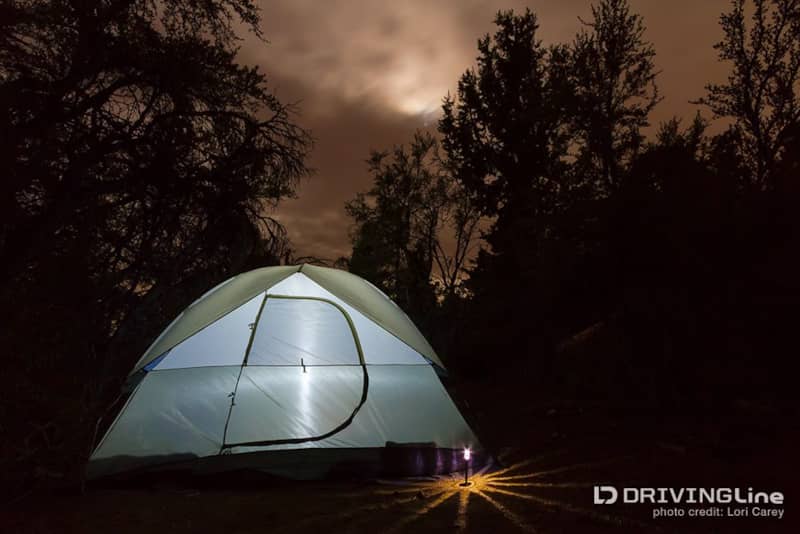 The rain had stopped by morning and we woke to the wonderful smell of a forest after rain; fresh air, pine and earthiness. After a quick breakfast we set off to do more exploring on no-name trails.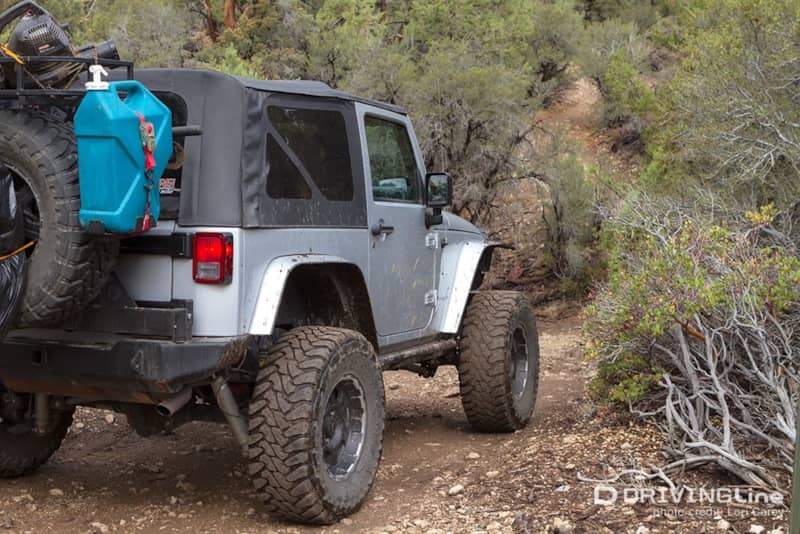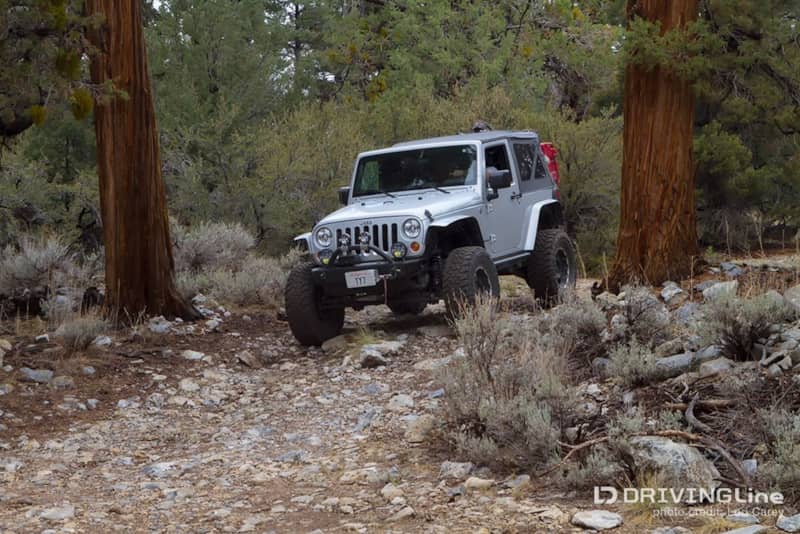 All too soon it was time to head back to camp and pack up wet and muddy gear. As we drove back down Polique Canyon I saw a sign signaling the end of a fun, adventurous weekend in the mountains - even though it wasn't quite the one we had planned.