Foggy Wheeling on Sugarpine Mountain
HB Off-Road Performance, a division of Huntington Beach Chrysler Dodge Jeep RAM, hosts monthly beginner and intermediate-level trail runs to help their customers get familiar with taking their new Jeeps off-road. October's run was women drivers only, designated for Breast Cancer Awareness. Some ladies brought their husbands or boyfriends along as co-pilot, but many others brought their daughters or female friends. 17 Jeeps attended, and for most it was the first time they had taken their Jeep off-road.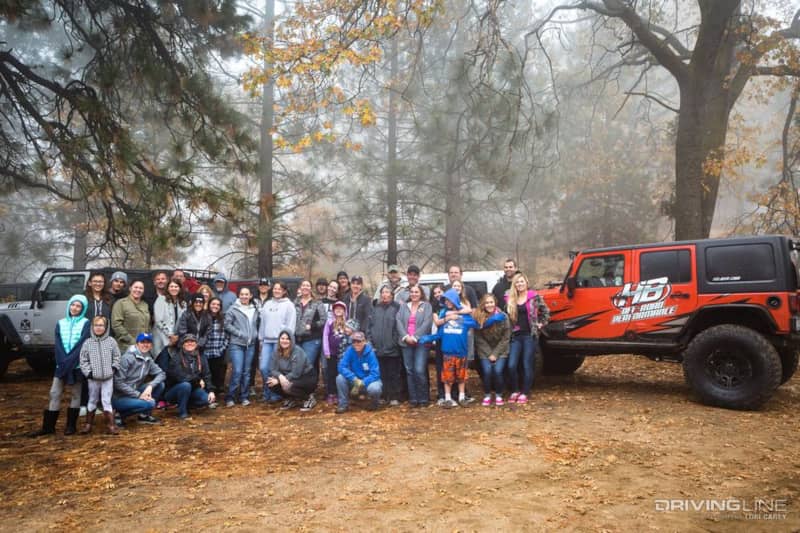 The group met under stormy skies at Vista Point in the Silverwood Lake State Recreational Area to air down tires and receive goody bags with t-shirts and other swag from HB Off-Road Performance before heading out to tackle the Sugarpine Mountain Trail in the San Bernardino Mountains.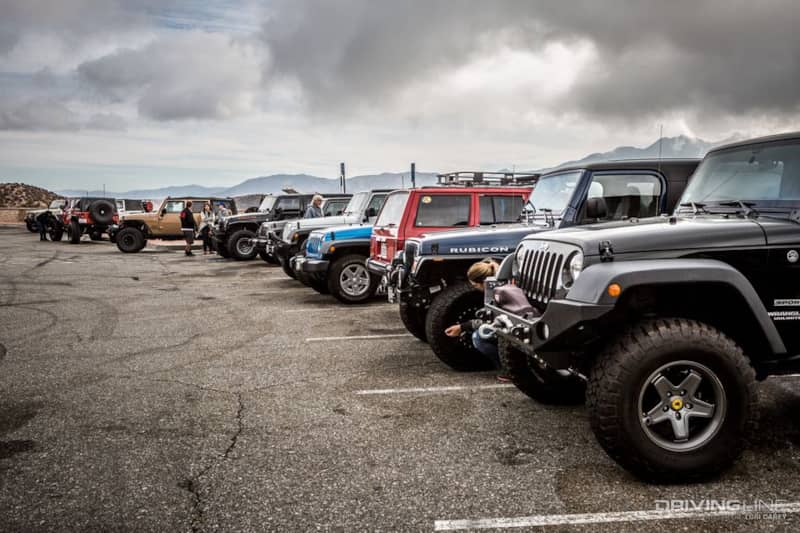 Trail boss Kimmie Davis held a drivers' meeting to go over basic safety rules, like always keeping an eye on the vehicle behind you to make sure they aren't having trouble. Kimmie is the wife of Ultra4 racer Randal Davis, owner of Desert Turtle Racing, and she has years of off-road experience.
A Tame Start
Sugarpine Mountain begins as an easy, graded dirt road as it enters the San Bernardino National Forest and starts the climb up the mountain. The trail heads west and runs below Cleghorn Ridge, another popular trail for beginners.
A Foggy, Soggy Climb
The trail climbs to 5,600 feet, and as we gained elevation we ran into very heavy fog and limited visibility. We had to turn our lights on so we could see each other.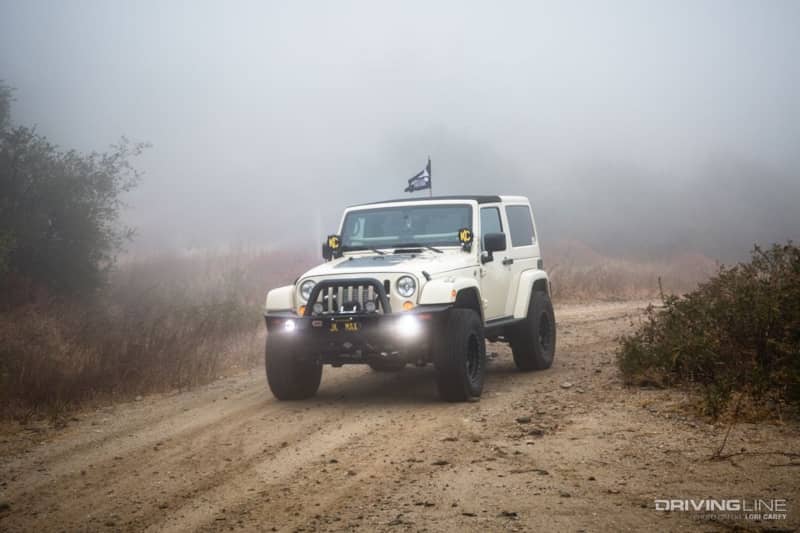 Stopping at one of the scenic viewpoints, we could barely see our surrounding crew let alone the spectacular view we had hoped for. With the temperature dropping and the wind picking up, we were all eager to get back inside our warm Jeeps after our short break out in the fog.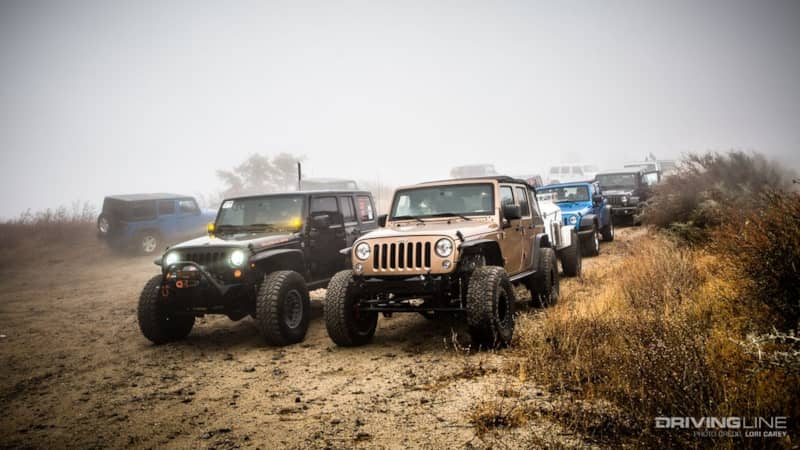 Driving through a forest shrouded in fog has a beautiful eeriness about it. This trail is beautiful in the fall, even in the fog. The combination of tall pine trees and colorful deciduous trees make for spectacular scenery... even if it is a bit spooky.
A flooded portion of trail gave everyone a little fun...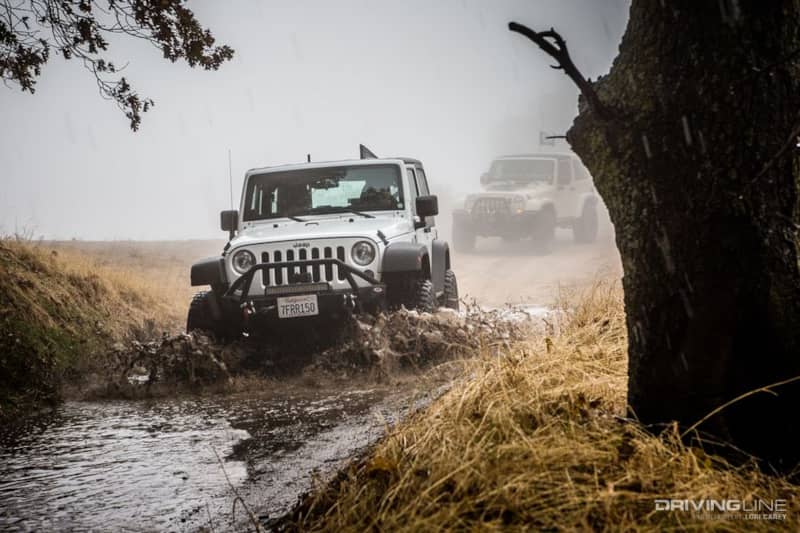 Since Christmas is coming, I kept track of who was naughty and who was nice to the photographer as they drove past. I'll let you guess which the following Jeep was!
The cold, wet weather didn't damper our day. It's always a good time out in a Jeep!
Little Victories
Headed down the mountain, a side trail gave newbies the opportunity to learn how to navigate a steep and muddy hill. Davis gave each woman some tips and pointers before they started their ascent.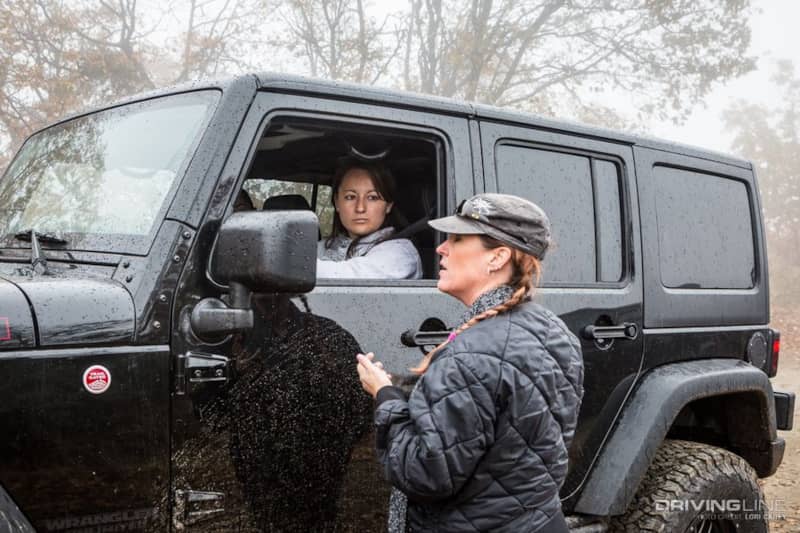 After successfully reaching the top, a turn-around had to be negotiated before heading back down.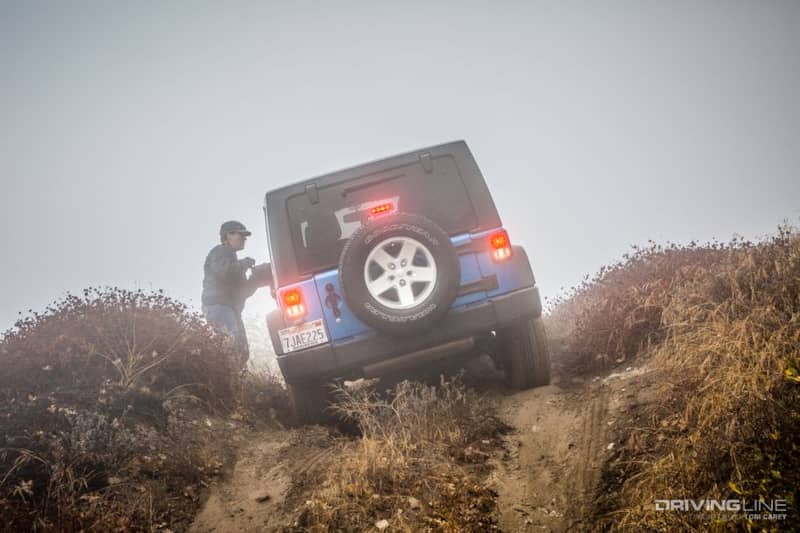 Women were amazed to see how well their Jeeps handled the tough hill climb; they all said it gave them more confidence out on the trail.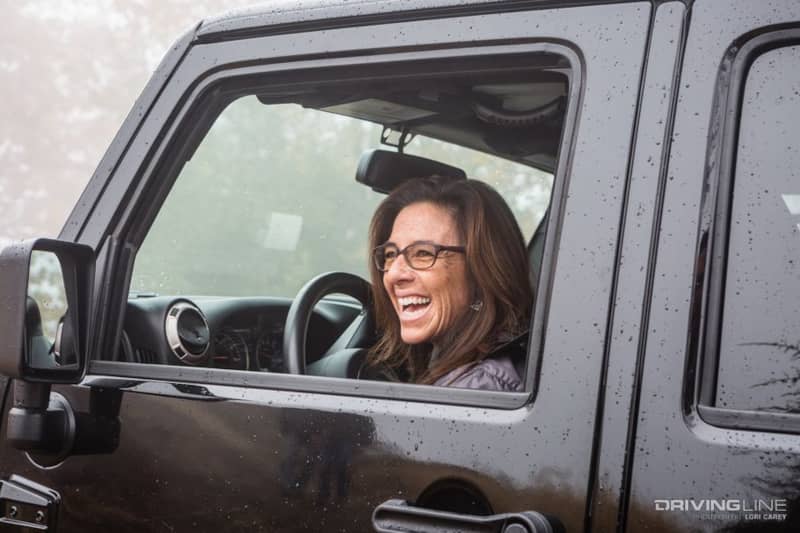 A Rocky Descent
After a lunch provided by HB Off-Road Performance, the trail got rougher with a few rocky sections as it winded back down the mountains around the West Fork of Devil Canyon.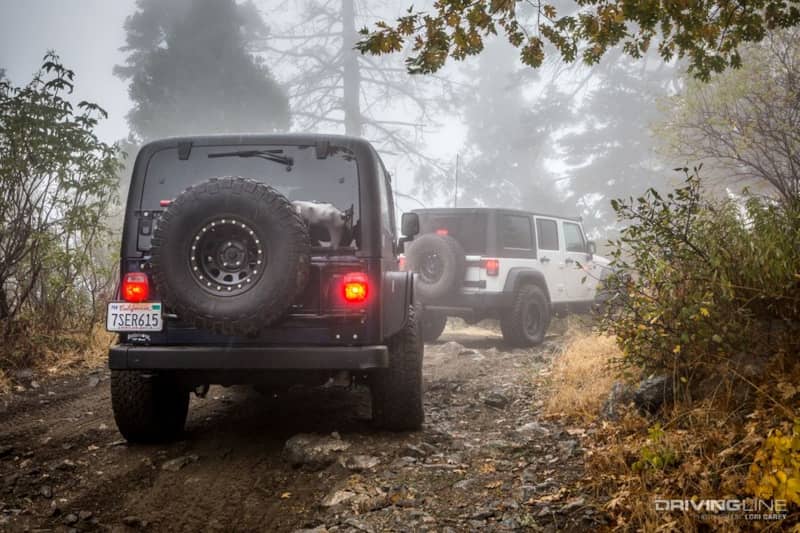 The final descent is a narrow, uneven shelf road with a steep drop-off. We got our first glimpse of the sun as we stopped to admire the view of San Bernardino Valley down below.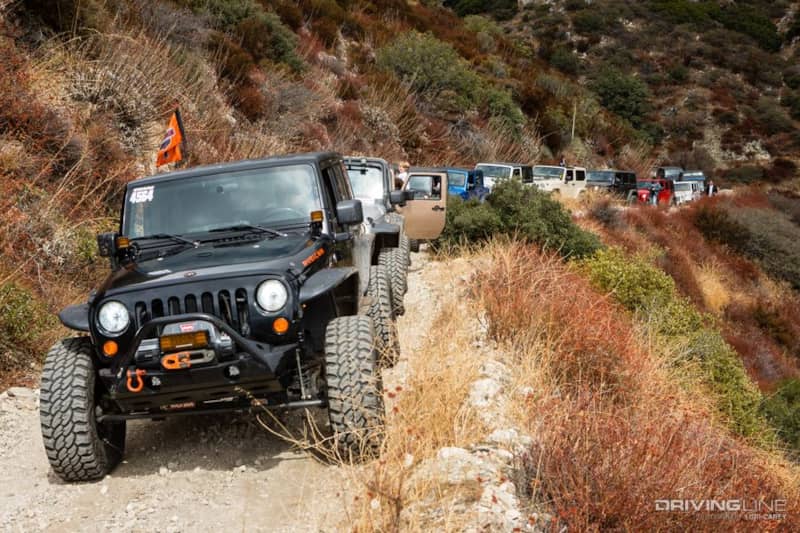 There's not much room for passing along this section of the trail.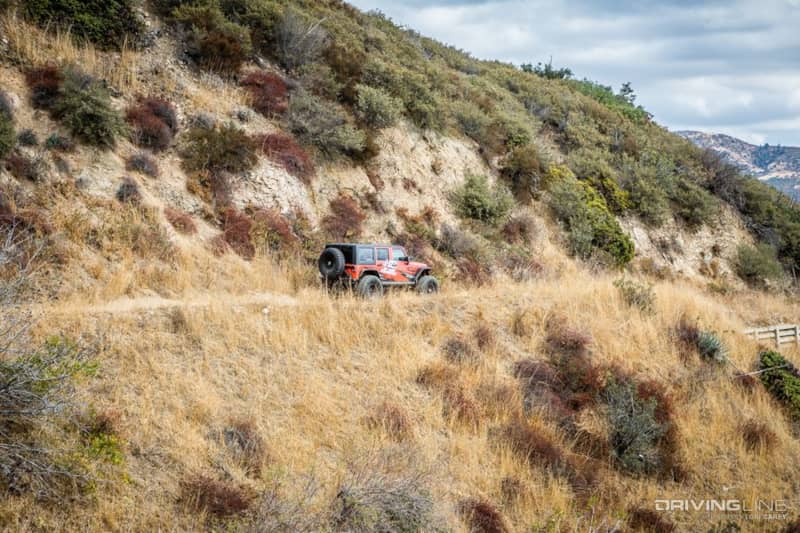 On the Road Again
Once back on pavement, we stopped to air up and say goodbye. The trail ends on Palm Avenue, just a few blocks from the US 215 Verdemont exit.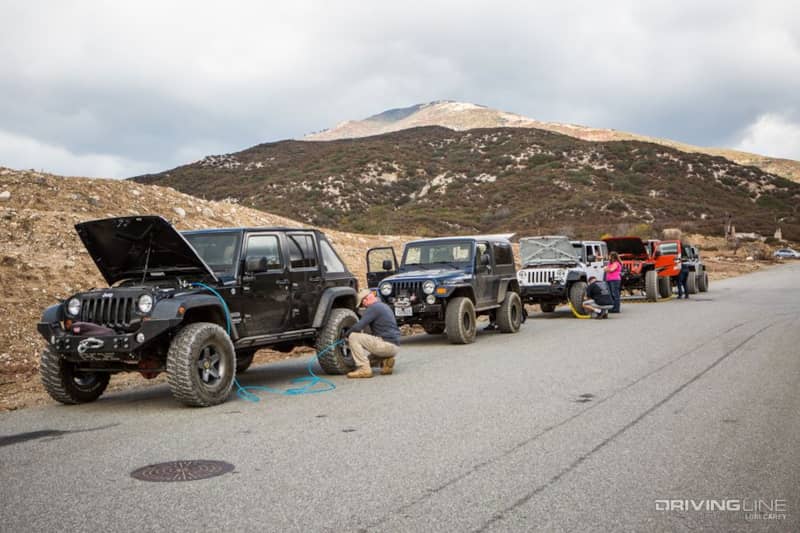 Before saying goodbye, I talked to each of the first-timers, wondering if they had a good time and if they planned to take their Jeeps off-road again.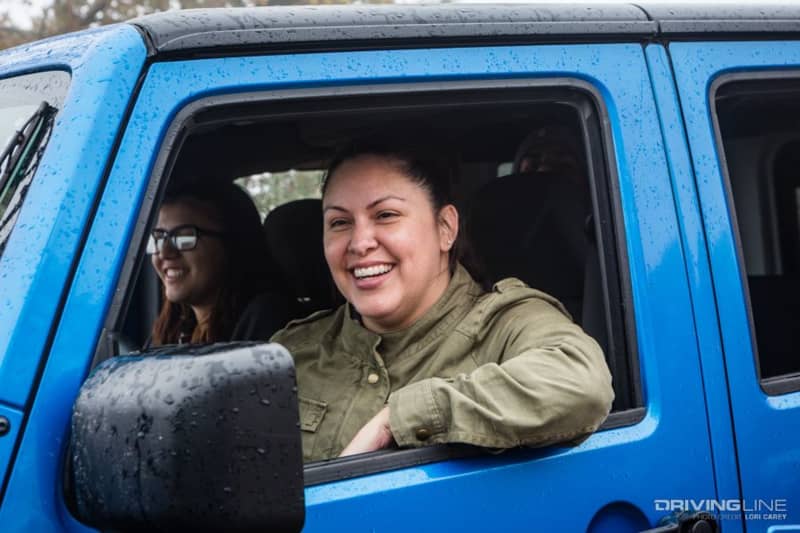 Every one of them said they can't wait to do it again. It was fantastic to see so many women fall in love with off-roading, especially the younger Jeep girls.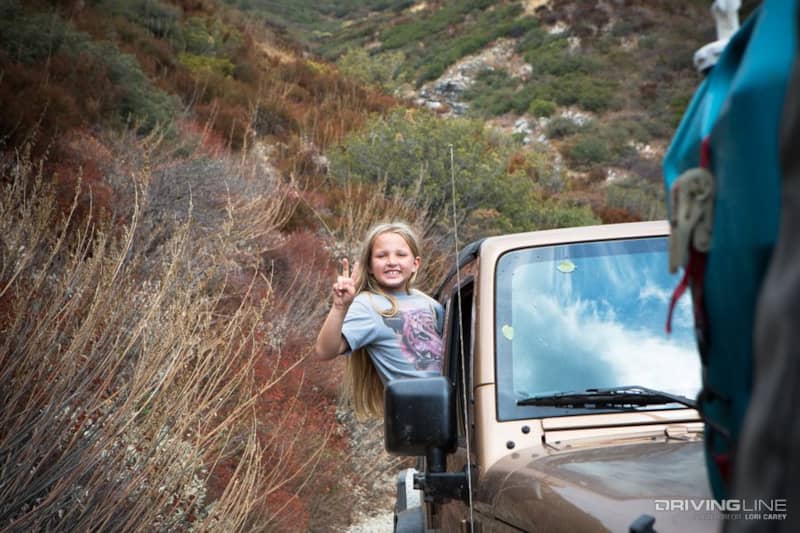 We had a really great time on this run. Thanks to HB Off-Road Performance for inviting us to tag along!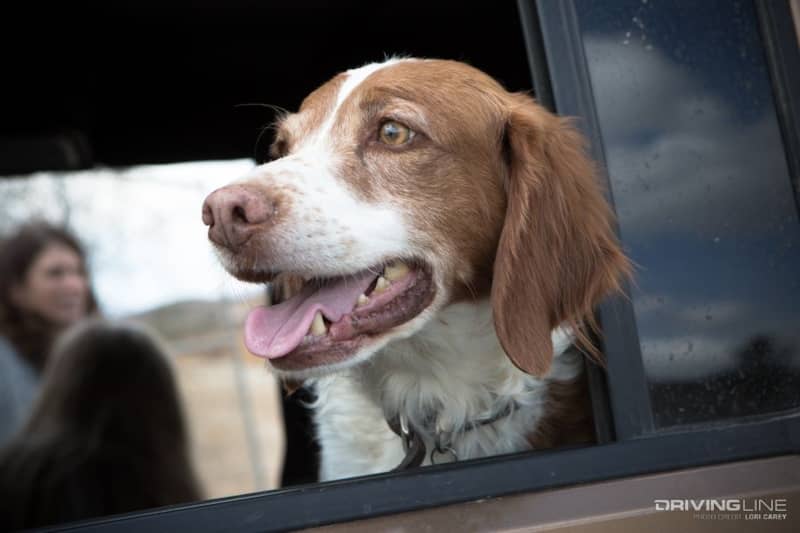 Trail Summary and Map
The 16-mile Sugarpine Mountain Trail is an easy day trip from the LA metro area, open all year round. It's a great trail for off-road beginners or anyone seeking a quick escape to the mountains.