Big Win for Ultra4: How Dave Cole Conquered the NORRA Mexican 1000
Dave Cole is no stranger to desert racing. As the co-founder and owner of Ultra4 Racing, Dave has successfully grown the sport of 4-wheel drive off-road racing in the California desert over the last decade from a dozen racers and their teams to a week-long annual event, attracting over 400 race teams and 80,000 spectators. While King of the Hammers and other Ultra4 competitions around the globe enjoy continued exponential growth, Dave Cole is rapidly showing the rest of the off-road racing world just how capable an Ultra4 car is. We sat down with Dave to gain some insight on how he piloted his 4454 car to a first place victory, and perhaps more importantly, fourth place overall in a field of other vehicles once known to be unbeatable in desert racing.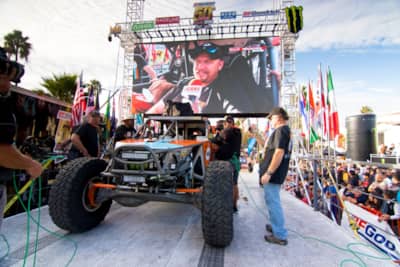 A History of Baja
Extending 775 miles from the United States border to its southern-most tip at Cabo San Lucas, the Baja California Peninsula is no stranger to motorsports. Motor vehicles have traversed this vast strip of desert for decades, and it didn't take long for some to realize the potential that Baja has for off-road racing. The well-known SCORE International Baja 1000 race takes the spotlight for much of Baja's off-road racing fame, but another annual event has held a special place in the hearts of racers since its inception.
In 1966, Ed Pearlman and Don Francisco founded the National Off Road Racing Association (NORRA), along with a handful of California-based off-road enthusiasts. The next year in 1967, NORRA held its inaugural Mexican 1000 Rally. Although the Mexican 1000 shares much of the same terrain as the Baja 1000, the two competitions could not be more different from a participant's point of view.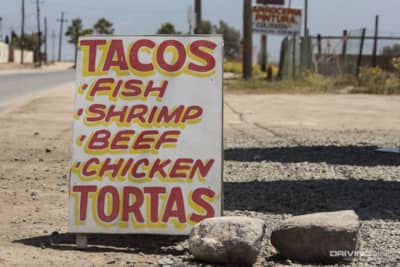 The NORRA Mexican 1000
"The NORRA Mexican 1000 is just fun. It's more laid back, as a rally that takes place over five days instead of 36 hours," said Dave Cole. The classes of vehicles racing the Mexican 1000 varies from simple VW Baja Bugs to Meyer's Manx buggies to half-million-dollar trophy trucks. Dave Cole entered his 4454 Ultra4 race car, the same car that took second-in-class in last year's Baja 1000. The Trent Fabrication-built car is rolling on a set of 40-inch Nitto Trail Grapplers, wrapped around 17-inch KMC Enduro beadlock wheels. "The Trail Grapplers are proven in the rocks at KOH, but they're just as effective in desert racing," explained Dave. "The great traction combined with a very strong design is crucial to racing Baja."
Beginning each morning, racers take off from the start line of each stage and make their way down the peninsula over the same roads and obstacles as the Baja 1000. Racers aim to reach the end of each stage by the end of each day, allowing the drivers, co-drivers, chase teams and vehicles to hopefully get some much needed rest. "Unlike the Baja 1000, you get to work on your car at night, check things over and make sure it's ready for the next day of racing."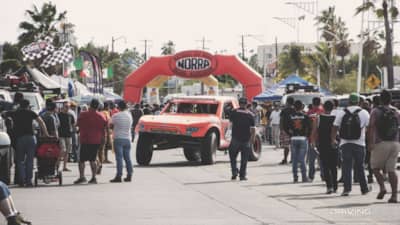 The Road to Victory
Starting in Ensenada, Dave Cole and a field of five other Ultra4 cars took off from the first stage of the race in 69th place. The goal was San Felipe by nightfall, a grueling trek through some of North Baja's toughest terrain across the peninsula to the Sea of Cortez. By the end of the first stage, Dave was in a physical twelth place, effectively moving up 57 positions. Ahead of him in tenth and eleventh place were Ultra4 drivers Jason Shipman and JT Taylor. By the end of Stage 3, from the Bay of Los Angeles to Vizcaino, Cole was the second driver to cross the line.
Stage 4 had other plans for Dave and the team. A series of issues with the 4454 car caused delays, including a failed ring and pinion, two fans, three fuel filters, a crank positioning sensor and a forced "limp mode" from the ECU. Dave finished the day in sixth place, giving up four positions during the fourth stage. But those who know Baja racing know its power to turn things around at a moment's notice, for better or worse.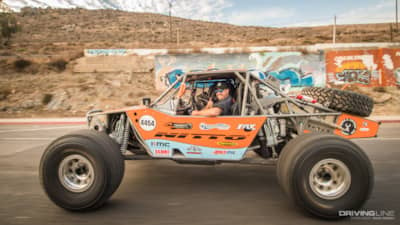 During the fifth and final stage from La Paz to Cabo San Lucas, Baja magic was in Dave Cole's favor. This last stretch of scorching desert put both his own abilities and the car's to the ultimate test. Despite having many odds against him, Dave Cole was able to pull off a first-in-class finish, staying ahead of JT Taylor and Jeremy Hammer.
While taking the gold in the Ultra4 class is a commendable achievement in itself, Dave Cole would go on to also take a fourth place overall finish. This is especially impressive given the vehicles that finished within just one hour of the 4454 Ultra4 car. In first place was veteran Baja racer Mark Post, piloting his iconic Riviera 3 trophy truck, a vehicle that has stood the test of time with a rich history of over 25 years of racing in Baja. In second place behind Post was Ryan Arciero, an accomplished desert racer in a classic Chenowth buggy once belonging to Baja racing legend Bob Gordon. The third place finisher was none other than "Lightning" Larry Ragland, who is the second-most winningest driver in desert racing history.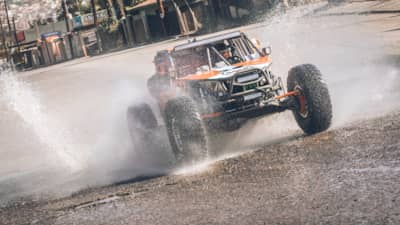 The Future of Ultra4
With such a stacked field of veteran Baja racers and accomplished desert racing vehicles, Dave Cole and his solid-axle Ultra4 rig have once again proven the dynamic abilities of a 4-wheel-drive buggy. Where most modern desert racing vehicles such as trophy trucks and class 1 buggies are 2-wheel drive and boast several feet of suspension travel, the Ultra4 remains a worthy adversary, ready to take on much more than just rock crawling courses and technical canyons.
As the sport of off-road racing evolves, so do its vehicles and competitors. King of the Hammers and Ultra4 once occupied a very small corner of off-road motorsports, but as evolution has always proven, the best of the best leave a lasting impact on the rest of the community. Dave Cole and many others like him visualize the future of Ultra4 cars on the biggest stages in off-road racing, challenging contenders once thought to be untouchable. But three things will always remain the same in Baja: great tacos, captivating stories and the spirit of adventure.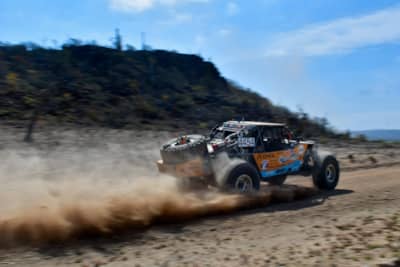 Like the article? Subscribe to our newsletter to have more sent straight to your inbox!