Bye Bye 20s, Hello 18s: Titan 7 Wheels & Nitto NT05 Tires for the Honda Civic Type R
When we last checked in our 2018 Honda Civic Type R project car we ran down some of the reasons why many owners of the FK8 Type R have been swapping out their factory 20-inch wheels and tires for a more a traditional 18-inch setup.
With added wheel protection, less weight to move around and improved tire choice among many of the benefits of downsizing the Type R's wheel diameter, it wasn't a hard decision to drop the Type R's wheels by two inches. But now we had to figure out exactly which wheel and tire combo to go with.
Finding the Right Wheel and Tire Combo
First up were wheels. After researching various options favored by the Type R community, we got in touch with the team at Titan 7, a growing brand that offers lightweight, affordable and high quality forged wheels for a number of popular enthusiast vehicles, including the Civic Type R.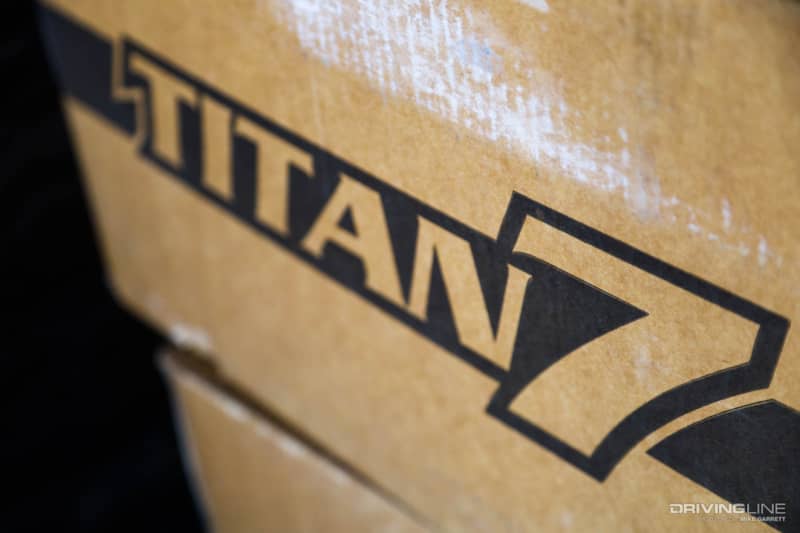 With 18 inches being to the go-to size for most Civic Type R wheel upgrades, Titan 7 offers several different styles and fitments designed to work specifically for the FK8 platform, and we opted for a set of their ten-spoke T-R10 wheels finished in a tough-looking Machine Black color.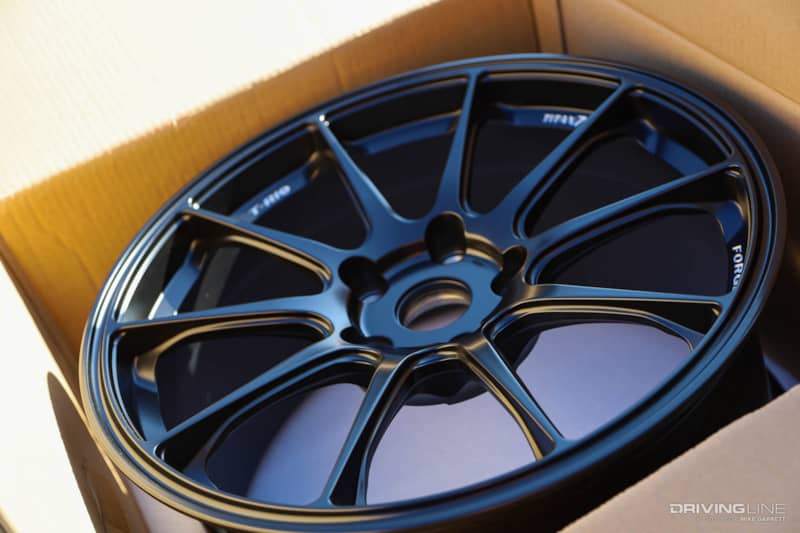 Our specific set measures 18x9.5 with a +45 offset, a fitment designed to match right up with the Civic Type R without any need for fender modifications, even on moderately lowered cars. Compare that with the factory wheels, which measure 20x8.5 with an offset of +60, and the new wheels should fill the fenders nicely without being too extreme.
That's before you even get to the best part about the Titan 7s: their weight, or lack thereof. With fully forged construction, our 18x9.5s weigh in at just 18.7 pounds each, nearly 10 pounds lighter than the factory Civic Type R wheel.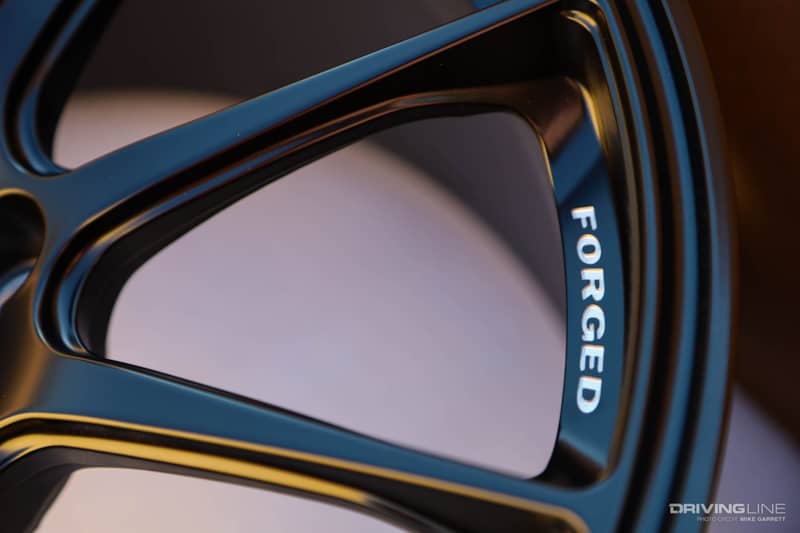 With wheels figured out, the next order of business was to select tires, and based on our experiences with our previous Mk7 Volkswagen Golf GTI, which saw a similar mix of street driving, autocross and track days, we once again opted for the proven Nitto NT05, which nicely handled a variety of uses.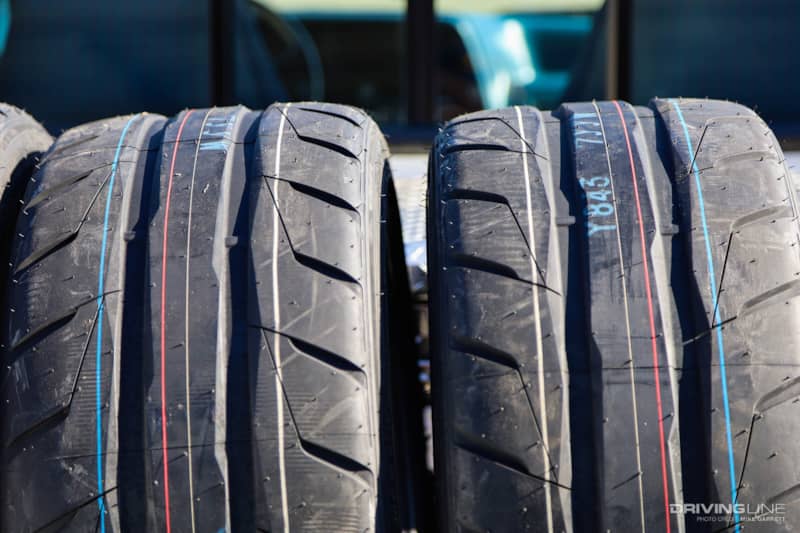 Researching through Civic Type R forums and owner groups, a 265/35R18 tire was one of the most common recommendations, as it would provide both a larger contact patch and a significantly larger sidewall when compared to the factory setup.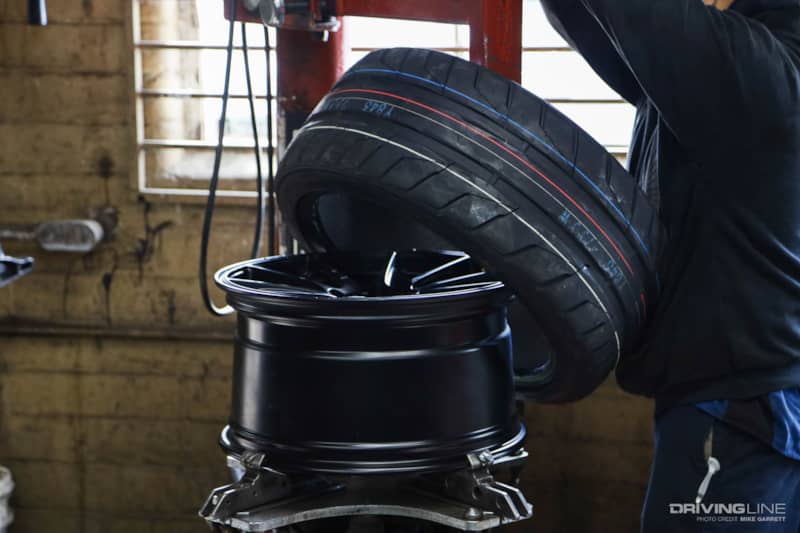 Lighter and Meatier
With the wheels and tires both in hand, we excitedly headed out to get them mounted and balanced, curious to see not only how they looked on the car but also how the combination would compare in terms of weight.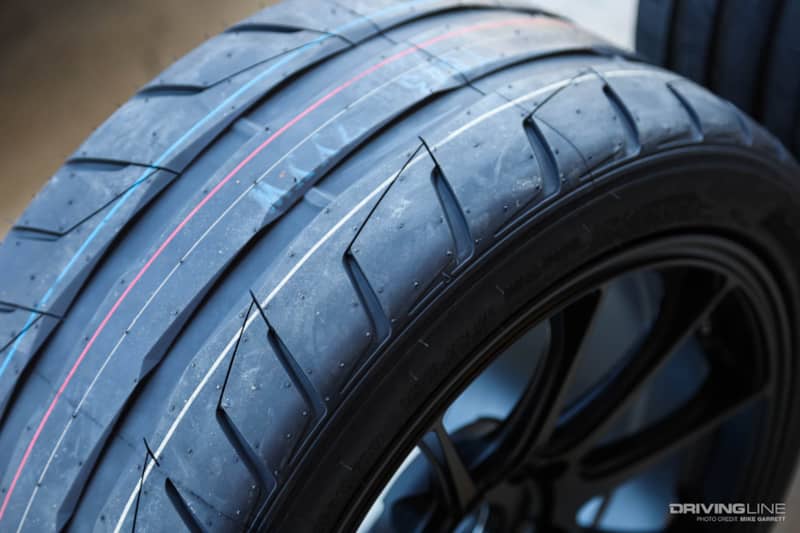 Here you can see the difference in appearance between the 265/35R18 combo and the factory 245/30R20s. The new setup ends coming in .5 inches shorter in total diameter, but thanks to the bigger sidewall it actually looks just as large, if not larger.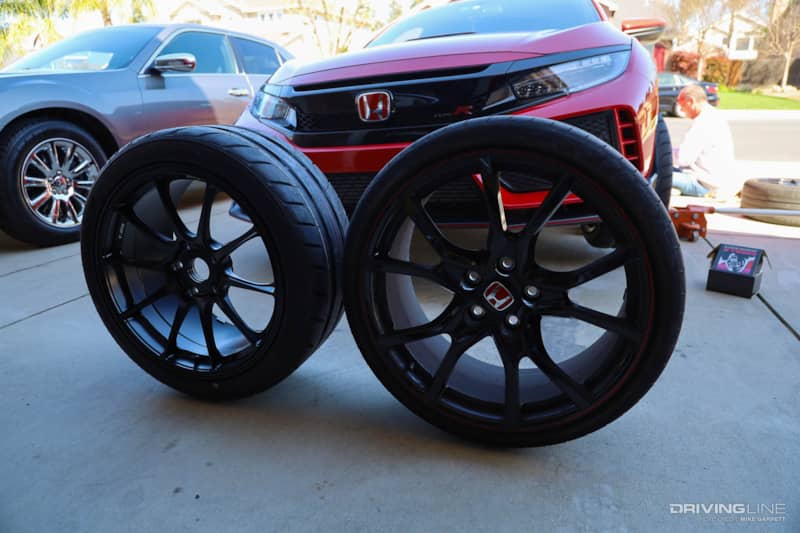 Next up was the weight. Using our simple home scale, you'll remember the stock wheel and tire came in at 50.6 pounds. And the Titan 7/NT05 combo? 46.4 lbs. While 4.2 pounds might not seem like a ton of paper, that's with a wider, much thicker tire and a wheel that's a full inch wider. Multiply that by four and you get almost 17 pounds of vital unsprung weight trimmed from the car.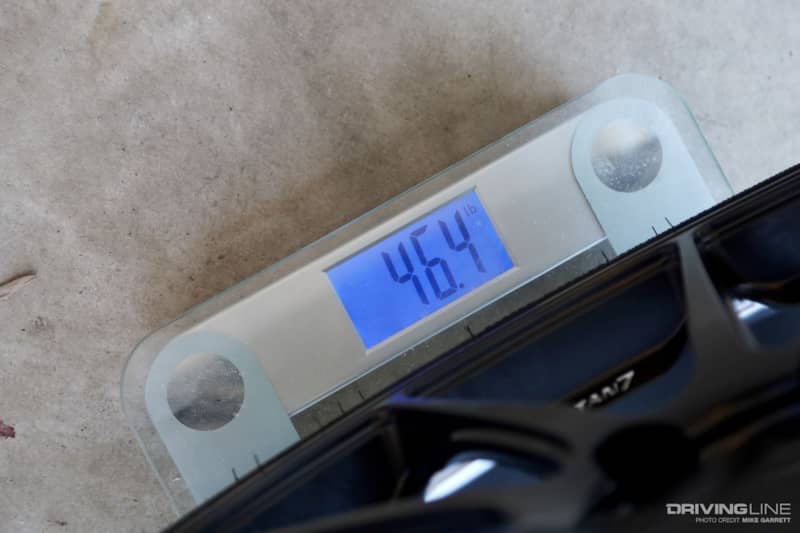 As with any wheel and tire upgrade, there was a lot of anticipation about how the new setup would look, and as we affixed the Titan 7s using our set of Gorilla lug nuts, we couldn't wait to see the change in the Type R's appearance.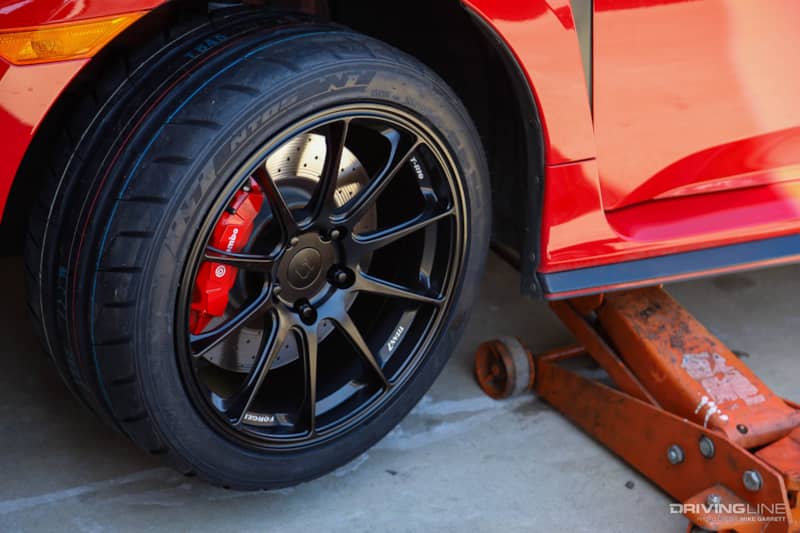 First Impressions of NT05s and Titan 7s
Back on the ground now with all four wheels and tires fitted, the first impressions are quite good. When compared to the standard Civic hatchback bodywork, the Type R has wider front and rear fenders, and the more aggressive wheels and tires do a great job of filling them up.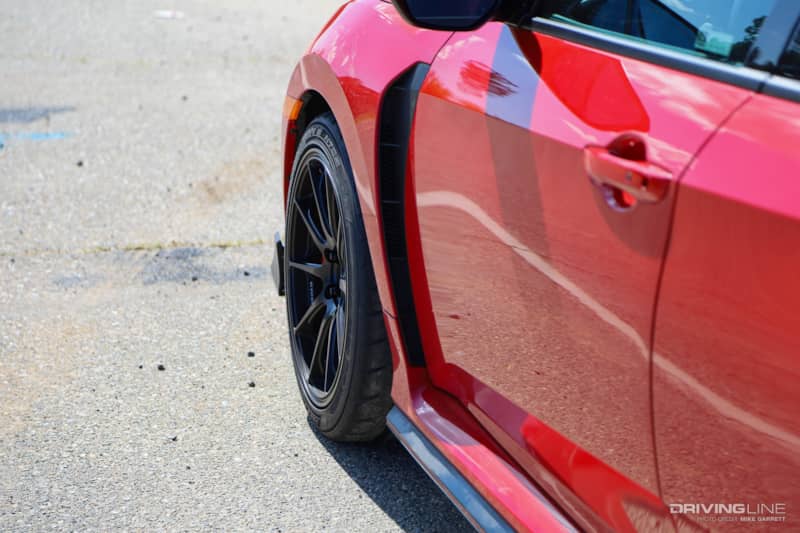 But at the same time they aren't so aggressive as to look out of place on a car with a stock suspension setup. We certainly haven't ruled out suspension upgrades in the future, but the Titan 7s look great even at factory ride height.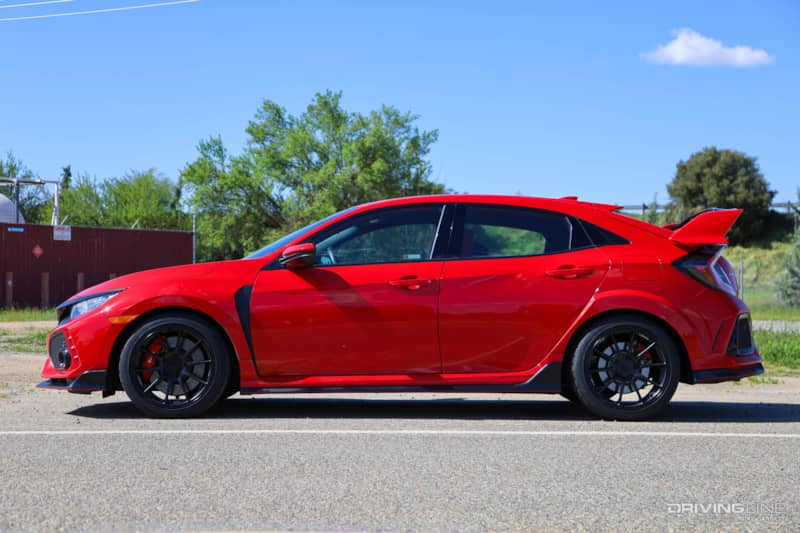 Hopping behind the wheel, there was a noticeable change in feeling right off the bat. It's fair to say the steering feel is a bit different and perhaps slightly less direct with more sidewall on the tires, but the shaving of weight is noticeable from the driver's seat during both acceleration and cornering.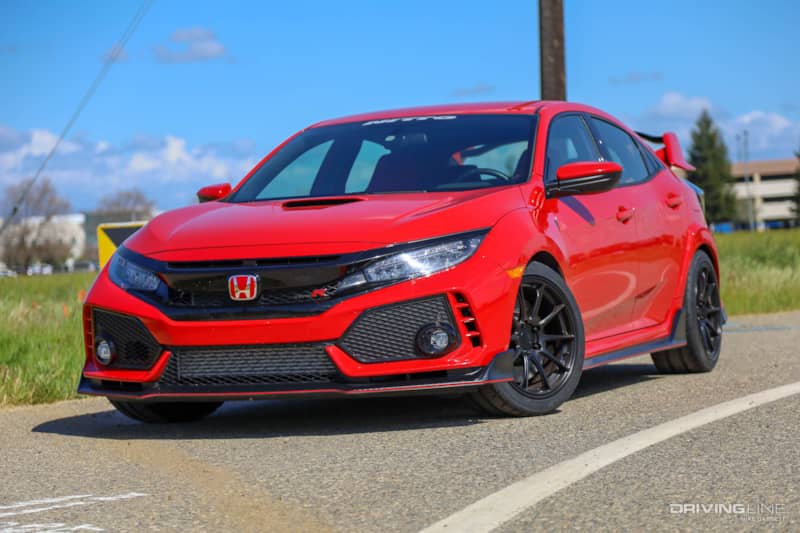 While a car like the Civic Type R will never ride as smooth as a Cadillac, it certainly absorbs road imperfections better with the larger sidewalls of the 18-inch tires and emits less harshness into the cabin. Best of all you don't have to nervously cross your fingers every time you hit a bump, hoping that you don't dent a wheel.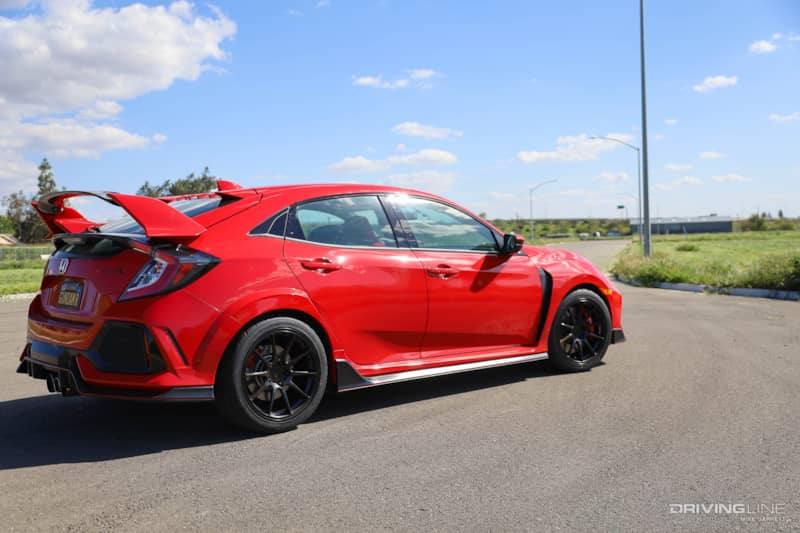 Anytime you swap the wheel and tire sizes on a car there's going to be some trade offs involved, but when it comes to the Civic Type R, we feel like the move to a wider lightweight wheel and an equally capable performance tire is well worth the effort.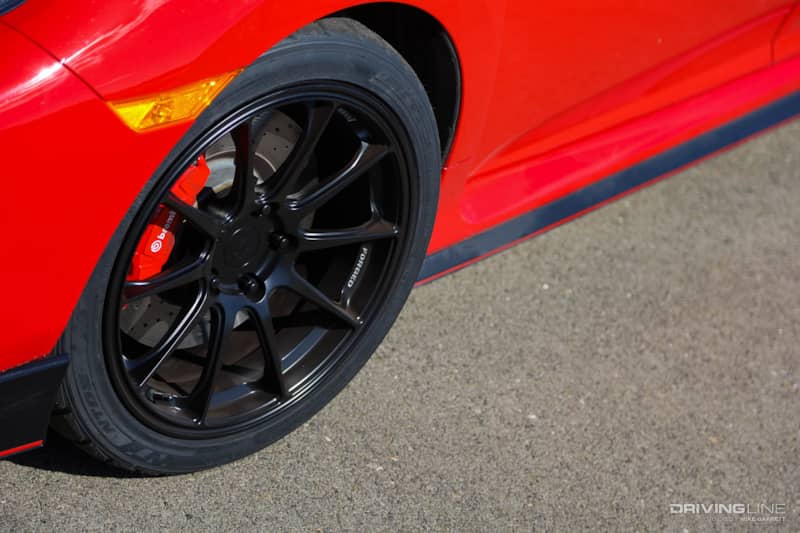 Of course, how the car looks and how it drives on the street are just two parts of the experience, and needless to say we are looking forward to getting our FK8 back onto the circuit soon so we can see how the new wheel and tire setup performs in a track day environment.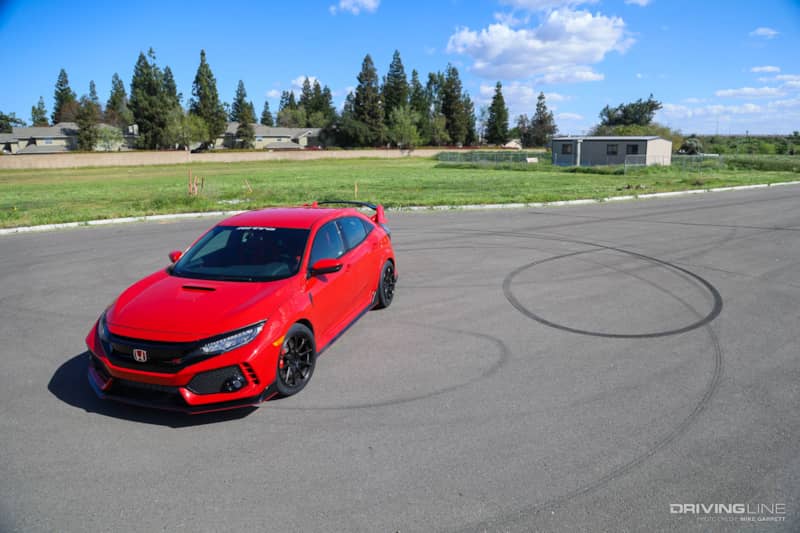 For now though, count us among the believers that the Civic Type R should have come from the factory just like this—with a little less wheel and a little more meat on the tires. With a bit of assistance from Titan 7 and Nitto, we've taken a car that was already great and made it that much better.