The Hype is Real: Our Honda Civic Type R Project Hits the Track
This fall we added a new machine to the Driving Line Garage when I purchased a 2018 Honda Civic Type R as a full-time daily driver and kid-hauler, and part-time backroad toy and track day vehicle. In a recent story I covered some of my impressions and observations after two months of driving the Type R every day, but for this project the daily grind is just part of the story. In fact one of the greatest attributes of the FK8 Civic is it's ability to double duty on both the commute and race track.
That's why I couldn't wait for the car to be fully broken-in and finally able to get on track, and that opportunity came earlier this month when I headed to Buttonwillow Raceway for the December edition of the track's Performance Driving Clinic.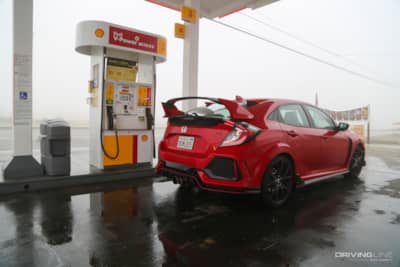 Having already attended this program once earlier in the year in my old Golf GTI, I was pretty familiar with the format. Because of that, I expected to be able to get plenty of seat time and learn a whole lot about how the Type R performs on track. What I didn't expect was the fog. Arriving at the Buttonwillow in the morning, the whole race track was covered in a thick winter fog, and there was some concern from the organizers and instructors that the visibility would be too poor for us to go on track safely.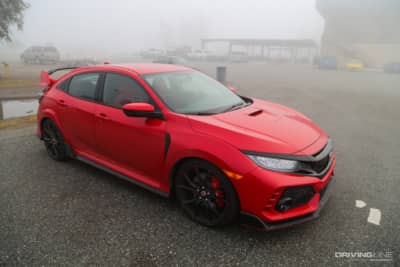 Fortunately, by the time all of the cars had been through tech inspection and the drivers meeting had wrapped up, the fog had lifted enough for us to do some slow paced lead-follow laps, and it continued to clear up throughout the morning. For this event we'd be using the popular #13 layout but in a counter clockwise direction, which made for an interesting take on some of Buttonwillow's well known corners. After getting some helpful pointers from the instructors on hand, it was time to head out for some fun.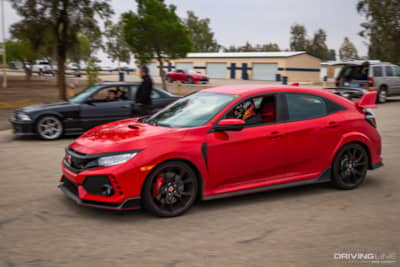 Now I'm anything but an experienced circuit driver, with just a couple of track days and a handful of autocross events under my belt, but even at my relatively low experience level, it was clear early on that the Civic Type R is a pretty special car on-track.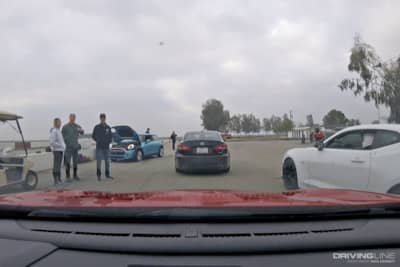 While the performance driving clinics are aimed toward building experience and not setting fast lap times, I had the chance to share the track with a variety of drivers at different skill levels (some in some pretty serious machinery), yet the little red Civic never failed to impress. Here are a few of my big takeaways from my first track day in the FK8.
No AWD, No Problem
I'd already gotten a pretty good idea of how well the front-wheel drive Civic Type R puts down its 306hp and 295 lb-ft of torque on the street, but I was fully converted on the abilities of a well set up FWD after driving it on the track.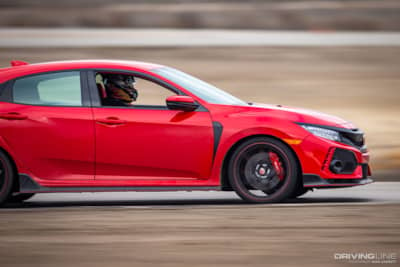 Not only does the Type R's dual axis front suspension and limited slip differential allow you to get into the throttle early and often, Honda has also done an incredible job of dialing out understeer from this car. Even going at a hot pace, front end push was rare and the car stayed extremely neutral. There was never a shortage of a grip, and the Type R's aero parts could certainly be felt on some of the track's higher speed areas.

Stay Cool
Like many Type R owners who have the occasional track day in mind, I was a little concerned over some of the stories I've heard about FK8s overheating at the track. However, I never saw the temperature gauge go above half during any of my sessions.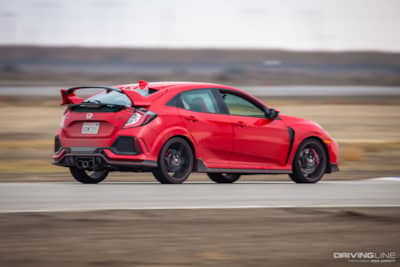 Of course, this particular track event was on a foggy, 55-degree winter day and with some combination of traffic or flags coming out, it was rare to get more than a consecutive lap or two of flat out driving—but that's often how it goes at entry level track days. From what I've gathered, even backing off for part of a lap is enough to keep things from getting too hot. I'll certainly continue to watch how the car handles different situations, but it seems to be the ambient temperature and how hard you are driving that will determine whether you have cooling issues or not. For someone of my casual level, I don't really foresee it being a significant problem.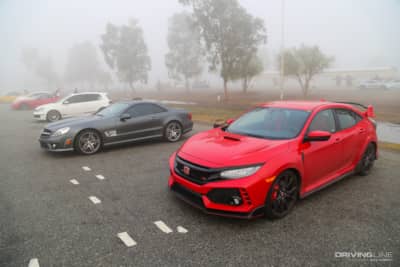 Long Live the Manual!
While I'm as big a stick shift fan as they come, there's something to be said about a well-tuned dual clutch or automatic transmission on the race track. Instead of worrying about shifting or your footwork, you can focus entirely on your line, steering and braking. In the Type R though, the six-speed manual with auto rev matching is both incredibly fun and easy to use. Even if you aren't a heel toe master, you can downshift with abandon and you don't have to worry about upsetting the car or jerking things around.
I can see why old-schoolers might not like the rev match feature, but for the weekend warrior it helps give you the fun and connection of a manual but with the precision of a dual clutch automatic. In a way it makes you feel like you are playing Forza or Gran Turismo out there.

Accessible Speed
The thing that impressed me most about the Civic Type R on the track wasn't necessarily how fast it was, but how easy and forgiving the car was to drive—especially for a rookie like myself. The power delivery, grip, strong brakes and overall setup of the car always encourages you to go faster, and in the rare occasions where I found the front end running out of grip, it was predictable and quick to get back on line by coming off the throttle.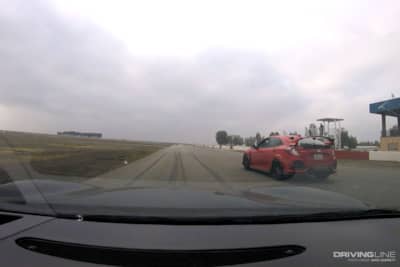 My brother attended this event behind the wheel of his nearly stock 2002 Corvette Z06, and I was amazed at how well the Type R was able to stick with the C5. The LS6 would gain on me a bit in the straights, but in the corners we were nose to tail. Of course, the C5 is a much more tricky car to drive fast, but that just shows how confidence-inspiring the FK8 is.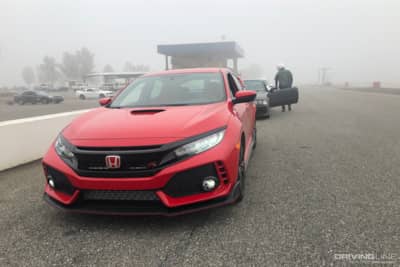 The Hype Is Real
That brings me to final observation from the day. In street driving I've found the Civic Type R to get a lot of attention and start a lot of conversations, and the same can be said about the race track as well.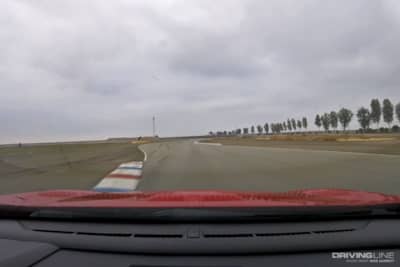 Throughout the day, I was approached by fellow participants who who were curious about the Type R and heard from instructors who were impressed and surprised by the what the winged Honda was capable of.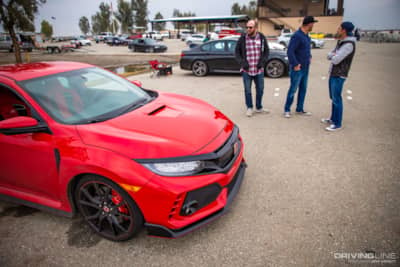 When I first purchased the Civic Type R I was excited as I've ever been about a new car, and taking it to the track only made that excitement and appreciation grow. I can't wait to get back for more.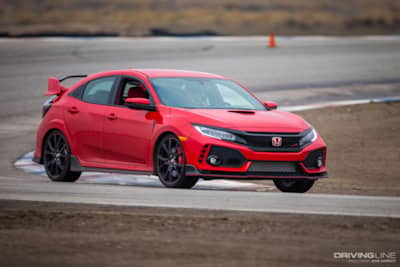 A couple months of daily driving, backroad excursions and now a track day have also given me a good idea of areas I'd like to improve on the car in the coming year. Smaller, lighter wheels and stickier tires with more sidewall are on my list of wants, as are some simple suspension changes and perhaps an exhaust with a bit more character.
The plan is to document those and other adventures as we continue our adventures of living the Type R Life. Stay tuned!