Celebrating Traditional Hot Rod Culture: 6th Annual Hot Rod Hill Climb
The car world has something to offer just about everyone with any kind of taste, from sophisticated—like the Concours d'Elegance and Grand National Roadster Show—to action packed—like Formula Drift, Ultra4 and Laguna Seca—and everything in between. While these modern marvels excite and entertain, these don't always scratch that itch of returning to one's roots. Fortunately for traditional hot rod enthusiasts, Colorado's Hot Rod Hill Climb does just that and more!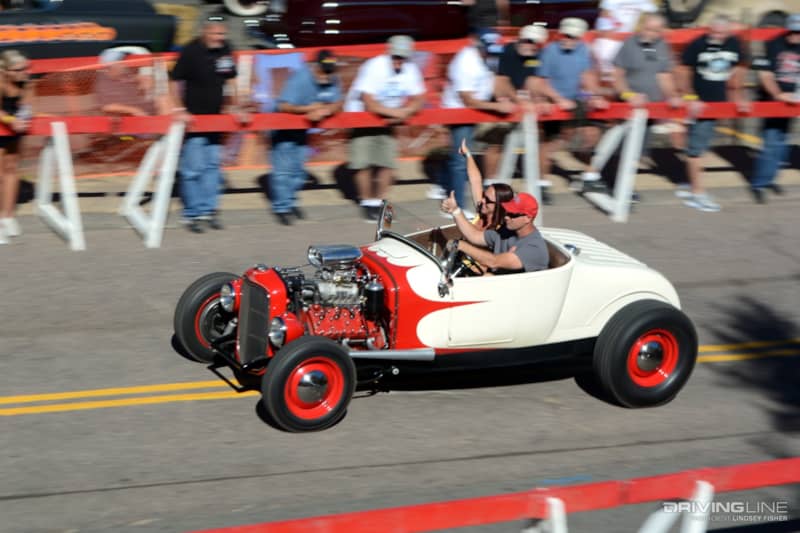 The revamped Hot Rod Hill Climb came to fruition in September of 2013. Mike Nicholas of Nick's Garage had previously come across an article in the March 1954 issue of Hot Rod Magazine detailing a hill climb held in 1953 and 1954 up Leavenworth Mountain just outside of Georgetown, Colorado. This would later become the inspiration for the modern-day throw-back event.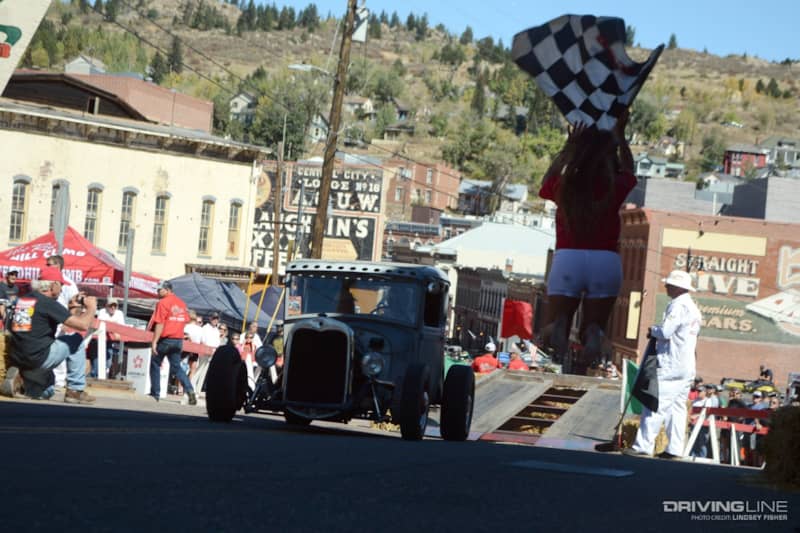 The Origins
As the story goes, a local sports car club had sanctioned a hill climb up the mountain in 1952. Having gotten word of this, a handful of local timing associations and hot rod clubs decided to put on their own race in 1953 with the intent of proving their cars superior to their sports car rivals just a week after the sports car club's second annual event.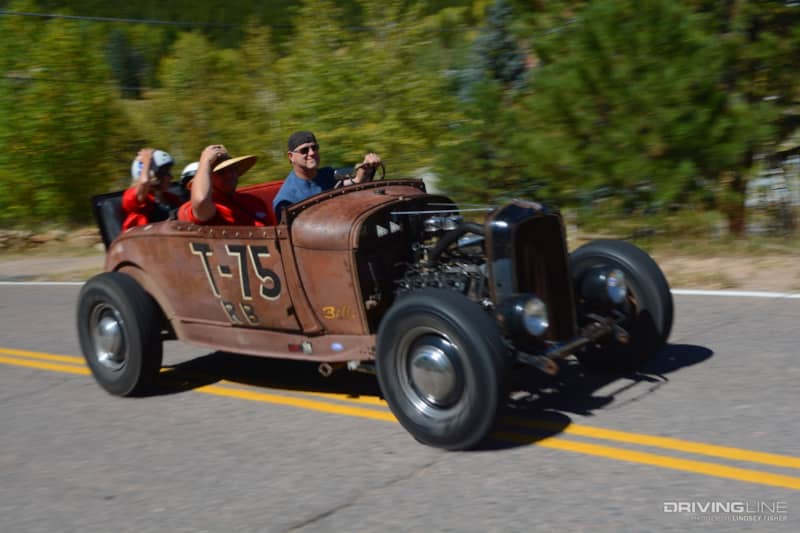 With traditionally modified hot rods, the clubs and timing associations went out with a bang, proving they could drive their cars to the top of the dirt switchbacks significantly faster than the sports car owners. In 1954, the hot rodders raced again. Unfortunately, this hill climb was the last, as the government passed legislation outlawing racing on Colorado roads shortly after.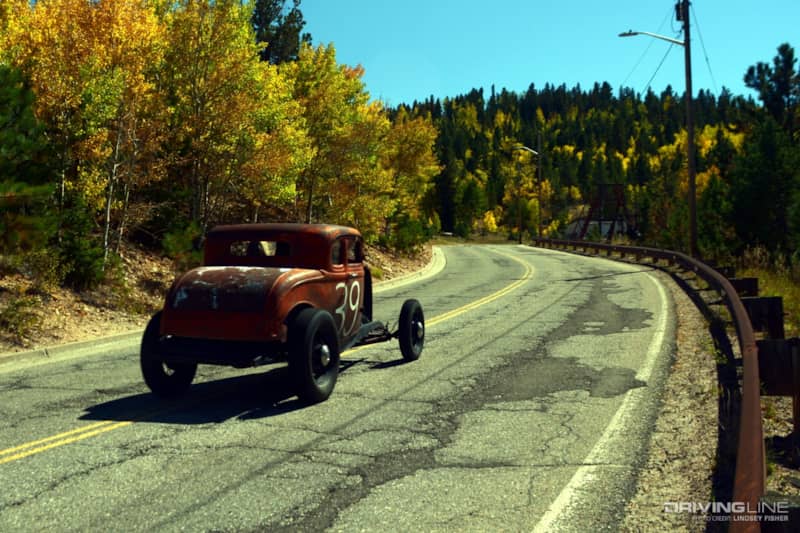 Beginning of a New Era
The article in Hot Rod peaked Nicholas' interest, so much so that he found himself rereading it on a number of occasions. However, it wasn't until he received a bit of a push from Meldon Van Riper Stultz III, promoter of The Race of Gentlemen, that Nicholas set forth to recreate the famed race as authentically as he could. The first new Hot Rod Hill Climb took place on September 14, 2013, just in time to celebrate the 60th anniversary of the original event. It even went up the very mountain its predecessor had used in 1953 and 1954.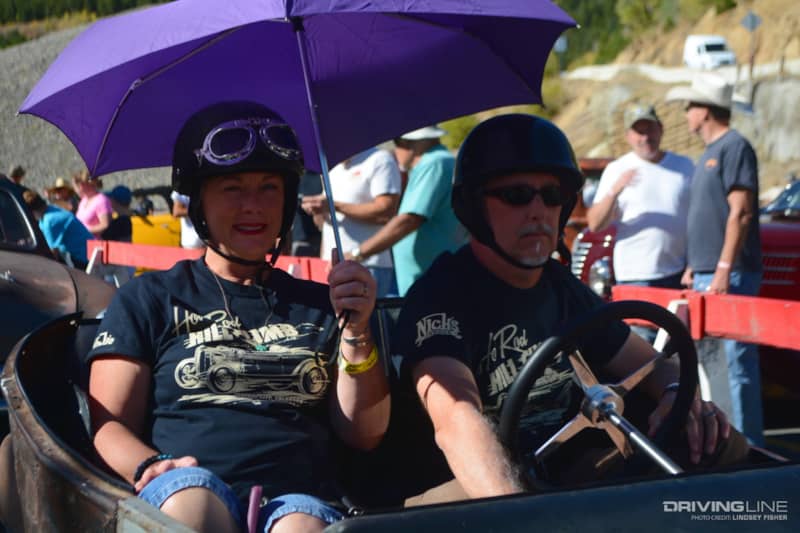 It's been five years and six Hot Rod Hill Climbs since that race, and it continues to draw more and more traditional hot rod owners and enthusiasts to the Colorado mountains each year. The event has gone from around 40 cars and only a few dozen spectators to nearly 150 race participants and hundreds of attendees there to watch the nostalgic race. Though it's more than tripled in size, moved locations for extra space and grown exponentially as a must-see event, the Hot Rod Hill Climb still remains loyal to its roots and wrapped in tradition. Most of that is thanks to Nicholas.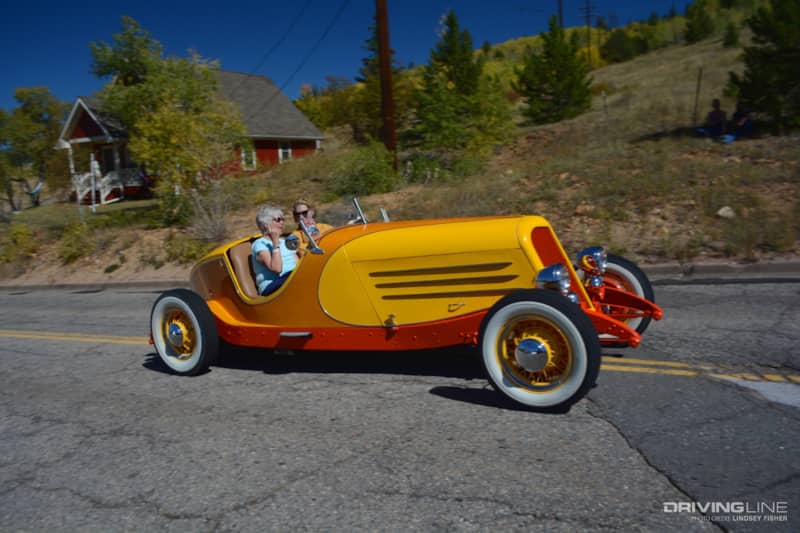 More Than Just Cars
"The Hot Rod Hill Climb, to me, is about the people, the cars, [and] the setting, but mostly about the people," Nicholas told us at the sixth annual event. "The people at the event can do nothing but smile and have a great time. We are seeing more and more women and more of the older generation coming out with hot rods and having the time of their life. The motivation behind this event for me are those smiles and to see those people having the time of their life and enjoying these old hot rods. Hot Rod Hill Climb is a place where our social media lives become a reality and we live in those moments that are captured."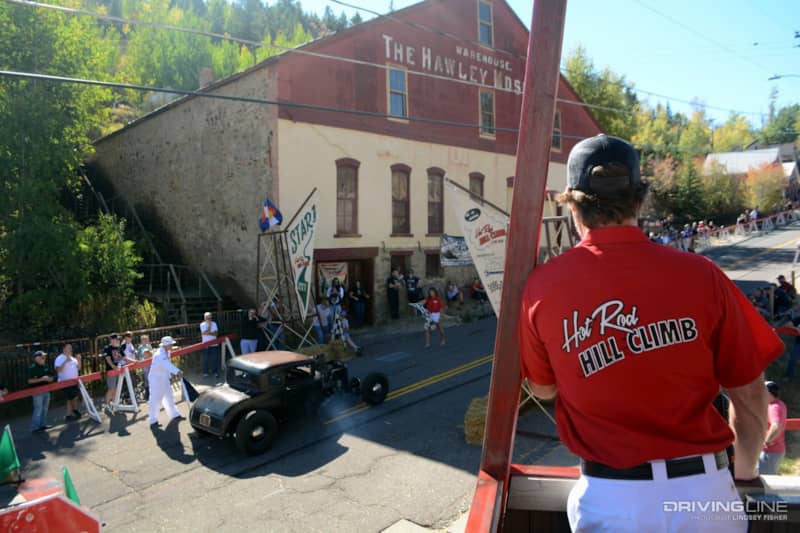 This year, the Hot Rod Hill Climb saw over 150 competitors from all over the country, all with pre-1960s-style hot rods, as well as a couple from Canada and even one driver from Australia. No matter if it was their first year attending or their sixth, everyone talked about the great fun, true enjoyment of getting to drive their traditional hot rods and pleasure of being able to participate in an event that offers so much more than your typical car show.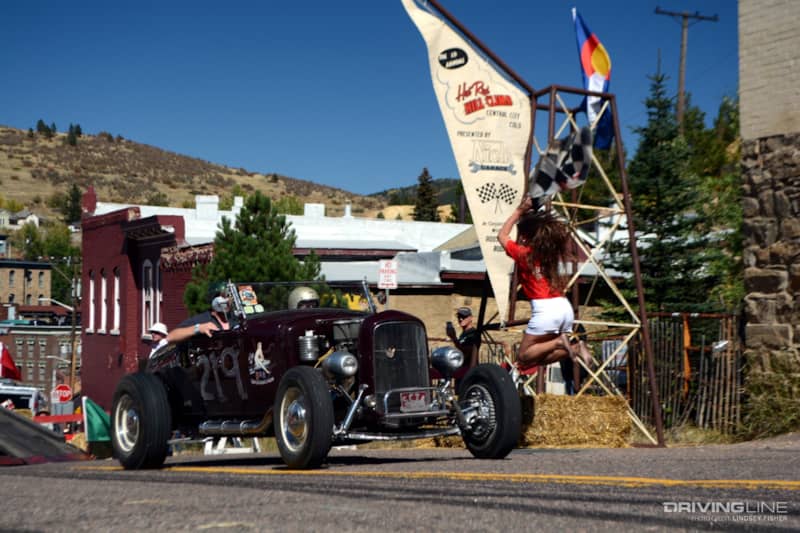 Vintage Hot Rods
When we asked five-time Hill Climb competitor "Conway" what makes the Hill Climb so special and different from any other car event, he told us, "Because you're not sitting in a grassy park, looking up your tailpipe! You're moving and you're dealing with old jalopies, old cars, hot rods—vintage hot rods—not chrome and that kind of stuff. That's what makes it different."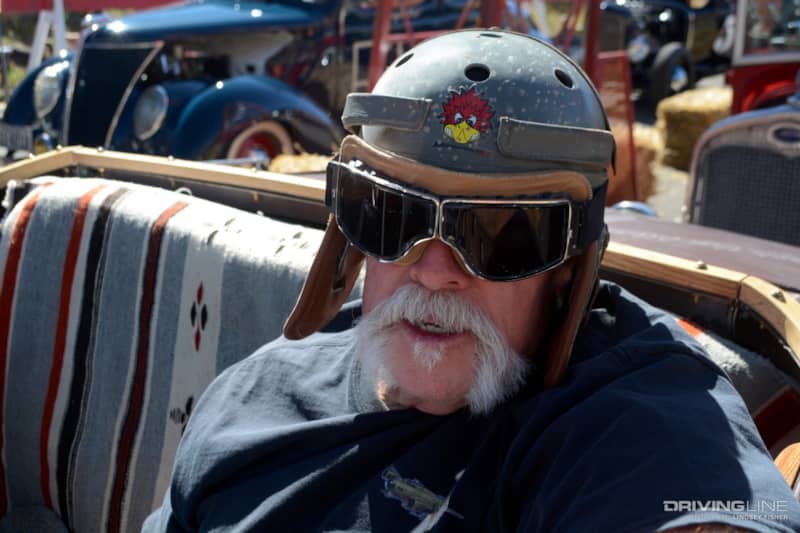 Conway originally heard about the Hill Climb from a video of the 2013 event on YouTube. He said he had never seen an event like it and decided he had to come see it. So, for the last five years, he's trailered his '29 roadster over 500 miles from Camos, Utah to participate in the unique throwback race.
First time Hot Rod Hill Climb participant Ron Cooper of Taos, New Mexico made the trip up for this year's event after participating in the Hot Rod Dirt Drags, the Hill Climb's sister event held mid-summer in Monte Vista, Colorado, for the last few years.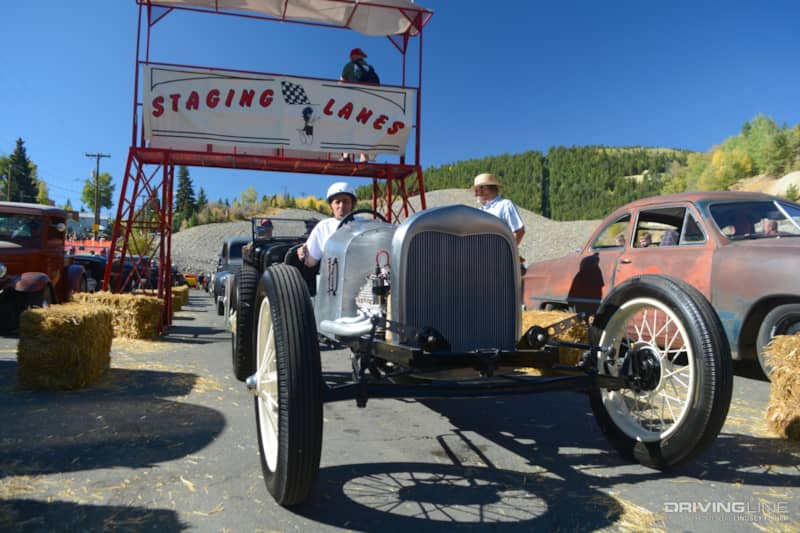 "I've done the Dirt Drags three times three years in a row, and I enjoyed it so much that I figured I had to come up for the Hill Climb," Cooper told us. "This is my first year at the Hill Climb. I'm not disappointed."
For Cooper, one of the best parts of the event was the hot rods themselves.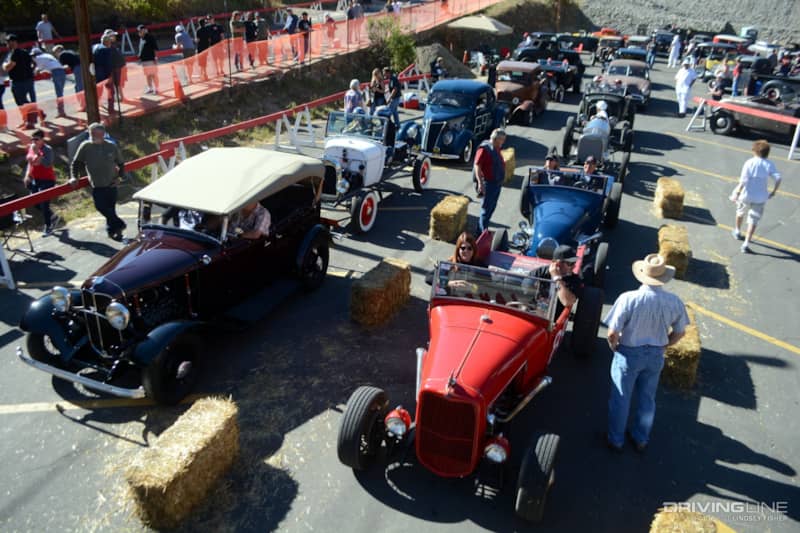 "There are so many cars to look at; you know, being a car aficionado, you pick out new ideas, and I appreciate the quality that people have put into these cars. And time—I know how much time and energy it takes and there are some pretty inventive people here, and that's the most fun thing about cars."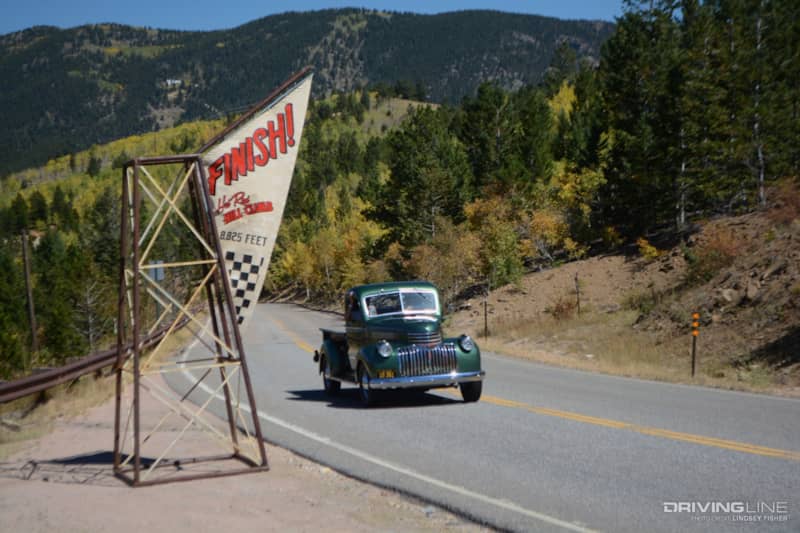 From traditional hot rods and classic show cars to rockabilly bands and tons of great people, the Hot Rod Hill Climb offers something that can't be found at any normal car event. Here, it's about pushing your car's limits no matter how fast or slow, rusted or worn. This is what hot rodding used to be about, and thanks to the dedicated Nicholas family and all those who help put on the event, as well as those who race it or even just come out to spectate, this purest form of hot rodding will continue on for many generations to enjoy!
Want more classic hot rods? We went to hot rod heaven at Rims on the River.