Crunching The Numbers: Which Half-Ton Diesel Gets The Best MPG?
Without a doubt, the American domestic truck market is hot right now. Never before have there been so many powertrain and trim levels to choose from. In addition to each brand's thumping V-8 and entry-level engine options, 2020 also marks the first model year a diesel powerplant can be had in any of the Big Three's half-ton pickups. When GM unveiled the 3.0L Duramax I-6 at roughly the same time Ram introduced its third-generation 3.0L EcoDiesel, things definitely began to heat up. Right now, prospective diesel buyers are hungry for both data and knowledge, and thousands of Google queries suggest they're especially interested in which 3.0L diesel option returns the best fuel economy. While the verdict is still out as to which one is the official MPG King, all of the data we've pored over shows the 3.0L Duramax with a slight edge over Ram's latest EcoDiesel. The Ford is a close third.
What the EPA Thinks
| | | | |
| --- | --- | --- | --- |
|   | 2020 Chevrolet Silverado 4-door 2wd | 2020 Ram 1500 4-door 2wd | 2020 Ford F-150 4-door 2wd |
| Engine: | 3.0L I-6 Duramax Diesel | 3.0L V-6 EcoDiesel | 3.0L V-6 Power Stroke Diesel |
| MSRP: | $28,300 - $53,300 | $32,145 - $53,715 | $28,745 - $55,820 |
| MPG Combined: | 27 mpg | 26 mpg | 24 mpg |
| MPG Highway: | 33 mpg | 32 mpg | 29 mpg |
| MPG City: | 23 mpg | 22 mpg | 21 mpg |
| Range: | 648 miles | 598 - 858 miles | 624 miles |
| Tank Size: | 24.0 gallons | 23.0 - 33.0 gallons | 26.0 gallons |
On paper, the EPA's fuel economy ratings rank Chevrolet's 3.0L Duramax first, the EcoDiesel Ram second and the F-150 Power Stroke third (you can see for yourself at fueleconomy.gov). Although this is also the finishing order we came to, not all of our numbers jive with the organization's expected fuel economy figures. The EPA's rather optimistic fuel economy standards are achieved in a laboratory, where the vehicle is strapped to a dynamometer and testing is performed under controlled conditions. With that said, there are ways of topping the EPA's ratings out in the real world. This can be achieved in one of two ways: 1) if conditions are right or 2) if the test vehicle is diesel. Diesels have long been known to best the numbers on their monroney sticker. You can see the information on the chart shown above at FuelEconomy.gov.
Ford F-150 Power Stroke
Besting The EPA Rating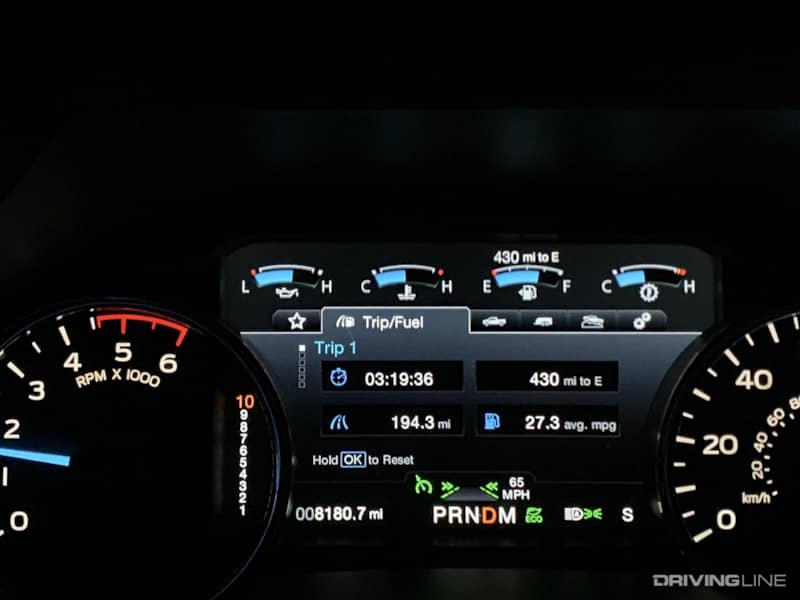 It's no secret that you can top the EPA fuel economy ratings if you drive conservatively. Such was the case with this Lariat trim F-150 4x4, a truck the EPA rated for 25-mpg highway. The owner beat the odds by accelerating slowly, using the F-150's ECO drive mode and capping cruising speed at 66-mph. On top of that, the truck's computer was a tenth low. When hand-calculated at the pump, this tank averaged 27.4-mpg. Of all the half-ton diesel owners we've obtained data from, there is one common theme: if your highway speed is faster than 70-mph, don't expect to see maximum fuel economy.
Towing Heavy & DEF Consumption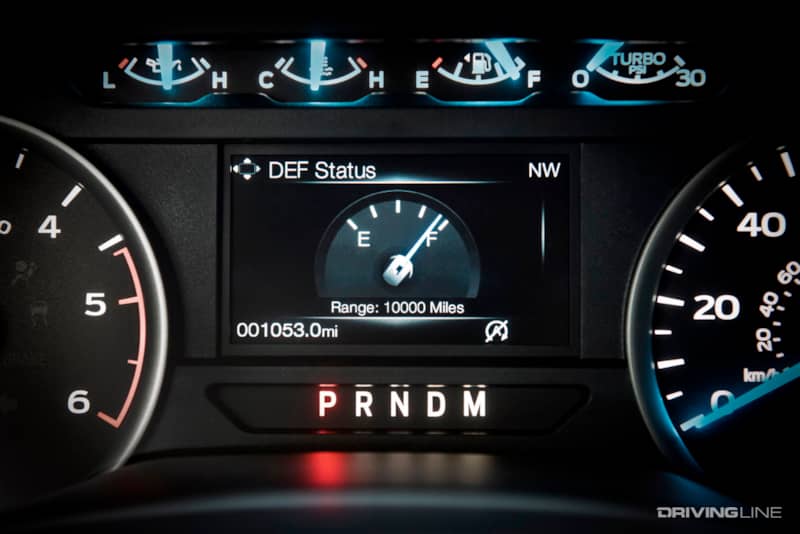 Though it is one of the more capable diesel half-tons in the towing department, the Ford F-150's mileage may suffer more than the others, particularly when towing at its gross combined weight rating. Factor in a tow speed of 75-mph while operating an F-150 at its GCWR and you could see low double-digits on the information display. To be clear, this could easily be the case just the same in the GM and Ram camps. One complaint that stands out in our limited time around the 3.0L Power Stroke is its DEF (diesel exhaust fluid) consumption while towing.
Chevrolet Silverado 1500 Duramax
Highway MPG Is Directly Linked to Highway Speed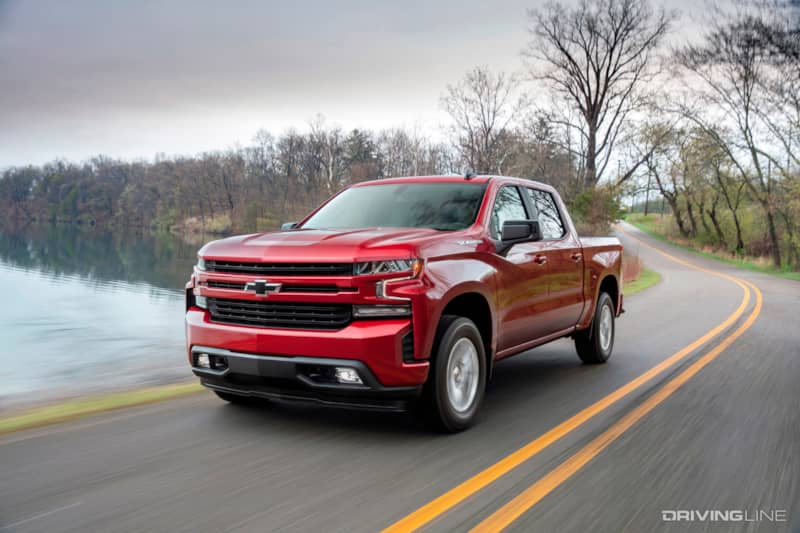 Similar to the F-150, the Duramax-powered Chevrolet Silverado 1500 turns out its best fuel efficiency numbers at lower highway speeds. Many owners report seeing 23-24 mpg with the cruise set at 80 mph, but 27 to 29-mpg when cruising at a more docile 65 to 70 mph. The best highway fuel economy we've seen so far, 32.4-mpg, was achieved on the flat and with cruise set at 72-mph. In city driving, the high mark for Duramax owners seems to be about 22-mpg, one tick below the EPA estimate.
Towing MPG Greatly Depends On The Load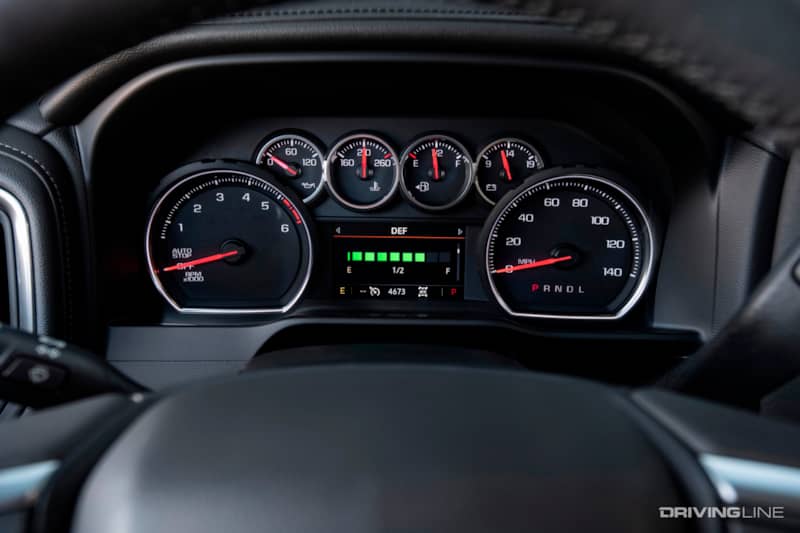 How does the new GM fuel-sipper perform when hooked to a trailer? Well it can't tow what the Ford or Ram can, weight-wise, but mid to upper teens tend to be realized with lighter loads (15-18 mpg), and 12 to 13-mpg when operating at (or over) GCWR. Similar to the F-150 crowd, some Duramax owners have noticed substantially increased DEF usage with a load behind them.
Ram 1500 EcoDiesel
4x4 Models Can Beat The Number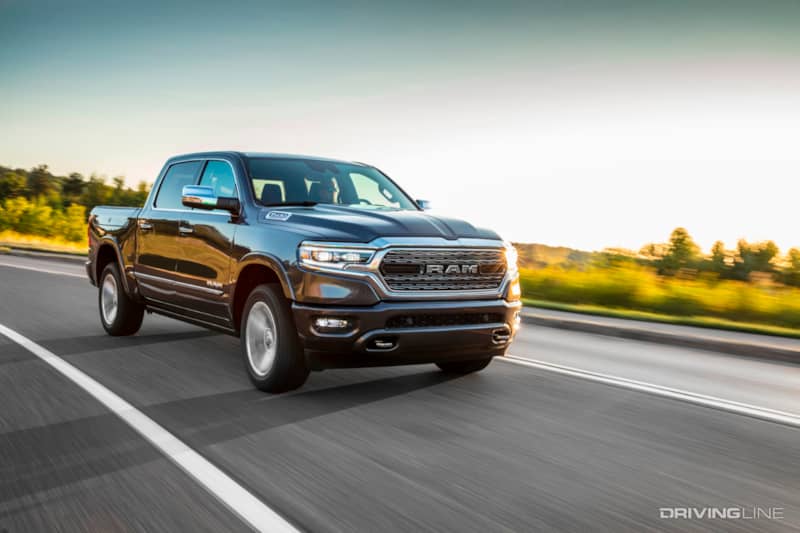 Knocking on the door of the Chevrolet, the 2020 Ram EcoDiesel is also capable of defying its designated EPA fuel economy ratings, at least according to our findings. We don't have any 32-mpg averages to report, but it's been proven that 4x4 models can beat the 24-mpg combined city and highway figure they were stamped with from the factory. In 50/50 driving, one crew cab owner is averaging 27.3-mpg, a second is seeing 26.1 and a third—whose city/highway split is more of a 60/40—is getting 26.0 mpg.
Ram Offers The Longest Range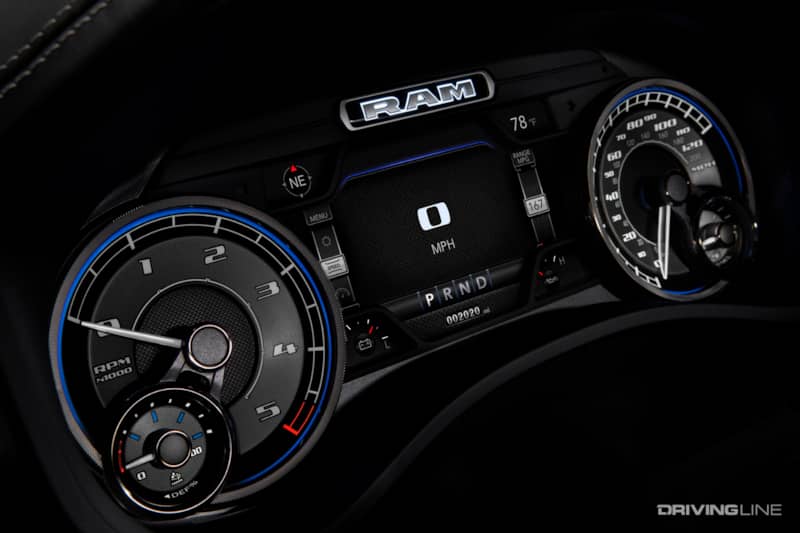 The fact that four-wheel drive models can outperform their mileage label leads us to believe that the same might be possible on versions that are void of a front differential, and which are expected to achieve 32-mpg. This means that, thanks to an available 33-gallon tank, the new Ram EcoDiesel can potentially go 1,000 miles or more between fill-ups. Even with the Ram's 3.92 axle ratio in the mix, a handful of Florida truck owners—who aren't necessarily exposed to winter diesel blend or extended poor weather conditions—have noted fuel economy as low as 17-18 mpg in the city and 23-25 mpg combined, but as much as 31 mpg on the highway. Once again, cruising speed plays a big role in highway fuel economy, with 65-mpg generally yielding 30-31 mpg, but 80-mph producing 25-27 mpg.
More From

Driving Line
This isn't the first time the I-6 Duramax and V-6 EcoDiesel have gone head-to-head here at Driving Line. You can discover the mechanical makeup of each new 3.0L power plant here.