3.0L Duramax Vs. 3.0L EcoDiesel
Shortly after Ram dropped the news on the third-generation EcoDiesel back in June of 2019, GM fired back a few weeks later with all the details on its new, inline-six 3.0L Duramax diesel. We thank both Ram and GM for setting the stage for the statistical shootout that's about to follow. Ironically enough, the latest EcoDiesel V-6—with its CGI block, reworked aluminum heads and revamped fuel system—edges out the I-6 Duramax in peak torque (480 lb-ft vs. 460 lb-ft). However, the aluminum block, iron cylinder liner'd and aluminum headed Duramax cranks out a class-leading 277hp to the EcoDiesel's 260 hp. Both power plants feature stout bottom ends, make use of the latest and greatest in common-rail injection technology and offer the most fuel efficient engine option their respective manufacturer offers. Below, we'll examine why these two are so well matched.
Rock Solid Short-Block (EcoDiesel)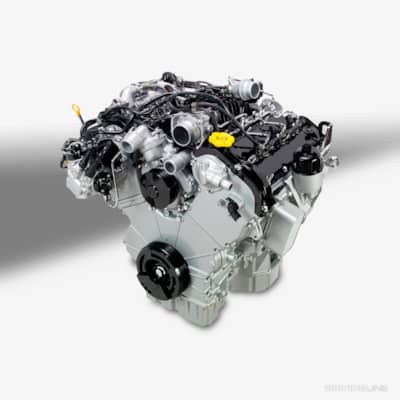 Though we haven't seen it disclosed in any official literature released by FCA (parent company of Ram), there is no reason to suspect the new 3.0L EcoDiesel won't retain its 60-degree, compacted graphite iron (CGI) block or the one-piece bedplate (which eliminates individual main bearing caps while at the same time tying the main bearings in with the crankcase). We also doubt anything changed in securing the main bearings, with each one accepting six 12mm bolts. Four head bolts likely still exist per cylinder, but their 14mm diameter gives them plenty of clamping strength for keeping the head gaskets alive even at high boost levels.
Aluminum Block, Iron Cylinder Liners (3.0L Duramax)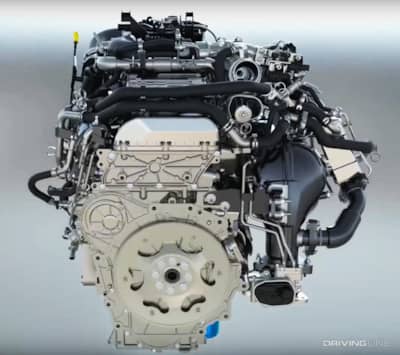 Thanks to its I-6 design, which in addition to being inherently balanced incorporates seven main bearings (one main between each rod bearing). This means the forged-steel crankshaft in GM's 3.0L Duramax isn't going anywhere—i.e. it doesn't need a bedplate. Also unlike the EcoDiesel, the Duramax sports an aluminum block. But the Duramax earns bonus points in the durability and serviceability department, as each cylinder is fitted with a ductile-iron sleeve.
Forged-Steel Rods and Cast-Aluminum Pistons (Both)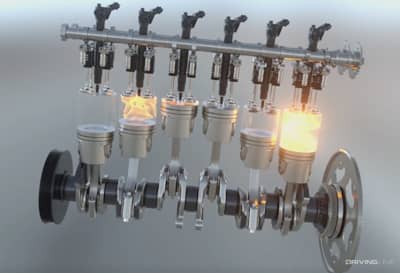 Continuing on with the stout bottom end accolades, both engines make use of forged-steel crankshafts and connecting rods. Each mill also utilizes lightweight cast-aluminum pistons, the EcoDiesel's bringing its compression ratio down to 16.0:1 from 16.5:1 previously and the Duramax's hypereutectic pistons featuring 15.0:1 compression.
Class-Leading Torque (EcoDiesel)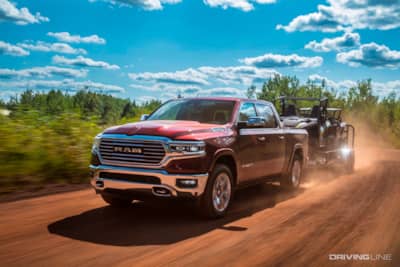 The EcoDiesel's 480 lb-ft of torque is tops in the half-ton diesel segment, as well as the biggest torque figure of any engine offered in the category (the one exception being the late-model Raptor's 510 lb-ft). The V-6 oil burner's newfound abundance of twist also peaks 400 rpm sooner than it used to (1,600 rpm now vs. 2,000 rpm then). However, despite the best-in-class torque rating, the I-6 Duramax boasts a torque curve that's factually broader and arguably much more usable, peaking at 460 lb-ft but sustaining it from 1,500 rpm to 3,000 rpm.
Highest Half-Ton Diesel Horsepower (Duramax)
Surprisingly, the inline-six LM2 Duramax bests the EcoDiesel in horsepower, turning out 277 ponies to the EcoDiesel's 260 hp. The revvy, DOHC Duramax achieves its peak horsepower rating at 3,750 rpm while the EcoDiesel does it at 3,600 rpm. As far as the aftermarket is concerned, the powers that be at Banks Power have led us to believe the EcoDiesel platform will support more than 600 hp when properly equipped.
Quiet, Efficient and Powerful (Both)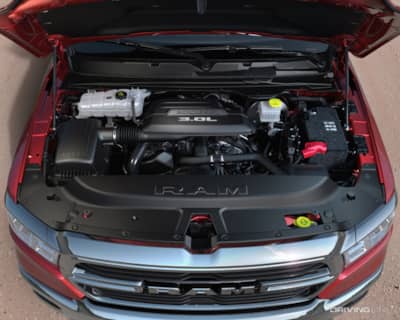 High-pressure common-rail injection is nothing new on diesel engines, but the EcoDiesel's revamped Bosch system and especially the arrangement employed on the Duramax are as cutting edge as it gets. At the heart of the EcoDiesel, a Bosch CP4.2 creates injection pressure in excess of 29,000 psi for the solenoid valve injectors, equipped with new and improved nozzles, to spray in-cylinder. The Duramax's system produces a maximum of 36,250 psi and also employs solenoid valve injectors—injectors which can pull off as many as 10 injection events per combustion cycle. The result of both system's ultra-high pressure and multiple-event injectors equates to whisper quiet engine noise, reduced NVH, outstanding fuel economy and tremendous power given their limited engine displacement.
Fuel Sippers (Both)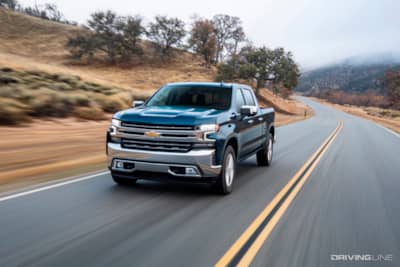 Now on to what many believe will be each engine's principal selling point: fuel economy. On paper and according to the EPA's estimates, these two are very evenly matched. The 2020 Ram 1500 EcoDiesel is said to be capable of achieving 32-mpg highway in 4x2 form. A Duramax-powered 2020 Chevrolet Silverado 1500 is believed to be capable of seeing 33-mpg highway in the same 4x2 configuration. It's unclear which one wins this particular category out in the real world, but if you're looking for maximum range and/or fuel savings you can't go wrong with either option.
Is the Diesel F-150 Out to Pasture Now?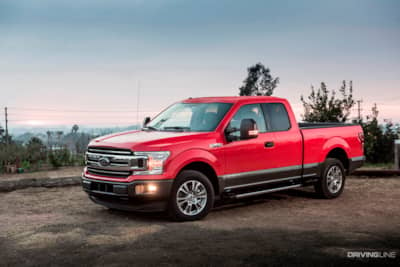 Ford has been left in the dust at present. Its 3.0L V6 diesel still holds its own in the fuel efficiency department, but it's considerably underpowered in comparison (250 hp and 440 lb-ft). And Ford, no doubt happy with the more than 60-percent take-rate it sees with the 3.5L and 2.7L EcoBoost engine options, probably isn't likely to pour a lot of resources into catapulting its diesel option back out in front of the Ram and GM oil burners any time soon.
More From

Driving Line
Check out the 3.0L diesel half-ton shootout we put together just four days before Ram unveiled its latest power figures for the Ram 1500EcoDiesel (hint: the F-150 is included).