Cummins History, Lesson 4: '03-'07 5.9L
If you thought the '98.5-'02 seemed radically different from the P-pumped '94-'98 12-valve, you ain't seen nothin' yet. The common-rail version of the ISB Cummins all but reinvented the 5.9L. To be sure, it was still an all-iron, 359 ci inline-six sporting a 24-valve head, but the legendary oil-burner powering Dodge's '03 heavy-duty trucks went from having a few electronic controls to being completely reliant on them in order to operate. The newfangled, electronically-controlled common-rail fuel system from Bosch featured the rock-steady CP3 high-pressure fuel pump and solenoid-actuated, multi-event injectors, which made the Cummins quieter, cleaner and more powerful than ever before.
Though it packed an impressive 305hp and 555 lb-ft of torque at just 1,400 rpm (an incredible 60hp and 50 lb-ft more than the '02 high output engine), the common-rail 5.9L was born out of the need to meet tighter emission standards. Unlike Ford and GM (the 6.0L Power Stroke and the soon-to-be-released LLY Duramax, respectively), this Cummins spent its entire tenure void of exhaust gas circulation. However, in order to adhere to even more stringent emission regulations beginning in 2004, Cummins' engine programming, turbo selection, piston design and injector spray angle all had to be altered—hence the '04.5 version marking some major differences in this engine's production run.
Whether you know it for its revolutionary technology, steadfast durability, quiet operation or aftermarket power potential, the common-rail 5.9L was a beast of an engine, and thousands of them are still roaming around North America.
'03-'07 5.9L Hard Facts
| | | | |
| --- | --- | --- | --- |
| Engine: | 5.9L ISB (Common-Rail) | Valvetrain: | OHV, four valves per cylinder, single cam, solid lifters |
| Configuration: | I6 | Injection System: | Bosch high-pressure common-rail, direct injection |
| Bore: | 4.02 inches | Injectors: | Bosch electronic solenoid |
| Stroke: | 4.72 inches | Injection Pump: | Bosch CP3 |
| Displacement: | 359 ci | Turbocharger: | Holset HE341CW ('03-'04) or HE351CW ('04.5-'07) fixed-geometry |
| Compression Ratio: | 17.2:1 | Intercooler: | Air-to-air |
| Block: | Cast-iron with forged-steel crankshaft | Communications System: | SCI ('03-'05), CAN-bus ('06-'07) |
| Rods: | Forged-steel, cracked-cap | Emissions Equipment: | None ('03-'04), catalytic converter ('04.5-'07) |
| Pistons: | Cast-aluminum | Horsepower: | 305hp at 2,900 rpm ('03-'04), 325hp at 2,900 rpm ('04.5 H.O.), 325hp at 2,900 rpm ('05-'07) |
| Head: | Cast-iron with six head bolts per cylinder (with sharing), cast-aluminum intake manifold | Torque: | 555 lb-ft at 1,400 rpm ('03-'04), 600 lb-ft at 1,600 rpm ('04.5 H.O.), 610 lb-ft at 1,600 rpm ('05-'07) |
The Cummins Rattle Becomes a Purr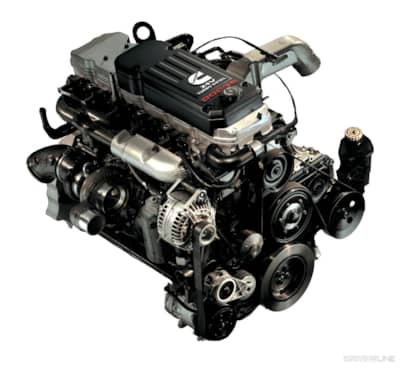 Although a 235hp and 460 lb-ft Cummins was also available on '03 model year Dodge Ram 2500 and 3500s, the 305hp version of the 5.9L common-rail Cummins—technically the high output option—was the preferred choice by customers. Other than the impressive power increase, prospective buyers were awestruck by how quiet (roughly 10 dB lower) the Cummins power plant had become. The common-rail version of the ISB seemed to be in whisper mode compared to the '98.5-'02 VP44-equipped 5.9L, which was arguably the loudest rendition ever produced.
Stronger Block, Revised 24-Valve Head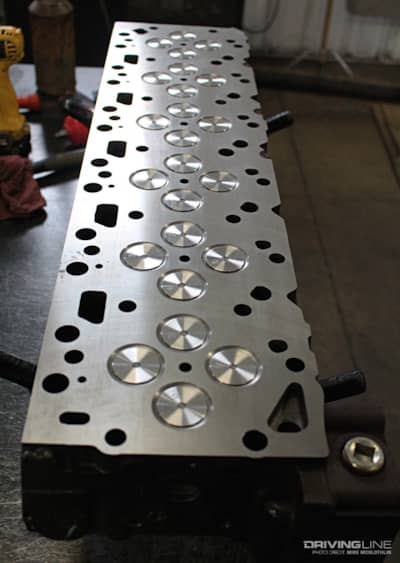 An increase in peak torque at lower rpm meant that cylinder pressure would be increased significantly over the '98.5-'02 engines. For this, Cummins cast a stronger gray-iron block with reinforced rails and a stiffener plate spanning the oil pan surface. The 24-valve cylinder head was similar, still making use of six 12mm diameter head bolts per cylinder, but utilized different coolant passageways and employed a rocker box with provisions to accommodate the pass-through connectors for the injectors. In '04.5, the head was equipped with Inconel exhaust valves and high-cobalt stellite-treated exhaust valve seats to better withstand heat and offer improved wear resistance.
High-Pressure Common-Rail (HPCR)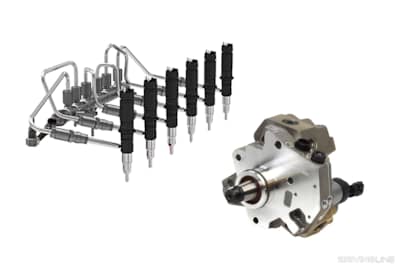 The key to meeting the fast-approaching 2004 emission standards lied in the use of Bosch's state-of-the-art, high-pressure common-rail injection system. In the Dodge Ram application, the system entails an electric lift pump that supplies low-pressure fuel to the CP3 high-pressure pump at approximately 11 psi. From there, the CP3 pressurizes the low-pressure fuel as high as 23,200 psi (1600 bar) before sending it to the fuel rail. The fuel rail stores the highly pressurized fuel until it's called for by the injectors, in which case fuel passes through hard lines and high-pressure feed tubes en route to the injectors. The combination of higher injection pressure, quicker firing fuel injectors capable of carrying out multiple injections per combustion event and precise electronic controls afforded Cummins the ability to meet emission standards without the use of EGR. In the process, the ease with which clean horsepower could be made helped Dodge/Cummins keep up with the Joneses (i.e. the battle for horsepower and torque supremacy between Dodge, Ford and GM, which was picking up steam).
Bosch CP3
A mainstay component aboard common-rail Cummins engines for 15 years ('03-'18), the Bosch CP3 is a radial-piston pump comprised of three cam-driven plungers, a high-pressure and low-pressure circuit, a hardened-steel housing and a fuel pressure regulator (also known as an MPROP or FCA). Unlike the VP44 on '98.5-'02 engines, the CP3 pump's primary responsibility is to produce (and in turn, regulate) high pressure fuel for the injectors to use. It isn't directly involved with controlling injection timing or fuel volume. While it's still driven via the front gear train (1:1 with the crankshaft), the CP3 isn't timed to either the crankshaft or camshaft. It quickly earned (and still enjoys) a reputation for excellent reliability.
Electronic, Solenoid Injectors
Also new, its Bosch-supplied, solenoid-activated injectors meant that no longer would the injectors be fired mechanically according to pop-off pressure (the case on '89-'02 engines), but electronically via command from the ECM. On '03 and '04 engines produced prior to January 1, 2004, each injector carried out two injection events per combustion cycle, a pilot event followed by the main event, the pilot event being directly responsible for the common-rail 5.9L's quiet operation. Beginning with '04.5 engines, new injectors featuring a third injection event were employed to meet the 2004 EPA-mandated emission regulations. The third event was called post-injection, which occurred after the main injection event in an effort to raise in-cylinder heat.
Early vs. Late Engine Injectors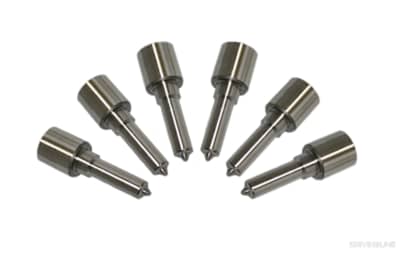 While the injectors in both '03-'04 and '04.5-'07 5.9Ls were dimensionally the same, the units found in early common-rail engines featured eight-hole nozzles and a 143-degree spray angle. The injectors in later engines (again, revised to meet emission standards) were equipped with five-hole nozzles designed to use a tighter, 124-degree spray angle. Either style common-rail injector (both with multiple-event functionality) doesn't typically last as long as its mechanical, single-shot predecessors. However, for the amount of pressure they see (5,000 to 23,200 psi) and all the work they do (multiple injections per power stroke), their average lifespan of 200,000 miles is still rather impressive.
Early vs. Late Pistons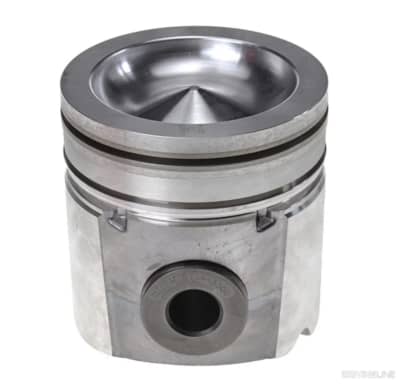 When the injector change-over occurred on midyear '04 engines, the pistons had to be redesigned to accommodate the different spray angle. This was accomplished by revising the fuel bowl area (the target area of the highly atomized fuel droplets) for more efficient combustion. Anticipating significantly more in-cylinder heat, Cummins added an oil cooling gallery on '04.5-later pistons, too. Throughout the 5.9L common-rail Cummins' production run, all pistons were made from cast-aluminum.
Forged-Steel, Fractured-Cap Rods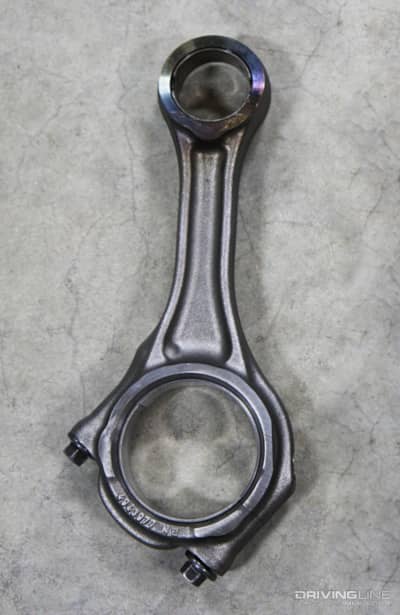 One area that went virtually unchanged on the Cummins assembly line during the '03-'07 production run was the connecting rod that was used. Like the version employed in the '89-'02 5.9L, it was made of forged-steel but featured a fractured-cap design. The fractured (or cracked) cap design means the rod is originally forged as a single piece, then the end cap is cut away from the big end of the rod. This process saved on production costs and at the same time led to more precise fitment of the rods to the crankshaft during initial assembly.
HE341CW Turbo ('03-'04)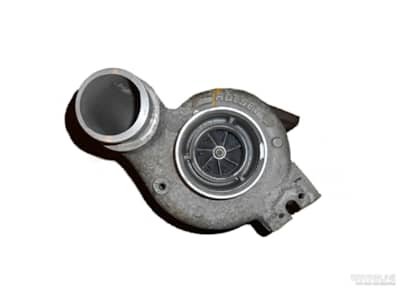 In 2003 the Holset HX35W was done away with in favor of the HE341CW (also manufactured by Holset). The fixed geometry turbocharger utilized journal bearings, sported a seven-blade, cast compressor wheel with a 56mm inducer inside a 90-degree outlet compressor housing and a 58mm exducer turbine wheel inside a 9cm2 (0.65 A/R) exhaust housing. Excessive drive pressure and overspeeding was avoided by way of an internal wastegate, which was mechanically actuated.
HE351CW Turbo ('04.5-'07)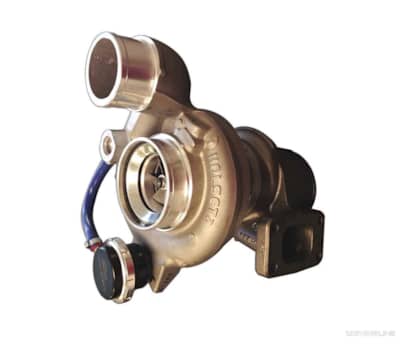 Once again due to emission regulations (but coinciding with the always-welcomed power increase), the '04.5 common-rail 5.9L would see a turbo change. The HE341CW's replacement was the HE351CW. It too would be of a fixed geometry design (at a time when both Ford and GM had been forced to resort to VGT units), make use of journal bearings and be wastegated to bleed off excess drive pressure. However, the HE351CW's wastegate was electronically controlled in order to better manage the boost-to-drive pressure ratio (for optimum emissions reduction). The HE351CW was composed of a 58mm compressor wheel (inducer), 58mm turbine wheel (exducer) and a 9cm2 (0.65 A/R) exhaust housing.