DesertPatrol: The JK Chase Truck That's Got Us Drooling
Walking through the Off Road Expo last weekend, it was hard to miss the Off Road Evolution booth. While Mel Wade and the crew usually have an impressive spread of Jeeps displayed, each with its own style and purpose, there was one in front that stood out from the rest.
If you picked up our latest print issue of Driving Line, you saw a stretched 2-door Jeep JK on the cover—nicknamed UAE1, it was built by Off Road Evolution. Because behind every high performance off-road vehicle, is a support rig equally as impressive. Enter UAE DesertPatrol Chase1.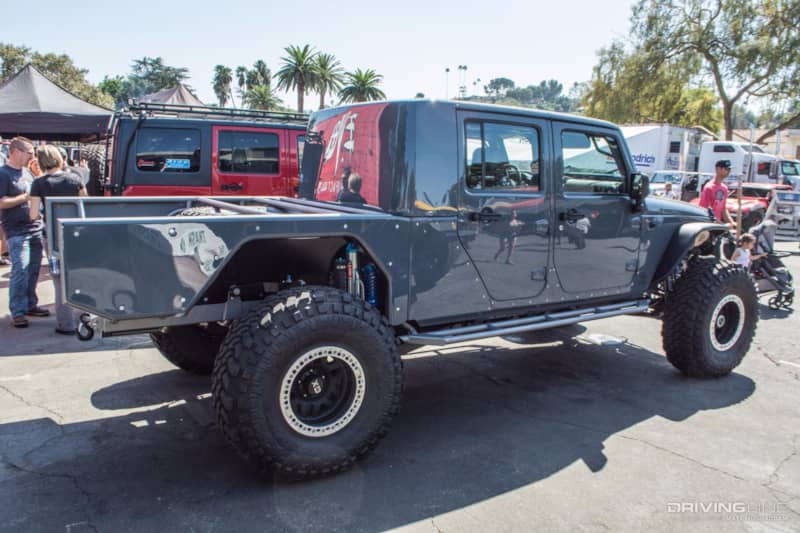 Designed to resemble its anvil-colored 2-door counterpart, the 4-door Jeep truck is purpose-built to provide recovery, tools and overall support in the sand dunes near Dubai. Its stretched frame and custom truck bed makes loading supplies easy and keeps the interior clean.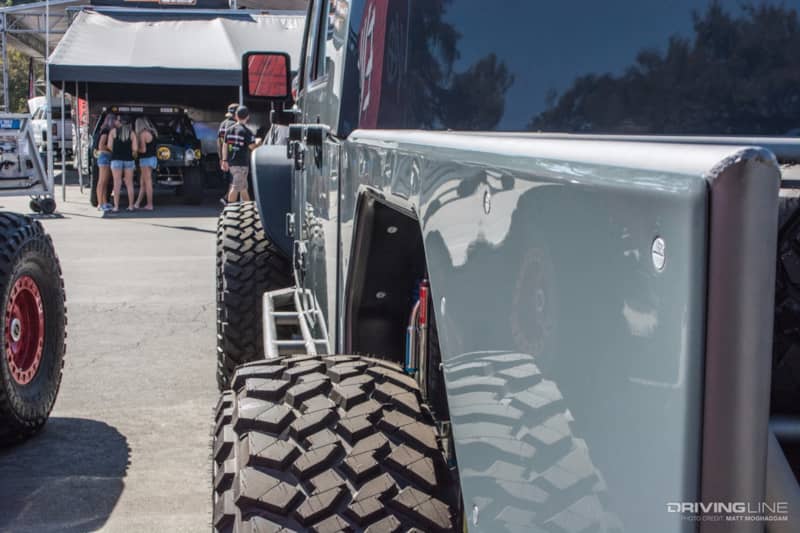 Most chase vehicles are built to be durable, carry lots of gear and be ready to go anywhere—but few are built with the same components as the vehicles they support. This Jeep is fitted with the same front and rear suspension components as UAE1. The front features EVO's double throwdown King coilover and bypass system and long arm suspension, capable of 14 inches of travel. The rear suspension is composed of EVO's signature trailing arms, harboring King coilovers and bypass shocks—and is capable of 26 inches of travel. All of these components are off-the-shelf items available from Off Road Evolution. It really doesn't get any better than this setup when it comes to go-fast Jeep suspension.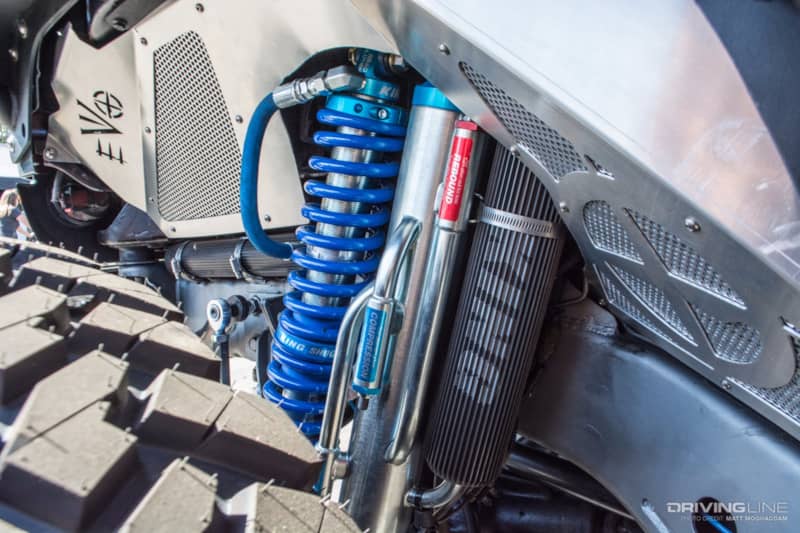 The Dynatrac Prorock front and rear axles do the heavy lifting, providing a much needed upgrade over the stock JK Dana 44 housings. And because a Jeep this big and bad needs to be rolling on some impressive shoes, Mel outfitted DesertPatrol with a set of 17 inch KMC Wheels Machete beadlocks, wrapped in 40x13.50R17 Nitto Trail Grapplers to match UAE1.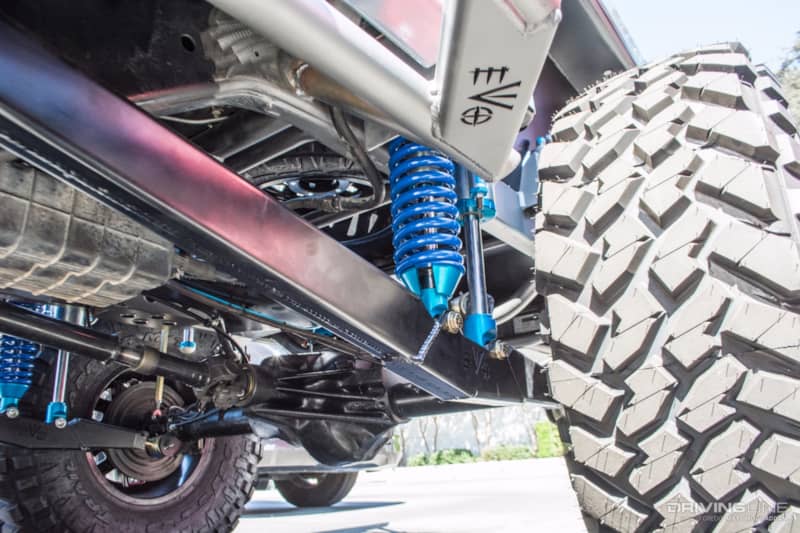 All that suspension travel and meaty tire means nothing without big power. Under the hood of Chase1 is a Hemi V8 capable of producing over 500hp, a much needed improvement over the 3.8L minivan motor this Jeep originally came with. Mel put the finishing touches on this rig with EVO armor from head to toe, a hood vent to the let the Hemi breathe and two Warn winches – one for forward recoveries and one to pull from behind.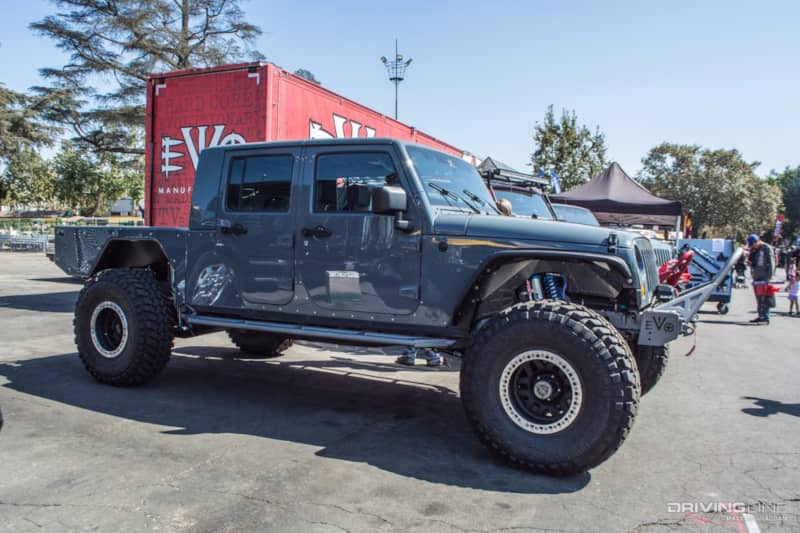 No dune too high, no recovery too difficult, no job too big... not when you're behind the wheel of DesertPatrol Chase1. We think it's safe to say that UAE1 will have no problems tearing up the sand dunes in Dubai—but in case trouble ever does arise, Off Road Evolution has put together a chase vehicle that's well worthy of handling it.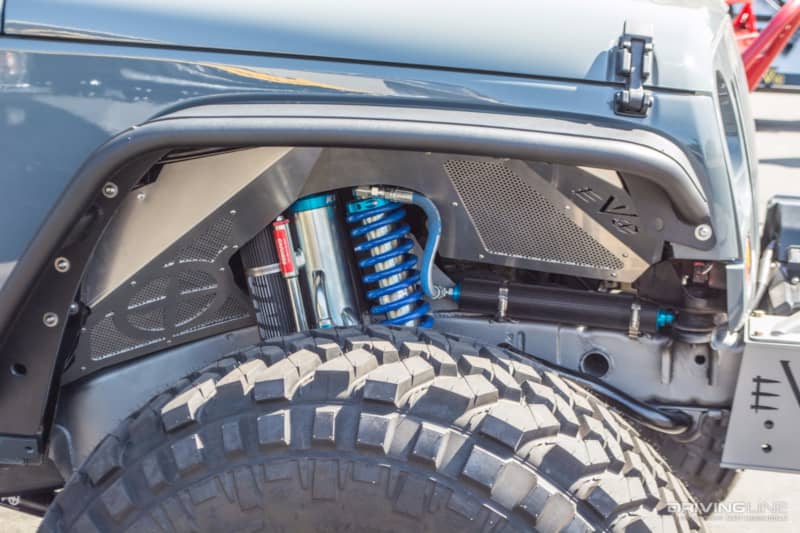 For more info on the Jeep this chase rig will be following, check out our feature on UAE1.