Diesel Grudge Racing—Is Becoming A Thing
Prepped surface or no-prep, hard feelings or all in fun, big money or bragging rights… grudge racing is a very big thing in modern drag racing. And lately, diesels have been getting in on the action as well. In fact, at any given Outlaw Diesel Super Series event the grudge matches are becoming quite the attraction. S&S Diesel Motorsport, a leader in diesel high-pressure common-rail injection technology, even puts $1,000 up for grabs as well as a belt (not kidding) at most ODSS affairs. Open call-outs, agreed upon sums of money and (of course) side-bets are all allowed. With the field of diesel grudge racers growing at each venue, we're highlighting a few of the regulars here. Most vehicles run the 5.90 Index class (eighth-mile), but are capable of going much deeper into the 5's. Enjoy!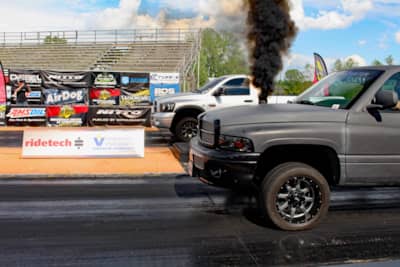 A Grudge Racing Regular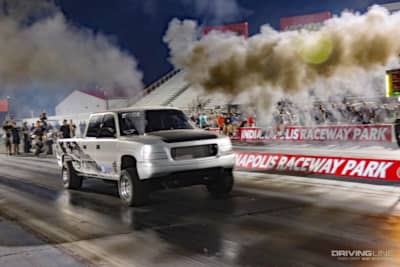 If anyone in the diesel community enjoys a good grudge race, it's Dan Zelten. The Wisconsin native often travels hundreds of miles to compete in the 5.90 Index class, usually with a secondary goal of going heads-up against an industry friend. Dan's GMC is propelled courtesy of a compound turbocharged 7.1L stroker Duramax from SoCal Diesel and is (uniquely) shifted via a 4R100 from Brian's Truck Shop. The potent, 1,500-plus horsepower combo has pushed his Sierra to a 5.71-second best through the eighth-mile so far.
Index Racer Vs. Index Racer, Heads-Up Style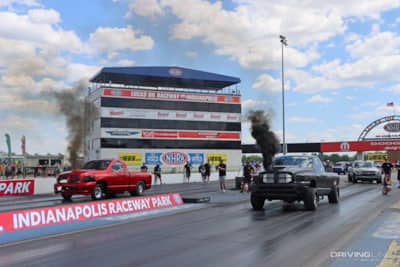 Any time a pair of 5.90 Index diesels line up for a heads-up race it garners attention. These are perhaps some of the most-watched grudge races because they show everyone how much deeper into the 5's these vehicles can go. And the further they creep into the 5's, the closer they pull to within Pro Street territory—a class with a 4,400-pound weight limit and that can call for as much as 3,000 hp in order to win. At the same time, these bottom 5 or mid-5-second passes put up by these trucks can be pretty hard on equipment, reason enough to only venture out of the 5.90 category for a healthy payout.
S&S Friday Night Grudge Racing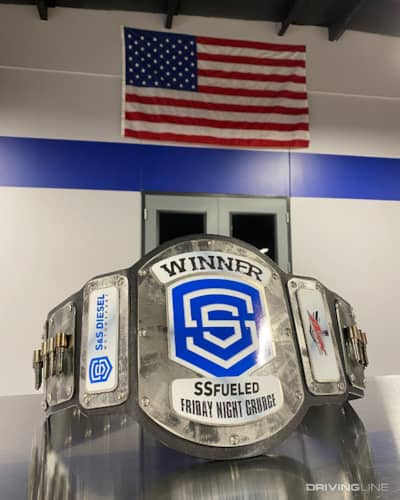 It's always nice when industry leaders pour money back into the sport they're actively supporting. A few years ago, when the grudge racing thing began to take off at ODSS events, S&S Diesel Motorsport decided to incentivize the heads-up battles even further. Not only did the fuel injection experts put $1,000 up for grabs for the winner of the headlining grudge race (held on Friday night of an ODSS event), but it produced a grudge racing belt to be presented to the victor. It's important to note that many of the high-end vehicles competing within the ranks of ODSS run S&S parts, which makes their investment in this race within a race even more special.
Mid 5's Are Common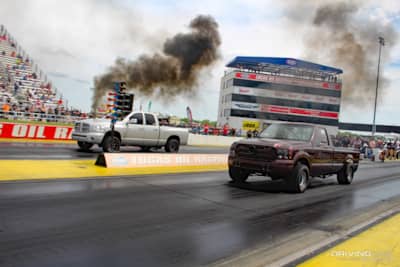 At the spring 2021 hosting of Rudy's Truck Jam, Brian Jelich entered his 5.90 Index F-350 into the grudge racing fray. Capable of running 5.70s at the time—and having been as quick as 5.46 since then—Brian's 7.3L Power Stroke-powered Ford beat out the aforementioned Dan Zelten, a big win for a truck many would consider to be an underdog in such a matchup. Pulling double-duty with his dialed-in Super Duty this particular weekend, Brian would back the power back down and go on to collect Fourth Place points in the 5.90 Index category the following day.
Low 5's Happen, Too…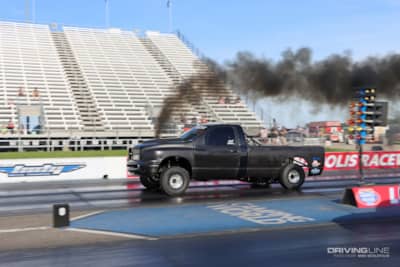 Brett Marcum is yet another 5.90 Index competitor that likes to mix it up in grudge matches. And thanks to a Freedom Racing Engines Cummins, a massive single turbo, S&S fueling and a chassis from HammerTech Racecars, it was no surprise when Brett sent his '06 Ram 2500 past the stripe in 5.38 seconds. It happened at Rocky Top Diesel Shootout 2021 (and against the familiar Dan Zelten) and provided further proof that an uncorked 5.90 truck could put up Pro Street-like elapsed times. Brett's 5.3-second pass was achieved after cutting a 1.3-second 60-foot.
Injecting Diesel Into Mainstream Racing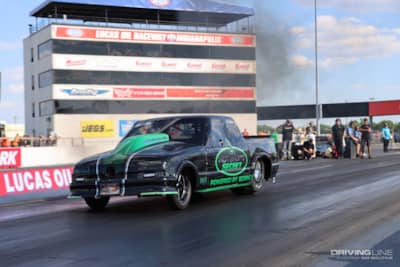 Diesels have even been spotted grudge racing against some big names in the no-prep world lately. The best example of this took place in June last year when Firepunk Diesel put its Cummins-powered Pro Mod S10 up against Bill Lutz and got the W. At the same event, No Prep Kings at National Trail Raceway in Hebron, Ohio, the Firepunk team would also put Doc (James Love) on the trailer and give the legendary Larry Larson a run for his money. While diesel-only events are great places to watch awesome side-by-side racing, diesel vs. gas matchups like this can be far more entertaining.
Wheels-Up And Ready-For-Anything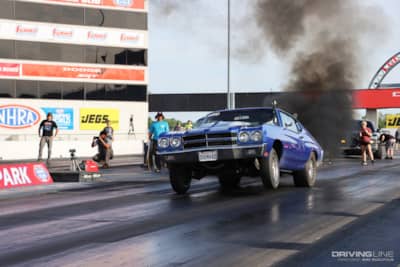 Rick Fletes is known for his Duramax-powered Chevelle's repeatability in the 5.90 Index field, but he and his 8-second (quarter-mile) capable classic are always down for a good grudge race, too. With the right tune-up, mid 5's aren't out of the question for Rick's wheels-up creation. Those that were lucky enough to meet Rick before he started hauling his Chevelle to the races got to see his then-silver muscle car driven cross-country, get better than 30-mpg doing it, receive rear slicks once it made it to the drag strip and then proceed to run the number consistently and reliably.
Pro Street Level Grudge Racing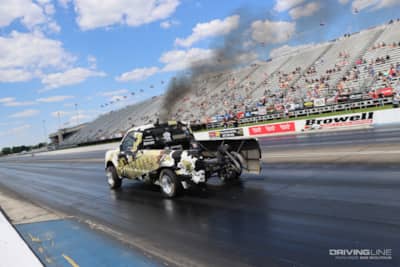 Nathan Wheeler is neither a stranger to heads-up, no-prep racing or sanctioned drag racing—and he definitely likes a good grudge match. The 5-second, Cummins-powered Ford he pilots was recently bumped up to the Pro Street category, where it's been as quick as 5.20s in the eighth-mile. Nathan got a taste for blood at the 2021 Outlaw Diesel Revenge event, where he took the win over Rick Fletes' Duramax Chevelle and proceeded to claim his $1,000 payout and S&S belt. As we write this, Nathan is set to square off with the world's fastest 4x4 Duramax (an '06 Silverado campaigned by Dirty Hooker Diesel), which is a high 4-second truck, at the ODSS Rocky Top Diesel Shootout.
More From

Driving Line
For a closer look at diesel drag racing's exciting 5.90 Index class, check out the 

6-part series

 

we put together to showcase what they're capable of.