5.9-Second Diesels—A Stock LB7 Duramax Making 1,200HP, A Big Single Turbo'd 5.9L Cummins And A Big Boost '07 Silverado
When the decision makers behind the Outlaw Diesel Super Series decided to introduce the 5.90 Index class, they did their organization a huge favor. The category has grown in leaps and bounds since its debut just a few short years ago and the competition is second-to-none. It might be index racing, but it's very close and extremely fast. And unlike many other diesel racing classes, it isn't primarily dominated by Cummins power plants. Within the ranks of 5.90, there are a host of Duramax-powered GM's and even Power Stroke-propelled Fords. It's a class without weight restrictions, turbo limits or any one-size-fits-all approach—and with 19 racers following the ODSS race schedule in 2021 it's downright entertaining to watch.
Below, you'll get a glimpse of what you're in for when you take in a 5.90 race: two top-tier GM's—both of which already have a win under their belt so far this season—and a consistent, third-gen Cummins that's currently Second Place in points. Each build is different, but on race day their goals are the same: running the number.
Buddy Callaway's Battle-Hardened GMC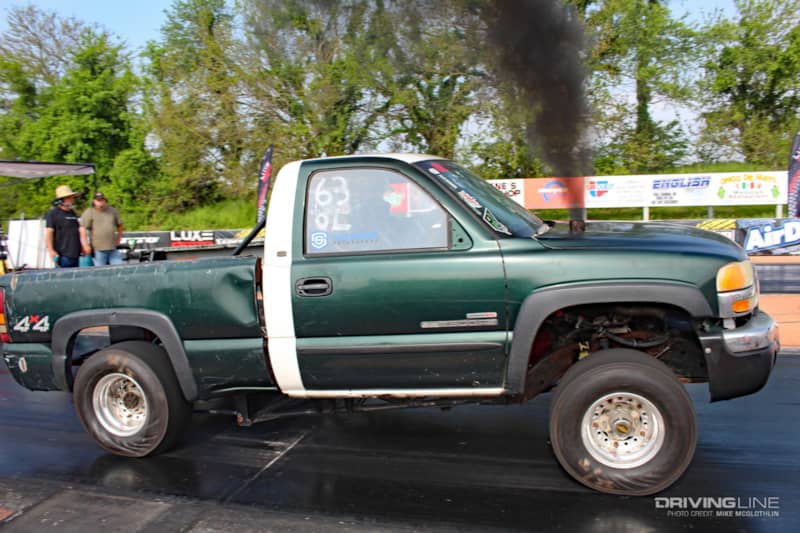 Like something out of a Mad Max film, Buddy Callaway's '03 GMC Sierra 2500 shortbed looks beat up and thrown together—but it's one of the most consistent trucks in the class. The 4,500-pound GMC is nothing like some of the full tube chassis builds in 5.90, but the setup works extremely well. Buddy regularly cuts 1.31 to 1.33-second 60-foots thanks in part to a four-link rear suspension with coil over shocks and a Twisted Diesel 4L80E transmission he tunes himself using a Powertrain Control Solutions TCM-2800. And in addition to its lack of an Allison, the front IFS is gone, too. Instead, a King Pin Dana 60 with leaf springs is present, while a 14-bolt AAM 10.5-inch rear axle resides out back.
The Duramax That Defies All Logic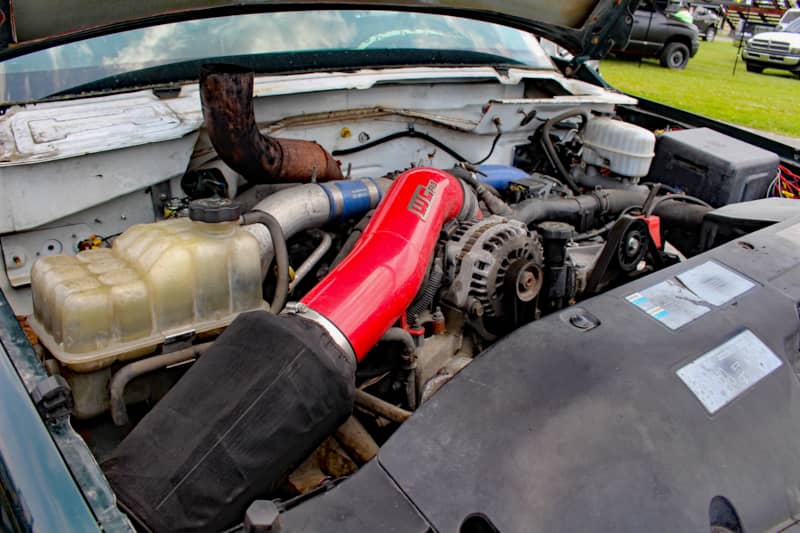 Unbelievably, Buddy campaigns a bone-stock, 300,000-mile LB7 Duramax. And being that his truck has been as quick as 5.73 in the past, he lays claim to the fastest stock engine LB7 Duramax in the world. No hard-part changes have been made. Even the factory head bolts are still intact! But that doesn't stop Buddy from making the Duramax turn 4,500 rpm or belt out 1,200 hp. The common-rail V-8's fuel system has been upgraded in the form of a 12mm stroker CP3 and 200-percent over injectors, with Danville Performance fine-tuning the ECM.
Stock Turbo, 1,200 HP!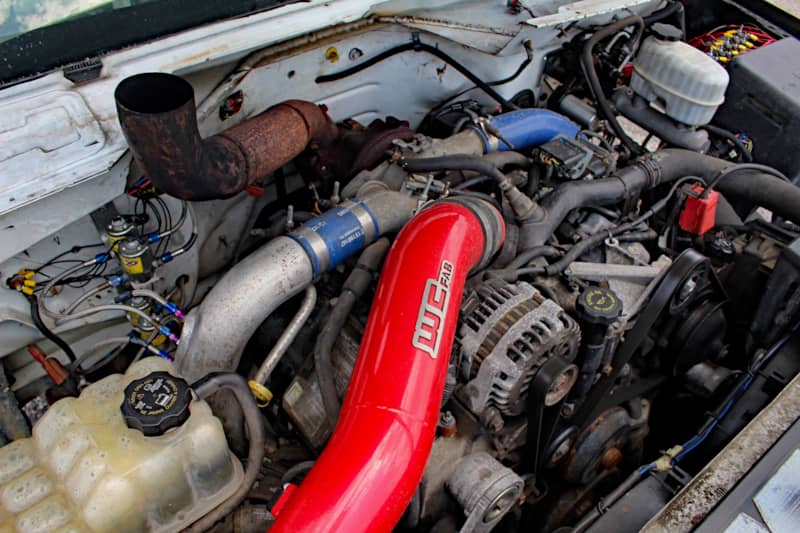 Along with the engine, the factory 60mm IHI turbocharger is still aboard Buddy's LB7. This is a turbo that's not exactly known for being indestructible, and if you ask Buddy he'll tell you he has no idea how it's still alive. In conjunction with the engine, the OEM turbo has 300,000 miles on it and has survived more than 200 passes in the 5's. Near the firewall, you can catch a glimpse of the four-stage nitrous system that's employed to send the GMC into orbit. While his combination may seem a bit ragged-edge (300,000-mile engine, stock turbo, etc.), Buddy's Sierra is ultra-consistent, and has brought him several big wins, including the W at Rudy's Spring Truck Jam back in April.
Chad Keeter's Consistent Cummins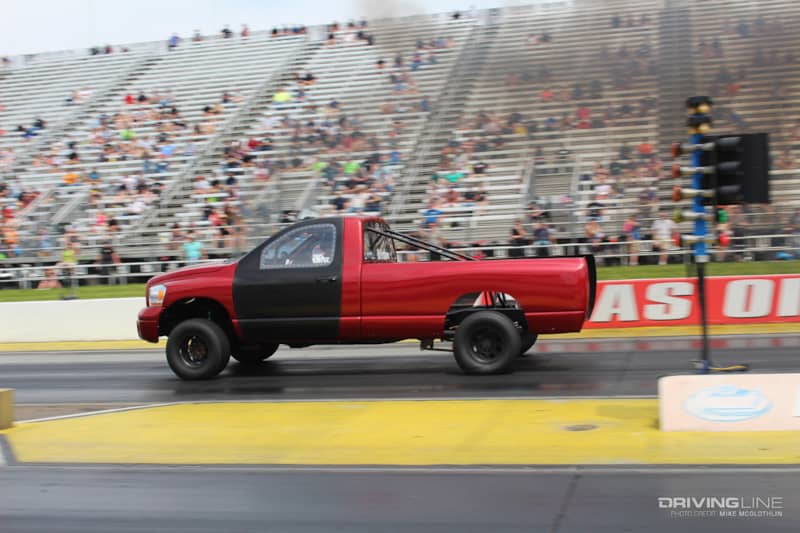 Consistency does it, and Chad Keeter is well on his way to a solid run at the points chase in 2021. Chad and his third-gen Dodge finished runner-up (to Buddy Callaway) at Rudy's Spring Truck Jam back in April, going 5.91 at 122 mph right off the trailer, no less! At the Outlaw Diesel Revenge event in May he went out in the second round of eliminations due to a double breakout, but still secured enough points to remain tied for Second Place as we went to press. Also while in Indy (and just to show you how close the racing is in 5.90 Index), Chad qualified 12th with his 5.957-second pass (which was right behind a 5.956, a 5.950 and another 5.950). His '06 Ram rides on 16x10-inch Raceline wheels and 30x14 M&H cheater slicks.
Single Turbo, Highly-Fueled 5.9L Cummins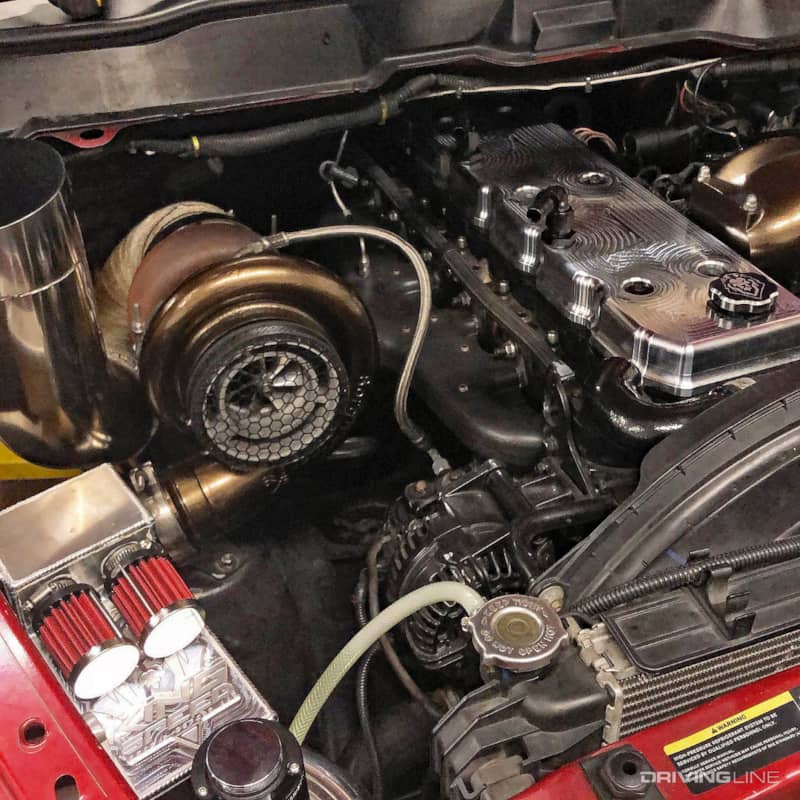 Chad Keeter's strong parts combination begins with a 5.9L Cummins that was built at Miller's Machine Shop. The fuel system components were supplied by Exergy Performance and consist of 250-percent over injectors as well as a stroker CP3 over a Sportsman pump. An 85mm S400 from Forced Inductions handles boost production, an automatic built by Chris Gelbaugh at CG Diesel Performance Transmissions handles the shifts and Hardway tuning ties everything together.
Dustin Sterling's Big Boost Duramax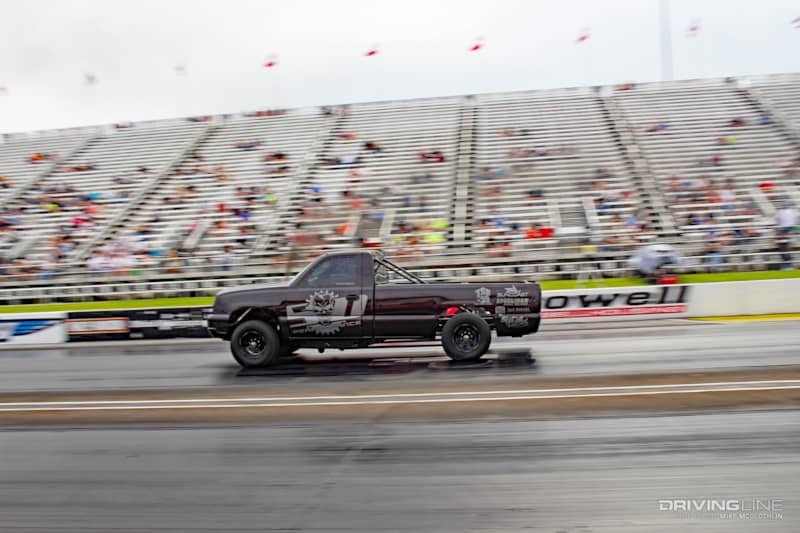 Dustin Sterling missed the first race of the 2021 ODSS race year, but thanks to the performance he turned in at Outlaw Diesel Revenge in Indy it didn't much matter. Despite working with a truck that was a bit too fast that weekend (his trap speeds were over 120 mph), Dustin decided to leave well enough alone and let it ride. In hindsight we're sure he's glad he did as his '07 Duramax proceeded to edge out everyone he came up against in eliminations. In the final, Dustin grabbed the quicker reaction time over seasoned racer, Rick Fletes, and pulled out the win despite running the slower elapsed time (a 5.95 to Fletes' 5.92).
SoCal Engine, TSD Compounds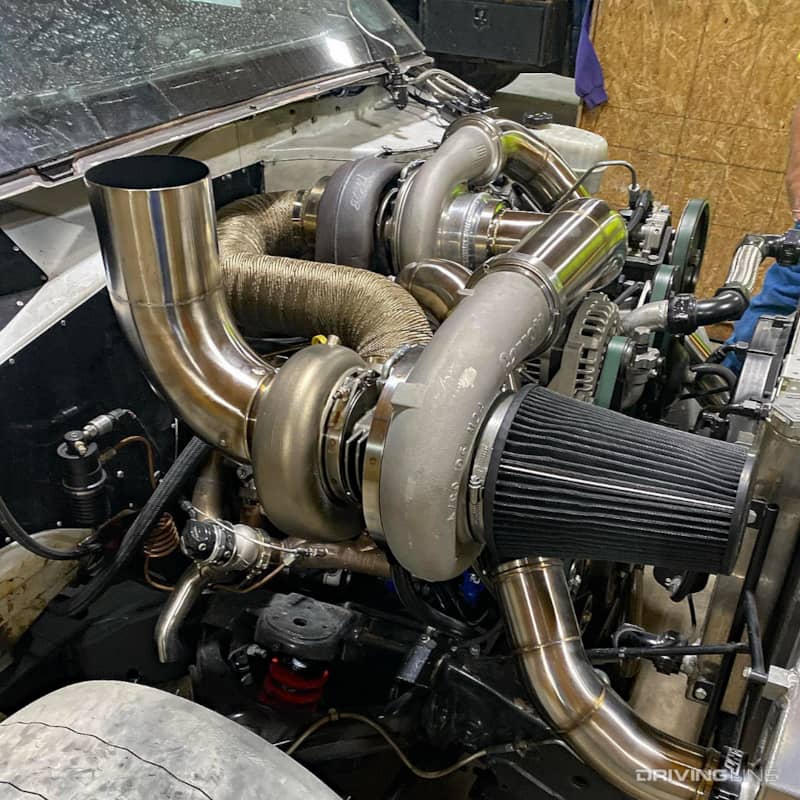 Under the removable front clip on Dustin's classic body Chevy, you'll find a SoCal Diesel-built Duramax. Its fueling needs are met thanks to injectors and a pair of CP3's from S&S Diesel Motorsport. The flawlessly fabricated compound turbo arrangement was executed by Truck Source Diesel and combines a big Garrett atmosphere charger with an S400 in the valley. Sun Coast supports Dustin on the transmission side of his race truck's equation. Dustin has been quoted as saying he won't be able to make every race on the circuit this year. But if he finds a way to make it happen, the chances of seeing a Duramax bring home the 5.90 championship will definitely increase.
More From

Driving Line
First time hearing about 5.90 Index? Here's some light reading on the subject to help bring you up to speed.