Diesel Sleepers: 5 Oil Burners Enjoying the Element of Surprise
Our sleeper series returns this week to the tune of four average-looking trucks and one antique-plated SUV — all of which are diesel-powered. We'll profile a 900 hp Duramax monstrosity in disguise, an 11-second '97 F-350, a 700 hp tow rig, a Cummins-powered '77 Suburban, and what we believe to be one of the highest horsepower 7.3L Power Strokes ever assembled.
Some of these trucks were built for competition but never lost their initial work-truck roots — or their factory looks. Others were built to improve what they were already being used for: commuting or towing. No matter the case, it's another collection of fire-breathing oil-burners that operate under the radar, just waiting to surprise anyone foolish enough to take the bait!
1. 900-rwhp Bow Tie
With tinted windows, smoked cab and parking lights and H2 Hummer wheels, this '01 Silverado might not sell the 100-percent stock look — but no one would ever suspect it to be packing 900 horsepower. No flashy paint job, off-set wheels or excess chrome here; this Bow Tie molds right in with every other vehicle on the road. Due to the limited footprint a set of 305/65R17 all-terrains can provide, the truck ran a traction-limited mid-11-second quarter-mile at 122 mph at the track. On the chassis dyno, it's cleared 906-rwhp.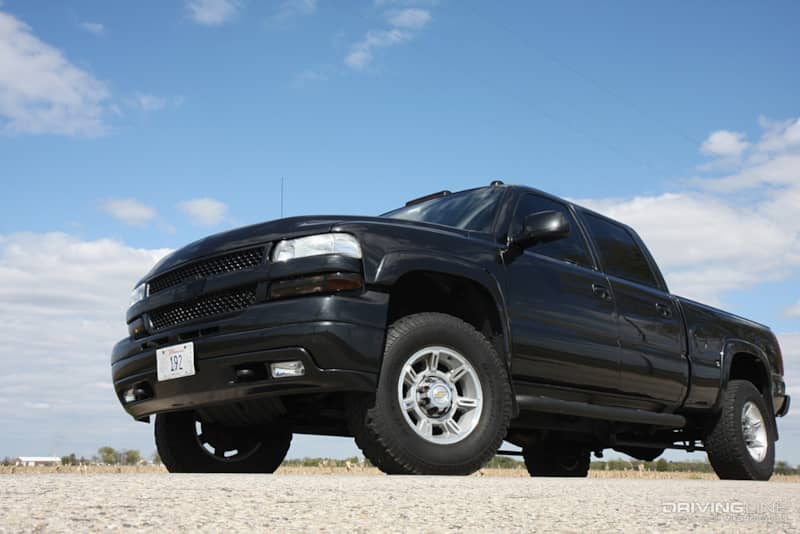 A Pair of Garretts
Sitting atop a fully-built LB7 Duramax V8 is a compound turbo arrangement that produces a rather calm (for a 900 hp diesel) 70 psi of overall boost. The valley charger is an externally wastegated GT4202 from Garrett (75 mm), while the atmospheric unit is an 88 mm version of a GT55/GT60 hybrid. Other pieces involved in the 900 hp puzzle include: R&R Racing Products connecting rods, 16.5:1 compression de-lipped factory pistons, ARP head studs, Exergy Performance 100-percent over injectors, PPE dual fuelers, ECM and TCM tuning from DuramaxTuner.com and an Allison 1000 put together by Sun Coast.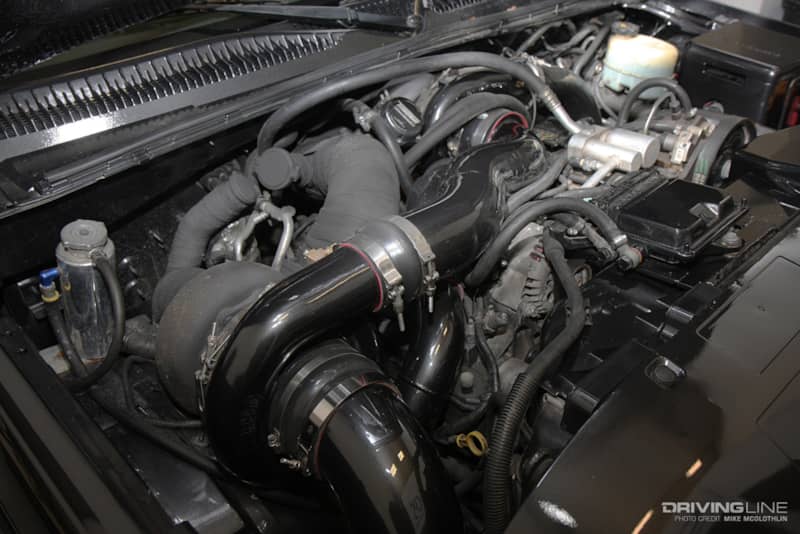 2. Sleeper Duty
While the inlet horn for the atmospheric turbocharger doesn't quite scream "sleeper," the stock wheels, 33-inch all terrains, and B&W gooseneck hitch on Scott Morris' '00 F-350 sure do. His dual rear wheel Super Duty is known as one of the most powerful 7.3L Power Strokes in existence that's still utilizing the factory HEUI injection system. A large compound turbo setup (BorgWarner S475 with a 104 mm S510), worked over cylinder heads, custom camshaft, Swamp's Diesel 400/400 injectors with a Gen3 high-pressure oil pump and a built bottom end help the 444 ci V8 produce and survive more than 1,100 hp at the crank.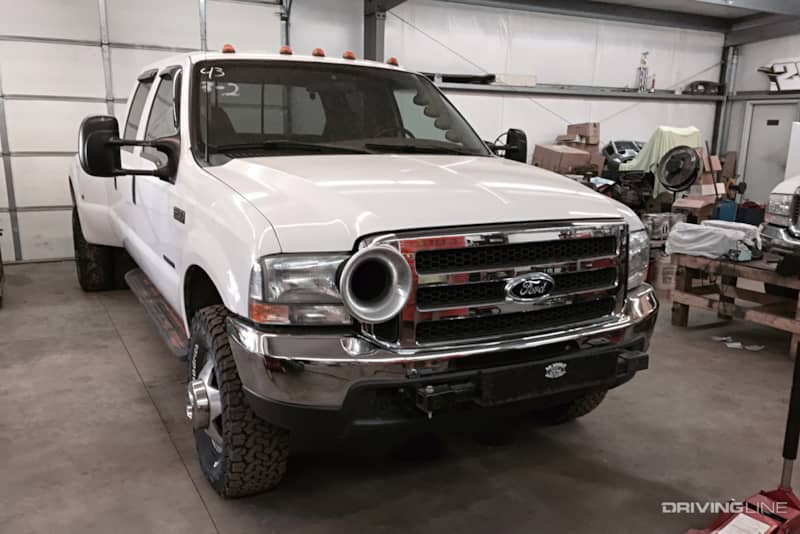 950-rwhp (At Least)
Any 8,200-pound truck that can click off a traction-limited 7.30-second eighth-mile is a bad unit, but doing it with a 7.3L Power Stroke is unheard of. When you plug this truck's 4-plus tons of mass and its 96 mph trap speed into the horsepower calculator, you'll find that more than 950 hp is being sent to the wheels. While this type of horsepower has been made with 7.3L-powered trucks in the past, it's always been done with the aid of nitrous. But because Scott doesn't dabble in NO2, we're confident in saying his truck is one of the most powerful fuel-only 7.3Ls in the nation.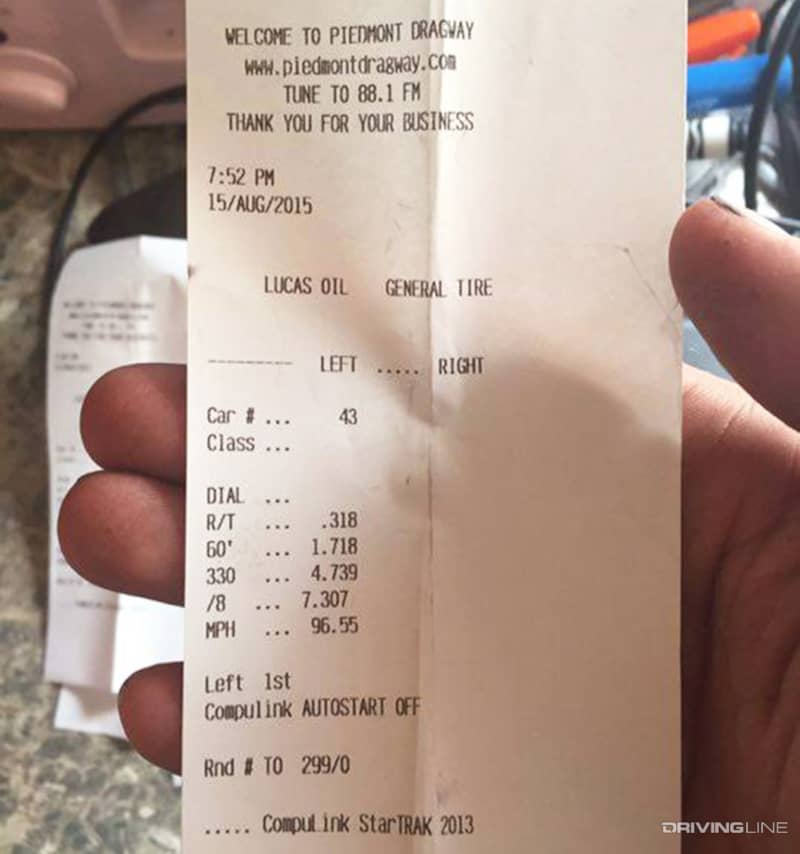 3. Tow Mule
Whether it's on a 1,500-mile hot-shot mission or getting him to and from the machine shop, Tyler Lee DePoy's '14 Ram 2500 is used to tackle any job. But in order to get loads up and moving quicker (of course), Tyler added 100-percent over injectors, a 10mm CP3, a Cheetah turbocharger from Fleece Performance Engineering, ARP head studs and EFI Live tuning to the 6.7L Cummins under the hood (along with a dual disc clutch from South Bend). His parts combination is good for a dyno-proven 703 hp and 1,556 lb-ft of torque. Trailer in tow or not, this is one late-model Ram that surprises just about anyone it comes across.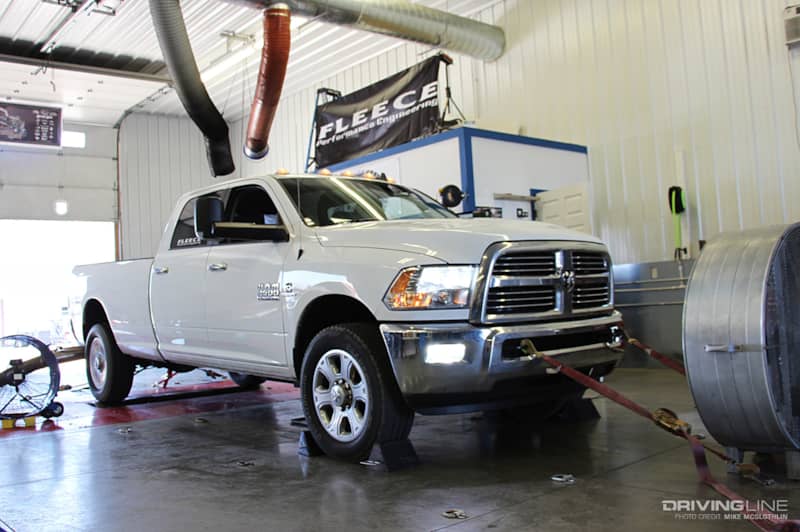 4. Farm Truck
Complete with a windshield visor, 16.5-inch American Racing wheels and the original paint, this '97 F-350 plays the part of the good ol' boy's farm truck well—but hides a dirty secret at the same time. When it was a regular on the racing scene a couple years ago, the first-generation 7.3L Power Stroke could rip through the quarter-mile in 11-second intervals. Thanks to the truck's regular cab configuration and pre-Super Duty platform yielding just 6,400 pounds of heft (ultra-light for a 1-ton diesel), it took just over 650-rwhp to propel the truck to a best pass of 11.69 at 115 mph. Once the truck's builder realized how easy it was to make the old Ford go fast, he scrapped his privateer stock car racing program and went all-in in the diesel performance game.
160,000-Mile Stock Bottom End
From the oil pan to the heads, the 7.3L Power Stroke V8 sports a 160,000-mile, untouched bottom end. The cast-iron cylinder heads were fitted with stiffer valvesprings, chromoly pushrods and ARP head studs. Then the power adders began, including a set of Unlimited Diesel Performance's Stage 4 350/200 injectors, an SRP1.1 high-pressure oil pump, a T4 turbo mount from Turbonetics complete with a BorgWarner S467.7 FMW charger and PCM tuning from Gearhead Automotive Performance. A two-stage nitrous system added the final touch.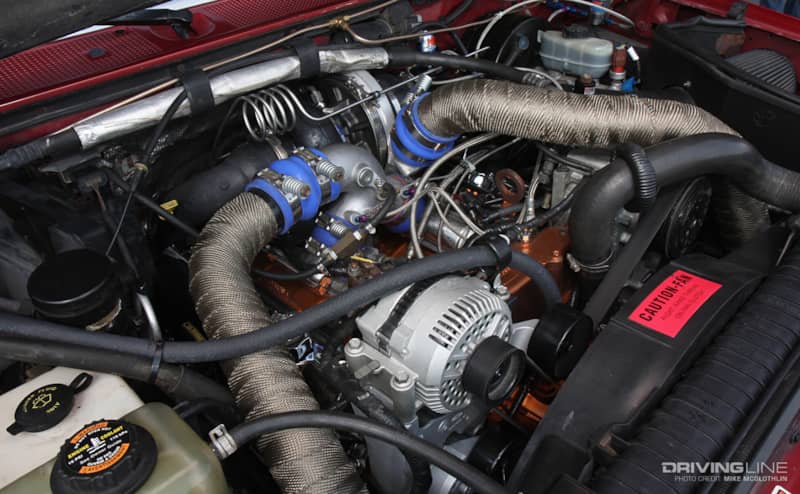 5. Cummins Suburban
Matte black 17x8-inch Fuel Boost wheels, a Line-X paint job and a six-inch diameter exhaust tip? OK, so it's not the quintessential sleeper; but it's definitely one-of-a-kind. Until the notable one-note song of the 12-valve Cummins can be heard, no one really knows what to make of Phillip Waddell's '77 Suburban. However, we'll be the first to tell you it's a textbook case of a Cummins repower. The B series inline-six not only added million-mile durability to the mix, but it also effectively doubled the Rounded-Line 'Burb's horsepower and fuel economy — not to mention the fact that it made his antique SUV fun to drive again.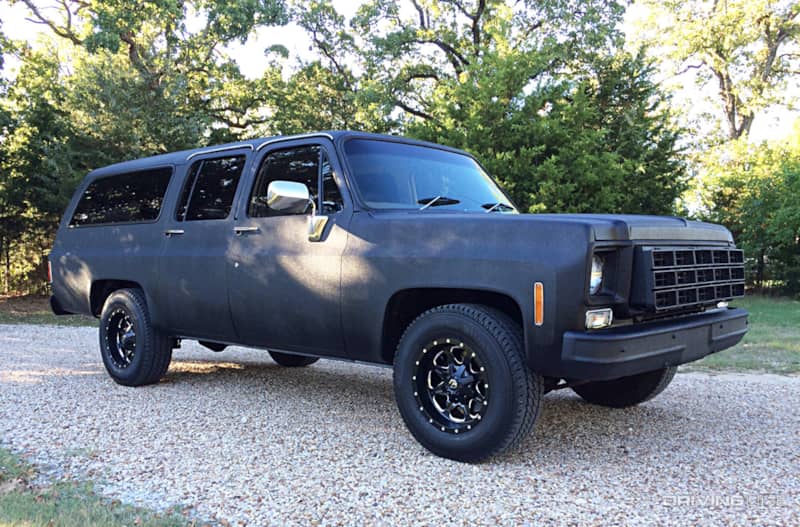 Mechanical Power
Ditching the carbureted 454ci big-block was an easy decision for Phillip, as he was acutely aware of the performance potential that exists with the '94-'98 version of the 12-valve 5.9L Cummins. Wanting to start fresh, the 5.9L was overhauled locally (with ARP head studs thrown in) and then immediately put to work.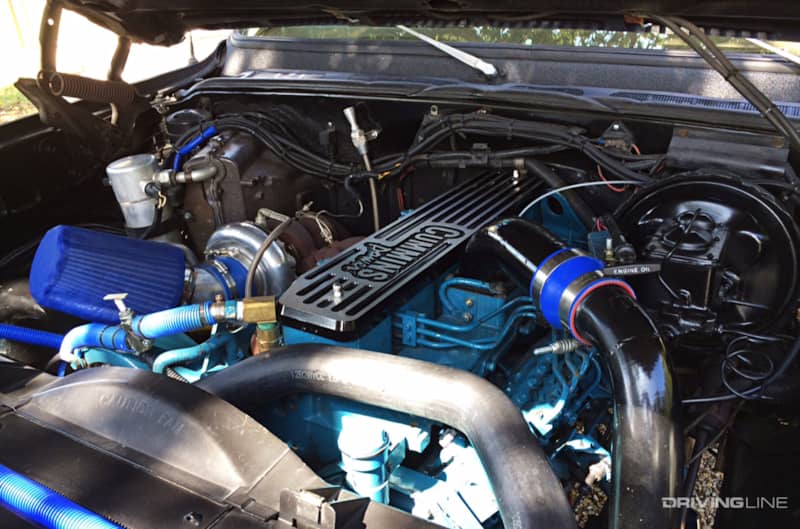 Larger delivery valves, a modified air-fuel-control housing and 4,000-rpm governor springs help the benched 12 mm P7100 injection pump send fuel to a set of Bosch 370 marine injectors. An Industrial Injection Silver Bullet 62 turbocharger takes care of airflow, producing just under 50 psi of boost for the engine to ingest. Squeezing nearly 500-rwhp (and 960 lb-ft) through a custom TH400 automatic, the 6,000-pound SUV is extremely light on its feet and capable of running 12's. Call us crazy, but we think the next 40-year stint of this Suburban's life will be a lot more interesting…