Emissions-Friendly Diesel Parts For Late-Model Fords
When Ford's 6.7L Power Stroke blasted onto the diesel truck scene in 2010 for '11 model year Super Duty's, it boasted a class-leading 400 hp and 800 lb-ft of torque. Of course, those numbers grew to 440 hp/860 lb-ft, 440 hp/925 lb-ft, 450 hp/935 lb-ft and then 475 hp/1,050 lb-ft before Ford released its staggering 500hp/1,200 lb-ft high output version for the '23 model year. Many of these power figures have coincided with best-in-class towing and payload ratings over the years. However, throughout its production—and the production of the Power Stroke V8's that came before it—few owners have been fully content with the factory power level.
For many years, diesel performance was the Wild West of sorts within the auto enthusiast realm. Huge power gains could be had by reflashing the ECM and altering the engine's emissions systems. But with EPA crackdowns becoming regular occurrences in recent times, the industry has begun to warm to the idea of offering emissions-friendly modifications—and that's exactly what we're showcasing here. These are the mods that allow you to enjoy your 6.7L Power Stroke's added power legally, without attracting attention (and/or eventual punishment) from Big Brother. Stay tuned for the rundown on emissions-friendly Cummins and Duramax mods next.
The 6.7L Power Stroke: A Potent, Popular Platform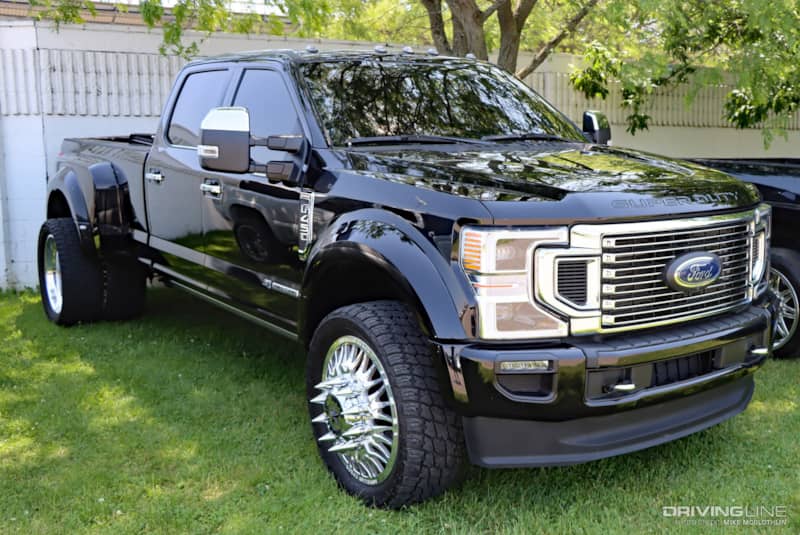 Along with being the most powerful diesel engine ever offered in a Ford truck, the 6.7L V8 is the cleanest in the Power Stroke name's lineage. Its advanced exhaust gas recirculation (EGR) and selective catalytic reduction (SCR) systems allow it to meet strict NOx emissions standards yet remain reliable at the same time—a combination that makes it very popular. In fact, Ford's diesel-powered truck sales often top both Ram and GM's combined figures. With so many of these trucks on the road, it was only a matter of time before modified versions landed them on the EPA's radar—and this is exactly why performance gains should be made in an emissions-friendly manner.
What To Look For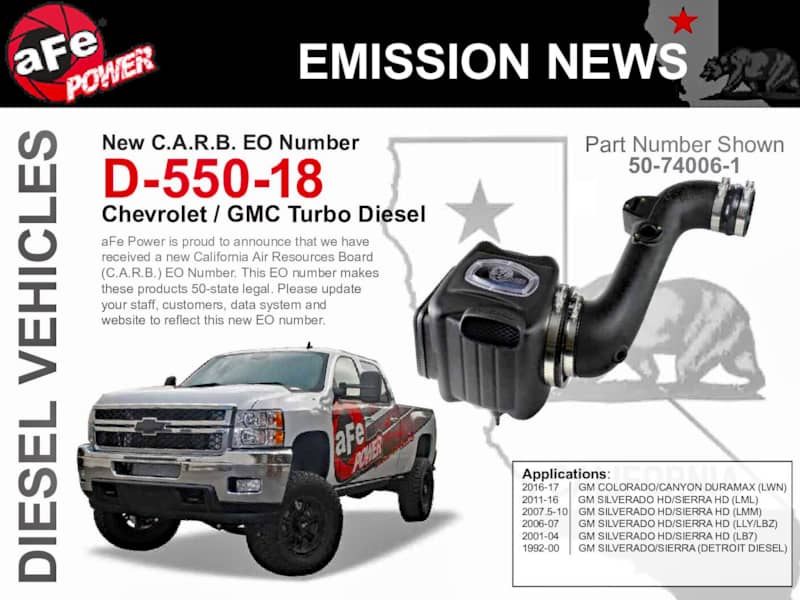 So, what should you look for in a 6.7L Power Stroke performance upgrade? It all begins and ends with the E.O. number. E.O. stands for Executive Order, and it represents a legal exemption awarded to a product that has been verified to not increase vehicle emissions when in use. All parts that qualify for an E.O. number have undergone a California Air Resources Board (CARB) engineering evaluation. For manufacturers, the process of obtaining an E.O. number is extensive and exhaustive. However, it can pay big dividends on the back end by keeping the product (and the company that produced it) in the clear from a legal standpoint.
Edge Products' Diesel Evolution Modules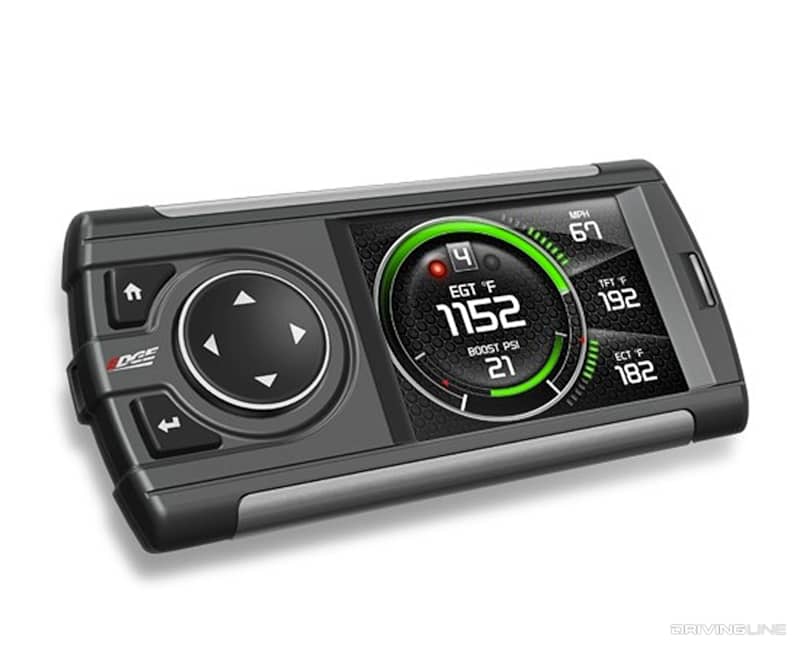 Ever since electronically controlled diesels became a thing, tuning has been the most affordable and easiest path to making more horsepower. However, creating calibrations that play nice with the factory emissions equipment has been the toughest job for many industry leaders in recent years. Edge Products is one such entity that has unlocked serious gains from the 6.7L Power Stroke without altering its EGR, DPF, DOC and SCR systems. The company's Diesel Evolution CS2 device (shown) can add as much as 120 hp and 220 lb-ft of torque to an '11-'19 Super Duty's bottom line. More importantly, the fact that it has an E.O. number means it's 50-state legal.
Banks' Derringer Tuner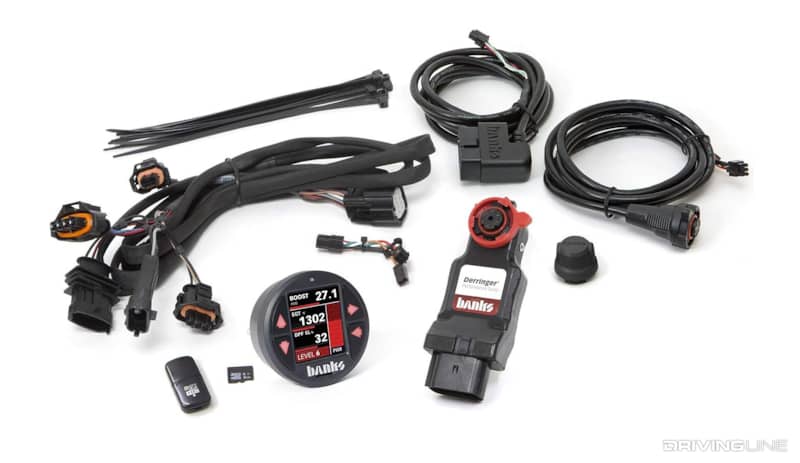 The 50-state compliant, Derringer Tuner from Banks Power was developed to offer respectable power gains without increasing emissions, damaging the 6.7L Power Stroke's emissions equipment or hurting the factory transmission. Performance gains range from 59 hp and 106 lb-ft over stock to as much as 72 hp and 148 lb-ft over the factory rating. Banks' highly refined tuning also includes what it calls TransCommand, an active transmission safety system designed to keep the 6R140 TorqShift automatic alive with the added horsepower and torque in the mix. With no trade-off in reliability, it's no wonder that the plug-and-play, emissions-friendly Derringer is a huge hit with '11-'19 Super Duty owners.
DPF-Back Exhaust Systems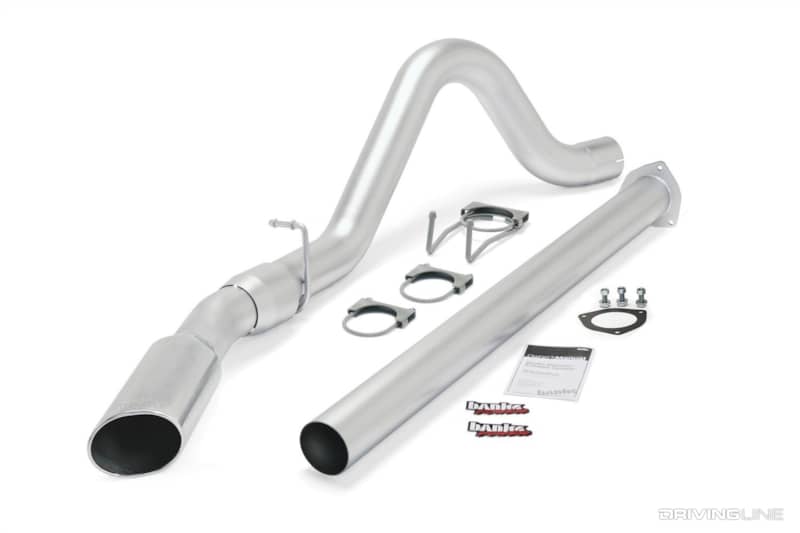 Any alteration of the 6.7L Power Stroke's DPF system is considered a violation of the Clean Air Act. However, any DPF-back exhaust system is generally considered emissions-friendly and doesn't necessarily warrant an E.O. number. Banks took advantage of this with its Monster Exhaust systems. While they don't open up the diameter of the downpipe or do away with the diesel particulate filter or diesel oxidation catalyst, they do increase flow from the DPF on out to the tailpipe. The company's 4-inch constant diameter system also reduces backpressure, which means less pumping losses and, ultimately, more potential horsepower. Banks' Monster Exhaust system flows up to 80-percent better than the factory hardware and the included Side-Kick tip cools exhaust gases as they exit the system.
S&B Filters' Cold Air Intake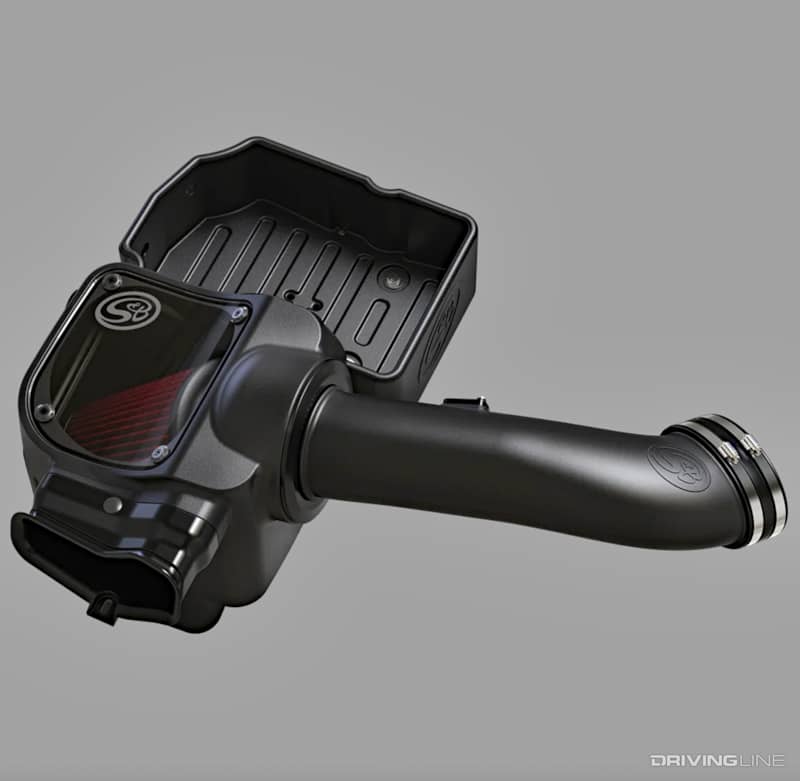 Opening up the restriction that exists in front of the turbo has long been a meaningful way of adding horsepower to a diesel engine. S&B Filters doesn't reinvent the wheel here, but they do offer a system for the 6.7L Power Stroke, complete with an E.O. number, that outflows the factory, bottle-necked intake system by more than 47-percent. This is accomplished in its '17-'19 model year kit by swapping the air box location with the passenger side battery, which moves the air filter closer to where the truck receives its fresh air supply.
Mishimoto Cold-Side Intercooler Pipe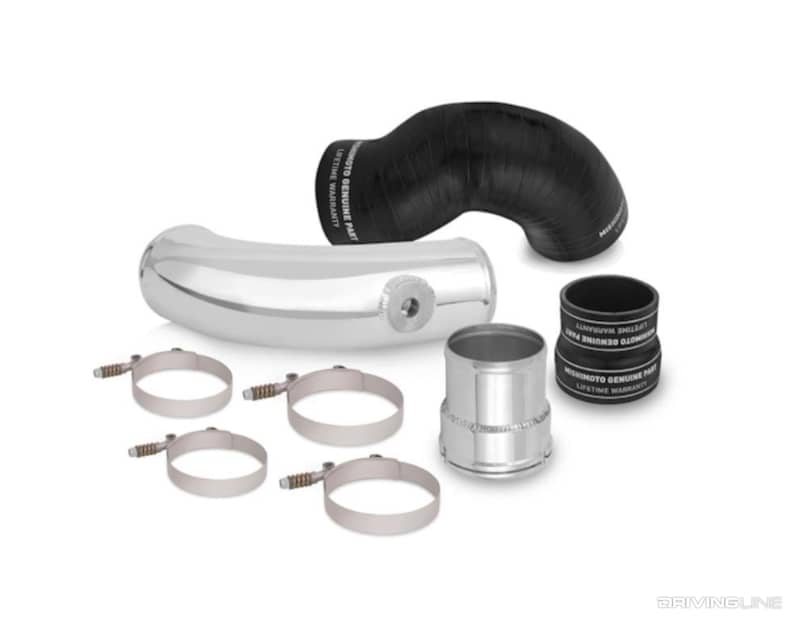 A smoother pathway for air to enter an engine is never detrimental to performance and Mishimoto's cold-side intercooler pipe and boot kit for the 6.7L Power Stroke complements a cold air intake very well. In addition to that, its mandrel-bent aluminum pipe replaces the factory plastic piece that's known to fail and leave owners stranded (no boost = no power). Mishimoto's bolt-on kit includes constant tension, spring-loaded, T-bolt style clamps, an aluminum adapter pipe with a quick-disconnect flange and high-quality silicone boots with DuraCore technology. The system wears CARB E.O. number D-759-4.
With The Right Parts, EGR, DPF And SCR Systems Will Last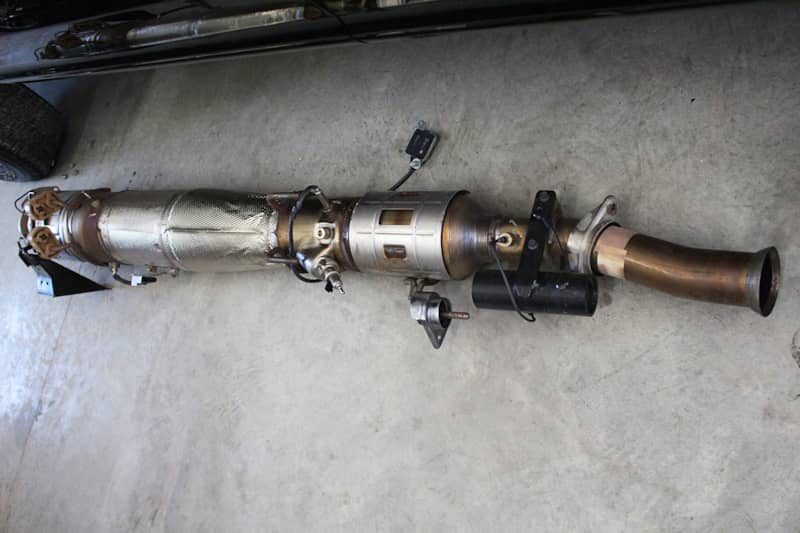 One of the biggest fears associated with modifying a modern diesel that's still equipped with the factory emission-curbing technology is that those components will fail prematurely. We're here to tell you that, provided you choose quality performance parts (and highly refined tuning to be specific), your EGR, DPF and SCR systems will live just as long as they would've had you left the truck completely stock. Aftermarket tuning that optimizes the 6.7L Power Stroke's high-pressure common-rail injection system will produce no more soot than the factory computer calibration. And in many cases, you will see an increase in fuel economy.
More From

Driving Line
Curious how a modern diesel engine's emissions system works? Look no further than this tutorial.