Enter the Dragon: A Closer Look at American Vintage 4x4's "Komodo" Gladiator
Resto-mod doesn't even begin to describe it. Builds like these take years of passion, dedication and challenges to overcome. Ever since he got his first job in a 4x4 shop at the age of 19, Kevin Mereness has been obsessed with building off-road vehicles. So much so, that he opened his own shop, called American Vintage 4x4 in Meridian, Idaho. "I wanted a company that stepped up to provide personalized project consulting and guidance on what parts are best for each vehicle and lifestyle. A place people could trust to get their 4x4 built right. A company that strengthens the four-wheel community," Kevin states.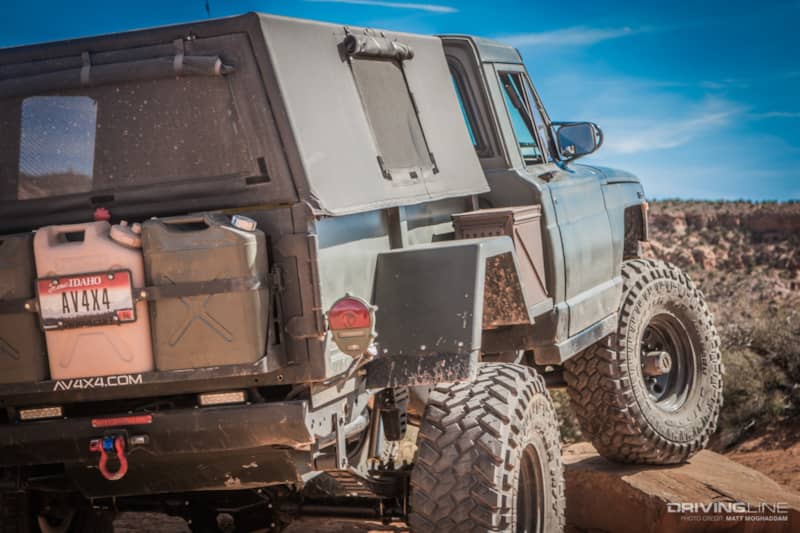 Over his course of his career, he has been the driving force to bring dozens of classic 4x4s and Jeeps back to life for himself and his customers. One build in particular stands out, and has put Kevin's abilities to the test. Beginning life as a humble 1964 Jeep Gladiator J200 truck, Kevin's latest build, nicknamed "Komodo," has undergone a complete transformation over the better portion of the last decade.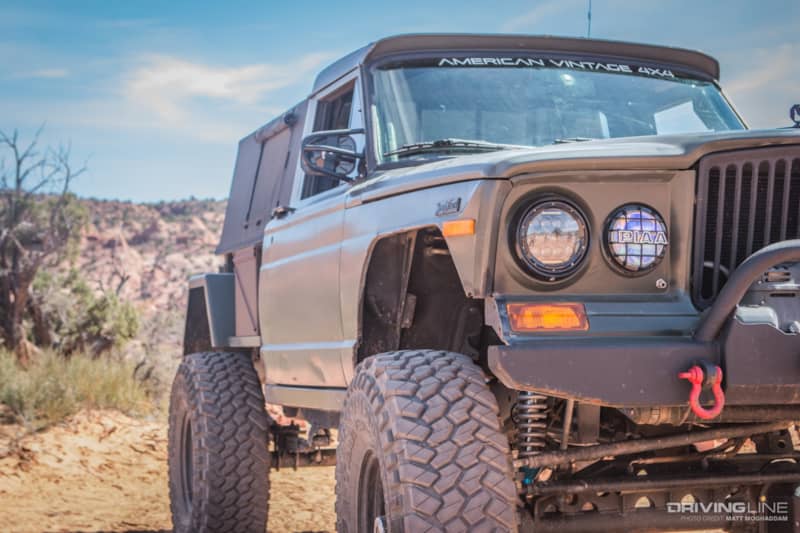 Although the Jeep Gladiator was a rugged, well-built, short-wheelbase truck that was ready for 4x4 use off the showroom floor, Kevin saw the potential for a formidable rock crawler that would turn heads both on and off the trail. But in order to prepare this J200 for off-road abuse, the entire drivetrain and running gear had to be swapped for a beefier and more modern setup. Starting with the engine, Kevin took advantage of the relatively inexpensive GM 6.0L LQ4, which is an LS-based engine found in many GM trucks and SUVs. Kevin kept the engine mostly stock, with the exception of a pair of OBX headers and a Magnaflow exhaust.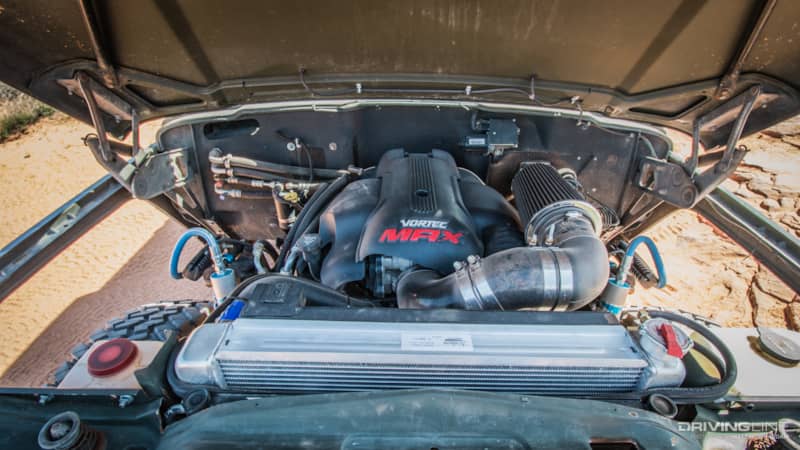 Bolted to the LQ4 is a 4L65E transmission built by Monster Transmissions, paired with an Atlas 2-speed transfer case, with 4.3:1 ratio. The new gearbox can handle increased torque inputs and will hold up to off-road abuse. Kevin opted for a GM 14-bolt rear axle, a popular choice among those who are swapping to 1-ton axles. The 14-bolt is complete with 4.88 gears, an ARB Air Locker and disc brakes.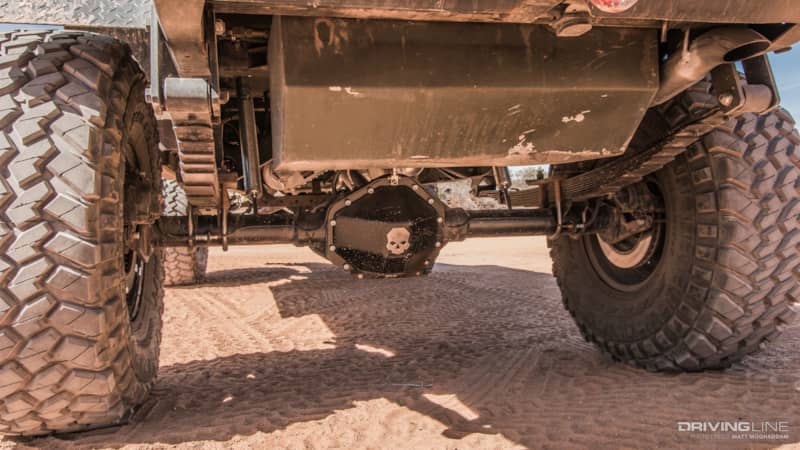 Keeping up with the 1-ton theme, Komodo's front axle is a high pinion Dana 60 complete with the same gears and Air Locker, but with an added Artec Industries truss and Warn manual locking hubs. The steering components consist of Ballistic Fab high-steer arms, 1.5-inch by .25-inch wall custom tie rod and drag link with RuffStuff Specialties rod ends. Kevin installed a PSC hydraulic assist system to allow for minimum steering effort even when aired down and locked onto a rock.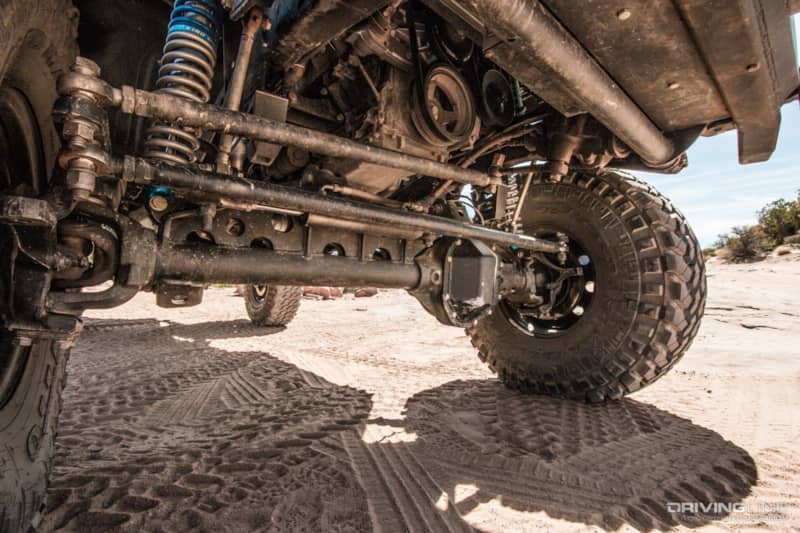 The front suspension is a custom Komodo Gear 4-link system with 14-inch King Coilovers on Artec Industries shock towers. Although the Gladiator has plenty of flex as it sits, Kevin mentioned that he plans to swap out the rear leaf springs for a custom triangulated 4-link system down the line.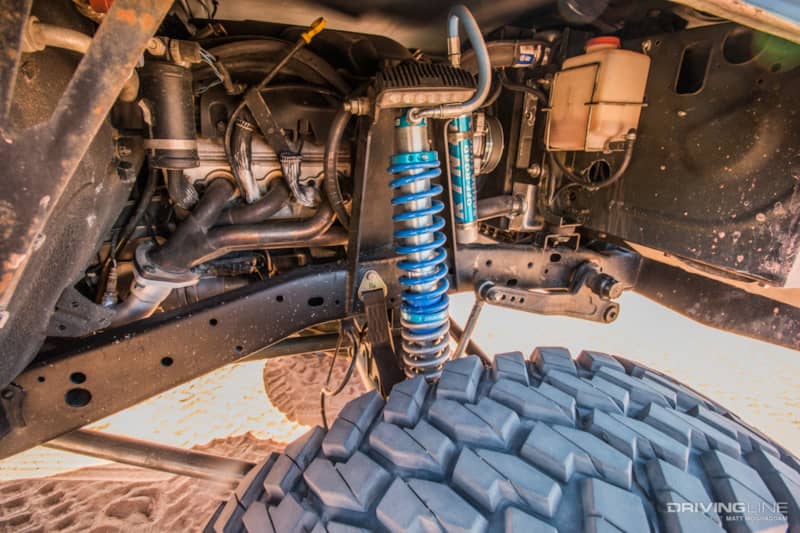 Kevin prides his build on its capability to tackle the roughest trails the American West has to offer, while retaining its comfort and drivability on the highway. Rolling on a set of 40x13.50R17 Nitto Trail Grapplers, Komodo seamlessly transcends all kinds of terrain, both on and off the pavement. Kevin states that he prefers the Trail Grapplers to other mud terrain tires due to their impressive off-road performance and relatively mild highway manners. Komodo is also sporting a set of 17-inch Vision wheels in gloss black.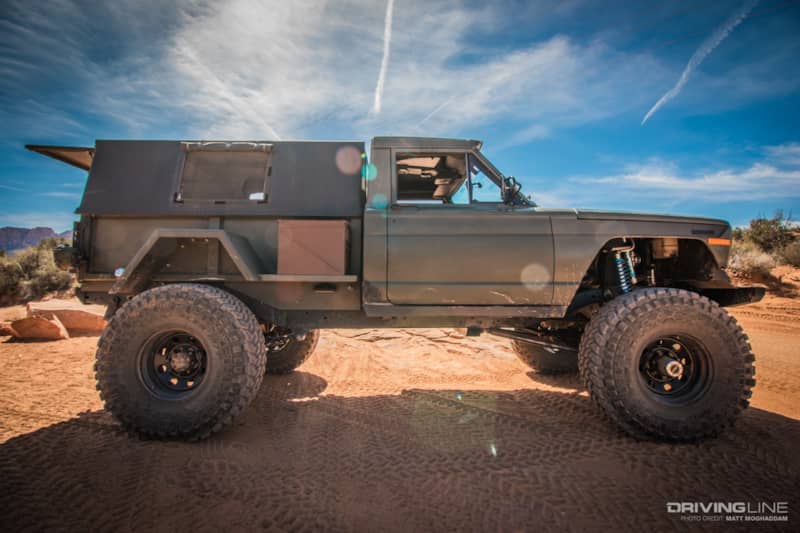 Although the upgraded drivetrain and running gear gives Komodo a huge boost in performance from a stock Gladiator, the other components and accessories really set it apart aesthetically. Perhaps the most prominent exterior modification is the custom canvas soft-top Kevin made for the bed. While the purpose of the soft-top is to add extra storage and utility to the rig, it undoubtedly sets the J200 apart from others. Kevin opted for a "Marine Forest Green" paint color to give the Komodo its military look.
Kevin gave the interior of the Gladiator just as much love as the exterior. Starting with small modifications such as a tilt steering column and Dynamat insulation throughout the cab, Kevin added more creature comforts along the way such as a BJ's Off-Road carpet kit and a Vintage Air Magnum IV AC and heat system. For safety, Kevin installed a custom interior roll cage as well. The instrumentation has been swapped for a Dakota Digital gauge, common in older vehicles with modern LS-based engine swaps.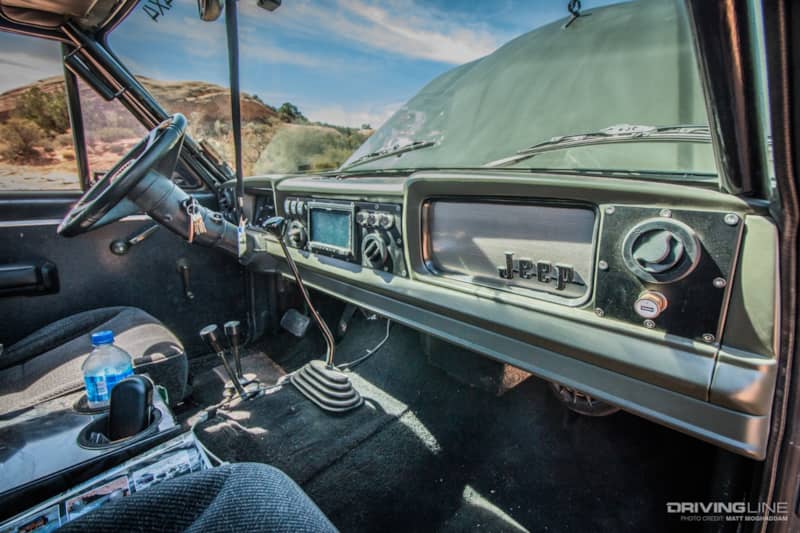 Some of the other accessories Kevin has added to Komodo to finish the build include a Warn PowerPlant winch, an Oasis Manufacturing XD-400 air compressor, XL Series LED headlights, PIAA fog lights, LED rock lights and backup lights and military grade tail lights to give Komodo a more rugged appearance.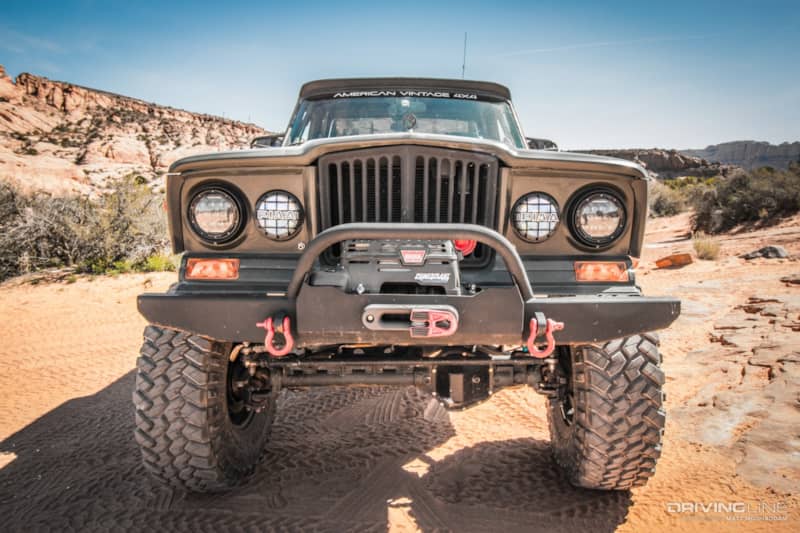 American Vintage 4x4 prides itself on building one-of-a-kind classic Jeeps and 4x4s that not only turn heads, but also outperform many modern off-road vehicles. Kevin's life-long passion for building these unique vehicles is evident in his work, and Komodo is his masterpiece. It's been said that anyone can buy a brand new truck and build it, but it takes true passion and skill to bring new life into a truck that would otherwise be long forgotten. Kevin and American Vintage 4x4 are living proof that the older a vehicle is, the more potential it has to become something incredibly unique.