Evo Mfg EcoDiesel Jeep Wrangler
Story By Jason Mulligan
Photos By
The Jeep platform has won over off-roaders around the globe for decades. With eco-friendly vehicles becoming the focus of several auto manufacturers; the makers of the Wrangler recently offered the option of a 3.0L V6 EcoDiesel engine to power the Jeep JLs. Not only would this option provide the efficiency they looked for but plenty of power that would come in handy when Chris Coffey looked hit the trails and open desert.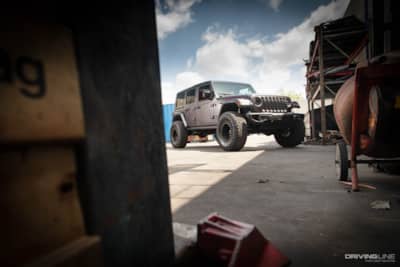 Diesel Powered
The V6 comes from the larger Ram trucks but is tailored for the JL Jeep. It still puts out a massive amount of torque at 442 ft. lbs. and 260hp, all with 29-mpg. This setup provides plenty of power to make crawling the rocks of Southern California no obstacle at all.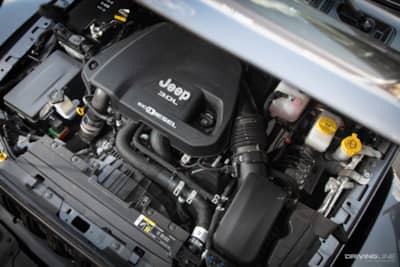 When Chris picked up his diesel-engine filled Wrangler, he headed over to Off-Road Evolution to get it set up right without being too overdone.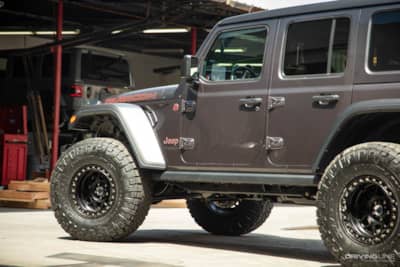 Their team, along with EVO Mfg did just that; looking at function first and finishing the Jeep off with a clean, subtle style.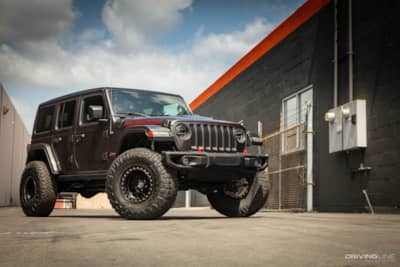 Low Profile, Long Travel
The limitation seen when setting up an EcoDiesel Jeep for off-roading is that you are only able to fit up to 37-inch tall tires due to interference with the windshield wiper fluid tank; without relocating it first. The crew at Off-Road Evolution had their ways of ensuring plenty of travel and off-road capabilities within the limitations of the 37s. Their natural choice was the latest in all-terrain tires from Nitto; a set of 37x12.50R17 Ridge Grapplers over 17x9-inch KMC KM325 Grenade Crawl wheels with an EVO Mfg Rear Tire Carrier securing a spare, just in case.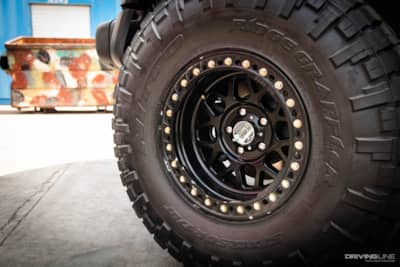 The diesel Jeep's suspension setup allows for a full 14-1/2 inches of travel in the front, and 14-inches in the rear with KING 2.0 bump stops. Providing that travel is EVO Mfg's Long Arm Kit with KING 2.5 Coilovers on all 4-wheels that are tuned to EVO's experience-driven specifications.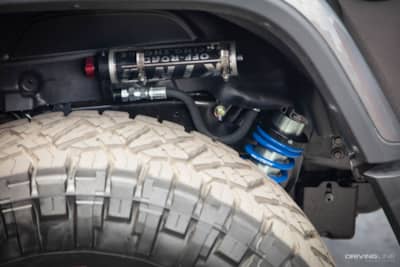 By setting up the diesel Jeep with enough off-road capabilities without going overboard; Off-Road Evolution crafted a timeless rig with the latest eco-friendly power.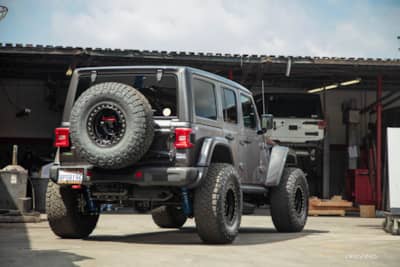 HARD FACTS
| | |
| --- | --- |
| VEHICLE | 2020 Jeep Wrangler JL EcoDiesel |
| OWNER/BUILDER | Chris Coffey/Off-Road Evolution/EVO Mfg |
| ENGINE | 3.0L V6 EcoDiesel |
| FRONT SUSPENSION | EVO Mfg Long Arm Kit, EVO Mfg Spec KING 2.5 Coilovers, KING 2.0 Bumpstops |
| REAR SUSPENSION | EVO Mfg Spec KING 2.5 Coilovers |
| WHEELS | 17x9-inch KMC KM325 Grenade Crawl Wheels |
| TIRES | 37x12.50R17 Nitto Ridge Grappler M/T |
| BODY | EVO Mfg Hinged Rear Tire Carrier |
| ACCESSORIES | ARB On-Board Twin 24V Air Compressor with Under Seat Bracket |