Why 37s on This Rubicon Were the Perfect Size
One of the first modifications that many off-roaders want to make to their rig are larger tires. Beyond the obvious aesthetic improvement, larger tires provide more ground clearance, and better grip and stability on the trails. While moving up 1 to 2 sizes is usually possible with little modifications needed, up-sizing to larger sizes often necessitate more extensive adjustments. In past articles, we've showcased how to run 35s with no lift, and how you can run 37s with just 2.5-inches of lift—in this article we're showing you an example of one of the many ways you can fit bigger tires on your Jeep.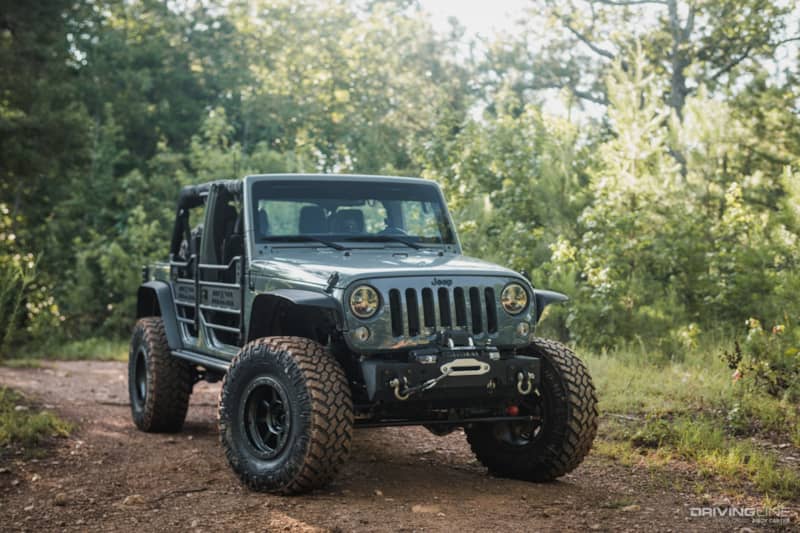 The Jeep Wrangler Rubicon came fitted from the factory with a 255/75/17, the metric equivalent of 32s. While no one will fault the Rubicon as uncapable, better off-road performance necessitates larger tires. Owner Jay Eubanks has found what he believes to be a good balance of daily usability and off-road excellence with a set of 37x12.50x17 Nitto Trail Grappler M/Ts and 17x9-inch Level 8 wheels with 4.5" of backspacing.
What does it take to fit 37s on a JK?
Fitting the 37s, however took a little more than a trip to the tire shop. He remembers, "To run the 37-inch Trail Grapplers I needed at least the 3.5-inch lift and trimmed, stock fenders. But every aftermarket part on my Jeep is designed to help its off-road ability... so there are many other factors that make running 37s possible.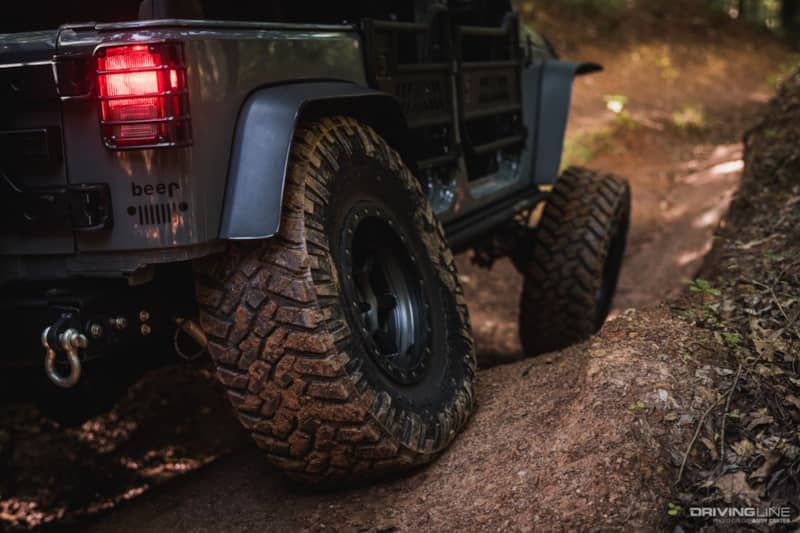 "After installing the 37s the added footprint of the 37s made the steering feel heavier on-road and off. The biggest challenge was when the front end was locked while off-roading, which is why I upgraded to a Texas Offroad hydraulic assist steering kit."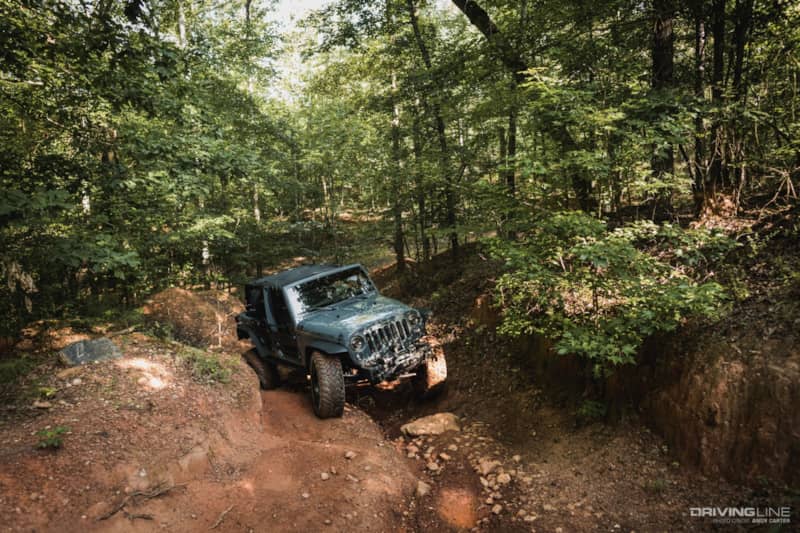 Suspension and Drivetrain Mods
Jay's lift consists of a Rock Krawler 3.5" suspension lift with Fox Shocks. The front axle is factory Rubicon Dana 44 and has Evo MFG truss and C Gussets, RCV axleshafts, and Solid diff cover.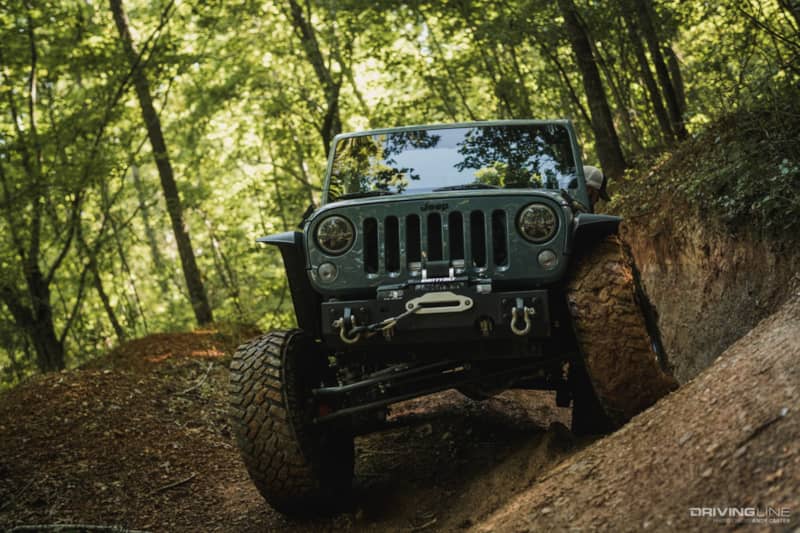 In the rear, the 2015 Rubicon uses the factory Rubicon Dana 44 and has Evo MFG truss, Evo MFG lower shock mounts, G2 axle shafts, 4.10 gears, and Solid diff cover. Tom Woods driveshafts are utilized in both the front and rear.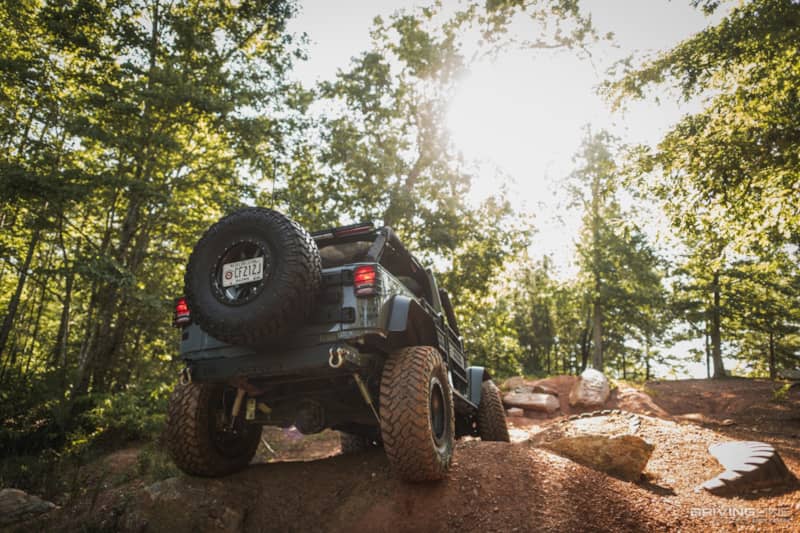 On-Road Manners
In regards to the on-road usability with his modifications, he suggests, While the JK could benefit fromt a 5.13 differential gear ratio to get its performance back on par on the highway, the 410s are acceptable for now. Thanks to a 4:1 ratio in the transfer case, the Jeep moves the 37s down the trail without any issue.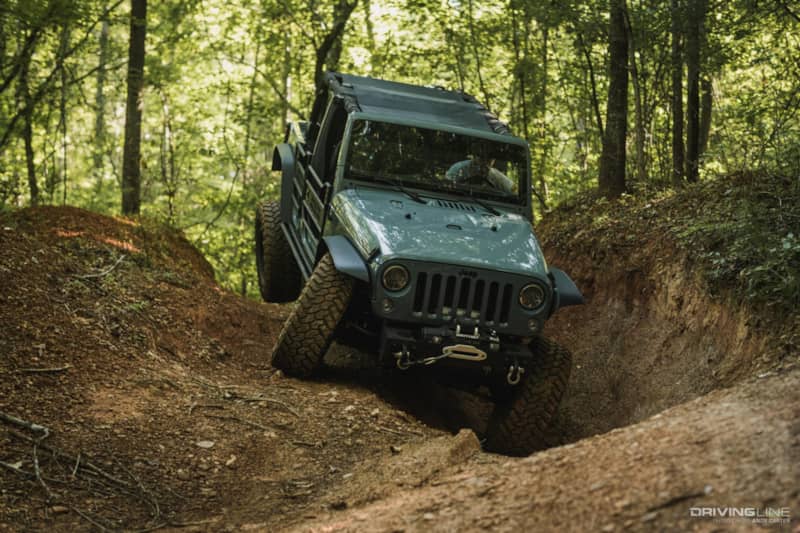 Why not 40s?
Of course, there's always the temptation to go larger. Jay said that he had fitted the Jeep with 40's at one point but that he "stuck with 37s because I want to be able to keep the Dana 44 axles for now and not have to hold back on the skinny pedal. With the modifications I have done I feel pretty safe giving it the gas needed to get over certain obstacles."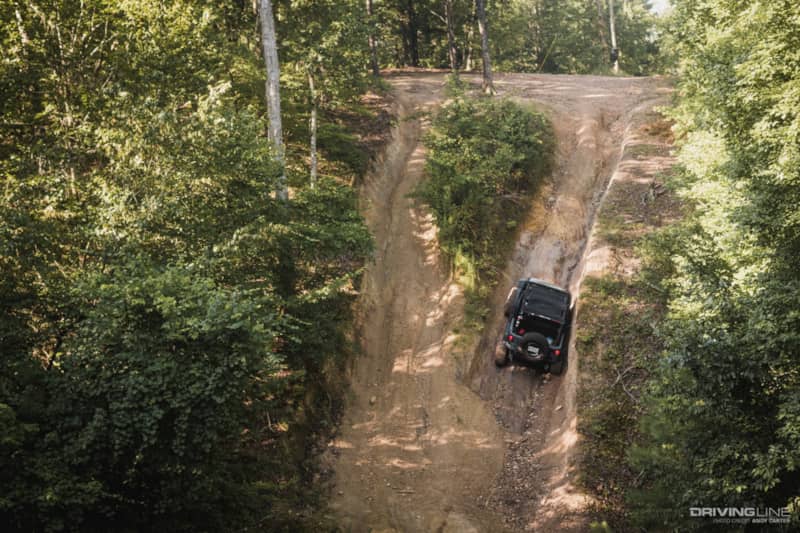 "I hope to move up to 40's in the future but that will go along with upgrading to 1 ton axles. If I really wanted to, I could run 40s now, but I just wouldn't have the confidence that I would keep my rig together while on the trail."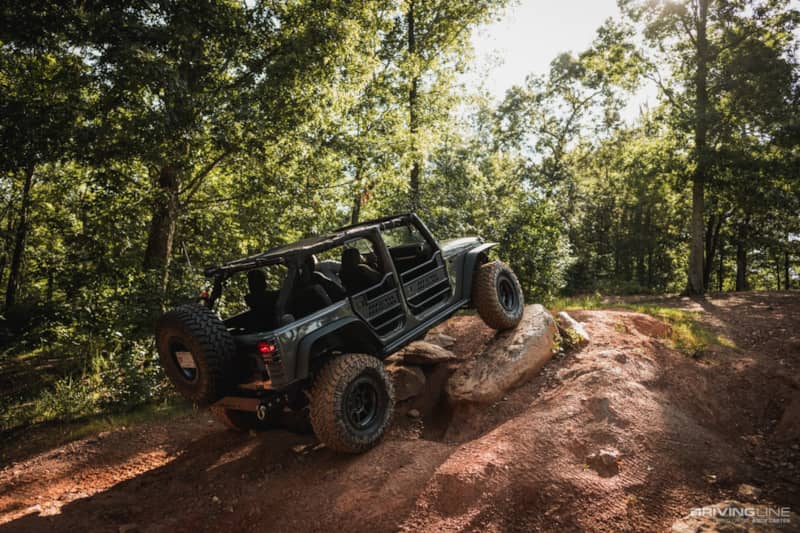 Ready for 40s? Check out this insane JK build that started life as a postal carrier!