Exploring Rattlesnake Gulch by Jeep with Carbon Off Road: On the Trail
I don't know about you, but if I was a low-down bank-robbin' varmint back in the Old West, I'd make a point of hiding out at any place named Rattlesnake Gulch. One, it's the most Wild West hideout name that ever Wild Wested. Two, it's a gulch and I'm pretty sure it's in the outlaw union rules that you have to hideout in gulches. And finally, this gulch has some pretty nice features to check out while you're ducking a posse and looking to stash your ill-gotten gains. None of which are why Austin Stobaugh hosted a day trip here, though. In this edition of On the Trail, Austin Stobaugh of Carbon Off Road takes us through Utah's Rattlesnake Gulch in a trio of custom Jeeps. Along the way, we also got some insight into family wheeling, racing, and the ties that bind family together in the dirt. Jump straight to the video.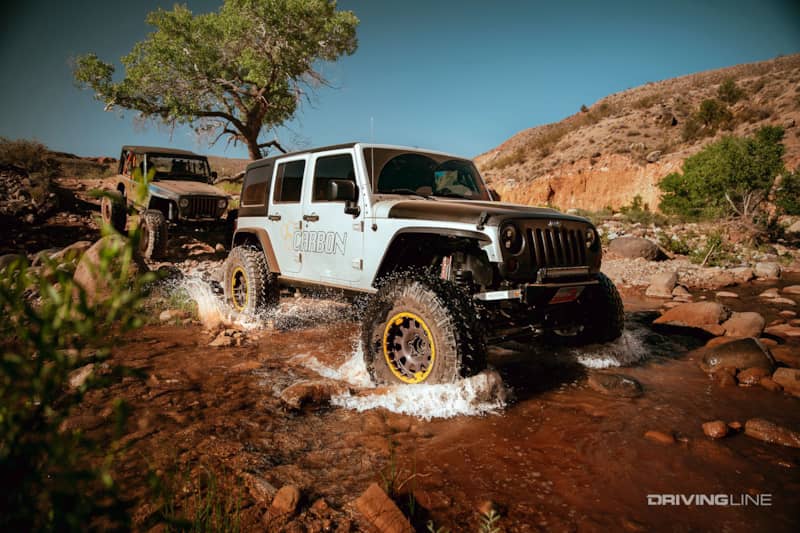 Parks and Recreation
Located in Southwest Utah near Zion National Park, Rattlesnake Gulch is a shorter route that's popular with local wheelers. It skews on the rocky side, features a watering hole, and even has some desert waterfall going on.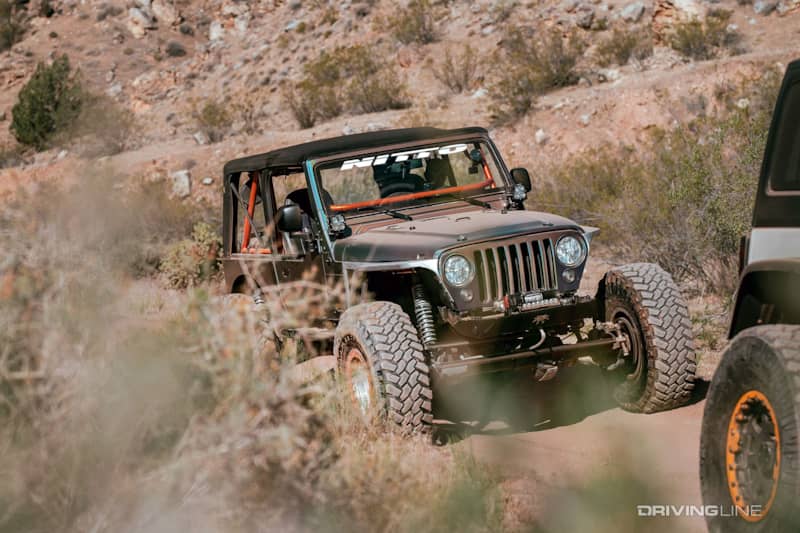 The day's run took us north to Toquerville Falls. Southern Utah in general offers more than the dunes of nearby Sand Hollow, which makes it a nice break from that type of run. That said, conditions do change a lot between spring and summer. What was a puddle the last time you were there could be a full fledged water pit the next time you get there, depending on the time of year and recent rainfall. Don't trust the water; scout it before you hit it.
Tool Time
Our team for the day consisted of Austin Stobaugh, his dad, Ron, and his wife, Courtney Schipper. All three work together running Carbon Off Road when they're not out having fun like this.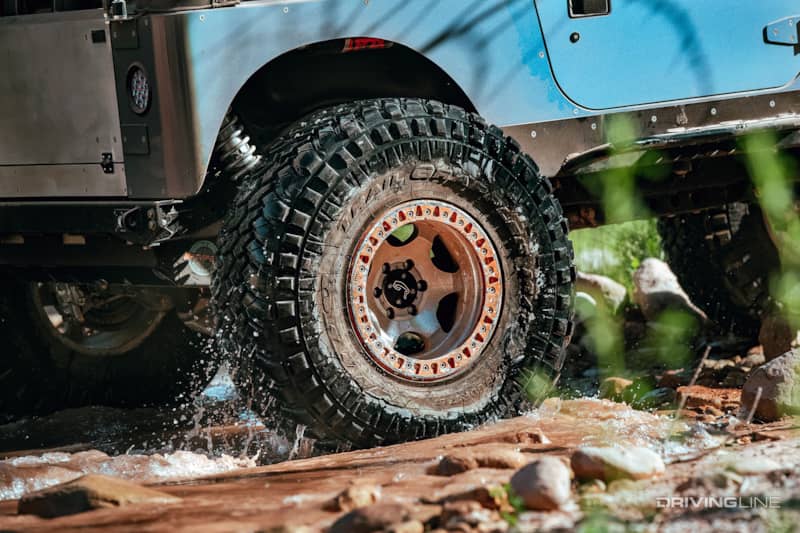 They're no strangers to Rattlesnake Gulch and definitely brought the right tools for conquering the place. Austin in 2009 custom JKU Wrangler build (40x13.50R17LT Nitto Trail Grapplers), Courtney driving a 2002 stretched TJ ( 40x13.50R17LT Trail Grapplers as well), and Ron running a 2012 JKU Wrangler Rubicon (38x13.50R17LT Trail Grapplers).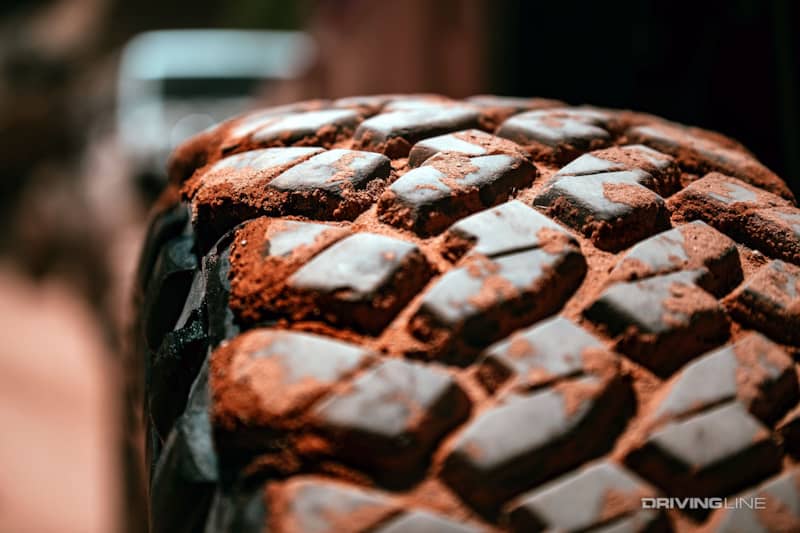 While the Trail Grappler is also a great general off-road trail slayer, it's particularly adept at taking on mud and other wet conditions, which is good in a place like this. Yes, this is the desert. However, you'll probably have up to ten water crossings along the trail while you're in Rattlesnake Gulch. Even though the water hazards aren't always playing at full blast, the Trail Grappler gives you the confidence you need when the water tries to surprise you. 
Happy Days
Along the way, all three of our explorers had some observations about not just the trail but the off-roading experience in general. "Today when we started this trail, it was mostly bugs," Courtney observed.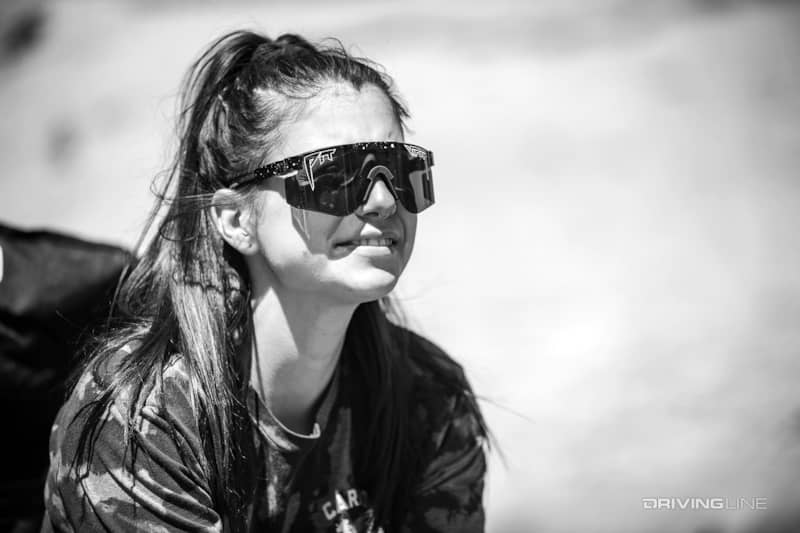 "So I was tasting bugs, I was hearing bugs, and smelling bugs." That said, it was also a pretty happy day's journey, though. "I'm always excited to run this trail," she continued. "It's always beautiful, it's scenic. I love anything to do with water." Seeing it in a clip, though, is never a match for being on a trail in person, though. "When you have family, friends that are heavily involved in what you love to do, you learn from them... Unless you get out and have the experience with someone who is experienced, it's very difficult to pick up on things the right way.
King of the Hill
And experienced definitely describes Austin's father Ron. He's a veteran rock crawler and racer who knows all about tackling the desert and all of the types of terrain it has to offer.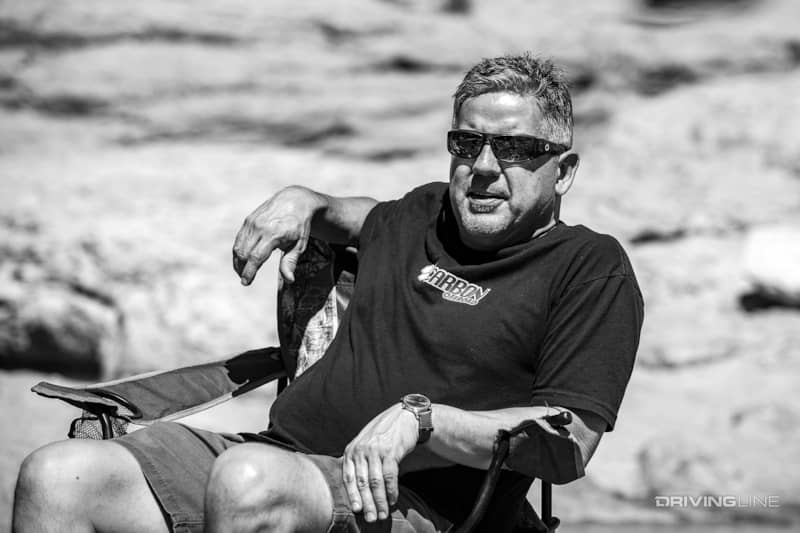 "So I started out in the rocks and picked up desert racing and that was just a passion for a long time. There's similarities where you've got to read the terrain and understand what your vehicle's doing and have some mechanical background so you can get yourself out of a jam. For the rock crawling, I still like to, at this point in my life, not test myself all the time to the limit. I'd rather get to a destination, whether it's a town, ghost town, or a city, or sometimes we'll go up to Cedar City and go to the pizza parlor. This particular trail is nice because the water keeps it nice and cool."
Family Guy
Naturally, all of that experience greatly influenced Austin's own off-roading life: "I learned a lot from my dad," says Austin. "He taught me what I use every day in the axle and gear side of the business. We had dirt bikes when I was young so we were always kind of outdoors, in the dirt and stuff."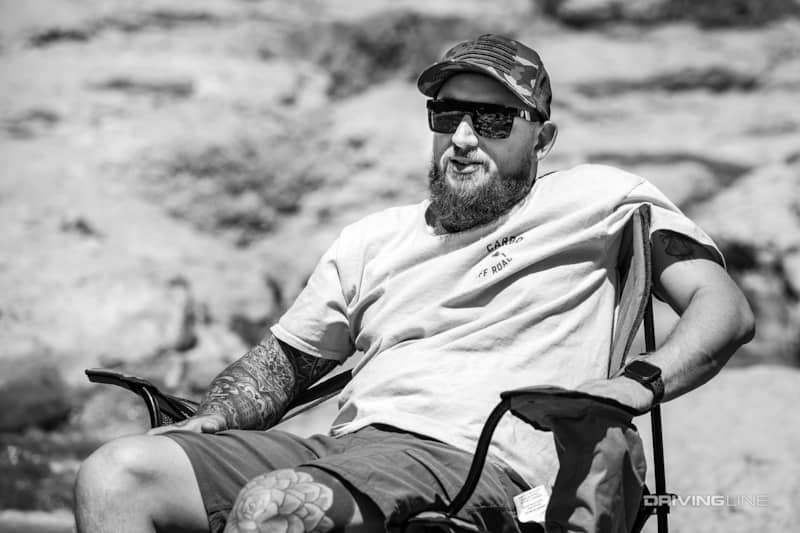 "My dad actually quit off-road racing while I was young. I actually asked him if we could go help a friend of ours, Cameron Steel, at the Baja 1000. That was the first race that kind of got us back into it and got him back into desert racing. So after that, we ended up purchasing a Jeep Cherokee to race in Jeep Speed. Started racing in the desert together, and then over the years, it's just slowly migrated with the business into more four-wheeling and a little less desert racing."
The Office
One great part of working in the off-road industry is that oftentimes your office and your playground are one and the same thing. About five miles up the trail heading north, you come to the Swim Hole.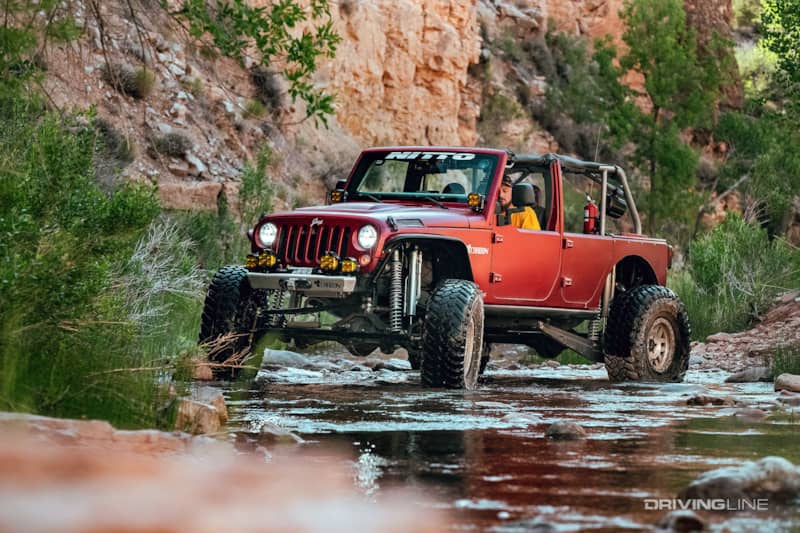 While not optimal for deep diving, it is great for a cool dip in the hot desert sun and the perfect spot for a lunch break. It's just one of the times you'll cross paths with the meandering water of Rattlesnake Gulch. Some sources bill the place as a rock-crawling trail and while there's truth to that, there are also plenty of minor obstacles along the and if you don't take some of the optional off-shoot trails around the puddles, they can get pretty deep. Being aware of what time of year it is and how that affects the water level is a good plan. That water levels vary as much as the answers from a Magic Eight Ball. However, it's a pretty straightforward trail and so long as you can navigate over some boulders and loose rock while picking good paths at the water crossings, it's not too complex. Rattlesnake Gulch also sees plenty of traffic and it isn't too uncommon for someone to get stuck in the water.

Family Ties
Not only do these folks share the trail as a family, they also work together and maintain mutual respect, which makes life more rewarding. "If you take the analogy of Austin growing up and our interaction between off-roading and life and then eventually business together, I guess there'd be one common theme which is respect," Ron tells us.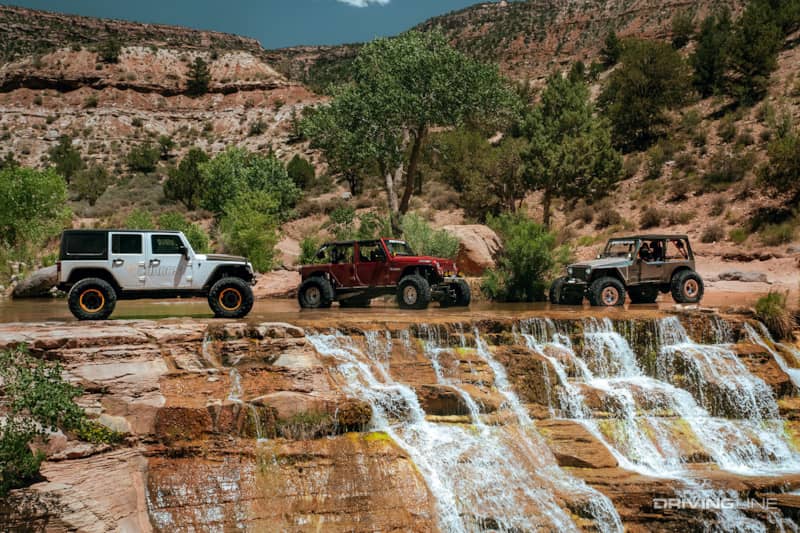 "So respect for the land, if you're off-roading, whether it's this particular trail, or in general. Pack it in, pack it out. Stay on the trail, don't make a new trail." Courtney added, "We've come out here plenty of times and run into side-by-side groups of Jeeps where you're sitting on the trail for 30 minutes until some gets unstuck or someone moves, so be prepared. Even though this trail isn't very long, you can get stuck for quite some time." "Getting to off-road with Courtney and Austin, to me, is just an awesome day. I get to be around them at work and that again goes back to that respect. We respect our boundaries at work but outside of work it's just a joy to hang out with them whether golfing or off-roading. Seeing how far they both have progressed, it's amazing. It's mind-boggling, to be honest with you."

What's also mind-boggling to some is the sight of a year-round waterfall in the desert but that's exactly what they found at the end of Rattlesnake Gulch. Seeing that at the end of the day's run is totally worth the trip but seeing it with family makes it even better. Subscribe to On the Trail on YouTube here.