Exploring Texas Off-Road on Big Bend National Park's River Road
Whether you're native to Texas or not, Big Bend National Park should be on your list of places to drive to—and better yet, a place to explore off-road. Since many people think of vast, flat deserts when they think of Texas, it doesn't surprise us that the state doesn't hit hard for wheeling enthusiasts to visit for 4WD fun. But our latest episode of On The Trail proves that there's something for everyone in Big Bend National Park. In this first Big Bend episode we explore River Road, a maintained off-road trail that runs east/west through the park taking you to a number of the park's landmarks and offering spectacular views of the parks' diverse landscape.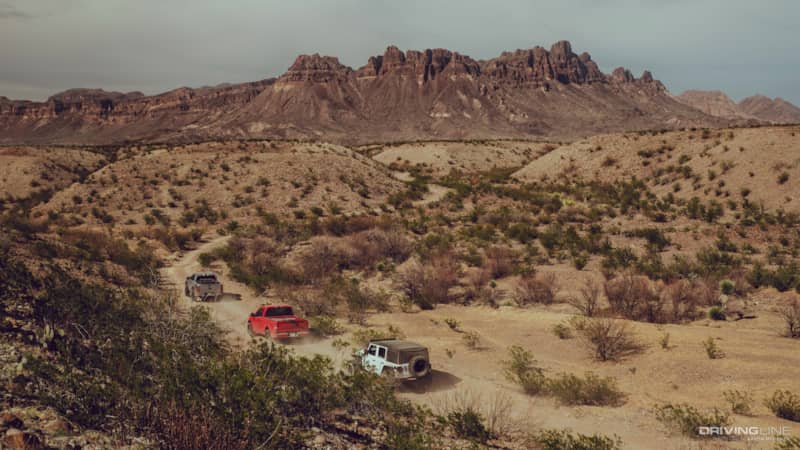 The fact that this is one of the country's most remote national parks, located in far southwest Texas, means that your off-road journey needs to begin before you even leave your driveway. Heading into the park's main headquarters at Panther Junction means leaving the last small town behind 70 miles prior. Most Texans have about a day's drive to get there, taking about 7-9 hours from any major metropolitan area in the state. Which may be why so few people go to Big Bend, it's one of the least visited National Parks in the country—which to us, makes it all the more alluring. Because it takes a while to get there, and is so large, plan to stay at least a few days to unplug and enjoy (did we mention there's no cell service in Big Bend?!).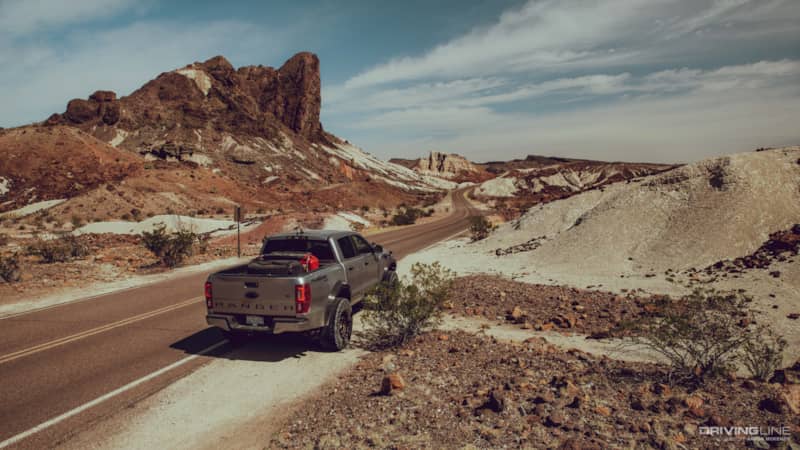 Safety in numbers is important in an area so remote, so bring a friend or two when driving Big Bend's River Road. On this trip I brought along a 2019 Ford F-150 4WD on Nitto Terra Grappler G2s. I was joined by Matt Moghaddam and his 2020 Ford Ranger and Scott Willeford and his 2018 Jeep JL Unlimited—both on Nitto Ridge Grapplers. This isn't the time to tempt fate and test the "better safe than sorry" adage—before heading out on the trail in Big Bend, ensure your vehicle is working well.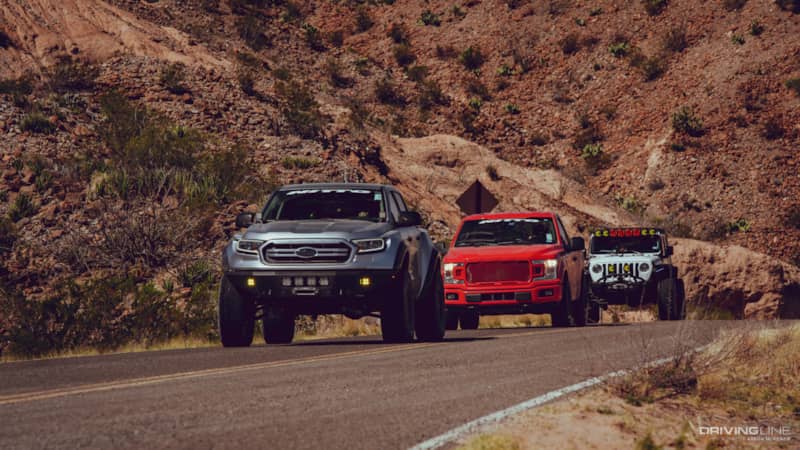 Vehicle/Trip Preparation
In preparing the F-150, I ran a simple engine check using Innova's CarScan tool to ensure there were no outstanding mechanical issues lurking. And as my vehicle was the only stock one of the group, I ensured I wouldn't have any clearance issues by removing the front air dam and the side steps. These are both easy tasks to complete in the garage before leaving home and provide extra clearance as well as ensure the parts won't get damaged by getting hung up on any obstacles on the trail. I also packed a box full of tools, spare fluids, tow strap and plenty of extra water because things can get very bad, very quickly in Big Bend's extreme environment. Fuel should be another consideration—while my F-150 has a range of over 300 miles, Matt's Ranger has much less, so he packed extra fuel just in case. We also all aired down our tires before heading off-pavement.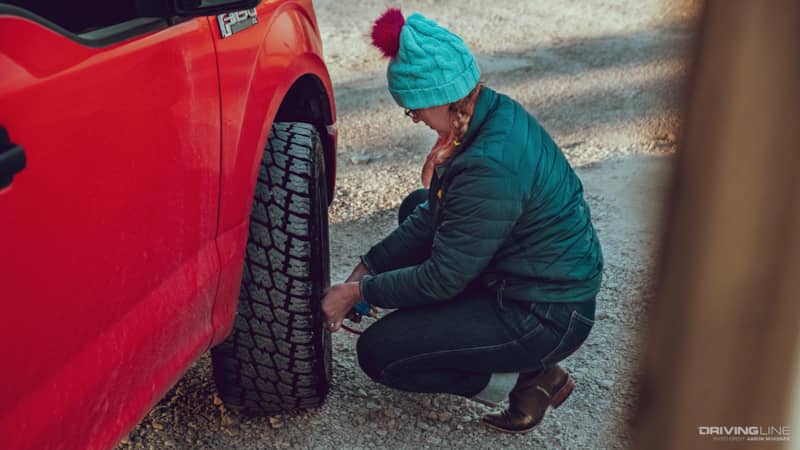 While River Road trail isn't technical wheeling, always plan for the unexpected addition of weather which can make the trail much worse than it is while dry. A high clearance, 4WD vehicle is recommended for River Road. During our journey, we saw just a few other vehicles ranging from dirt bikes to a Subaru and other 4WD trucks.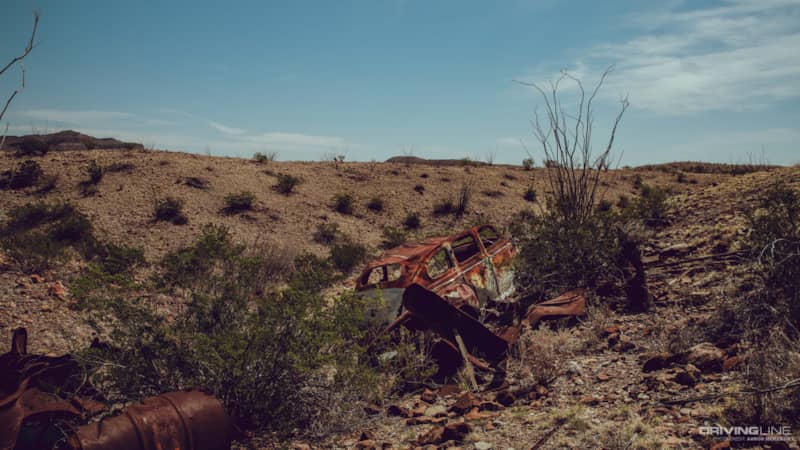 What to Expect
Getting to River Road is easy, you just need to decide whether you'd like to do just part or the full 51-mile route going either east or west (view the National Park Service's Big Bend map here). If you're planning to camp overnight along River Road, you'll need to stop in at Panther Junction Visitor Center to secure backcountry permits and reserve a designated backcountry campsite. We opted to camp near Terlinqua the night before, entering the park on the east side at Maverick Junction. This let us pass Santa Elena Canyon, towering cliffs carved by the Rio Grande, before heading off the pavement just past Castolon Visitor Center.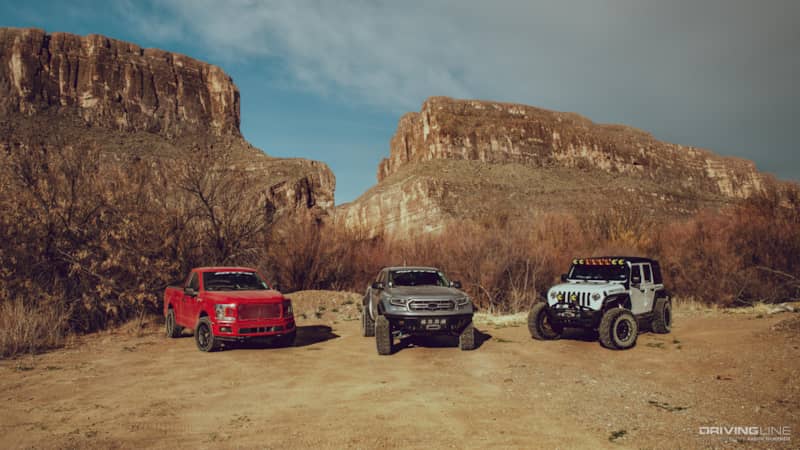 Great Beginner Off-Road Experience
To the reader who's just a beginner off-roader, or a complete newbie, with preparation and planning River Road can be a terrific trail to build off-road skills and get a taste for why wheeling and overlanding is enjoyed by so many. This was in fact, my first true off-road journey where I was driving my own vehicle. I was eager to experience for myself what the stock F-150 with some upgraded all-terrain tires could do. Having a truck or SUV may just be for flexibility in your daily life, but your vehicle can also provide a door to tons of opportunities to explore and get off the beaten path. On this journey, I was glad to be on the trail with a couple of experienced and capable wheelers like Matt and Scott.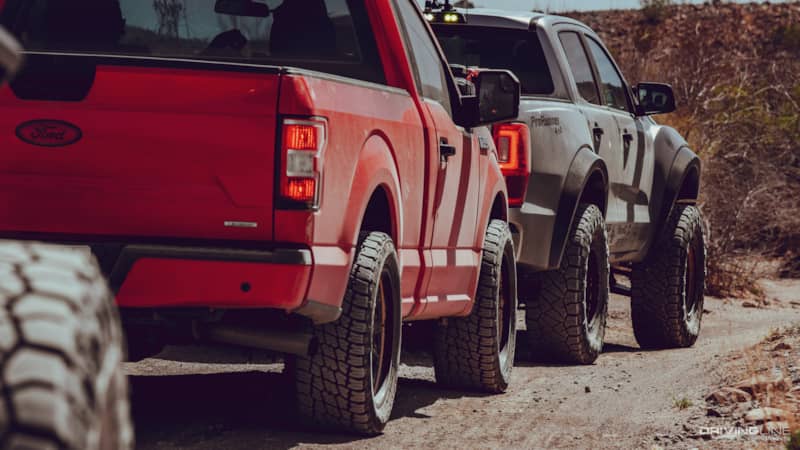 Once off-pavement on River Road, the terrain proved to be mostly a pretty-well maintained dirt service road. Weather conditions can change this, but in terms of technical skills needed River Road didn't challenge my beginner's off-roading abilities—but gave me great practice to build off of. There are trails within the park with more off-road obstacles, such as Black Gap Road which is actually one of Jeep's Badge of Honor trails, which we'll get to in the next episode.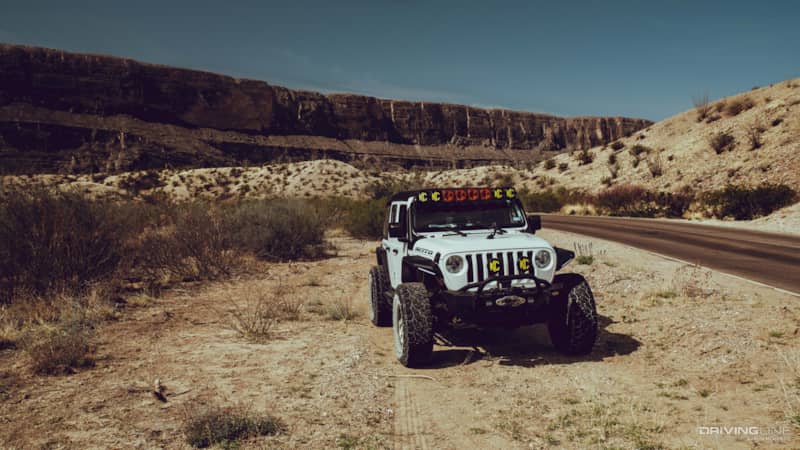 No Reason to Rush
Along River Road are plenty of places to stop and explore. From hiking trails to historic sites, with tons of changing geography and some wild animals too. Much of the area within Big Bend is part of the Chihuahuan Desert. While there are similarities between what you'll see in Big Bend and other desert areas, such as Joshua Tree in California, I found this area's vegetation to be much more abundant and varied. We stopped when we saw something interesting, breaking for lunch near one of the campsites that sits up against the Rio Grande River. Getting out to explore, it's surprising to realize as you look across it that the other side is Mexico. As such, visitors should know that it's against the law to cross. Also, it is not advised to swim in the Rio Grande, as agricultural deposits upstream make the water quality unsafe. However, it remains a beautiful and historic sight to see.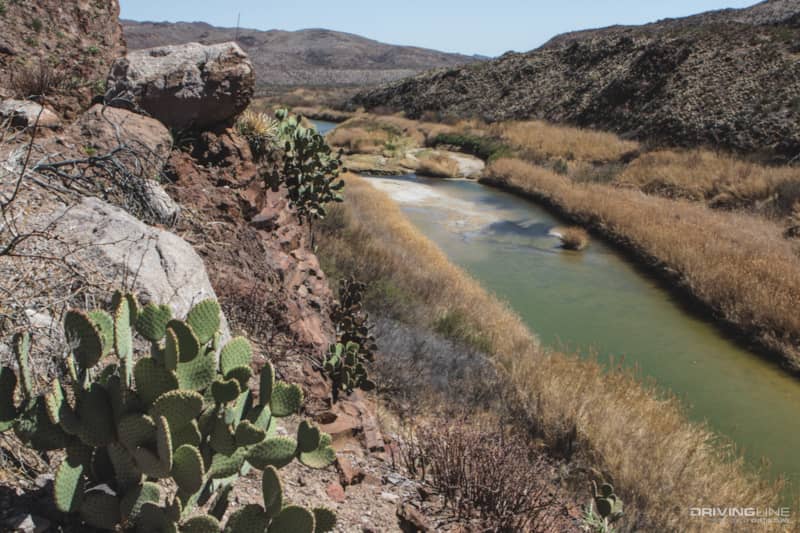 Throughout traveling River Road, we got fantastic views of the Chisos Mountains, the only range within the U.S. that's entirely within the confines of a National Park. These are a popular place to hike for visitors to Big Bend and are covered with coniferous trees at the peak. Early settlers in the area used the lower vegetation on the mountains to build structures with—as there was so little raw building materials to be found in the area. You'll find many early structures made of stone along the trail, offering a glimpse at a very different way of life than we know today.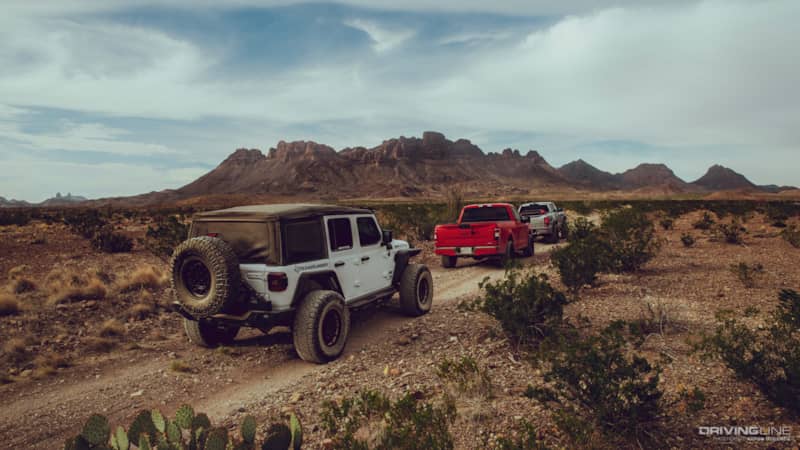 Trail End
Ending our day about 30-miles into the trail, which doesn't sound like a lot of distance but with so much opportunity for adventure along the way was the perfect amount to cover. Watching the sun set with the Chisos Mountains behind us was reason enough to make the long trek out to Big Bend National Park and do some wheeling.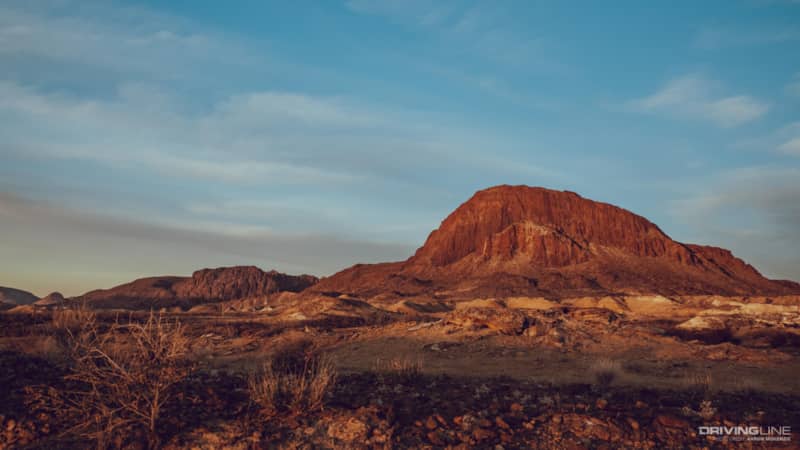 See even more of our adventure by watching Big Bend River Road On The Trail episode and stay tuned for more on Big Bend National Park 4x4 trails.