What is an All-Terrain Tire?
One of the fundamental components of any off-road vehicle is the tires. They're the final connection between driver the ground, and have to withstand the toughest elements, all while under thousands of pounds of load. What kind of tire you put on your off-road vehicle depends heavily on how you use that vehicle. Not long ago, it was common to have a "trail rig" that was dedicated to off pavement travel, and did minimal highway driving. These days, auto manufacturers are engineering their trucks, SUVs, and crossovers to handle the abuses of off-road driving as well as on road comfort right from the factory. But much of this engineering and design would be useless without all-terrain tires.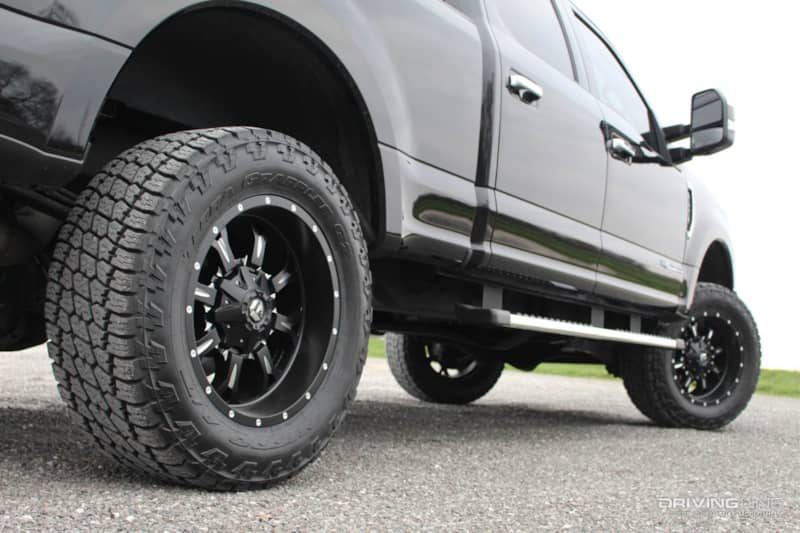 The secret to all-terrain tires lies in their dual-purpose nature. All-terrains walk the fine line between asphalt and dirt, designed for casual use in both scenarios. While they're not the lightest or quietest tire on the highway, nor the best suited for aggressive off-roading, they seamlessly transition from one terrain to the next without hesitation. With the rise of the daily driven, weekend warrior off-road vehicle, all-terrain tires like the Nitto Terra Grappler G2 have become the weapon of choice for enthusiasts who drive their truck or SUV to the trails, and back home. But this advantage is no fluke. There are several engineering elements to what makes an all-terrain a jack of all trades in the tire game.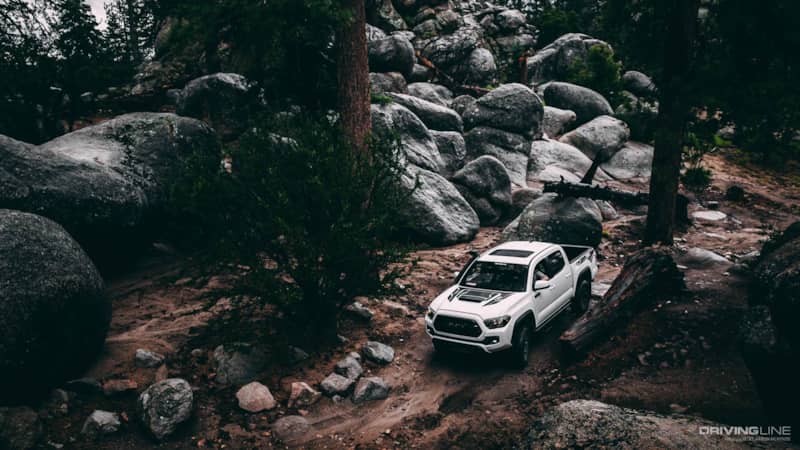 Tread Design
As one of the most visible parts of the tire, the tread is also one of the most important when it comes to getting traction both on and off-road. Traditional highway tires have tight gaps between their tread blocks, with very little depth. While this leads to a quiet and smooth ride on the highway, it's not at all ideal for the trials and tribulations of trail riding. Dirt, rocks, mud, and snow can easily become trapped between the tread blocks of highway terrains, effectively rendering them useless in terms of traction. All-terrain tires have a more open tread design, allowing the tread blocks to flex and "bite" the loose terrain below them, propelling the vehicle forward. The deeper spaces between the tread blocks allows dirt and debris to enter and exit without impeding performance. The sturdy construction of the tread design also means they're less susceptible to tearing or chunking over sharp and treacherous terrain.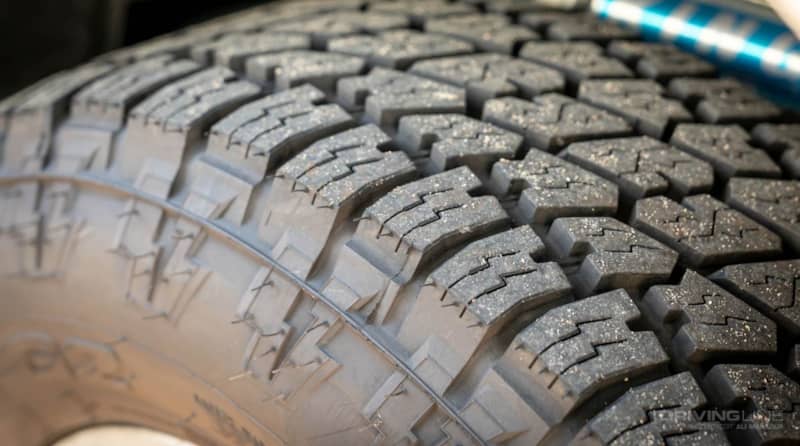 Sidewall Strength
One of the most often overlooked components of off-road tires is the sidewall. Not only is the sidewall of a tire responsible for keeping its shape under heavy loads and over uneven terrain, it's got to protect the tire from sticks or sharp edges that can cause a puncture. Highway tires traditionally have thin sidewalls, designed to hold the weight of the car, but have enough flex to provide a smooth and comfortable ride over the road. All-terrain tires amplify this effect with thicker, stronger sidewalls, designed to flex over foreign objects on the trail, but also offer better protection from the hazards of off-road driving. Getting a random stick through your sidewall is no fun, and can be dangerous depending on how fast you're driving on the trail. All-terrain tires like the Nitto Terra Grappler G2 have the strong, but flexible sidewall you need to safely and comfortably tackle the trail in your rig.
Towing Capabilities
All-Terrain tires also excel in activities normally seen on the pavement too. Do you find yourself towing a boat or RV to your favorite outdoors destinations? If so, you'll want to take a look at all-terrain tires for your truck or SUV. When it comes to towing, running proper load ratings are the name of the game. Nitto Tire has a wide selection of sizing to fit your needs. So, whether you're towing a light off-road teardrop trailer for a weekend in the woods, or a triple-axle toy hauler headed to the dunes on a family vacation, there's a Terra Grappler G2 for you. The real beauty with towing on all-terrain tires is the seamless transition from driving your truck unloaded on the highway, to fully loaded down on the dirt. All-terrains simply don't skip a beat.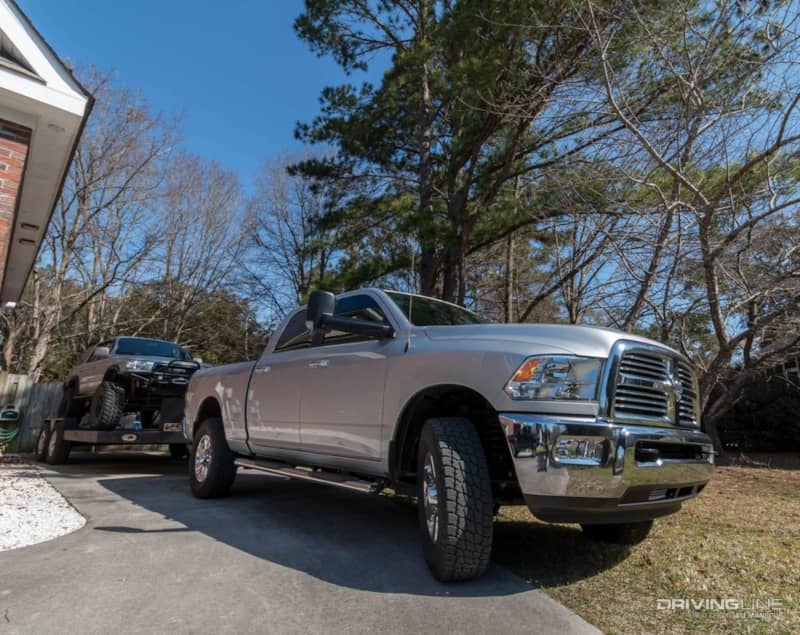 Sizing
The size of the tires you've got on your rig has every bit to do with its performance as the way it looks. Tire sizing is one of those important factors to consider when outfitting any vehicle, but becomes even more important in off-road driven trucks and SUVs. Not only does the right size tire fill in your wheel wells correctly, giving your truck a desired look, but it can mean the difference between getting up and over an obstacle or getting stuck. Highway tires simply lose against all-terrains in both of these aspects. Nitto's line of all-terrain tires come in every size, from a bone-stock vehicle without any lift, to a behemoth 37-inch Terra Grappler G2, ready to tackle anything on your lifted rig. A wide range of wheel sizes makes finding the right Nitto all-terrain easy for anyone.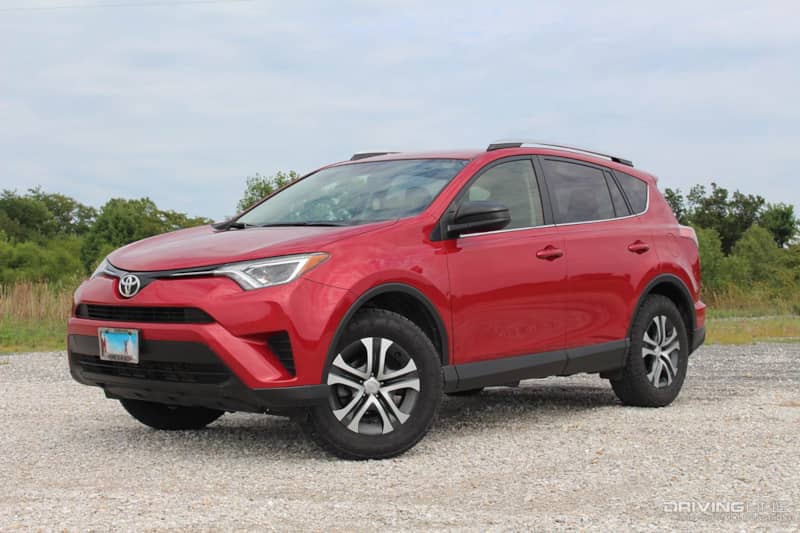 Ride Quality and Noise
Thinking about getting those mud terrains just because they look cool? If you don't have the need for extreme off-road traction, you might want to think twice before pulling the trigger on them. All-terrains are the silent assassins of the off-road tire world. The Terra Grappler G2's tread design is computer engineered to reduce on-road noise while traveling down the highway, without sacrificing any off-road traction. This is what makes them the most popular choice for most off-road enthusiasts who drive their rigs on the road, too.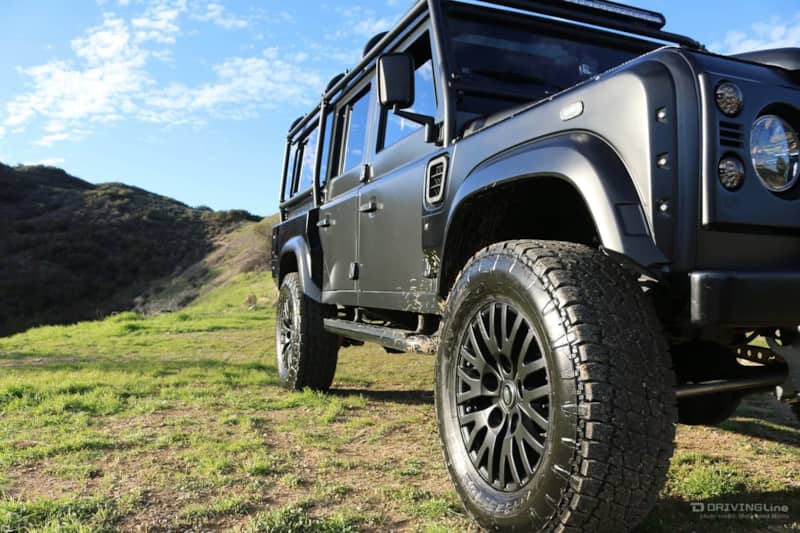 Lifespan
There's a common misconception that off-road tires don't last as long as highway tires do. This is simply not true. How long your off-road tires last depend much more on how they're engineered, and your commitment to maintaining them. With proper inflation, regular tire rotations and balance, all-terrain tires can last well over 50,000 miles before needing to be replaced. This is a huge advantage of all-terrain tires like the Nitto Terra Grappler G2, and it can even help you save some coin in the long run. But beware, not all all-terrains are created equally. Nitto's unique spiral-wound technology gives the Terra Grappler G2 the leading edge in construction, which makes them some of the longest lasting all-terrains in the game.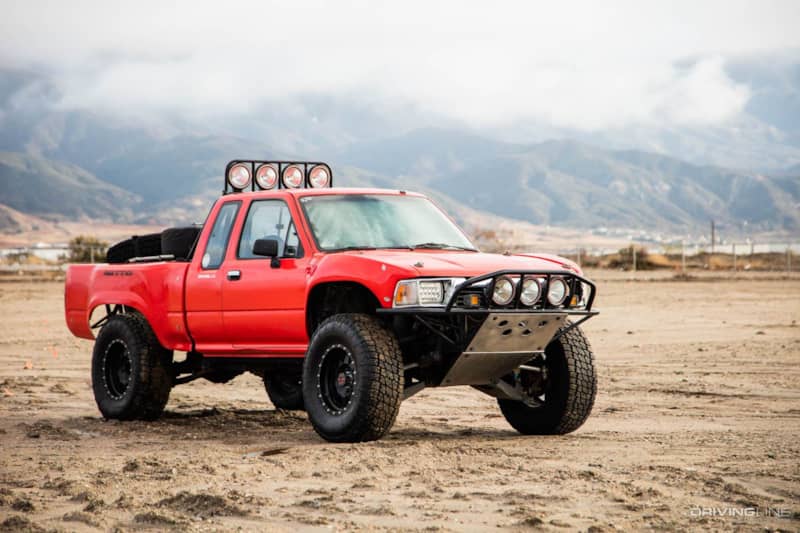 Before committing to a new tire for your truck, crossover, or SUV, it's best to identify exactly what kind of use your vehicle will see. If you find yourself driving to work during the week with it, but want to explore your local trails or go remote camping on your spare time, all-terrain tires are an excellent choice. Their dual-purpose performance gives them the edge on the asphalt, dirt, rocks, gravel, sand and snow, making them the perfect choice for your active lifestyle. If you're in the market for a new set of tires on your truck, crossover or SUV, head over to Nitto Tire's website today and find the perfect set of all-terrains for your next adventure!
Click here to read about the difference between All-Terrain (A/T) and Mud-Terrain (M/T) tires.