Field Tested: The Warn Drill Winch Review
We love tools that make life easier. Our garage is full of specialty tools and equipment we've collected over the years. Some items we buy for a single job then never use again, while others become frequent members of our trail tool kit. If you're a regular "Driving Line" reader, you may know that we spend a fair amount of time playing in the dirt at Old River Farms in Burgaw, North Carolina.
With over 400 acres of land to keep up, the Lanier family farm is constantly servicing equipment and maintaining the grounds. Occasionally, they have to rescue some of their equipment that falters in the field. So, they've become accustomed to hauling around an assortment of tools. Given that there isn't always a second set of hands close by to wrap up a job, they are often looking for helpful tools to make working solo more efficient and easy.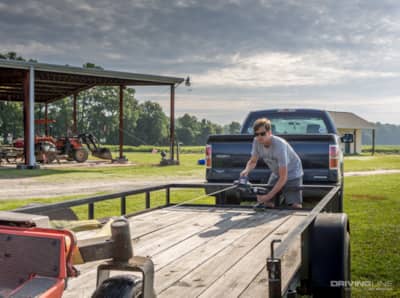 Recently, they picked up a new tool from Warn. It's called the Warn Drill Winch. Yes, it's made from the same Warn known for premium self-recovery vehicle winches and bumpers. As the name implies, it's powered by any standard portable drill and is capable of pulling 500 pounds.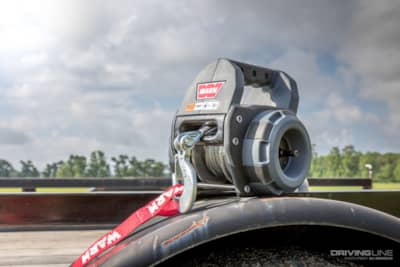 The winch is fit with 30 feet of wire rope and has a built-in fairlead. To use, simply attach a drill and go. There's a built-in brake, so if the drill quits (battery dies) mid-pull, the load won't roll free. How powerful the drill is will largely dictate the speed of the winch. The Laniers have a few 24-volt Kobalt drills that have served them well around the farm for years.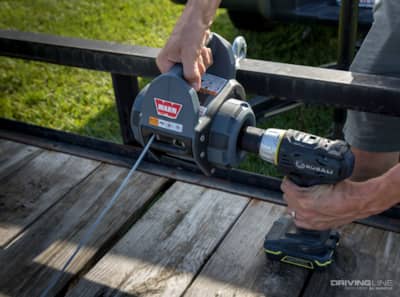 Similar to a standard vehicle recovery winch, the Drill Winch has a free spool and "engaged" setting.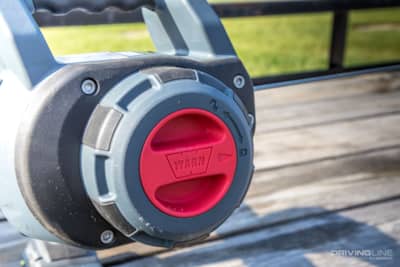 The owner of the Farm Jeep we've shown you in past, Michael Lanier, was dragging a riding mower onto a trailer when we stopped by the farm. While we wouldn't consider it lightning fast (partly due to the drill), we were impressed with how easily it dragged the mower on the deck. Since it comes with rigging hook at both ends, there's not a lot of extra gear needed to pull most equipment they need moved.
Given it's small and light enough to toss in a tool box, the Drill Winch has become a pretty handy tool all-around. We're told it's also helpful in the garage and makes for a nice portable winch for moving a small Jon boat around. We thought it was a pretty neat tool, and hopefully some of you might find it useful as well.