Finding New Trails at Ocotillo Wells SVRA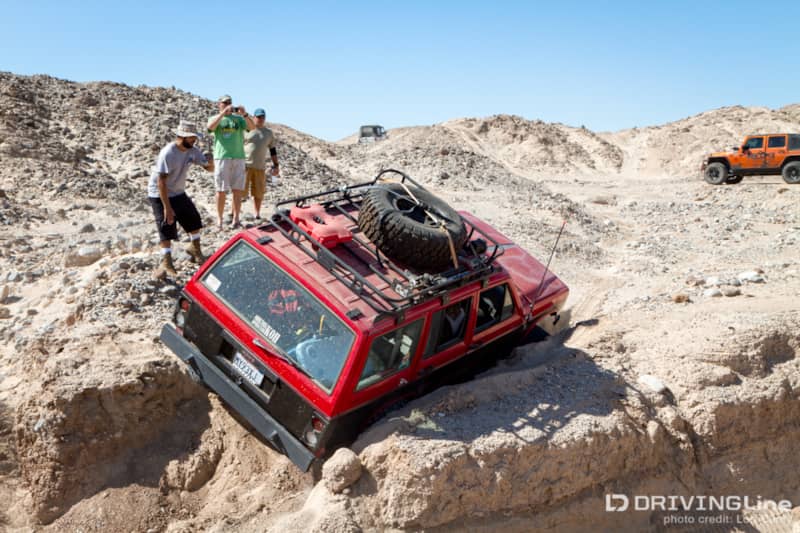 Here in Southern California, Fall is the official start of the desert off-road season. This year I kicked things off by attending Operation Desert Fun in Ocotillo Wells at the Truckhaven 4x4 Training Center. ODF is a fun charity trail run and raffle event hosted by the California Association of 4WD Clubs every year to raise money for the Paralyzed Veterans of America, Cal-Diego Chapter, and I volunteered with 4 Wheel To Heal to bring some Veterans out on the trails. Ocotillo Wells SVRA (State Vehicular Recreation Area) is located near Borrego Springs in the Colorado Desert of California. Pronounced "oh-cat-tee-yo", this is  a favorite destination for off roaders of all kinds because it has 40,000 acres of open riding areas and is bordered on the south and east with vast tracts of BLM land which are also open to off-highway vehicles. On the western side it connects with Anza-Borrego Desert Park, which although is not an OHV area it does have trails open to street-legal vehicles.  There are no entrance or camping fees here, and open camping is permitted for up to 30 days per calendar year. Off road events are usually held at the Truckhaven 4x4 Training Area. The Training Area was added in 2011 and consists of 22 obstacles built from tires, logs, tubes and boulders sealed together with Shortcrete. There are restrooms, a shaded area for spectators and a very large flat area for camping. Read about the training area from a beginner's perspective in this earlier DrivingLine article.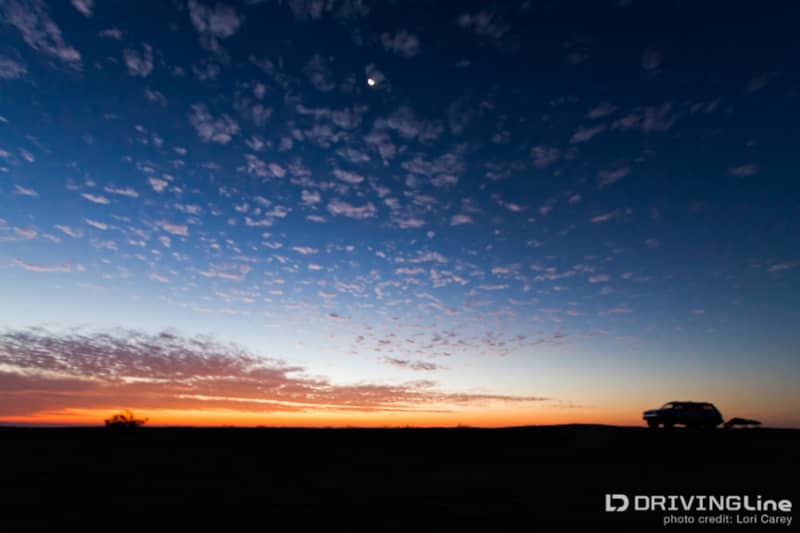 The wind and the sandstorms can be brutal in this area so most people camp in trailers rather than tents. Despite the sometimes rough conditions, nothing compares to waking up to the sunrise over the nearby Salton Sea. This entire area was covered by sea four million years ago, and the unique terrain of Ocotillo Wells has been used in five major films, including Into The Wild and the X-Files series finale.  The terrain consists of soft sandy washes, steep mud hills, blowsand, canyons and badlands. The main trails throughout the park are well marked and there are plenty of open play areas. There is a variety of unique geological features to see such as Shell Reef where you can find a five-foot thick layer of fossilized shells, the Pumpkin Patch which is an area of stone concretions that look vaguely like pumpkins, and the Gas Domes where a constant stream of gas bubbles up through a waterhole that remains wet year round.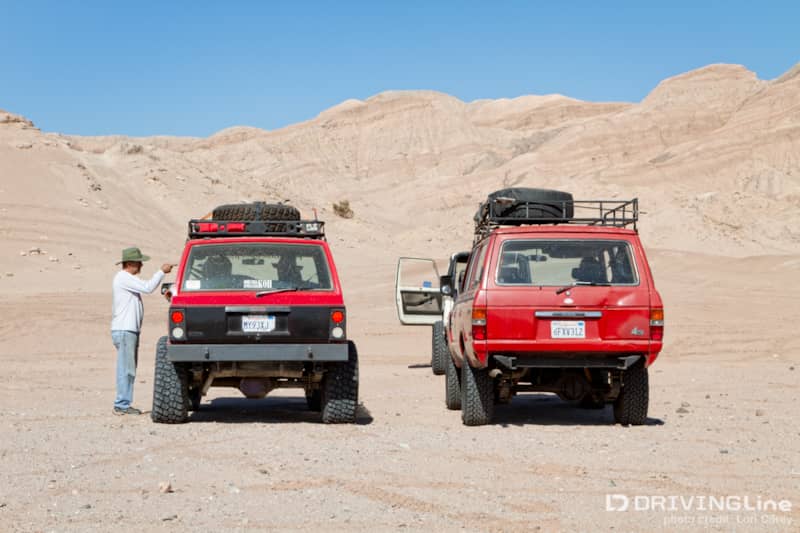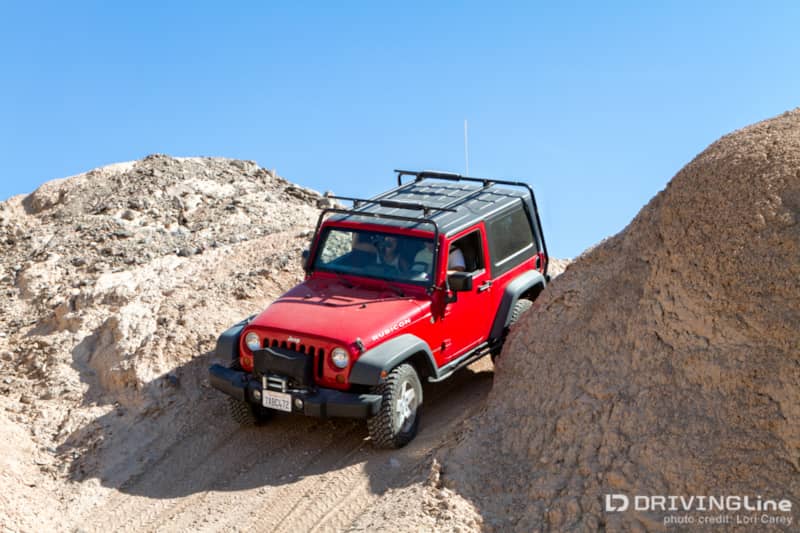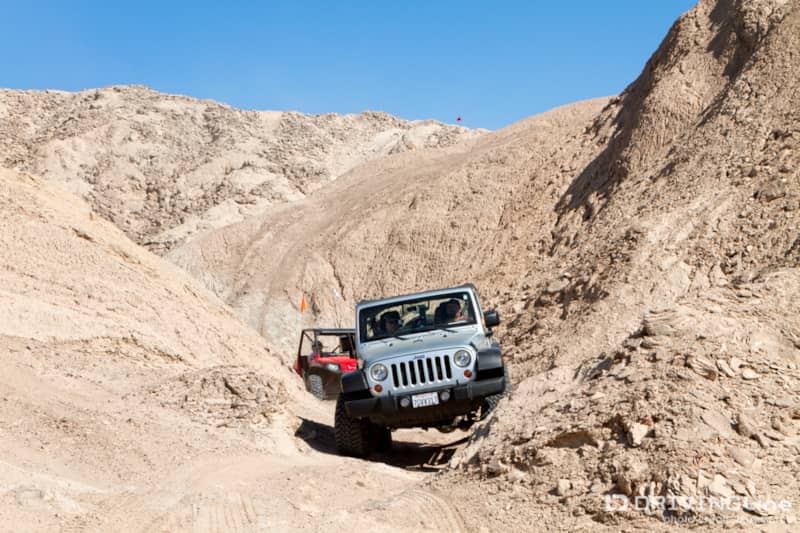 Since many of us had been here many times, we begged our trail boss to take us someplace we hadn't been before. He said that he knew just the place and led us off into a wash behind the Training Center. Soon our group of Jeeps, UTVs, bikes, quads, and Suzukis were navigating our way through tricky steep off camber ascents and descents in the hills. The trails in this area are not named; just head for the hills behind the Training Area and you will see the tracks. The ride was more thrilling than a rollercoaster and I had to hang on for dear life through a few of the spots. I was a passenger on this run and at one point the driver shouted "Everyone lean to the right!" because he was concerned that we might roll over as we descended a steep hill.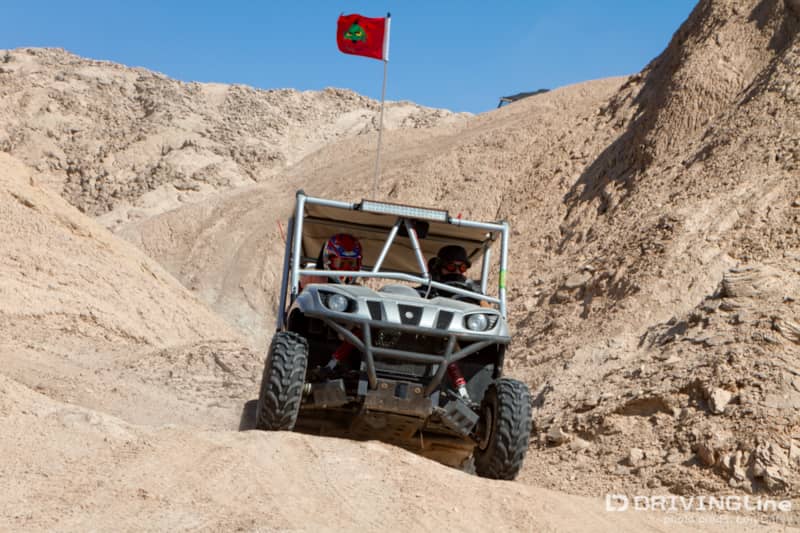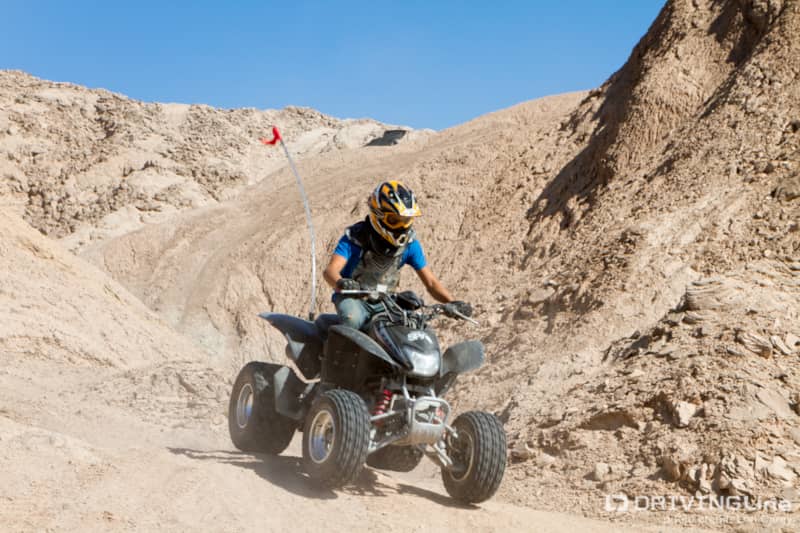 The terrain here is very soft and some of the passages were a tight fit for the full sized rigs. UTVs, quads and bikes have a much easier time navigating the trails in this area.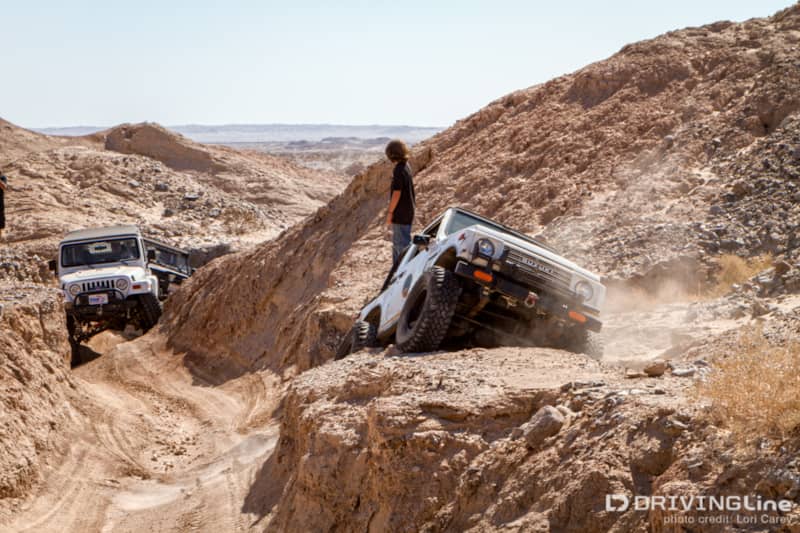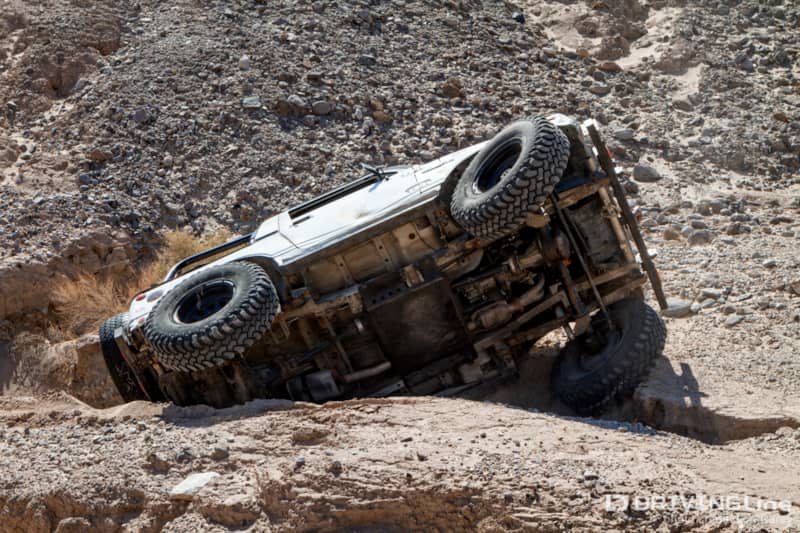 A few of the guys decided to test their skills in an extremely narrow and twisty wash as the rest of us watched.  Our trail boss was first in a Suzuki and he made through it with no problem until he decided to take the "extra-credit" line through a narrow crevice out of the wash. The exit route wasn't wide enough for both sets of tires and his rig took a side flop. His skills were impressive as he somehow managed to back his rig up while it was lying on its side with traction going to only one tire. He got it back on all four tires without any assistance, took another run at it and made it out.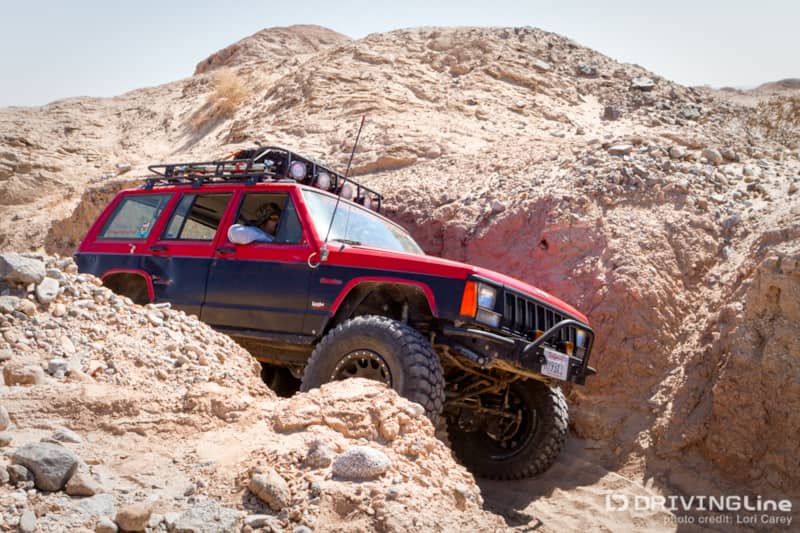 Our tail gunner Suzuki was next and he made it through without incident since the exit route was now established. Then a full size Cherokee took a run at it. After making it through the sharp turn without the body damage he feared, he made the exit route look easy. No one else was willing to risk giving it a try so we moved on.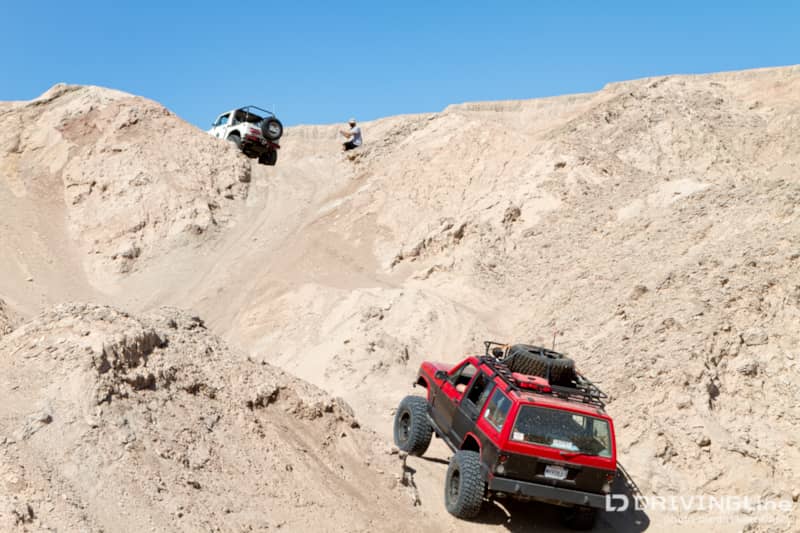 Eventually we reached a very steep hill that had no tire tracks and our trail boss climbed to the top to check it out and see what was on the other side. He reported back that the climb was extremely loose sand and a bit concerning. After a brief drivers' meeting to discuss with everyone, half of the group decided to proceed and half the group decided to turn back. Everyone who attempted the climb made it up safely without a problem, and they circled around to join the rest of the group as we returned to camp to escape the desert heat. Ocotillo Wells SVRA has something for drivers of all skill levels. It's not the place to go if you are looking for a quiet location away from the crowds because it is extremely popular with the OHV crowd and has a party atmosphere on weekends and holidays, but it can be a lot of fun if you go with a group of friends and are looking to put your off road skills to the test. You can find more information about Ocotillo SVRA, including amenities and services, at the California Park Off-Highway Motor Vehicle Recreation website.