Flying Under the Radar: 1987 Oldsmobile Cutlass Restomod Custom
Story By Mark Masker
Photos By
If you really want to test the judges at a car show, enter something subtle. Any car or truck enthusiast can look at something big and flashy that's customized to the gills and tell you it's cool. But a stealthy entry, like this 1987 Oldsmobile Cutlass Supreme, takes deeper knowledge and more perception to fully appreciate.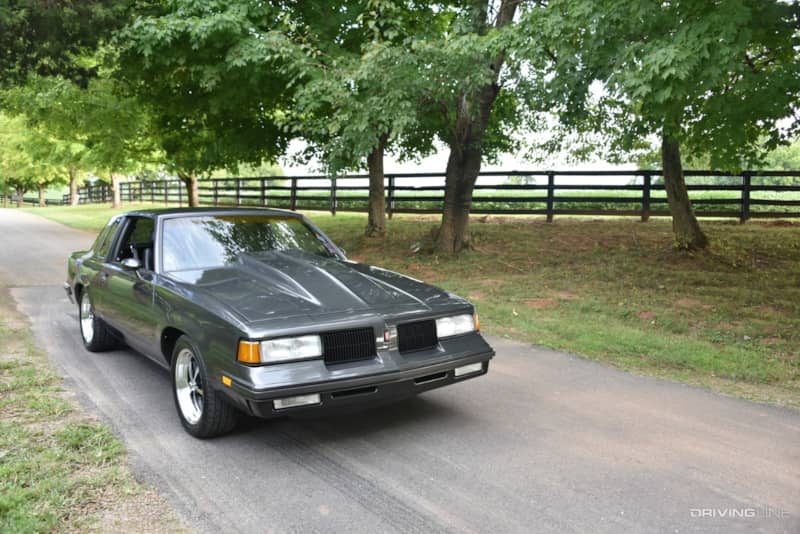 More often than not, when Scott Julius of Doozer Hotrod Designs enters it at a show at least one judge outs themself by proclaiming, "That's a stock Cutlass!" No, Oh Pretentious One. It is not. And if you took the time to really look at the car (and maybe learn what is and is not stock on an `87 Cutlass), you'd know that. See, when Scott went to resurrect the muscle car from a rusty corpse, he laid in subtle customizations throughout that add up to a pretty cool custom car. If you know what to look for.
The Way of the Gunmetal
And he knew what he was looking for from the get-go. "I have an art background. I knew what I wanted when I went in. The original scheme was a two-tone like on the Eleanor Mustang. Once I learned how much it cost for re-chroming, though… I loved gunmetal colors so I changed my plan. Gunmetal metallic and black trim."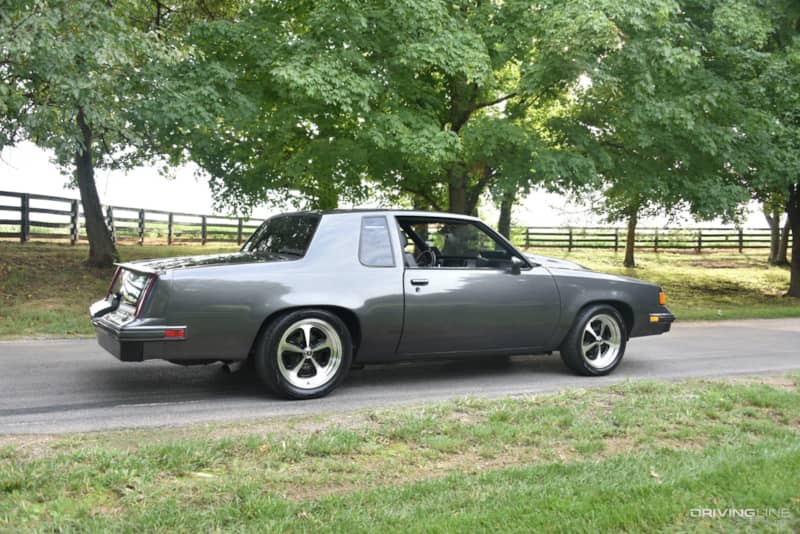 Scott wanted the Cutlass to be something different but with subtle changes so it still looked factory. Part of that comes from inspiration from a legend. "Growing up, Chip Foose was an idol of mine. He'd make it look like his projects came from the factory," Scott says. "I smoothed it out, and added lots of body modifications that most people don't notice but those who know that era do." The job also took a lot longer to do than most other restomods (nine years) but it was a complete body-off-down-to-the-nuts restoration. "I didn't build it to win trophies. People put $200,000 into a car just to trailer it around the country. I did it because I needed to do it."
The Accidental Resto
Obviously, the car wasn't exactly in mint shape when Scott got his hands on it: "This Cutlass was my first car. I've had it since `01. It's a resto that got started on accident." It was living at his brother's house, waiting for suspension parts back then. In the course of peeling away the vinyl top, rust reared its ugly head on the panels. Scott had a new baby at home, though. There was no way he could afford the project but his brother said they'd get it done. Two weeks later, they had the car stripped. That's how the restomod started.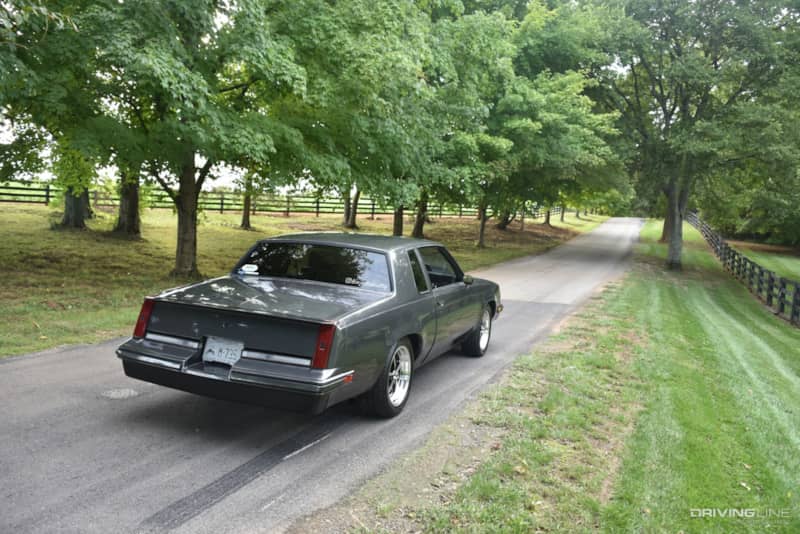 All along the way he fought the classic battle of creativity versus cash flow, the biggest challenge of the whole build. "Honestly, the biggest problem was the money. It's not everything but it helps. When I started on the car, I called it Project Overtime. They'd all laugh," he continues. "Between the baby, the house and house issues, money was a problem. The car got put on the back burner because of stuff like that. But I don't give up on things. I worked on it little by little, worked extra five or six hours a week. The extra bits of money would get put to the side to slowly build it out. A lot of stuff I got from the junkyard, like the roof skin swap, engine parts, and panels. Determination helped push me through to get it done."
Clean Slate
That spirit came in real handy all throughout the process. Especially when it came to the engine. He had a devil of a time getting everything just right but in the end he emerged not only victorious but also with a sense of pride. "The engine bay is one of my favorite parts. I worked really hard on that to make it look as clean and tidy as possible," he says. "I made my first engine swap at 18 or 19 years old. It was a wreck with wiring everywhere. It ran, but it looked awful. That was a real learning experience. So when restoring this car, one of my big things was making it look as clean and tidy as possible within my means. LS engines are notoriously ugly ones with lots of wiring. It's a huge thing to do."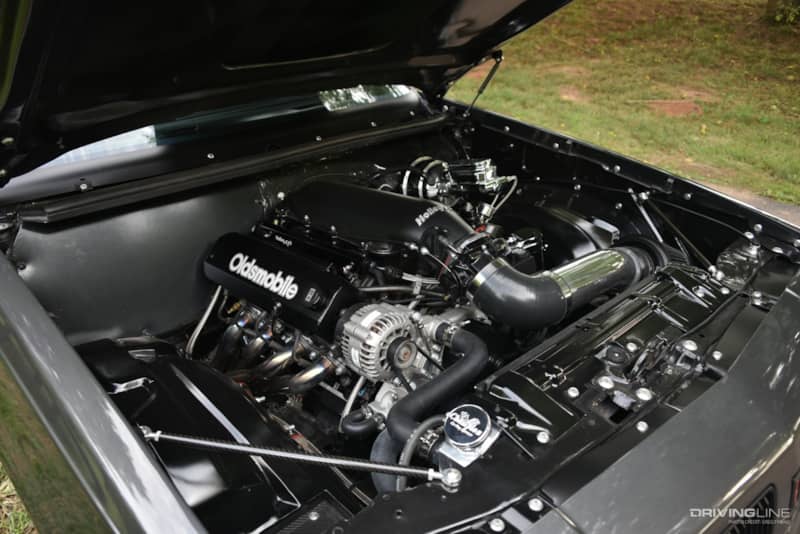 The LS in this case is a 325-inch LM7 with a Tick Performance Stage 1 cam setup, stock valves, BTR .660 springs, and Straub roller trunnion rockers. An HP Tuners EFI tuner manages mixture flow into the engine while Speed Engineering stainless headers with Pypes full stainless exhaust and Street Pro mufflers expel the gasses. The engine stays lubricated thanks to a Melling Oil pump and a Hummer H3 cooler.
A 4L80E transmission with Hurst V matic 3 shifter and Transgo HD2 shift kit sends all 415 peak ponies to the American Racing VN501 wheels and Nitto NT555 G2 tires. 
Rounders
And Scott's no stranger to the NT555 G2 ultra-high performance tire. "Honestly, number one, I really like the history of the Nitto tire. They've always been a good high-performance tire. I'm real big on the looks of it; the tread design.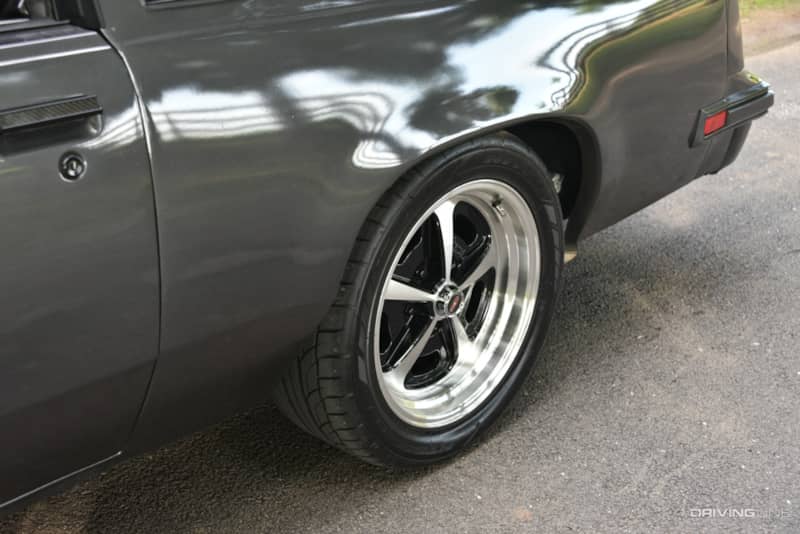 I'm not driving this car daily so I want a tire that looks cool and fits the body style of the car itself," he says. "I looked at a bunch of tires and kept coming back to the 555. It's real blocky like the G-series cars. So I wanted a tire tread to match that. I've had different model Nittos on my cars and no complaints about any of them. I've had issues out of other tires I've ran. It was kind of a no-brainer for me. If I want to run a drag radial, they have one in the perfect size that's gonna match."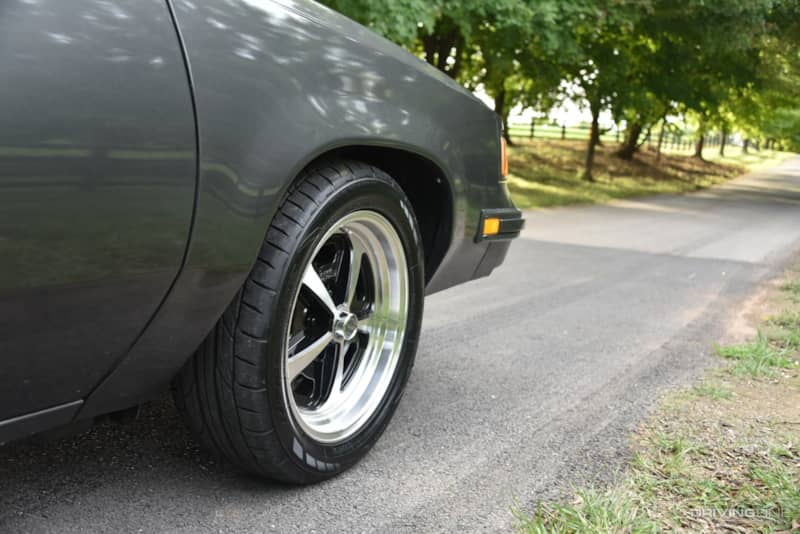 Scott gave stopping duty to Chevy Blazer dual piston front brakes with Powerstop pads and rotors and stock GM drum brakes in the rear.
Body Count
All of these upgrades are home in the original G-body chassis from 1987. Which, in Scott's mind, is a bit underrated. "G-body cars are black sheep of the muscle car era. They don't get the respect they deserve, I think, unless it's a Grand National," he elaborated. "I told my wife, 'If I had a Chevelle and built it to this level, people would drool over it' because they have that pedigree. I'd clean house everywhere I went with it."
While the bones may be stock, they're running new Prothane polyurethane body bushings and a much better suspension kit. Scott swapped in BMR Suspension tubular A-arms up front. It's matched at the back with BMR Suspension tubular and boxed trailing arms, UMI Shock brace, and trailing arm mount braces. Both ends pack Koni shocks with Hotchkis 1-inch drop springs.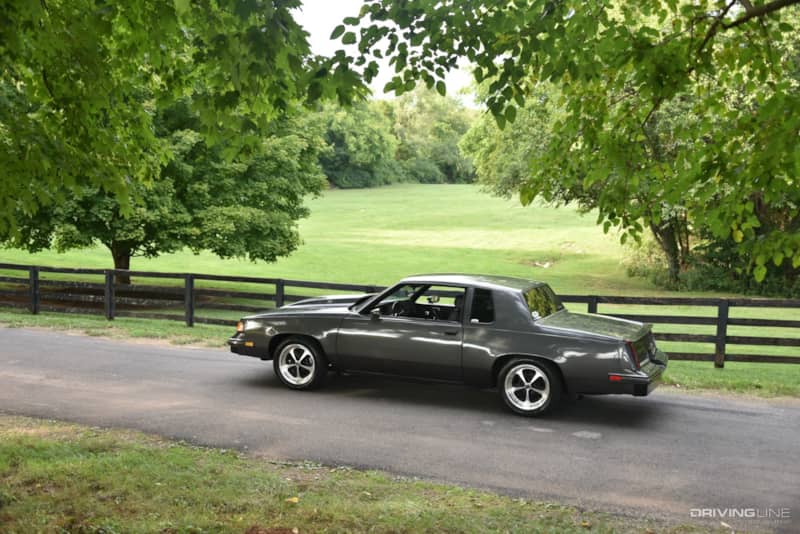 The changes at the bodywork level are much more subtle, though. Scott installed Sherman Quarter panels but the bumpers were shaved down and Evercoat Rage Body Filler was worked in to take care of some of the damage wreaked by time. Pay attention to what you're seeing and you'll notice the carbon fiber trim sprinkled throughout, too. But the lighting upgrade isn't readily apparent until you turn them on. That's when the Sylvania ZXE driving lights and LED auxiliary lighting come into play.
Gray Anatomy
If you really want to see how subtle this car is as a custom, look to the paint. To the casual observer it might come across as a charcoal gray. You can't get much more neutral than that, right?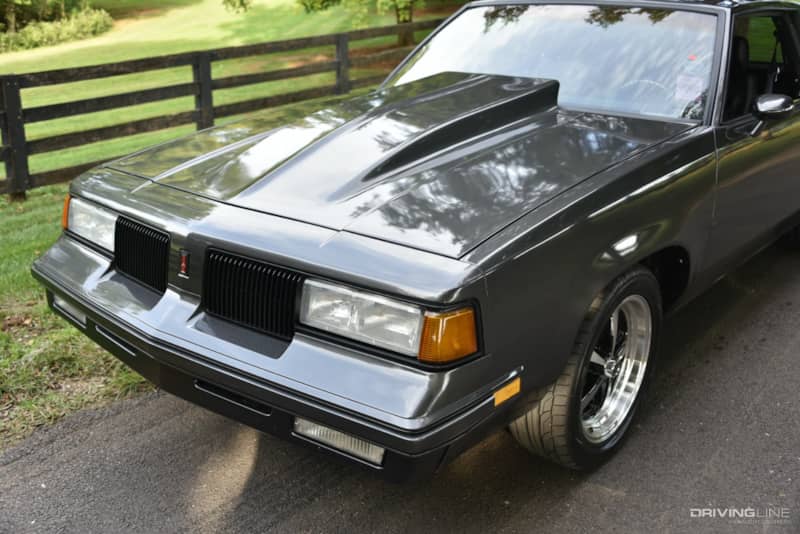 Zoom in closely on it, though, and you start to pick up on its metallic quality. That's due to the PPG Magnetic Metallic and PPG DC4000 High Velocity clear.
Inside Man
What are less subtle are the changes on the interior of the car. Scott swapped to Procar Elite seats by Scat, bringing a sportier vibe to the Cutlass and improving ergonomics in one swoop. The new Forever Sharp steering wheel brings racing style to the cockpit and the modified Monte Carlo console he chose. That last is home to a Innovate Motorsports SCG-1 Wideband boost controller, Autometer Sport Comp 3-3/8-inch speedometer and tach, Autometer Sport Comp 2-1/16-inch oil psi and temp, water temp, fuel, voltage, and trans temp gauges. He also updated the floor with ACC Mass backed carpet, to boot. But for as cool as the interior is, what really levels it up may be the "factory" stickers. Scott has a retired buddy who used to work for GM and had access to the OG sticker templates. He printed out new stickers with those templates but used the car's current stats instead of the stock ones. That's a level of detail you don't see every day.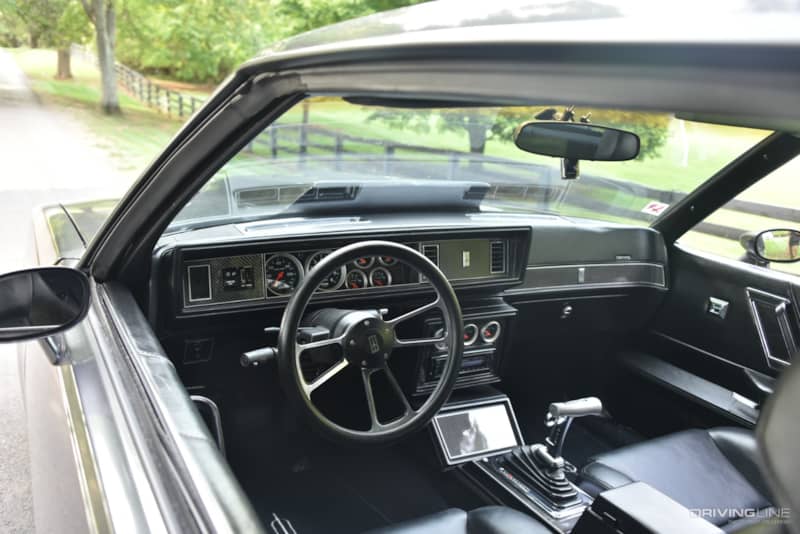 In the end, all of this hard work and patience pays dividends not just in the form of a really cool restomod, but also the great sense of pride Scott Julian takes in this car and the work that went into it. "I'm proud that I did a lot of it myself, honestly. I take pride in this car and being at a show and hearing, 'Who did this?' and being able to say, 'I did that' is great.
And, now that the Cutlass is finally complete, he and Doozer Hotrod Designs can start picking up more work (and turning out more cool cars).