Jeep Gladiator vs Jeep Wrangler: Which Is Right For You?
Shortly after trading my 2018 Jeep Wrangler Unlimited Rubicon JL in on a 2020 Jeep Gladiator Rubicon, I was routinely asked to compare the two. I am still genuinely surprised at how many Wrangler owners are considering making the leap from the classic SUV to the new midsized truck. After all, the Wrangler is proven a proven dual-purpose vehicle, and for many asking, is often the one already parked in the driveway. While both vehicles have plenty of similarities, make no mistake, the Gladiator isn't "just" a Wrangler with a bed.
Having made the leap myself, and logged thousands of miles on both platforms, I feel I am finally at a place where I can truly give you my sincere take on the highs and lows of making the move to the truck. So, let's dive in.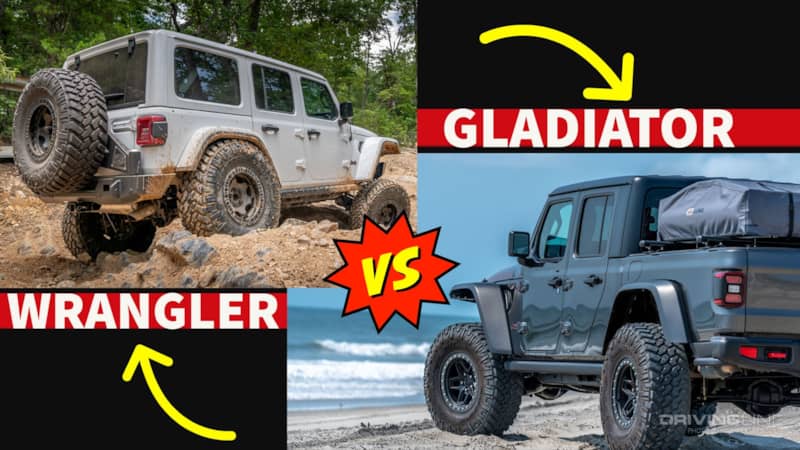 The Bed
Let's start with the most obvious case for swapping to the Gladiator- the bed. For me, this was an absolute game changer. I find I'm constantly hauling something either too big or dirty to fit inside of an SUV. At five-foot, the bed is plenty for my needs. It has enough room to carry up to a 40-inch spare tire and I've never had an issue finding a spot for all of my family's gear when headed out of town. With plenty of bed covers and racks to choose from, the versatility of the Gladiator's bed makes it far more practical than the Wrangler for my needs.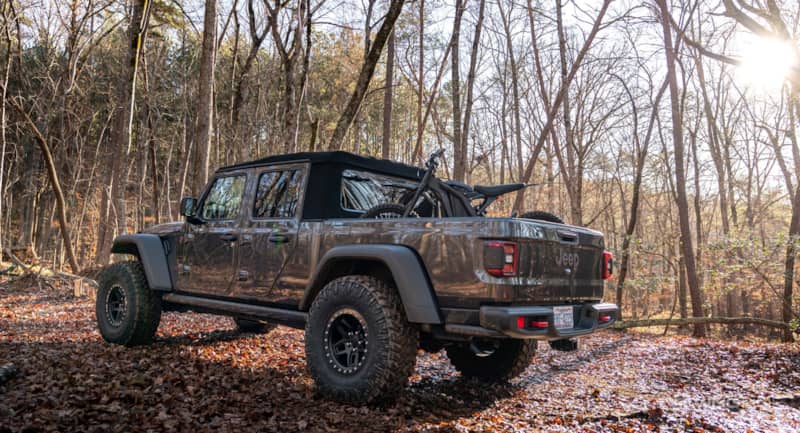 Wheelbase
The Gladiator has a 137.3-inch wheelbase, while the JL Wrangler Unlimited is 118.4 inches. That 18.9 inches of extra wheelbase doesn't make a measurable difference on-road, but it is something you are going to immediately notice off-road. I've driven my Gladiator Rubicon with 33-, 35-, and 37-inch-tall tires. As you would expect, the taller tires help tremendously to compensate for the long wheelbase. However, even with 37s, I still hit the belly of the truck far more often than I ever did in the Wrangler. Having spent time with both platforms on the same 37x12.50R17 Nitto Trail Grappler, I will say that I prefer the maneuverability that the Wrangler's wheelbase provides on the trail over that of the Gladiator.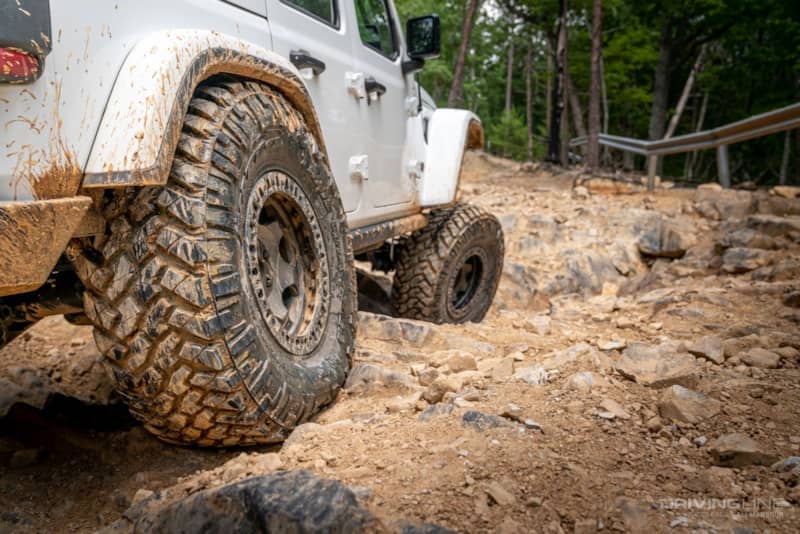 Length
The Gladiator boasts an overall length that is nearly three-feet longer than that of a Wrangler Unlimited. For most daily driving activities, it's not something I notice. I found both are easy to navigate no matter if I am battling mini-van hell at daycare or driving to the parts store. On the trail, it's a different story. While it has happened, I rarely hit my rear bumper on the dirt with the Wrangler. The Gladiator on the other hand. Well, let's just say the receiver on the back is by far the most abused piece of metal on my Gladiator. Lifting the Gladiator helps with the breakover angle. However, even with 37s and 3-inches of lift, I hit every time I go to the mountain trails. It's one of the reasons I am looking to increase the tire size and potentially lift the Gladiator even higher. With my Wrangler Rubicon on a 2-inch EnduroSport lift and 37s, I rarely got hung up or found myself wanting more lift. For serious wheeling, you'll need to pump some considerable money into the Gladiator, where the Wrangler doesn't require as much.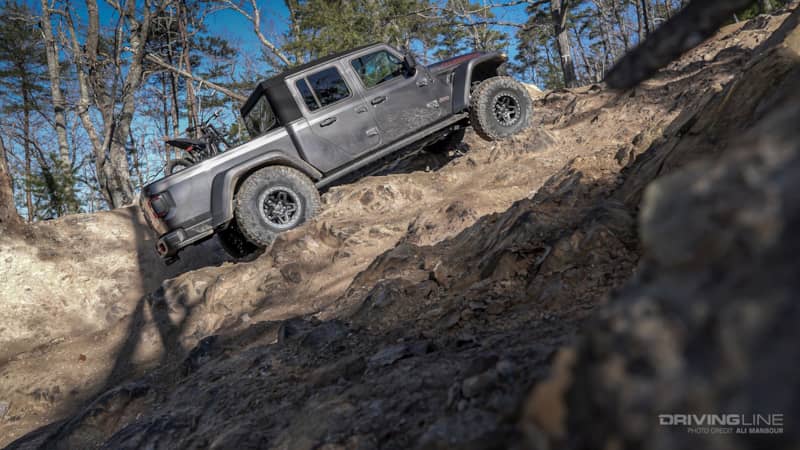 Stop and Go
Both my Wrangler and Gladiator came with the 3.6L V6 backed by the eight-speed automatic. Stock for stock, the Wrangler feels a touch faster, but not so much it would draw me to one over the other. The Wrangler did a slightly better job of holding overdrive when I moved up to 35s and eventually 37s, but had I kept the JL much longer, it would have received the same 4.88 gear ratio that was eventually put in my Gladiator. The big difference between the two platforms here is in the braking department. The Gladiator brakes feel so much better. Almost night and day better. My JL pedal always felt a bit spongy. Never once have I felt that from the Gladiator platform.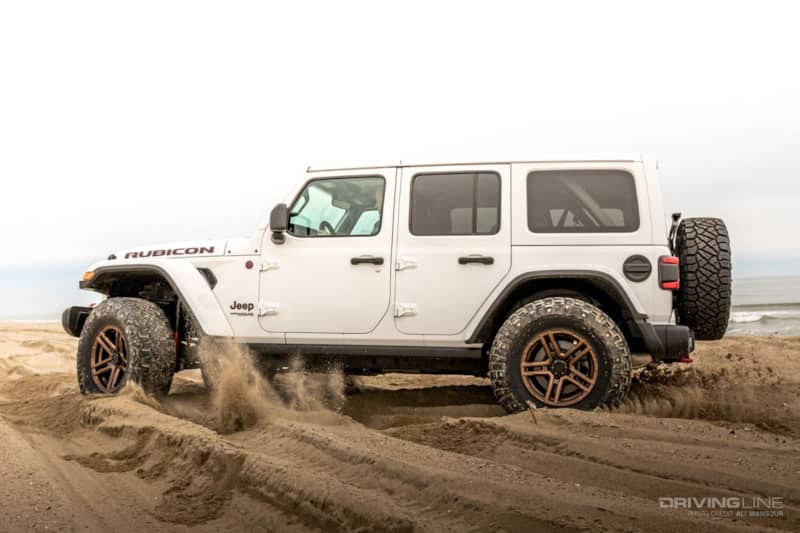 Interior
There's very little difference between the two vehicles in the front interior layout. However, I have found that the room under the backseat of the Gladiator is extremely handy. Sure, you don't have the additional built-in covered cargo space the Wrangler gives you, but a bed cover solved that need for me personally. I have two kids. One in a booster seat, the other in a fullsize car seat. Both fit great and have plenty of room for their legs. My smallest child was still rear facing when I purchased the JL and it was a tight fit for sure. Given the booster seat is easily removeable (faster than the latched car seat) it makes accessing the under-seat storage easy. The Gladiator has less of an echo with the hard top on as well, but both platforms have wind noise.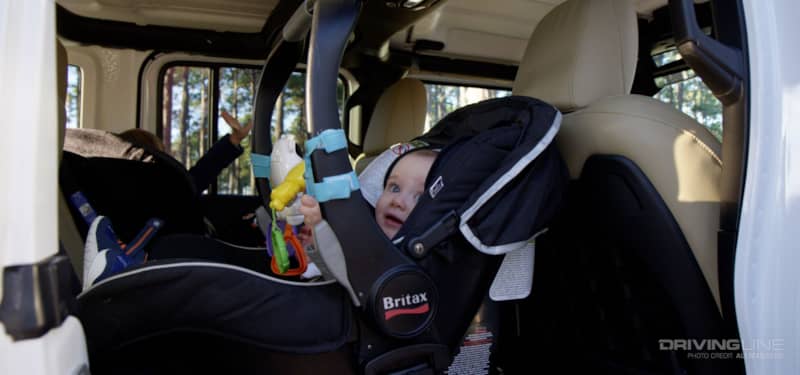 Best Midsized Truck
As much as I am a Jeep enthusiast, I am also wildly fond of midsized trucks. While both the Wrangler and Gladiator come with solid front and rear axles, the Gladiator is the only midsized truck to carry this solid-axle torch. Having spent thousands of dollars and untold hours converting older IFS trucks to solid-axle, the fact that the Gladiator gives me a high-pinion Dana 44 front axle direct from the factory is amazing. Sure, a two-door Gladiator would be much better for technical wheeling (had they made one), but just like a Wrangler two door, they are not a practical option for a family of four.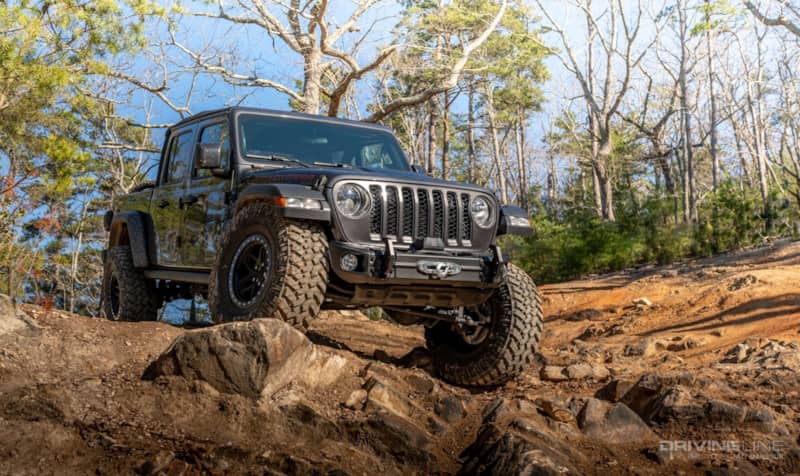 Ride Quality
If you've watched my Inside Line video series, you've likely heard me voice my complaint about how under-valved the Gladiator Rubicon rear suspension is from the factory. Having driven a half dozen different Jeep Gladiator Rubicon models with stock suspensions, I can say that this is a common problem for all of them. A suspension lift will fix this, but I know that's not something everyone is going to want to do. Both Jeeps are very plush riding in stock form, but the Wrangler does ride a little better in stock form over the Gladiator.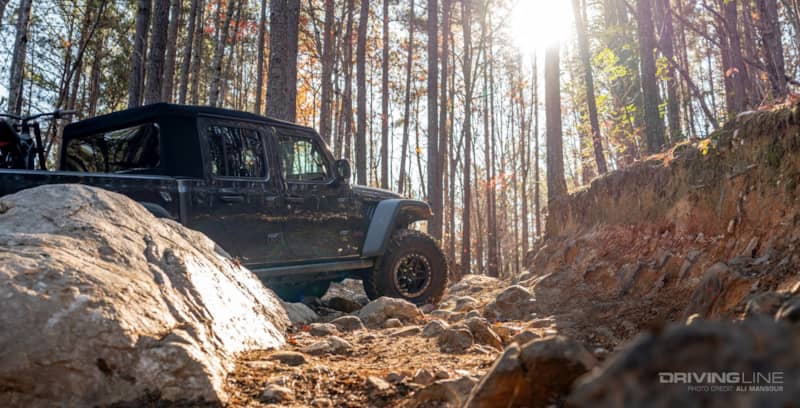 Rubicon Advantage
Over the years, I've found that the Rubicon package fits my needs the best. I don't care for the super-low 4:1 transfer case gearing, but everything else is worth the price of entry. The biggest benefit from a tire fitment standpoint is that you can run very little lift and increase the tire size dramatically. On both platforms, you can run 35s with no lift. On the Gladiator, you can get away with just 1-inch of lift and move up to a 37, while the JL will require you to bump up to two inches of lift for that same tire size increase. Even though you may scrape the belly a bit more, keeping a low center of gravity preserves the on and off-road handling much better than a taller lift. The Dana 44's under the Wrangler and Gladiator are proving to be pretty stout for up to a 38-inch-tall tire. For most, this is plenty. So, if you are considering either platform, I wouldn't hesitate to pick the Rubicon model.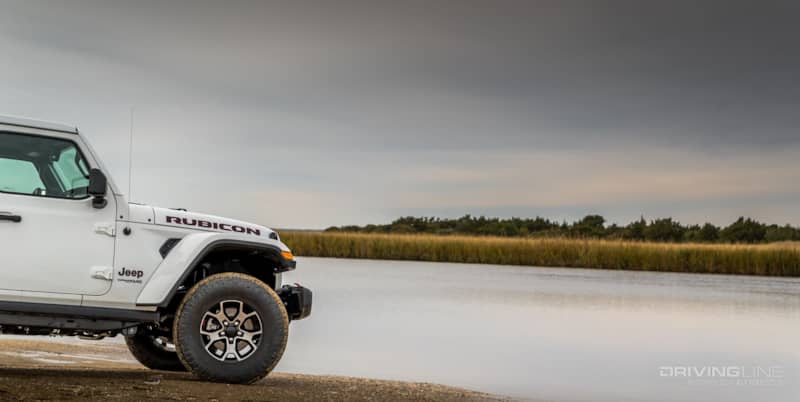 The Big Takeaway
Both the JL and JT are extremely refined and make excellent daily drivers. They have all of the modern conveniences most look for and aside from just OK fuel economy (around 16mpg for both), they are very well-rounded vehicles. If you need a truck bed and still want a capable off-road vehicle, you really can't beat the Jeep Gladiator. Yes, my Wrangler Unlimited Rubicon on 37s was much easier to navigator off-road over the Gladiator on 37s. So, if you're looking to do more technical wheeling, I would stay with that platform.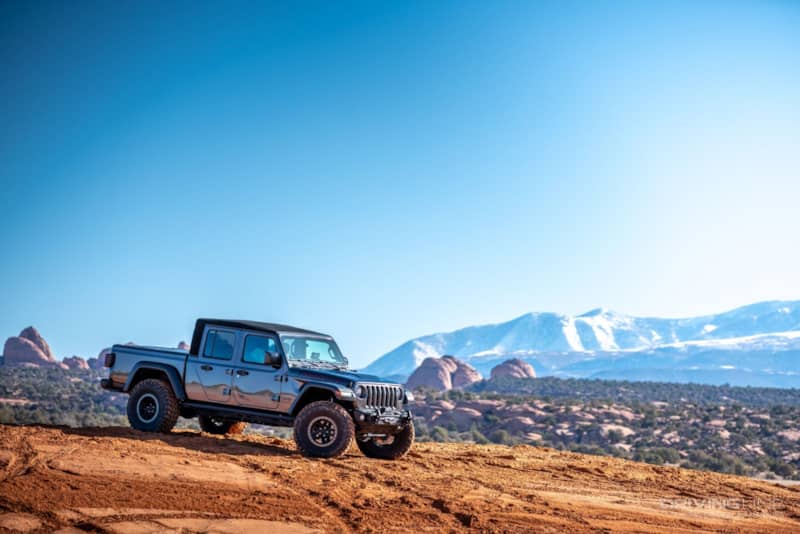 However, I find the Gladiator to be the more versatile vehicle overall. Yes, my bumper, bed guards, and receiver all have visibly damage on them. Do I care? Nope. If that's something that's going to bother you, then plan on a serious lift and moving up considerably in tire size. For the percentage that I wheel tough trails versus the percentage I just need a truck for daily needs, the Gladiator is by far more practical. I'm far from finished modifying my Gladiator and think my next series of mods will unlock serious off-road potential. That being said, you can likely surmise that if I want to hit more challenging trails with the Gladiator, it will likely require a larger financial and time investment over just starting off with a Wrangler platform.
More From

Driving Line
What's the lowest amount of lift you can run with 37's on a Jeep Gladiator. We find out here.