How Does The Ford Maverick Compare To The Hyundai Santa Cruz Truck?
The Ford Maverick and the Hyundai Santa Cruz give compact truck shoppers two enticing choices after more than a decade of dominance from larger, mid-size models. Better to drive than their full-frame siblings, these unibody pickups are also more fuel efficient yet still haul and tow at a level useful for most American drivers.

Which of these all-new entry-level pickups is the right one for you? It all comes down to the details when comparing what the Ford Maverick and the Hyundai Santa Cruz have to offer.
Under the Hood
Both the Ford Maverick and the Hyundai Santa Cruz feature a pair of engine options, but while their top-tier choices are similar, their entry-level drivetrains reveal key differences.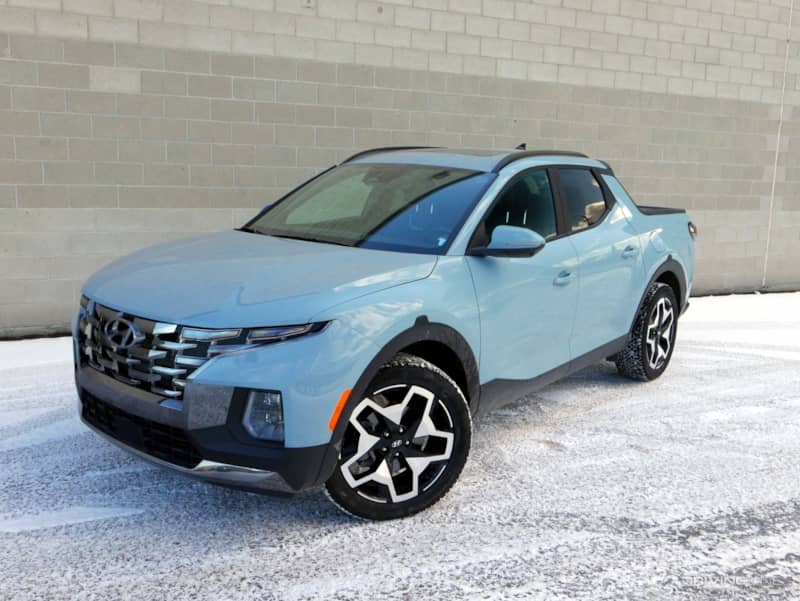 The Santa Fe starts out with a fairly standard 2.5L four-cylinder that's good for 191hp and 181 lb-ft of torque. Matched with an eight-speed automatic gearbox, it can be had in either front-wheel or all-wheel drive configuration, and it provides fuel efficiency of up to 21 mpg city and 27 mpg highway.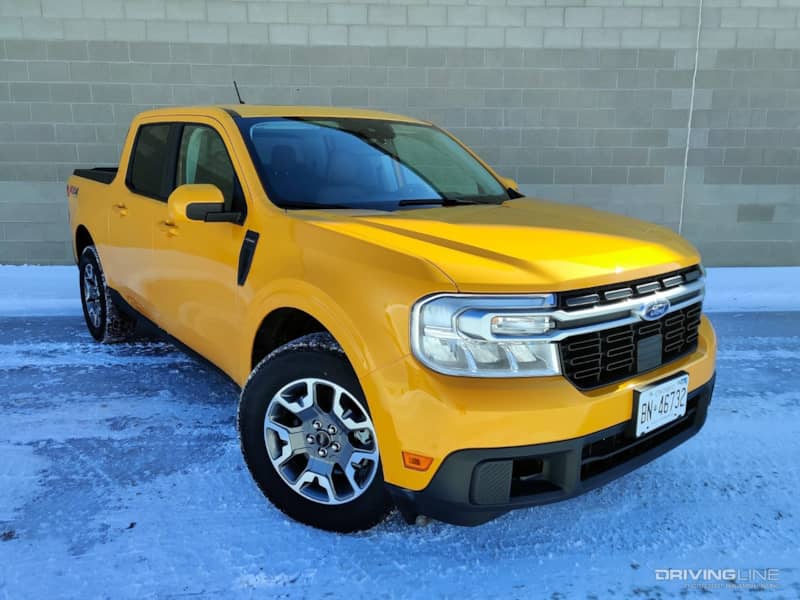 The Maverick, on the other hand, features a hybrid setup in its base model that also incorporates a 2.5L four-cylinder engine but matches it with a single electric motor to generate a combined 191hp. There's no combined torque figure from Ford, but the gas unit offers 155 lb-ft, while the electric motor produces 173 lb-ft. A continuously-variable automatic handles the gear shifting duties, and front-wheel drive is the only available layout. Fuel efficiency is incredible: The EPA shows the Maverick Hybrid returning 42 mpg city and 33 mpg highway.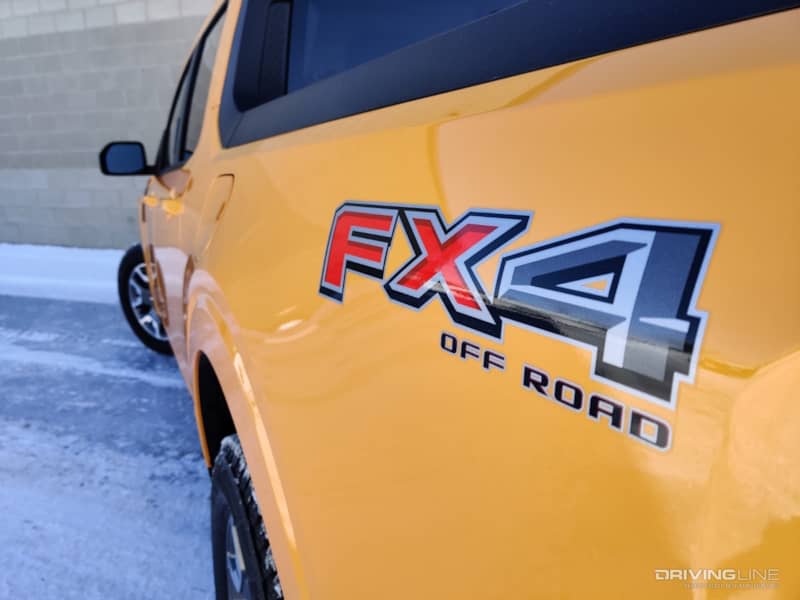 If you want all-wheel drive in the Ford Maverick, you'll have to step up to its 2.0L EcoBoost turbo four-cylinder, which cranks output to 250hp and 277 lb-ft of torque (and tags in an eight-speed automatic). Front-wheel drive remains available with this engine, but fuel economy slips to a best of 23 mpg city and 30 mpg highway.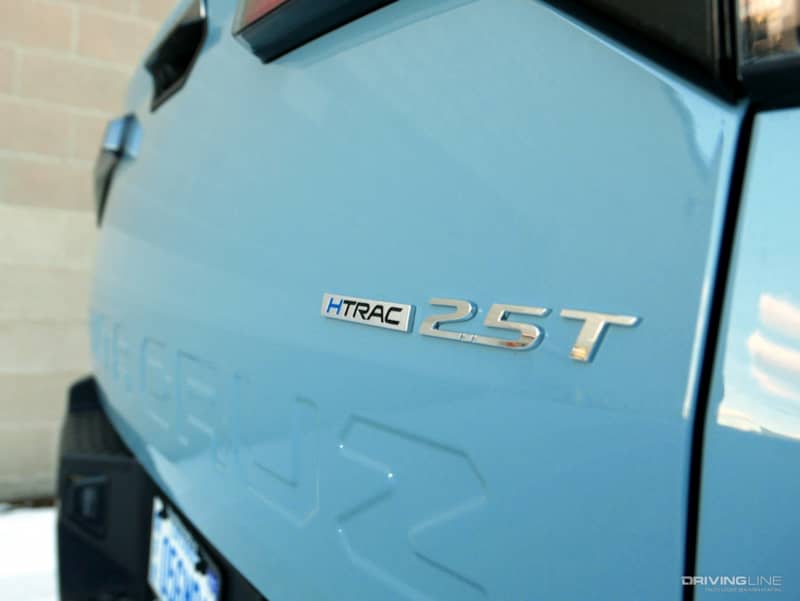 The Hyundai Santa Fe's turbocharged option also displaces 2.5L, but it turns up the wick to 281hp and 311 lb-ft of torque. Front-wheel drive (available later this year) and all-wheel drive trims can be had, along with an eight-speed dual-clutch automated manual gearbox, with fuel economy lagging behind the Maverick at 19 mpg around town and 27 mpg highway.
Hauling Cargo
The Ford Maverick's cargo bed stretches to 4.5 feet, which is slightly longer than the Hyundai Santa Cruz and its 4.3-foot unit. More telling are the details: The Maverick's bed is made of steel with a traditional bedliner, while the Santa Cruz makes use of a composite material that carves out an under-bed "trunk."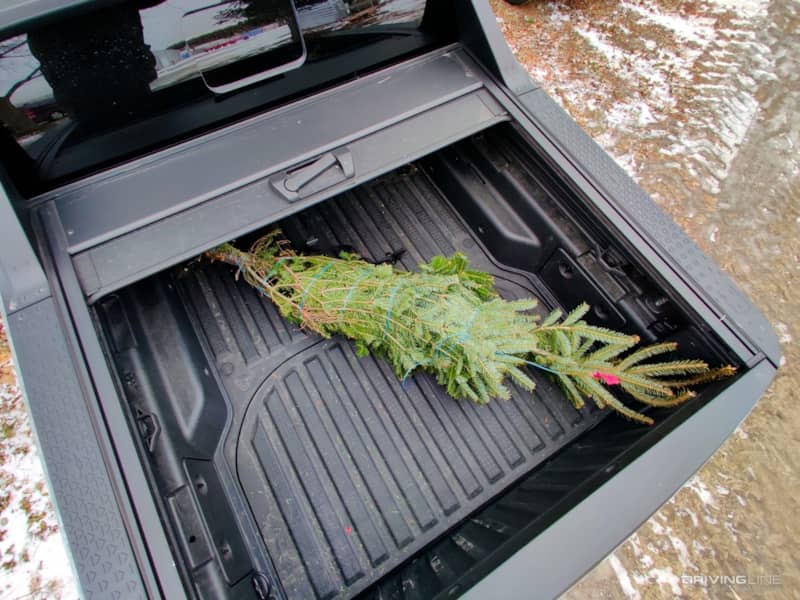 Ford's hidden cubbies are located in the walls of the bed (one on each side), as well as the availability of a power point and bed extender. Hyundai counters with a tonneau cover that retracts into the front of the bed (and takes up more than a little real estate in the process), as well as excellent cargo lighting. Both trucks also feature usable cargo management tie-downs and organizers.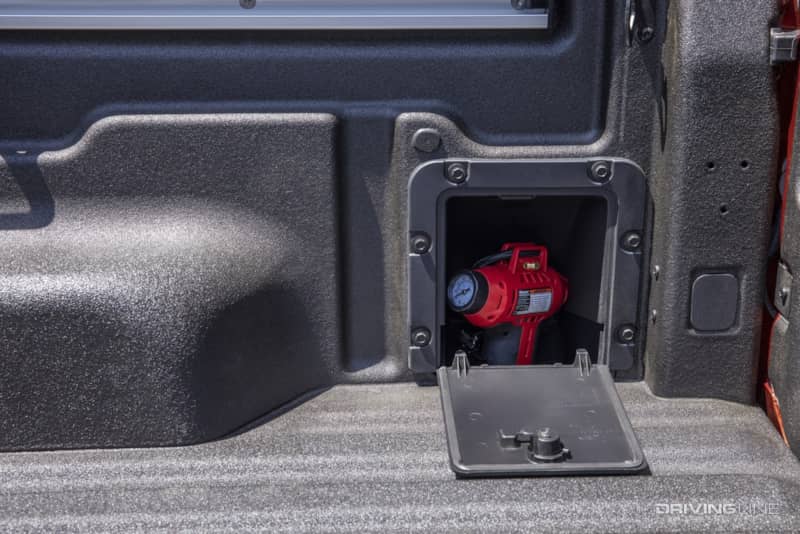 In terms of payload, the Hyundai Santa Cruz tops out at 1,753 lbs, while the Maverick is limited to 1,500 lbs — not all that big of a difference. Towing is another story, however, as Ford's hybrid drivetrain is limited to 2,000 lbs (expanding up to 4,000 lbs with the EcoBoost models' towing package), compared to the 3,500 lbs delivered by the base Santa Cruz and its 5,000 lbs of turbocharged max towing capacity.
In the Cabin
The starkest differences between the Ford Maverick and the Hyundai Santa Cruz are found inside the passenger compartment. Ford has elected to position the Maverick as the most affordable pickup option on the market, and that's reflected in the quality of its entry-level XL model's cabin. Features are basic (lacking even cruise control), surfaces are plastic and while it's possible to add a package to smooth out some of the lumps, the truck is clearly aimed at a more utilitarian audience. Step up to the XLT or the Lariat and it's possible to snag several amenities that one would expect from a modern pickup, although overall the cabin retains its cost-conscious feel.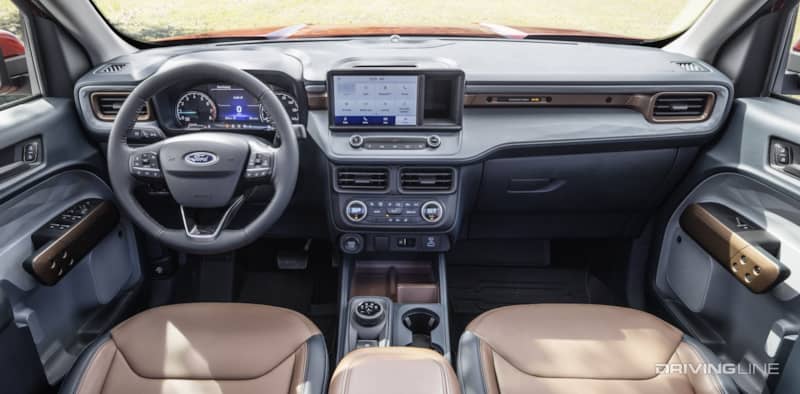 The Hyundai Santa Cruz, on the other hand, lifts its entire interior from the Tucson crossover, and as a result it feels better equipped and looks more refined at nearly every step of its trim ladder. The starkest difference is at the high end, where the Limited truck comes across as downright luxurious, especially compared to the Maverick, boasting a host of premium features and a far more detailed design that makes use of upscale materials.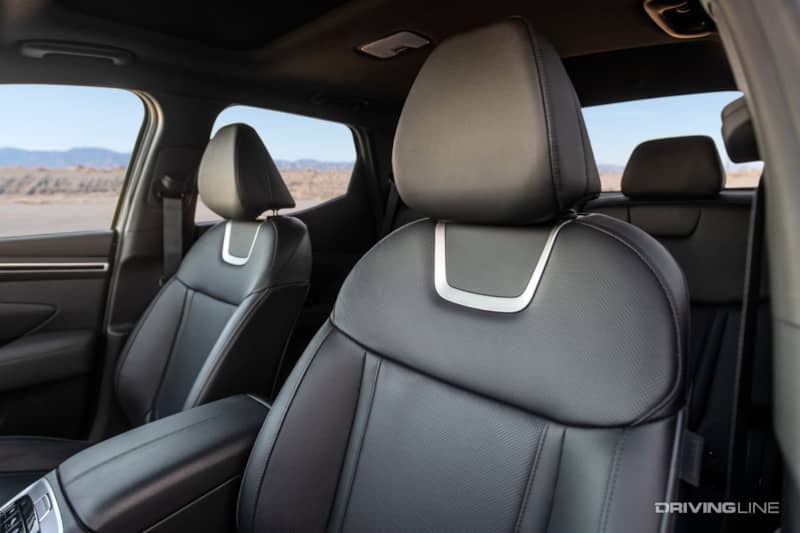 There's a price to pay for the Santa Cruz's elevated stature, of course. With a starting ask of just over $25,000, the Hyundai is $5,000 more expensive than the frugal Maverick hybrid model. The Santa Cruz Limited's $40k window sticker is a massive $13,000 higher than the Maverick Lariat (although that gap does close somewhat when adding the turbocharged engine and all-wheel drive).
On the Road
The Hyundai Santa Cruz is by far the smoothest, best-handling pickup on the market. Taking full advantage of its unibody construction, the truck handles rough roads with ease and corners as well as its Tucson crossover sibling (with a 10-inch wheelbase stretch helping to keep things calm). Paired with the turbocharged engine, it's legitimately quick, too, reaching 60 mph in six seconds.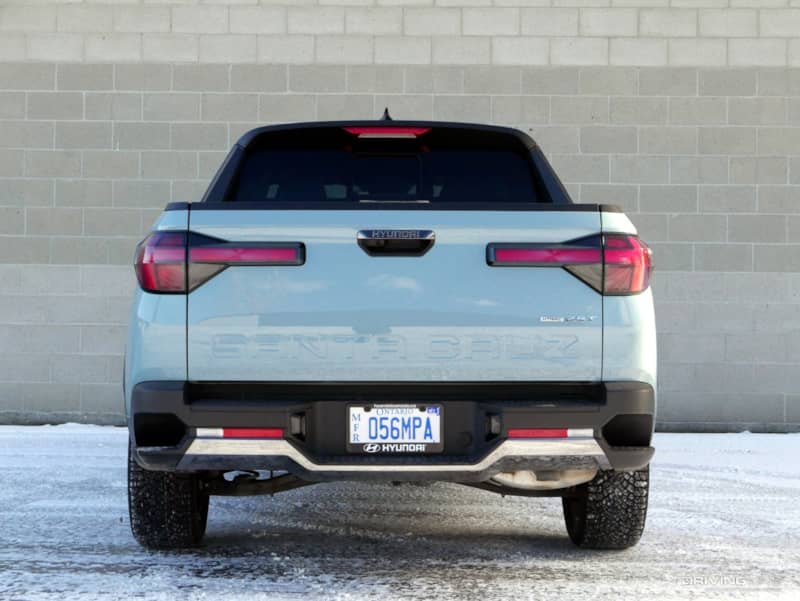 The Ford Maverick EcoBoost is also relatively quick in a straight line, matching the Hyundai in terms of raw acceleration numbers but not quite keeping up when it comes to throttle response. It's also somewhat rougher at idle in terms of noise and vibration.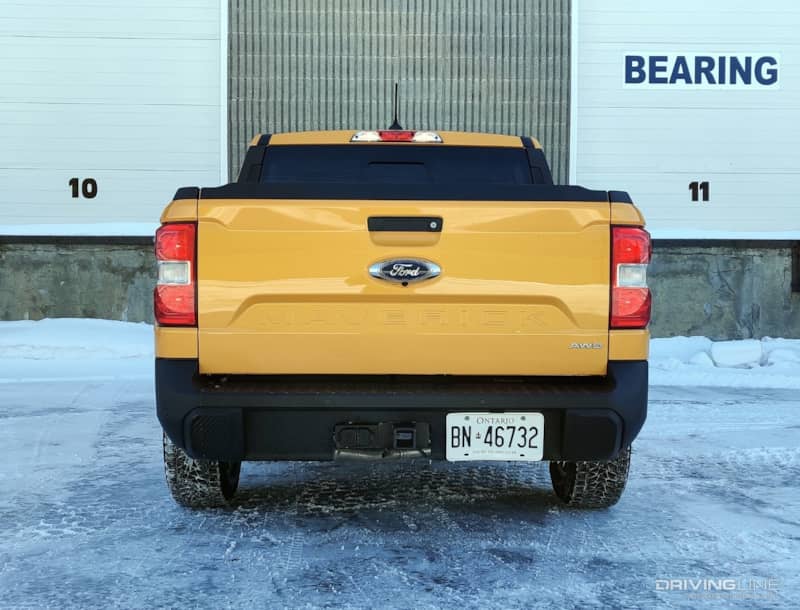 Handling is poised and comfortable, but a step behind the Santa Cruz, too, even for all-wheel drive models that feature a multi-link rear suspension as opposed to the front-wheel drive edition's torsion beam setup.
Different Faces, Same Coin
Comparing the Ford Maverick and the Hyundai Santa Fe reveals two similar trucks that separate themselves in a number of key areas.
The Maverick is by far the most affordable of the pair, and it also leads the Santa Cruz in terms of fuel efficiency by a huge margin. For those seeking a cheap daily driver that's still capable of handling pickup duties without complaint, Ford's compact hauler makes a lot of sense. If you can get one, that is: The Maverick hybrid's order book is currently closed due to supply issues and is set to re-open later this summer.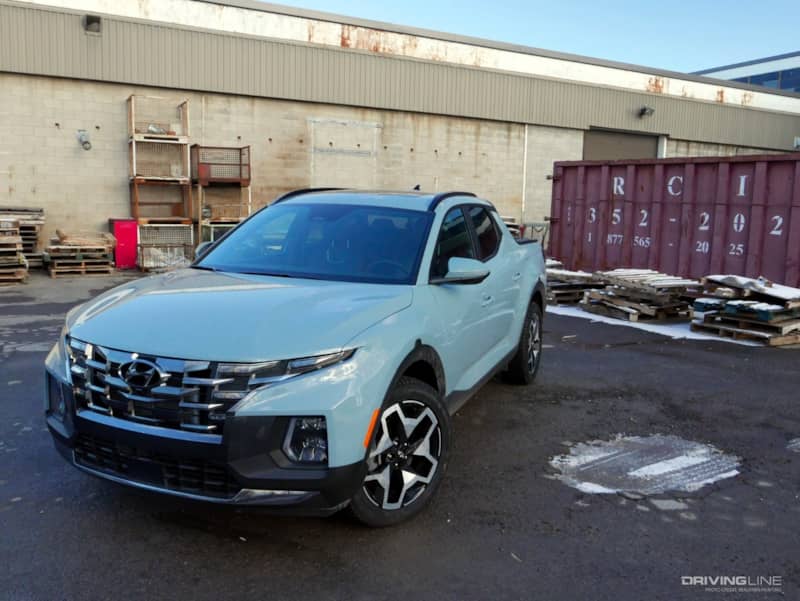 The more money you're willing to spend, the better the experience you'll get from the Santa Cruz, which out-tows, out-hauls and out-luxuries the Ford option. You'll have to be comfortable with a higher fuel bill to go with your also-larger monthly payment, but a high trim Hyundai presents much nicer and delivers better on its promise of more equipment and better design than does a decked-out Maverick.