Four-Wheeled Workout: Learning How To Rock Crawl
There's a first time for everything and I recently got a chance to do my first rock crawling in a '52 Willys with Bob Sweeney of Jeepers Jamboree. One of my goals this year was to do as many different "driving" experiences as possible. I've drifted, land speed raced and took to two wheels… and perhaps most out of my comfort zone, I've learned how to rock crawl. Coming from a classic car background, asphalt-paved adventures are more the norm than dirt-fueled ones.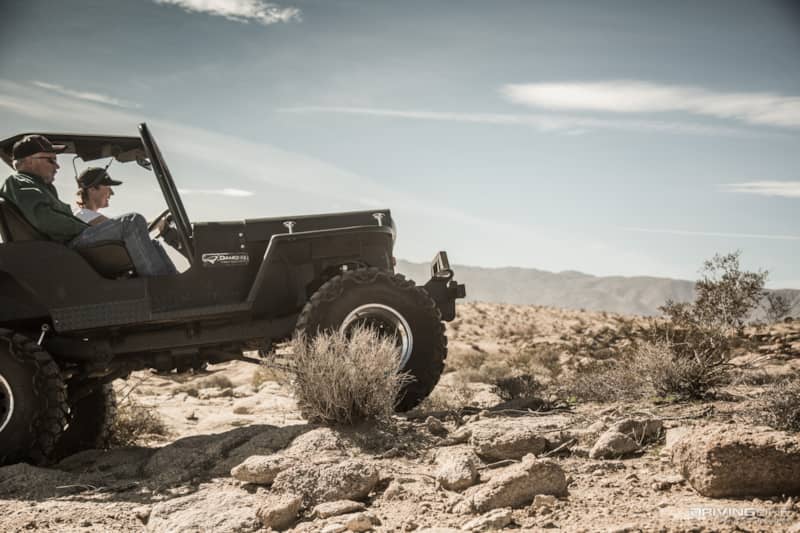 Of the many off-road capable vehicles we could've taken on the trail, a '52 Willys may not make for the easiest choice, but the vintage platform excited me. With veteran wheeler Bob Sweeney along with me, I felt secure that he knew exactly what we were getting into and had faith I could handle it. Having someone who knows what they're doing with you, no matter what the vehicle, is something I would strongly recommend for any novice.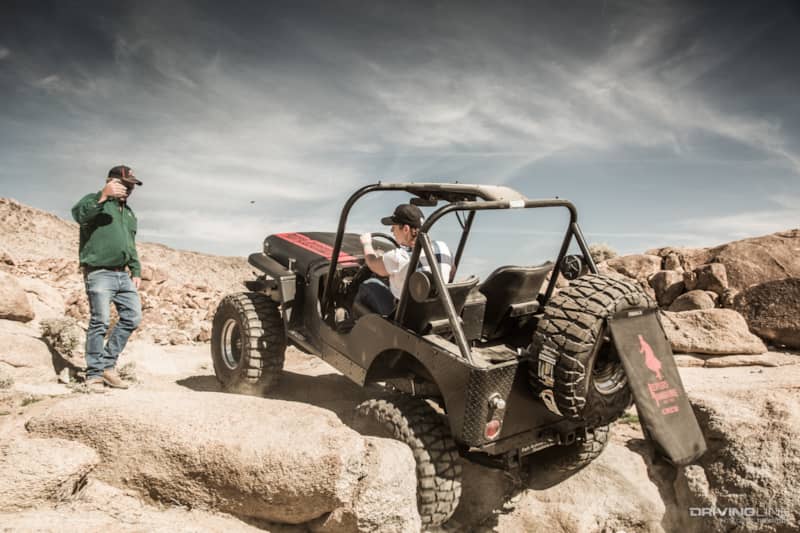 The vehicle requirements for rock crawling can change drastically depending upon the difficulty of terrain you're tackling—but you can assume that you'll at least need four wheel drive, a rear locking differential and upwards of a 33" tire or larger. Winches, body armor and other modifications quickly build upon these basics for more challenging trails.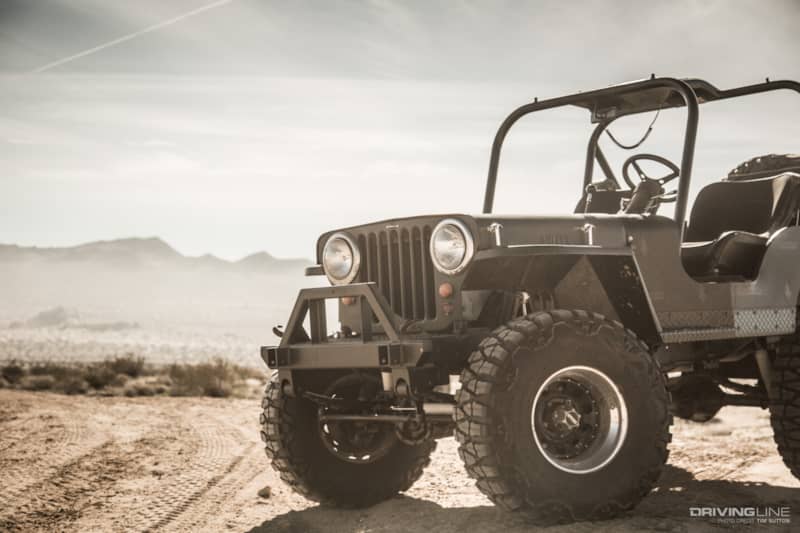 Our '52 Willys CJ-3A, which you could call the original "Jeep," was made to get wherever necessary. With a 3-speed transmission and a high and low gear option, this isn't the car you want to take on a freeway. We were topping out its speed at a leisurely-seeming pace on the dirt road leading out to the rock trail. Under the hood sits the original inline 4-cylinder, which, based on specs, has a max torque of 105lb-ft at 2,000 rpm. It's a workhorse of a car that's made to keep going no matter what the trial. Ours was outfitted with 33" Nitto Mud Grappler tires, giving us a great amount of bite on the rocks.
A more modern car, such as a new Jeep JK, will have some driving features that the old '52 Willys does not. While these will change the driving experience some, the experiences I had as a first-time rock crawler are largely universal no matter what off-road vehicle you're in.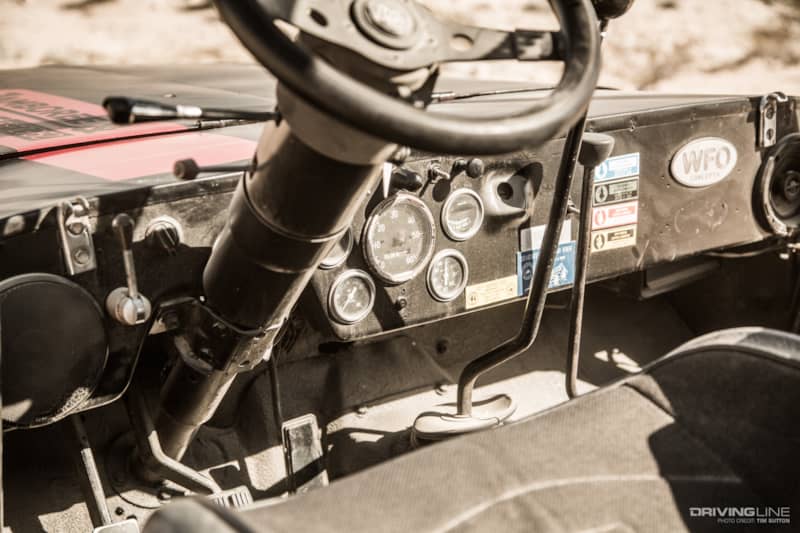 With no more instruction than "stay on the high spots" and "let the car do the work for you," we were off. If I didn't have a pro like Bob sitting beside me, I would've felt the need to attend a weekend-long lecture before venturing up rocks. But, carpe diem, and off we went.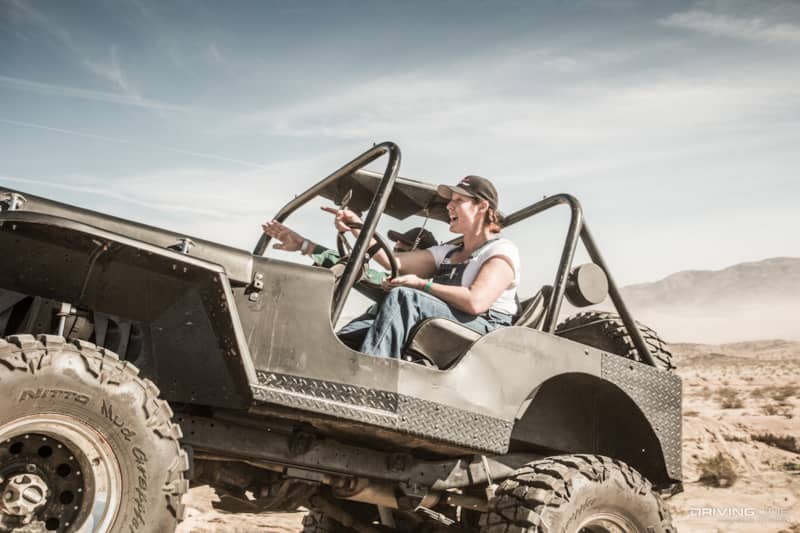 The first complication to overcome was my reflex to step on the brakes. Not used to driving low-geared cars, it takes some practice to know that the car's gears will regulate the speed for you—your foot should stay off of the brake pedal. In fact, the brake and the clutch should be off-limits when rock crawling. In the Willys, our ignition key was used for turning off the engine when slowing was required.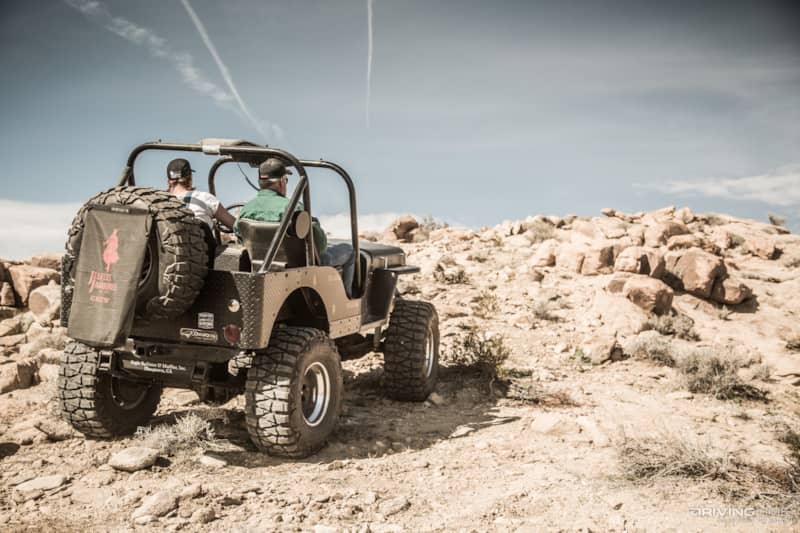 Another challenge I had was feathering the throttle. You want to feed the car just enough gas pedal to keep it running. My reflex when the car was working to get up and over a rock was to give it some juice—resulting in exactly the opposite of what I was trying to do. The extra gas breaks the traction, with the car slipping rather than climbing.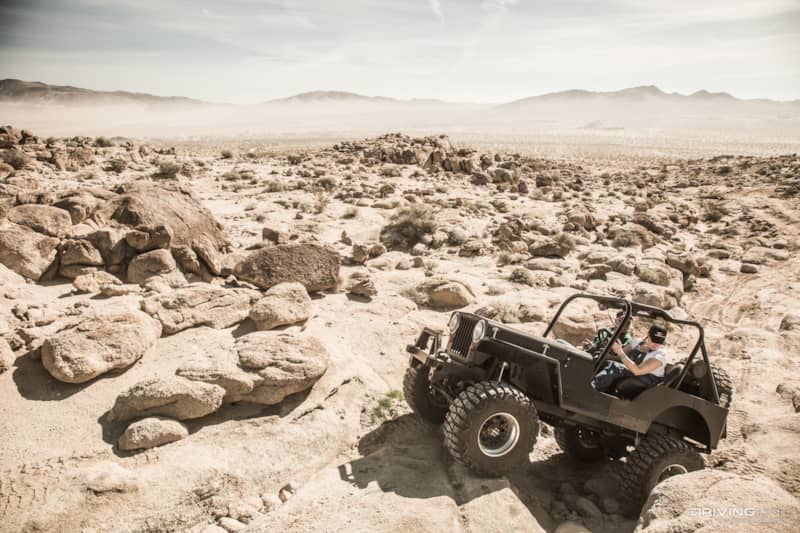 At one such ill-added-throttle moment, the rear wheels began to chirp and bounce. Stop immediately if this ever happens to you! Stuff like this can break an axle. While you're trying to power forward with throttle, the tires and car are doing the opposite. Stop. Take a moment, reassess your situation and start again.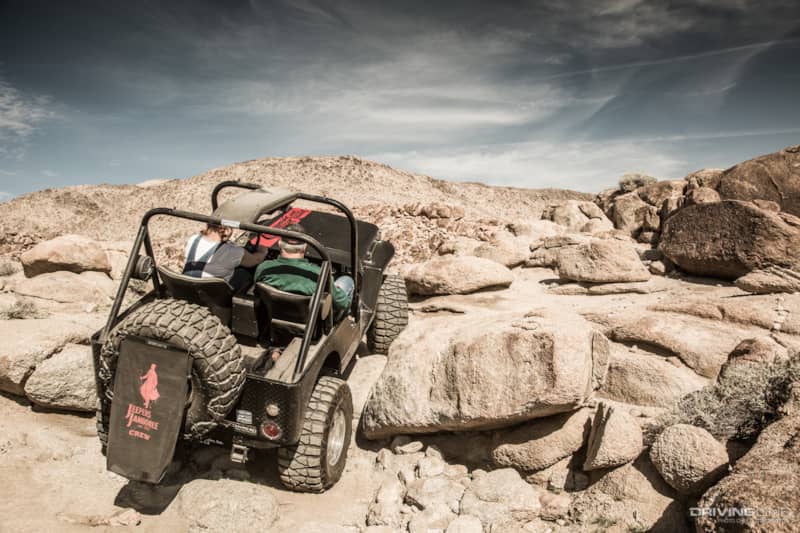 After a few boulders had been conquered, my brain and feet began to get the hang of things—and the trail we covered was so much fun I just wanted to keep on going. While an off-road vehicle is not part of my garage yet, getting the chance to get behind the wheel is really making me re-evaluate that.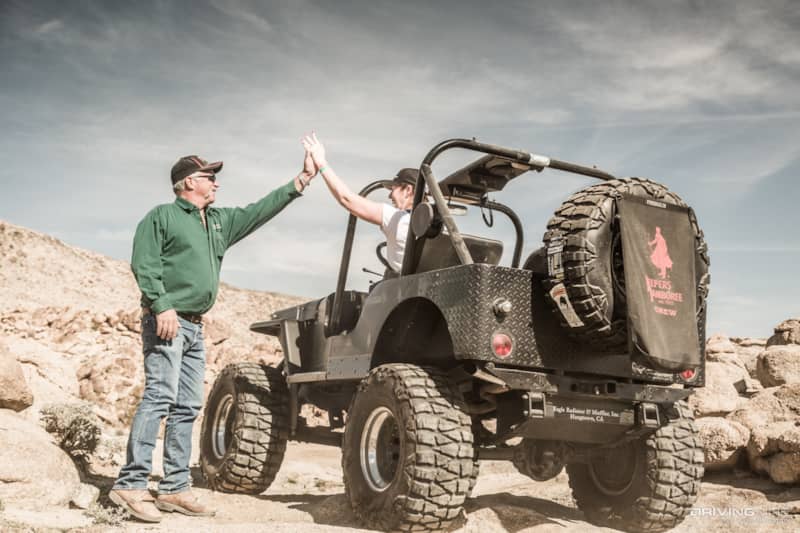 All photos by Tim Sutton.
My advice to you is to get out and have some fun. Find an off-road club, make some friends and find a way to get behind the wheel. Jeepers Jamboree is one such opportunity to wheel in a safe environment. Open to Jeeps, Land Cruisers, Toyota Pickups, Samurai's, Scouts and more, it's a trip where you'll be surrounded by experts, spotters and even mechanics to help you along the route. It provides a great opportunity to gain new off-roading skills in a safe, fun and beautiful environment. Find out more at jeepersjamboree.com.
Many thanks to Bob for guiding me through my first rock crawling! Watch the video below for more of the experience.
Want to know more? We've got plenty of off-road experts here at Driving Line. Start by browsing our Off-Roading Basics page where you'll find plenty of articles to point beginning off-roaders in the right direction.