Frederic Aasbo Continues his Formula Drift 2022 Dominance at Road Atlanta, Round 2
Story By Joey Redmond
Photos By
The birthplaces of drifting in the United States always seems to bring out some of the best competition in the Formula Drift series, and the Road Atlanta track is one of those places. Found just north of the city, the drivers of this year's 2022 Formula Drift series brought out their best performances under the nighttime lights in abnormally cold temperatures for the region in early May.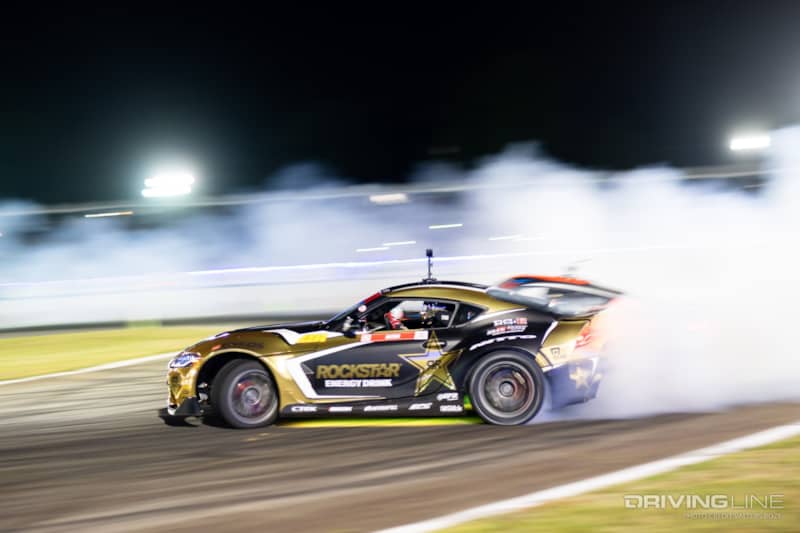 The packed stands of fans were treated to a full field going into qualifying, which meant many competitors would be forced out of Top 32 contention if their qualifying results were poor.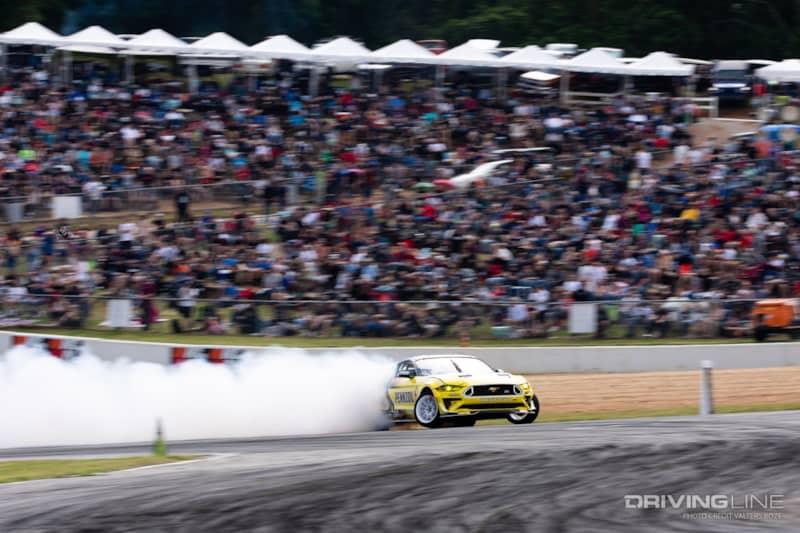 Qualifying
Matt Field looked untouchable in his Chevrolet Corvette after qualifying, which earned him the top qualifying spot with a great score of 93. Chelsea DeNofa followed up with a close second in his RTR Ford Mustang. His Nitto Tire teammate, Fredric Aasbo, locked in a third-place score with his new Toyota Supra which rounded out the top drivers set for Saturday night's Top 32 tandem battles.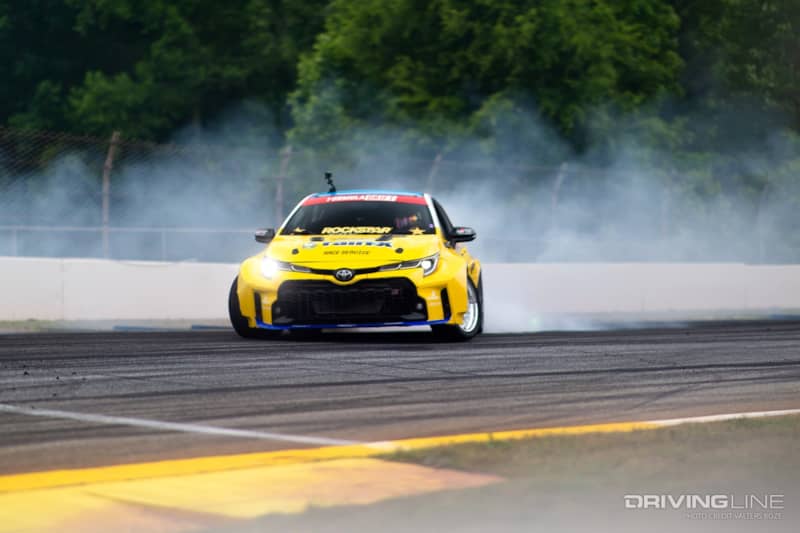 Top 32
Matt Field earned an easy win against Yves Meyer to kick off the Top 32. Chris Forsberg faced off against Adam LZ early in the event which looked like it could go either way, but Adam LZ had an issue in the battle, which gave Forsberg an easy victory in the end.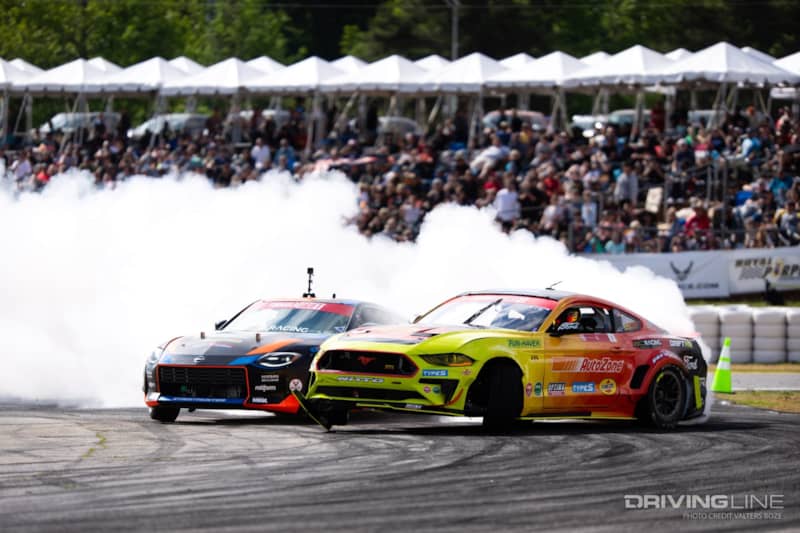 Chelsea DeNofa had no trouble beating FD veteran Kyle Mohan, because Mohan's rotary-powered Mazda couldn't make it to the line to compete. Fredric Aasbo took out the Brazilian driver Joao Barion, and moved into the Top 16. Everyone was looking forward to Aasbo's next battle against Justin Pawlak in the Top 16.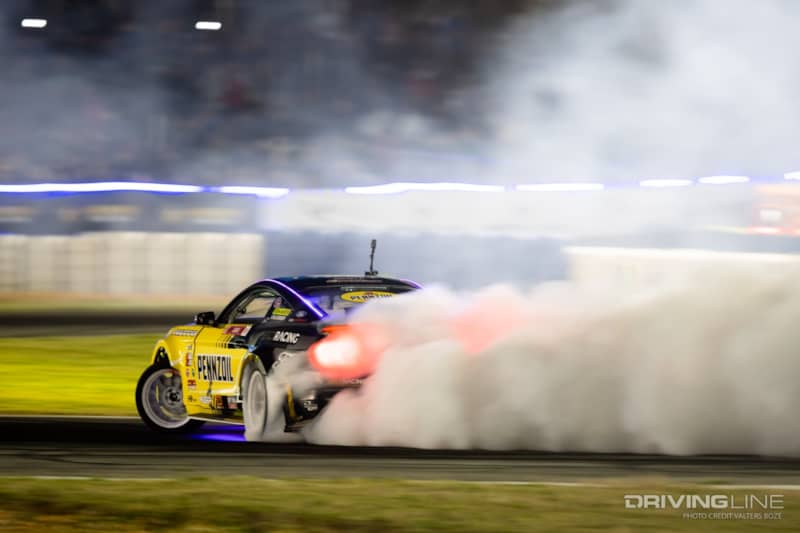 FDATL 2022 Top 16
Alec Robbins put up a good performance against the top qualifier Matt Field, but couldn't do enough to win the battle, which allowed Field to advance into the Great 8. Chris Forsberg took his new Nissan Z coupe into an intense battle with former teammate, Jhonnattan Castro, and managed to earn a hard-fought win in his new Nissan chassis.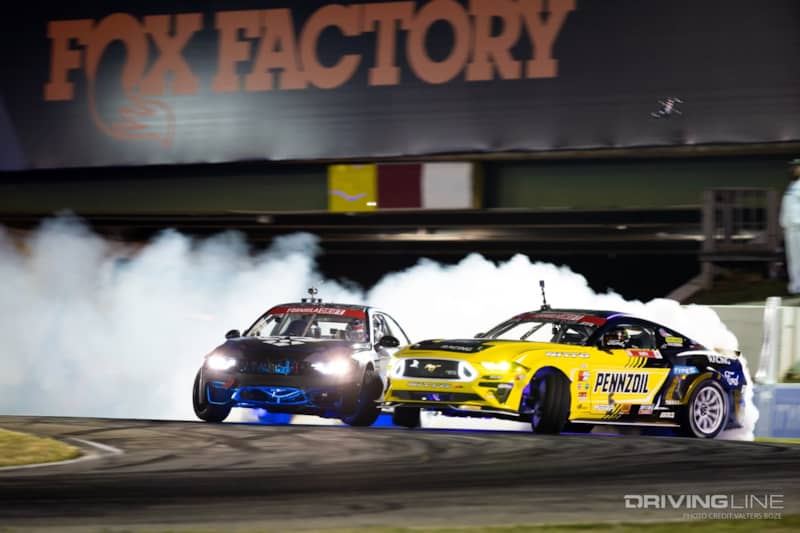 Chelsea DeNofa had a controversial battle with the young up and comer Branden Sorensen in the later part of the Top 16. The two drivers both made mistakes around the course, but Chelsea DeNofa, seemed to be the more dominate driver of the two. The judges couldn't agree on a winner—two of them picked One More Time, and one judge picked Chelsea DeNofa. As the name implies, the pair faced-off against each other one more time, which saw Chelsea DeNofa push a too hard and find himself eliminated from the competition earlier than anyone expected.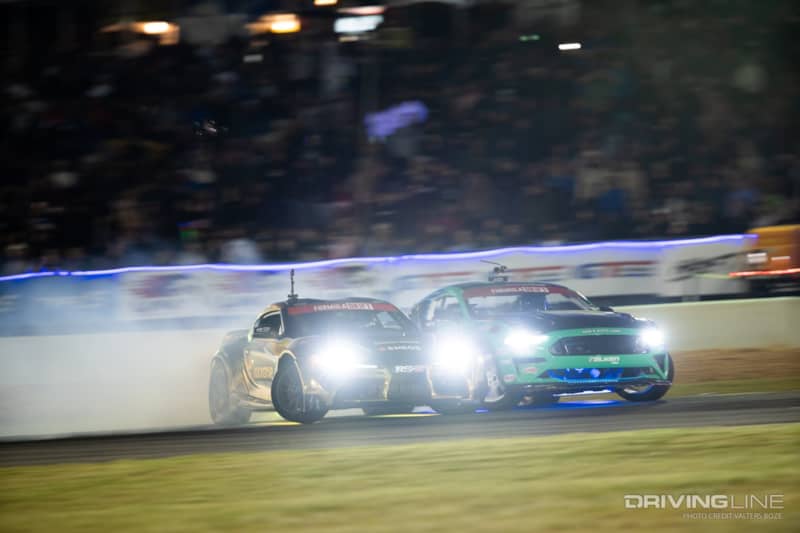 Fredric Aasbo had one of the toughest Top 16 pairings as he faced Justin Pawlak's very fast Ford Mustang. Fredric Aasbo looked very focused in this battle and eliminated Justin Pawlak and moved into the next round of competition. Federico Sceriffo in his Ferrari 599 who made his Top 16 debut against Ryan Tuerck. Tuerck easily won the battle in his dialed-in Papadakis Racing/Nitto tire Toyota Corolla to close out the Top 16.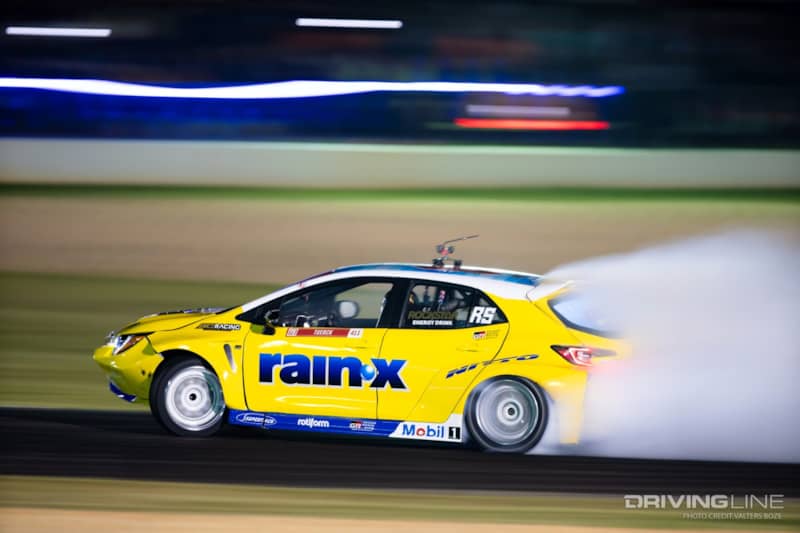 Great 8
Jeff Jones faced Matt Field in the first battle of the Great 8 and really pushed Field hard in the tandem battle, but couldn't eliminate the red-hot Matt Field in his Corvette. Chris Forsberg then faced his friend, "Rad" Dan Burkett and his older-model Toyota Supra. Chris Forsberg's new Nissan Z was dialed and tuned, and didn't give Dan Burkett much of a chance to compete or get involved in the battle.
Nitto and Papadakis Racing teammates Fredric Aasbo and Ryan Tuerck then were set to face each other in competition. This was one of the best battles of the weekend, and fans were treated to an exceptional performance by both drivers. Tuerck pushed Aasbo into a One More Time battle, but couldn't keep up his high level of performance in the second battle. This gave Fredric Aasbo a win and moved him into the Final Four.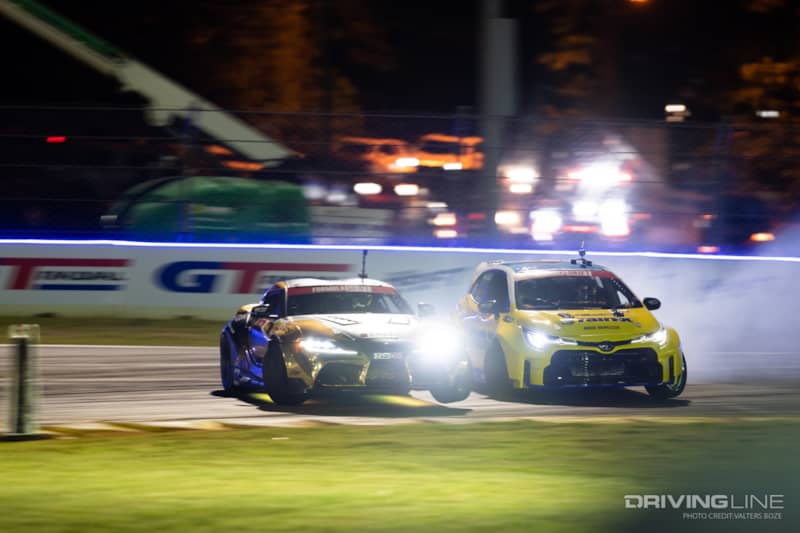 Final Four
In the exciting second to last round of the 2022 FDATL event, Chris Forsberg and Matt Field faced off in the Final Four and both drivers looked like they would refuse to lose. They pushed into a One More Time and Matt Field looked like he had a slight edge in the battle, but then his Corvette shut down during his tandem chase, giving Forsberg a simple pass into the finals. Fortunately for Field, he made it far enough to be guaranteed a third-place finish because he was the highest qualifier of the four.
Fredric Aasbo and Odi Bakchis faced off on the other side of the bracket for the Final Four. These two drivers always perform well against each other, and they both delivered on that claim under the lights of Road Atlanta. Fredric Aasbo was given the victory in his Toyota Supra and was set to the compete against Chris Forsberg in the final.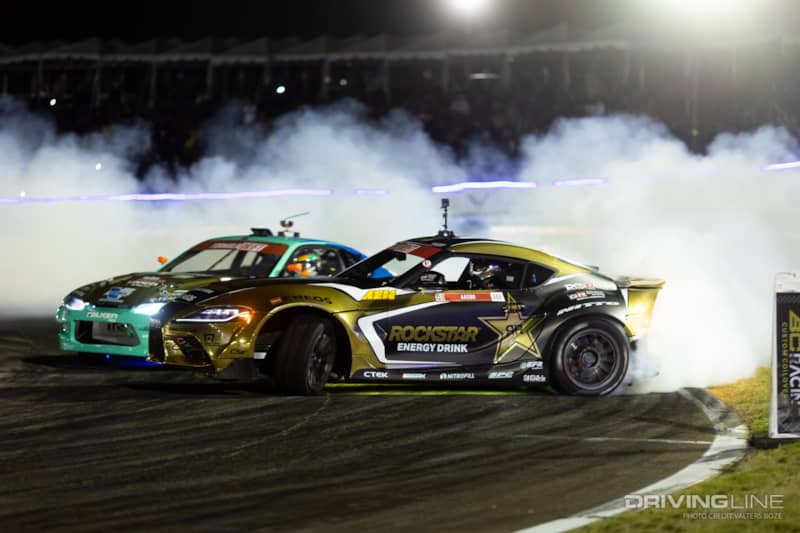 2022 FDATL Finals
Both Formula Drift veterans, Chris Forsberg and Fredric Aasbo met once again in the final battle of Formula Drift Atlanta 2022. They both drove hard but Aasbo had a phenomenal chase run that was unmatched over the whole race weekend. His proximity was crazy-close as he really pushed Forsberg's Nissan Z chassis back around the course to finish the lap. The judges all gave the victory to Fredric Aasbo after the smoke had cleared.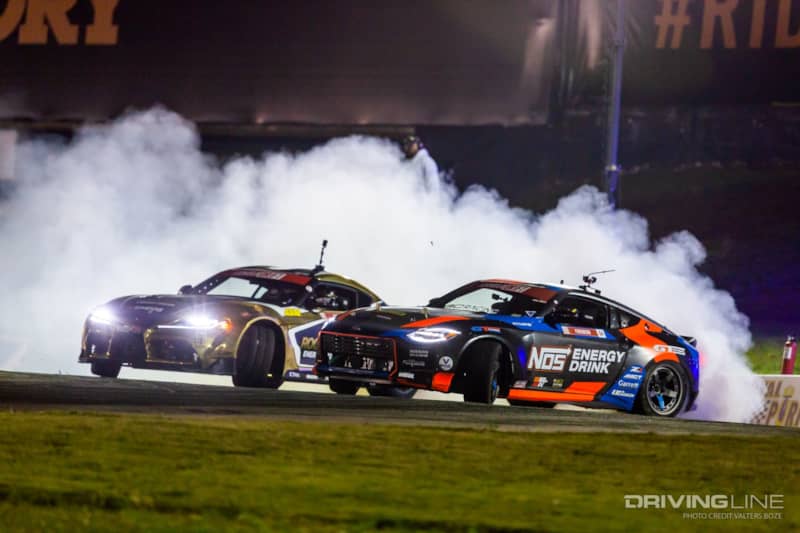 This event marked Fredric Aasbo's 17th career Formula Drift victory, with his last victory at the St. Louis event during the 2021 Formula Drift season. Aasbo looks determined to defend his 2021 Formula Drift Championship, with this event's points jumping him into first place in the Championship Race for the 2022 season with 181 points. For now, Matt Field trails him with 175 points, and Ryan Tuerck is in third place with 170 points.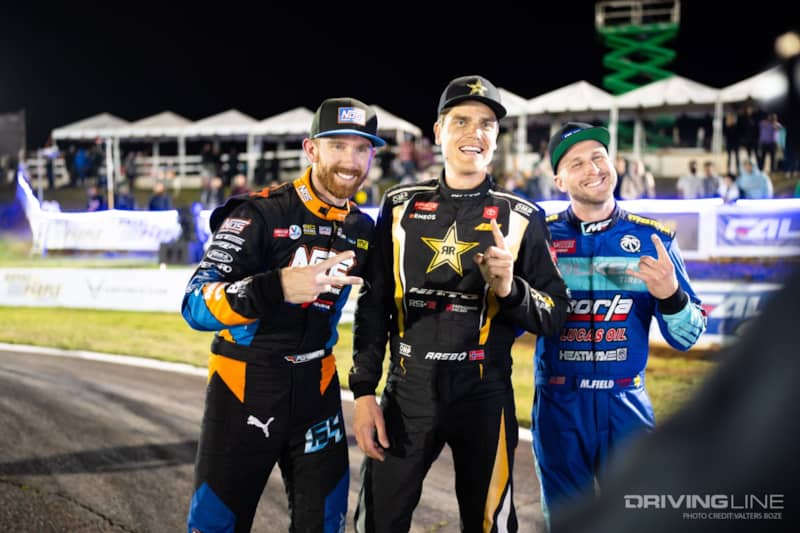 The 2022 Formula Drift season continues with Round 3 at Orlando Speed World, May 19-21.