2022 Formula Drift Round 1: The Mean Streets of Long Beach
Story By Joey Redmond
Photos By
The 2022 Formula Drift season kicked-off with a return to the Streets of Long Beach in April once again. Due to California event attendance restrictions, the 2021 Long Beach round was held last September so we had a much shorter waiting period to see this venue.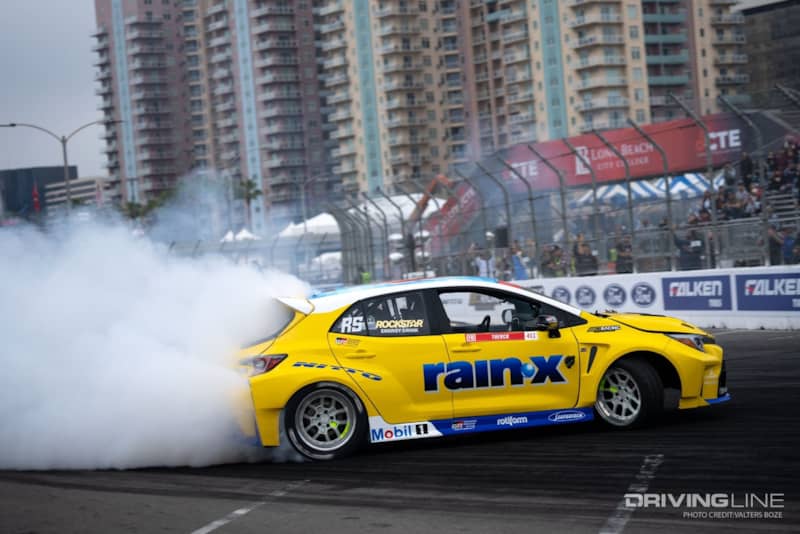 Some drivers made mention that the track felt very different and provided more grip compared to years past, while others and attributed the feeling to the shorter time period since their last visit. Ryan Tuerck celebrated the worldwide debut of the 2023 Toyota Corolla GR, dominated qualifying by earning the top position, and finished the first round of the 2022 Formula Drift season in first place.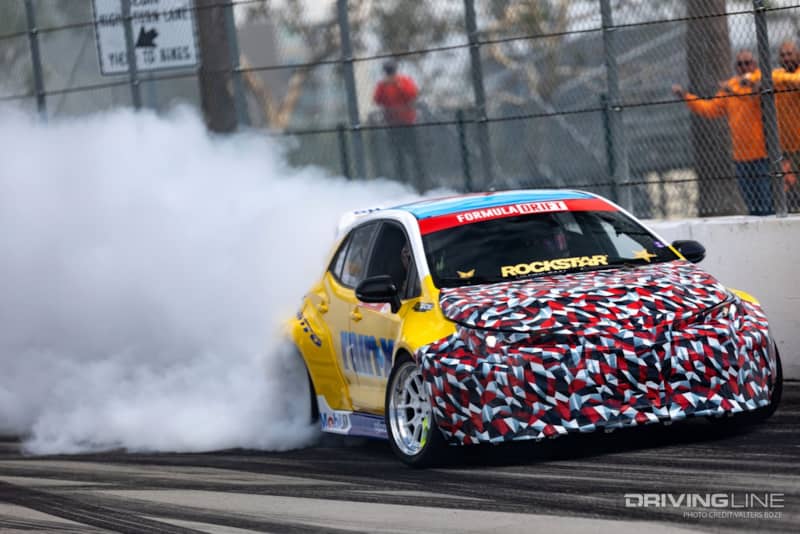 FDLB 2022, the Top 32: Adam LZ's Early Exit
The top 32 started with Ryan Tuerck making literally zero mistakes in his battle and defeating Jeff Jones. Taylor Hull debuted a brand-new Chevrolet Corvette which he used to defeat former champion Michael Essa. Adam LZ made his RTR Mustang team debut and valiantly fought against Wataru Masuyama and his S15 Nissan. Unfortunately, Adam had troubles in outer zone two and couldn't swing the car around to continue his chase run, giving the win to Masuyama.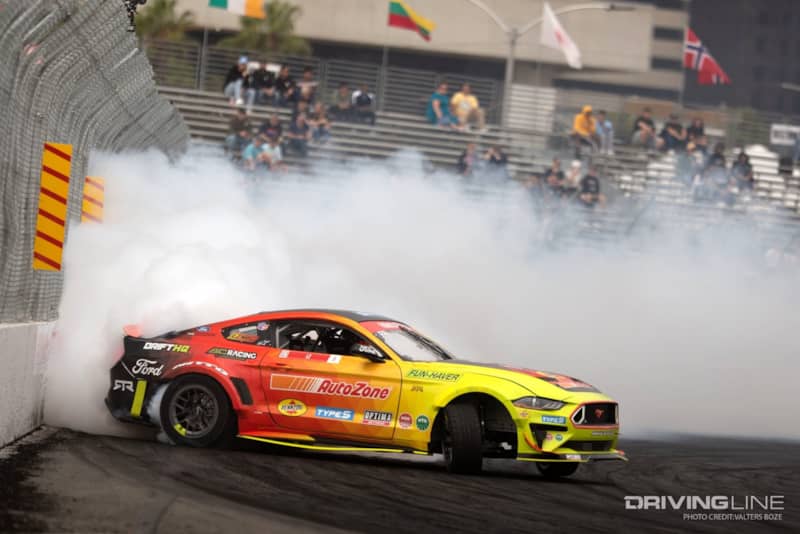 FDLB Top 16: Predictable Professional Performance
Top 16 seemed to really lack any serious upsets as they ran through the grid. Ryan Tuerck and Chris Forsberg both won their respective battles and put them together in the bracket for the Great 8. Odi Bakchis and Dean Kearney had a solid battle, but Odi Bakchis really outperformed Dean Kearney in the chase laps giving him the edge to advance into the Great 8. Chelsea DeNofa put down the most insane lead run of the event with ridiculously massive angle into outside zone 3 that seemed like he would spin out, but he held it together and transitioned his Mustang to finish the course putting the fans on their feet! DeNofa is a crowd favorite, and it's easy to see why after witnessing his ability to push his car to seemingly insane limits.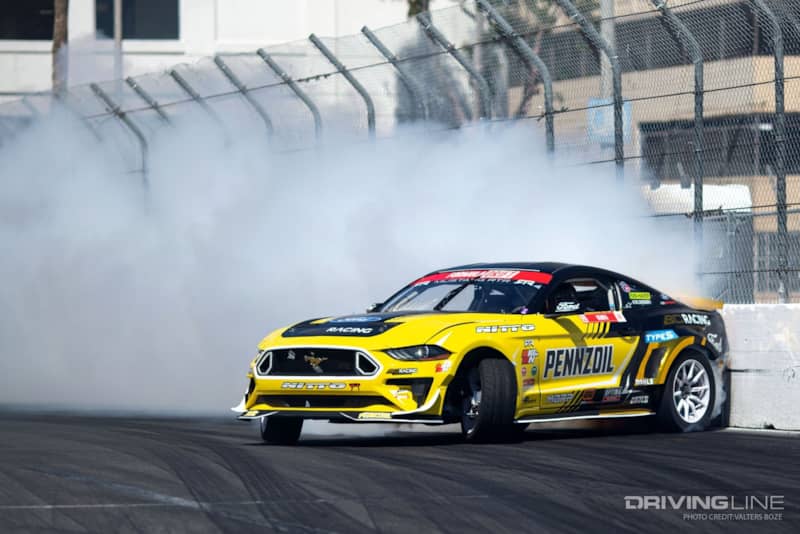 FDLB 2022 Great 8: Big Time Battles Begin
Ryan Tuerck and longtime friend Chris Forsberg were set to have an insane battle, but Chris Forsberg's brand-new Nissan 400Z had a 4th gear issue on the straightaway which allowed Ryan Tueck get a huge gap in their tandem battle. Forsberg was desperate to make up ground, and hit Ryan Tuerck at the end of the lap, and damaged his car. Then Forsberg tried to make up for it in the lead run, but plowed into the outer zone three wall, which gave Ryan Tuerck the advance into the Final Four so he could face Odi Bakchis.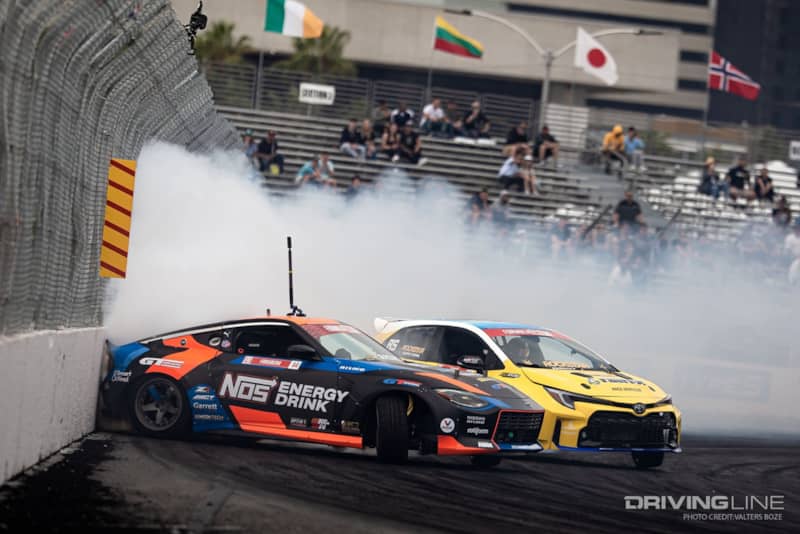 Chelsea DeNofa and Fredric Aasbo met on the other side of the bracket where they both warmed up their super sticky Nitto NT555 G2 tires and went to war with each other. Chelsea DeNofa got caught pushing a bit too hard and spun early in his lead run and they barely avoided an accident. It was enough to put Fredric Aasbo into the Final Four.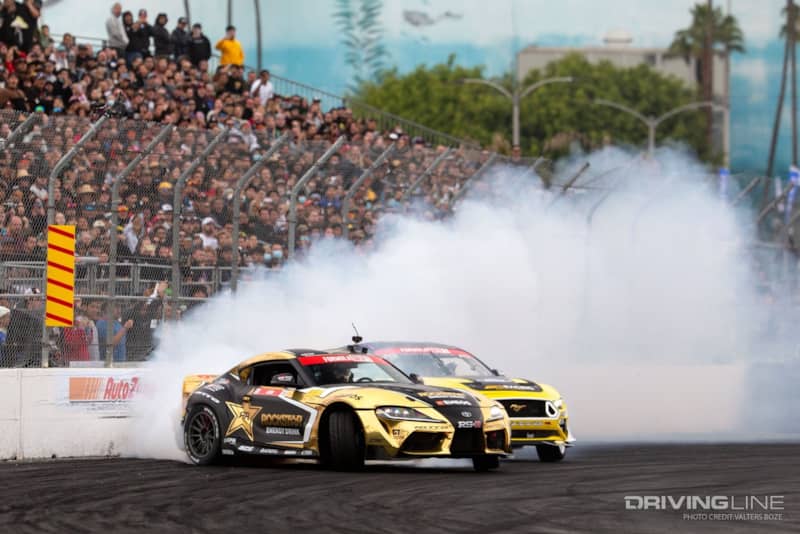 Matt Field finally got his first battle of the weekend after two bye runs and really puts on a show while beating Dylan Hughes in his BMW to advance. 
FDLB 2022 Final Four: Big Damage
Ryan Tuerck and Odi Bakchis face off on one side of the bracket in a battle that saw both drivers push hard with very few mistakes. The judges called up some side-by-side views of the battle and determined that Ryan Tuerck was stronger overall and given a close call putting him into the final battle. Ryan Tuerck won his first ever career Formula Drift victory back in 2009 at Long Beach and he seems to be channeling those vibes as he readied himself for the final battle of the day.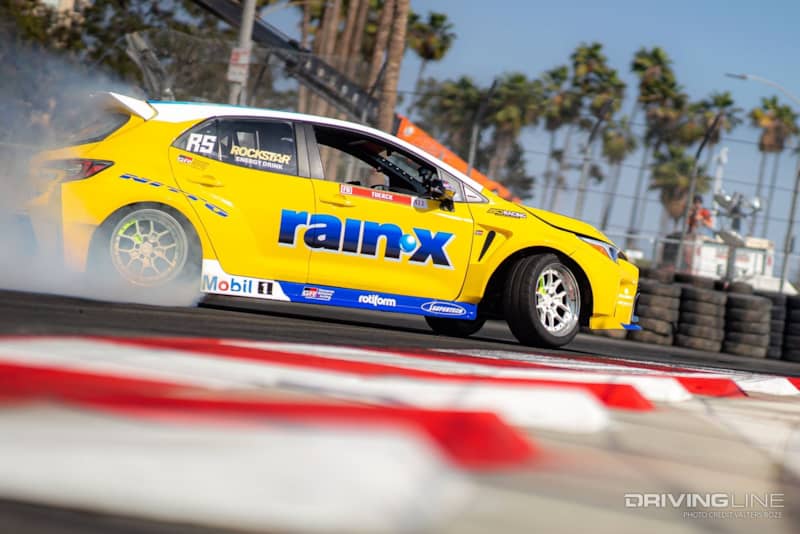 The other side of the bracket didn't last long. Matt Field's lead run made it to outer zone two where he had a nasty collision with more than one wall before coming to a complete stop. Matt Field's Corvette took some huge damage in the accident, and he was unable to fix the car during the event. After reviewing multiple angles, Fredric Aasbo was assigned fault of the accident because he didn't allow Matt Field to rotate his Corvette and accidently forced it into the wall. Fredric Aasbo was interviewed after the fact, and revealed genuine remorse and admitted to being too greedy in his efforts to minimize proximity.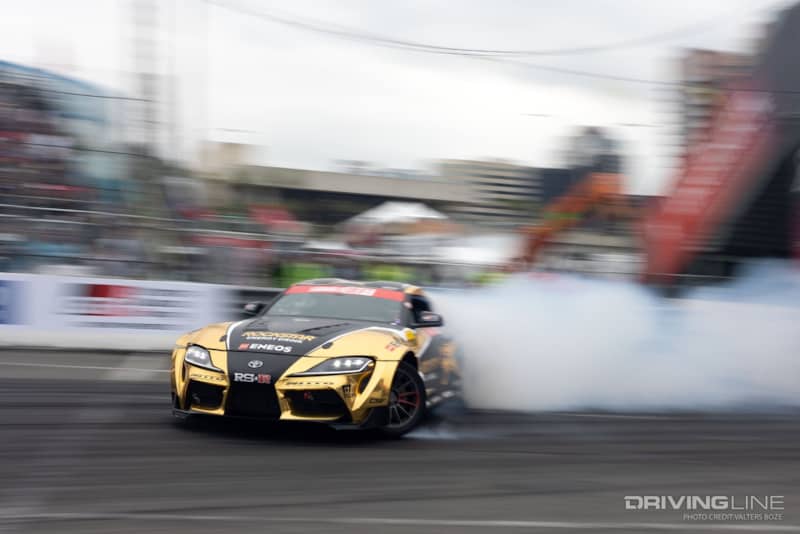 Matt Field's team was unable to get the Corvette repaired so he advanced into the Finals but was unable to compete against Ryan Tuerck. Ryan Tuerck with his Toyota Corolla GR on Nitto NT555 G2 tires took home his sixth career victory! His sixth career victory puts him in the top 10 drivers for all time Formula Drift victories and now sits tied with Daigo Saito and Chelsea DeNofa after this win in Long Beach.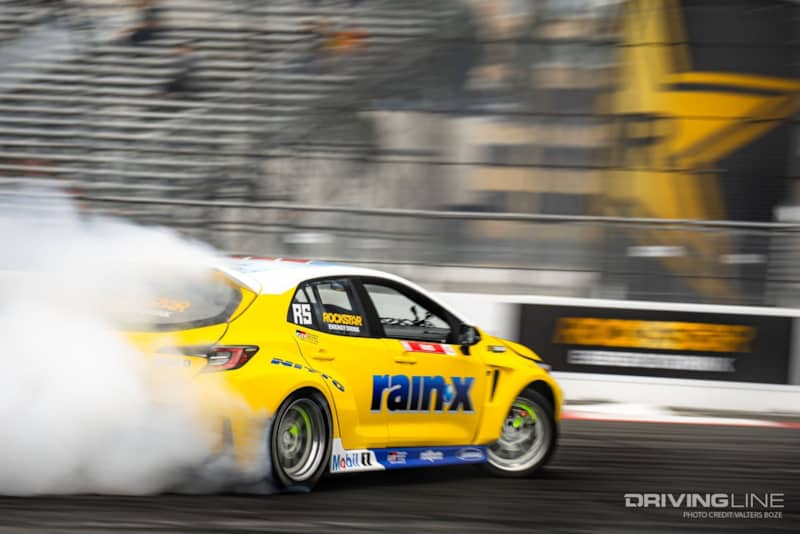 Ryan Tuerck completed the day with a perfect event: a first-place finish and a first-place qualifying. We'd say he's more than ready for Round 2 at Road Atlanta on May 6th and 7th 2022!