10 Cars, 9,000+HP: The Wild Engines of 2019 Formula Drift
One of the most interesting elements of the Formula Drift rulebook is the flexibility in engine configurations allowed by the sanctioning body. While there are some fairly tight restrictions around suspension pickup points, retaining a large portion of the original unibody, and a strict approved tire list, there are effectively no restrictions on what engine powerplant can be used. Horsepower is effectively unrestricted, the only rule that might be restrictive to power is the requirement that a single set of tires must last for two whole laps around each track. This creates a wide diversity of engine configurations that is relatively unique to Formula Drift, especially considering that there are no requirements to utilize the same engine manufacturer as the body of the vehicle like you might see in other sanctioning bodies. We decided to look under the hood of several Formula Drift race cars from the 2019 entry list to see what some drivers were running to stay competitive.
1. Chelsea DeNofa & Vaughn Gittin Jr.: Ford Roush Yates RY45 V8 With Nitrous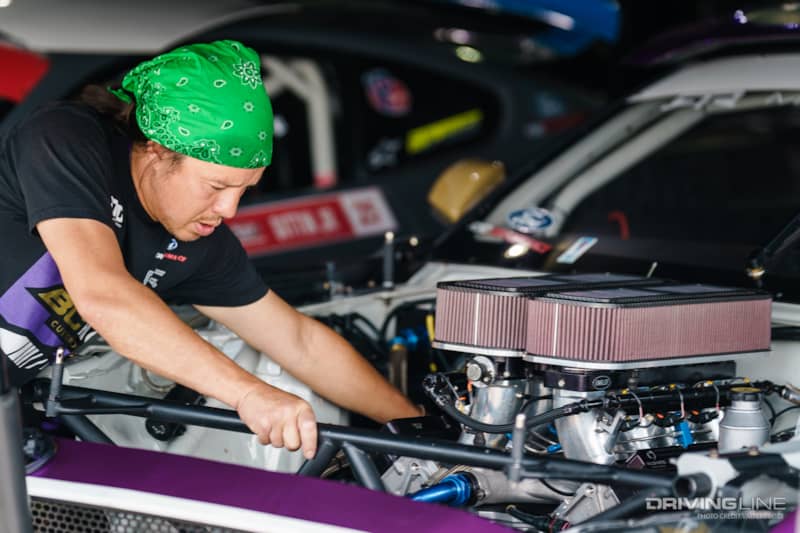 The Ford Mustang RTR team of Chelsea DeNofa and Vaughn Gittin Jr. utilize a Ford-style engine, built by well known NASCAR engine shop Roush Yates out of Charlotte, North Carolina. The engine is based on the Ford FR9 architecture, and is approved for stricter sanctioning bodies like NASCAR and Off Road Truck competitions. For 2019, both Gittin Jr. and DeNofa upgraded their engine setup by adding direct port nitrous to help boost the overall horsepower numbers to over 900hp. For years, the Ford Mustang RTR program has been known for their reliability and mechanical consistency, and the new upgrades have already yielded a podium for Chelsea DeNofa at Formula Drift Orlando. 
2. Fredric Aasbo & Jhonnattan Castro: Papadakis Racing Toyota 2AR-FE I4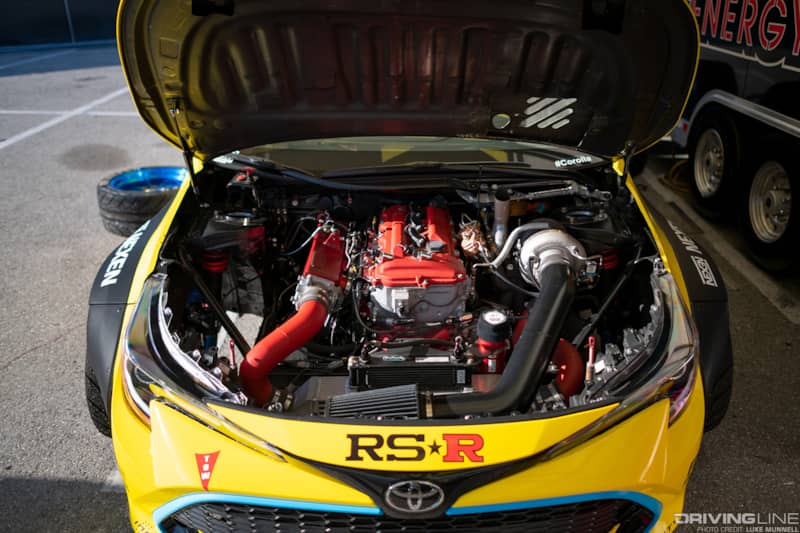 The lone four-cylinder engine setup in Formula Drift is used by two different cars on the grid. Fredric Aasbo's Toyota Corolla is the flagship car on the Papadakis racing team, while Jhonnattan Castro's Toyota GT86 also utilizes the same engine setup in a slightly de-tuned configuration to emphasize reliability. Stephan Papadakis is well known for his days as a Honda drag racer, and has used that knowledge from drag racing to push out big horsepower drift engines. The current configuration pushes out over 1,000hp using a combination of high boost through a Borg Warner turbocharger and a direct port nitrous setup. Papadakis shows a very detailed build of one of these engines on his Youtube channel, which is worth a watch if you're a fan of high strung four-cylinder engines!
3. Dean Kearney: Twin Turbo Dodge Viper V10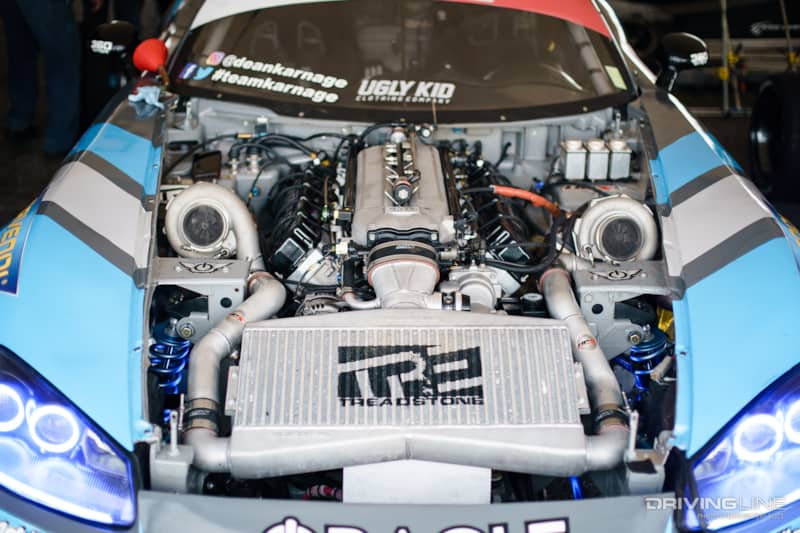 Dean Kerney's Dodge Viper is not only one of the most obscure and interesting drift cars on the Formula Drift grid, it also claims to be the highest horsepower engine in any drift car in the world. The engine features a pair of Garrett 4088 turbochargers feeding the Gen 3 Viper engine, which pushes out more than 900hp at just 3,000 RPM, and an equally impressive amount of torque. Overall, the package is good for more than 1,400hp if they could find a dyno that could handle the output, but the final output is undetermined because most dynos will shut down well below that threshold. Kearney's Viper is the lone Dodge currently on the Formula Drift grid, although Samuel Hubinette won two of the first three championships in Formula Drift in various Dodge Viper chassis.
4. Alex Heilbrunn: Supercharged Chevy LSX V8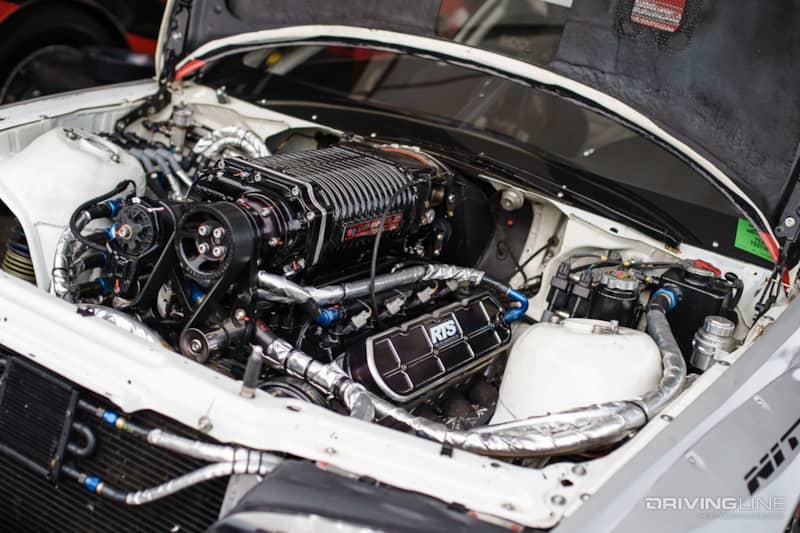 While Alex Heilbrunn's utilizes a BMW E46 chassis and body panels, the engine under the hood of his car is very different from what was sold on the BMW dealearship lot in the late 90's and early 2000s. Heilbrunn switched to the Chevy LSX-based engine platform, utilizing a custom block from RHS that emulates the LSX architecture, topped off with a Whipple 4.5L supercharger. The Chevy LS engine platform became popular in the late 2000s with the drifting audience because of the cheap cost and abundant torque out of the box, and several drivers like Heilbrunn have proven the setup to be easily turbocharged or supercharged to more than 1,000hp with consistent and reliable results. We profiled Alex Heilbrunn's "Monster BMW" back in 2017, and the engine package has only seen some incremental upgrades since then.
5. Daijiro Yoshihara: Turbocharged Chevy LS9 V8
Contrary to Heilbrunn's supercharged setup, Daijiro Yoshihara went the turbocharged route on his Subaru BR-Z chassis. The 4-cylinder motor that came stock in the Subaru BRZ was relatively unproven back in 2013 when Yoshihara built the chassis, so he also chose to convert the chassis to a Chevy V8 engine package. For Yoshihara and the team, the turbocharger route allowed them to push well over 1,200hp with ease, then dial back the boost for reliability. The tuerbocharger option tends to push higher horsepower than the supercharger option, but with the downfall of turbo lag. In race trim, Yoshihara's engine setup routinely sees around 900hp on race day.
6. Kyle Mohan: Mazda 3-Rotor 20B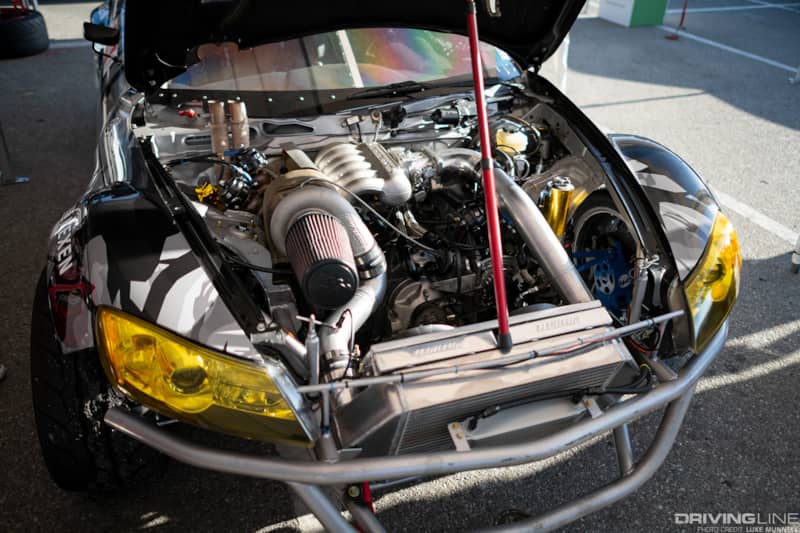 Kyle Mohan is the lone Mazda driver on the grid in 2019, and his rotary engine is quite unique. Rather than utilizing pistons to compress the gases, the Mazda "Wankel" engine uses a three-sided rotor developed by German engineer Felix Wankel, and Mohan's configuration uses a trio of rotors paired to a Precision Turbocharger and nitrous to push over 1,000hp to the rear wheels. Mohan is one of the few drivers on grid who uses Ethanol fuel, which burns cooler and helps avoid detonation at higher boost levels, to keep up with the rest of the Formula Drift grid. 
7. Ryan Tuerck: Toyota 2JZ-GTE Turbocharged I6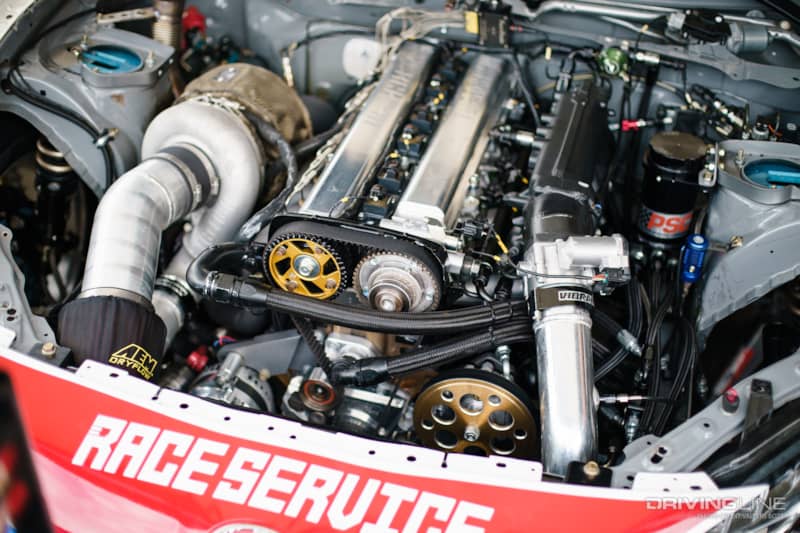 After a major crash in practice during Formula Drift Long Beach, Tuerck had to build an entirely new chassis before Orlando. Luckily, Tuerck the engine package remained largely the same for the new chassis, and the Toyota 2JZ-GTE turbocharged engine that originally came stock in the Toyota Supra is well known for handling over 1,000hp on the stock iron block. Tuerck told us about the new Garrett G42-1200 turbocharger pushing record numbers during a pre-season dyno session back in March before the 2019 Formula Drift season started, and he pushed the new chassis to a second place finish at Road Atlanta just a few weeks ago. Several other drivers also utilize the 2JZ-GTE engine in a Toyota GT86 chassis in the series, but Tuerck is the only one to podium so far this season with the setup.
8. Forrest Wang: Toyota 2JZ-GTE Turbocharged I6

While Forrest Wang also uses a Toyota 2JZ-GTE engine, similar to Ryan Tuerck, it is swapped into a very different Chassis. Wang's Nissan S15 originally started as a right-hand drive vehicle from Japan, and the Nissan SR20 engine that came in the chassis was replaced with the Toyota powerplant. Many drivers in the mid-2000's preferred the Nissan SR20 as the engine they initially swapped into their drift cars because it was easily found in wrecking yards in Japan and easily upgraded to over 350hp, the current demands of Formula Drift require much higher horsepower than the SR20 engine has been proven to consistently hold, and Wang has swapped his last several competition cars to utilize the Toyota inline 6 engine. Wang utilized the more than 1,000hp from his Precision Turbo package to earn a podium at Formula Drift Long Beach, and currently sits in fourth position overall in the 2019 standings.
9. Federico Sceriffo: Ferrari V12 Engine With Nitrous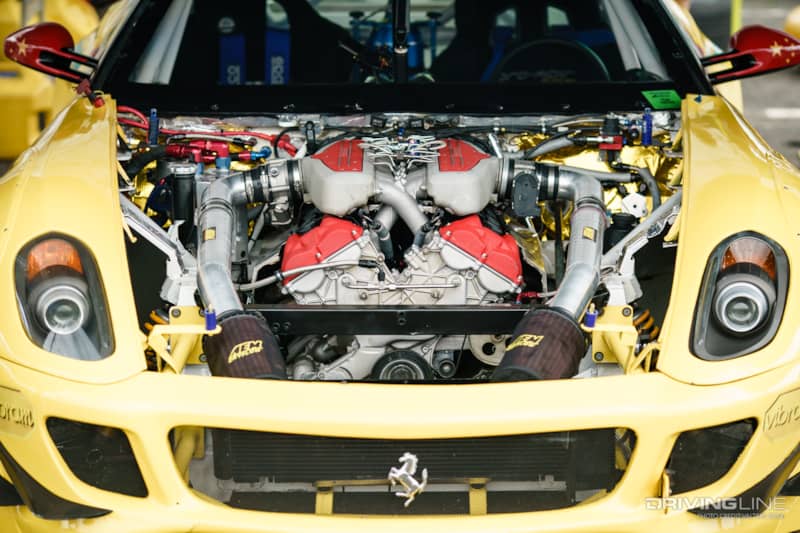 Federico Sceriffo blazed onto the Formula Drift circuit last season with his Ferrari 599 GTB drift car, but removed the superchargers for 2019 in favor of a more lightweight setup. To make up for the drop in horsepower from removing the superchargers, Sceriffo added a 100-shot nitrous setup which appears to have helped with the overall weight distribution and competitiveness in 2019. Sceriffo's Ferrari is the only V12 on the Formula Drift grid, and is the first and only exotic car to compete in Formula Drift. 
10. Travis Reeder: Tesla-Based Electric Motor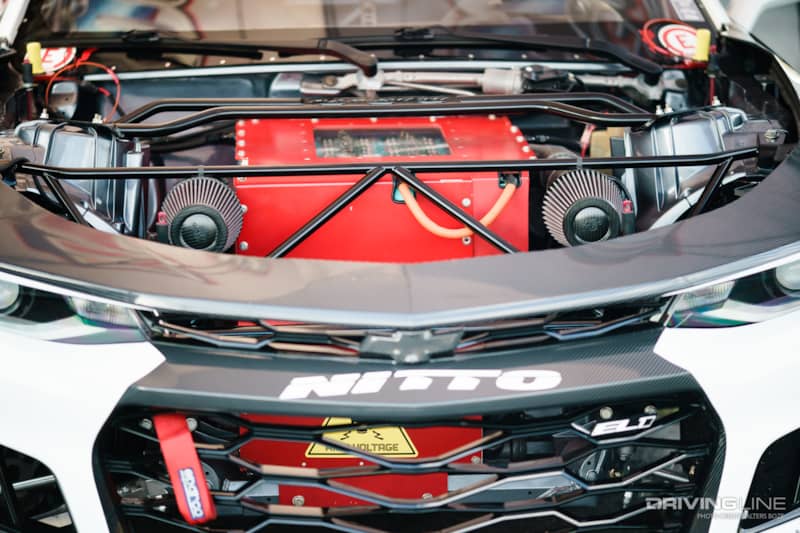 The most unique powerplant on the 2019 Formula Drift grid isn't a combustion engine at all. Travis Reeder's Napoleon Motorsport-built Chevy Camaro EL1 utilizes a Tesla based electric motor package that recently became the first Electric powered drift car to compete in a professional series at Road Atlanta. We first caught wind of the vehicle at Formula Drift Long Beach, but the car wasn't allowed to compete due to safety concerns. The big red box you see under the hood of the Camaro EL1 is actually the battery and inverter system, and a pair of tubes with air filters resembling a traditional combustion intake were recently added to help with cooling and breathability. The actual electric motor sits under the rear of the car between the axles, and there isn't a traditional driveshaft like you would see in most rear wheel drive vehicles. The car has already made waves and 'broken the internet' when it debuted, but Reeder and the team continue to push for higher results. 
Check out all of the latest drifting content on DrivingLine, including Formula Drift event coverage and driver profiles.