From Barn Find to Pro Touring Stunner: Incision, The Hellcat Powered 1968 Dodge Charger
Finding an undiscovered, rare and desirable vintage muscle car in a barn is something that many car enthusiasts dream of. A select few enthusiasts have dedicated their lives to hunting down these "barn finds" nationwide.
But what exactly do you do once you get one of these cars into your hands? Some sell for a quick buck, others begin the painstaking process of a factory restoration—and then there's Russ Weid, who saw his 1968 Dodge Charger barn find as a blank canvas for something ambitious.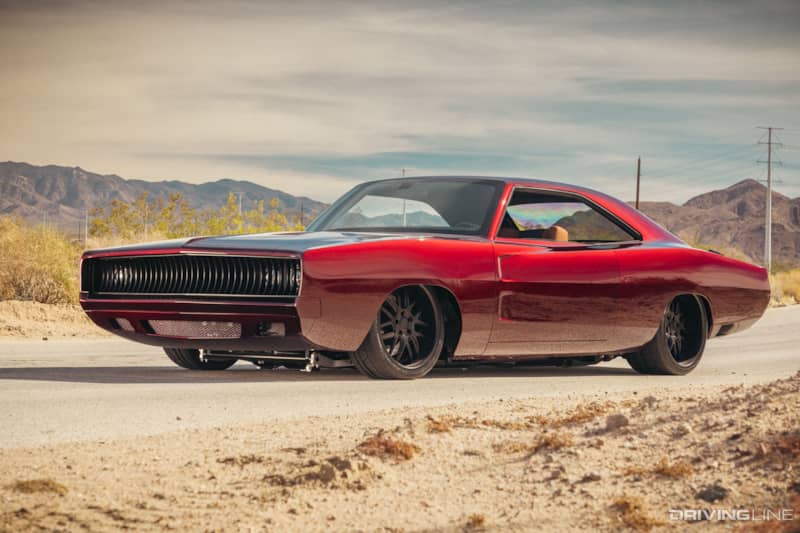 Russ is a retired Chrysler employee who spent his career testing machines around the company's vast proving grounds. After spending some time behind the wheel of his modified Corvette, he decided it was time for some Mopar love with the iconic '68 Charger.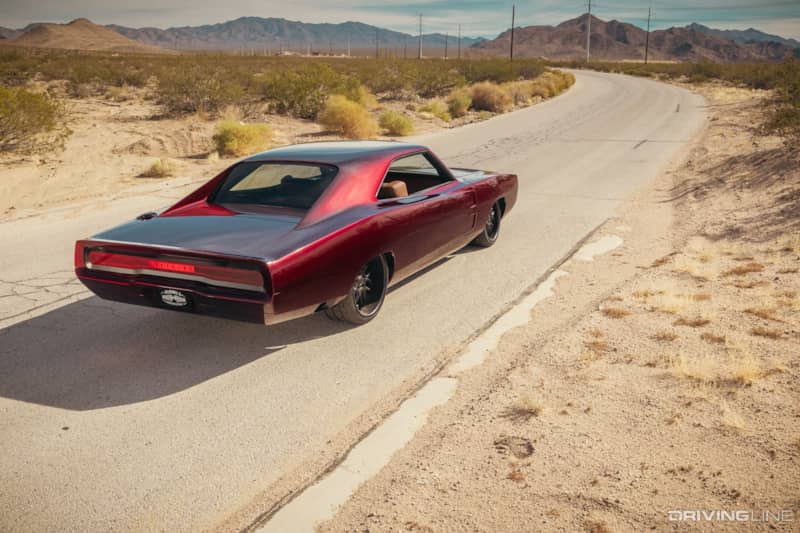 To handle the reigns of this build, Russ enlisted Jesse Hernandez of Jesse's Classics & Customs—and the radical red machine you see here is the result of a two-year build process inside of Jesse's Gregory, Michigan shop.
Under the Knife
Though immediately recognizable as a '68 Charger, Jesse says the only things left from that original barn find is the core body structure and roof. And that surgical reworking tells you how the project got its nickname: Incision.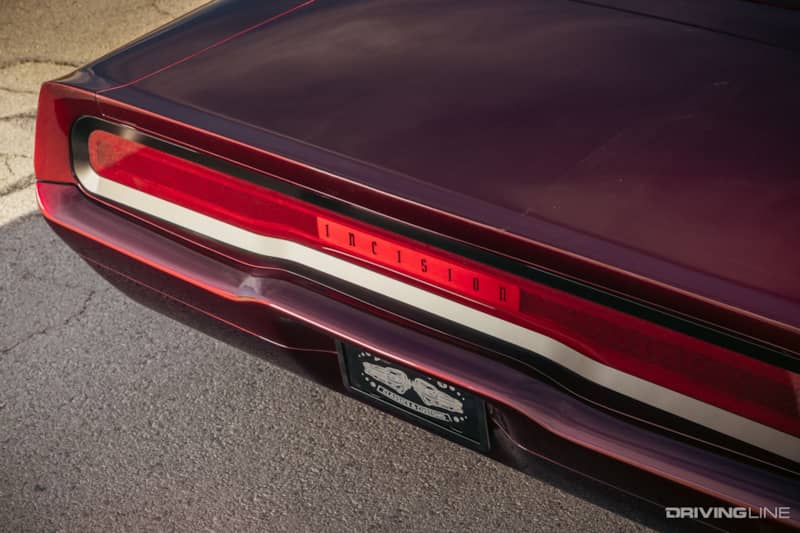 Beneath that body, the 55-year old Dodge components have been replaced with a brand new, modernized chassis from Schwartz Performance.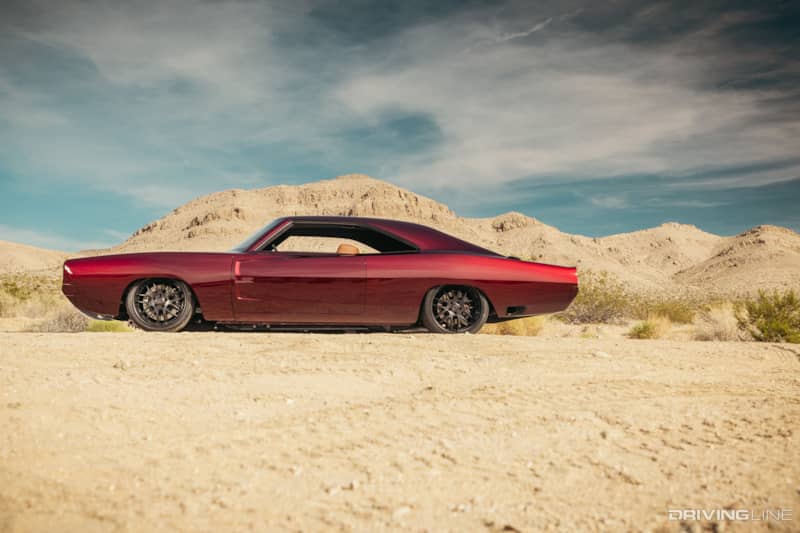 An ultra-mean stance was a key goal for the project, and that's been achieved thanks to Ridetech Shockwave integrated air springs and shock absorbers, which help the big Dodge kiss the pavement.
When the Charger was found, it had an old school 440 Mopar big block, but Russ & Jesse had their eye on a powerplant that was a little more modern.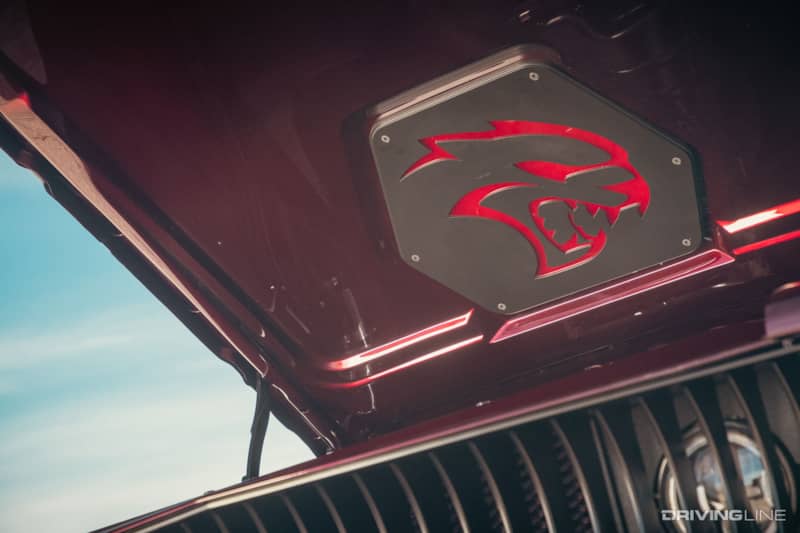 Hellcat Power
And after the suggestion from Russ' grandson that "It'd be cool to put a Hellcat in it," that's precisely what they did.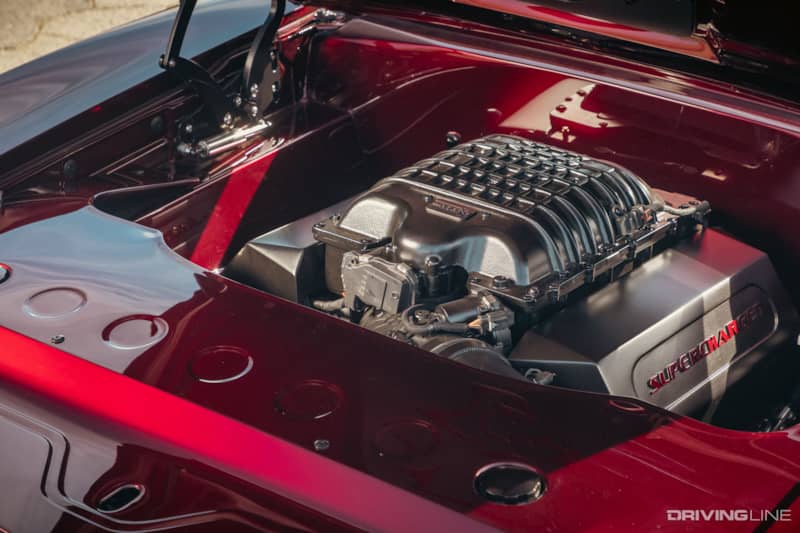 With over 700 horsepower on tap, the modern supercharged 6.2L Hemi V8 engine has been left essentially stock, and it's mated to a GM 4L80-E overdrive automatic transmission.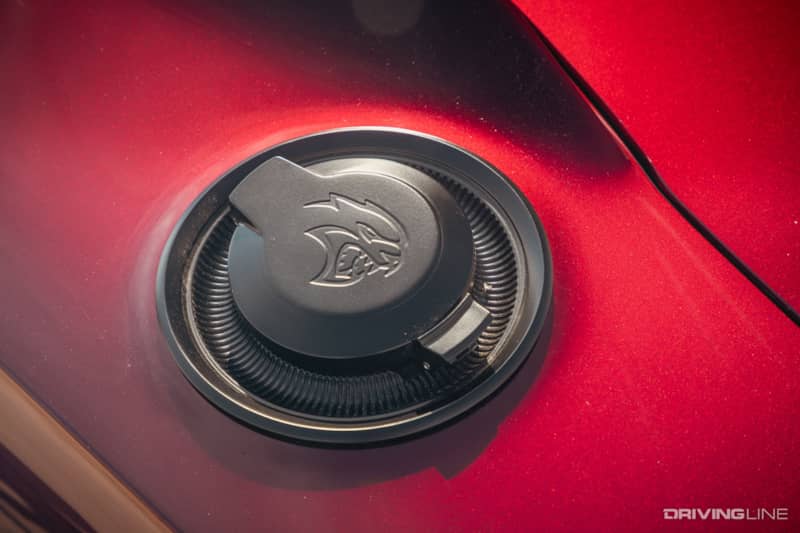 From there, the power is delivered to the tires through a nodular version of the bulletproof Ford nine-inch rear end.
And with such a dramatic increase in horsepower, a set of 14-inch Wilwood brakes were added to help bring things to a stop.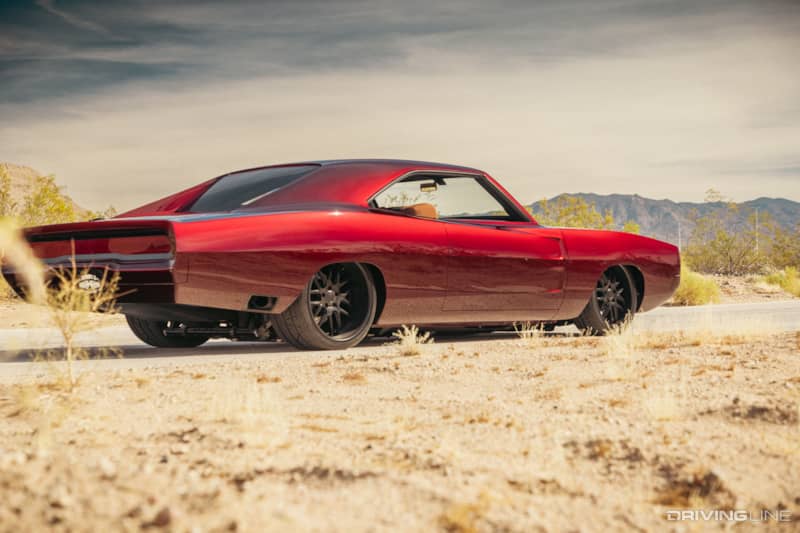 Serious Stagger
Even more critical were an appropriate set of wheels and tires to help put that blown Hemi power to the ground, bring the Charger's grip into the modern era, and fill up those muscular fender wells. A dramatically staggered wheel setup was the key to nailing the stance. The Savini Forged XLT Series SV63 wheels measure 19x8.5" up front with a pair of massive 20x12.5-inchers in the rear.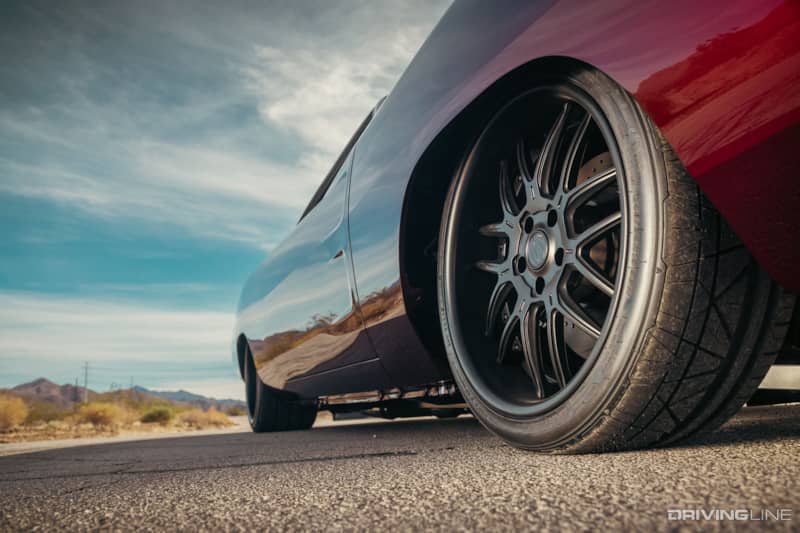 Having experience with the tire on his previous Corvette, the Nitto Invo was an easy choice for Russ, who'd fallen in love with both the distinct tread pattern and the all-around performance. Even better is that the Invo was explicitly designed for staggered setups like this one.
The Charger runs Nitto Invo ultra high-performance tires measuring 245-35-R19 up front, and the gigantic rears are the widest you can get, a steam-roller like 345-25-R20 that ensures none of that Hellcat power is put to waste.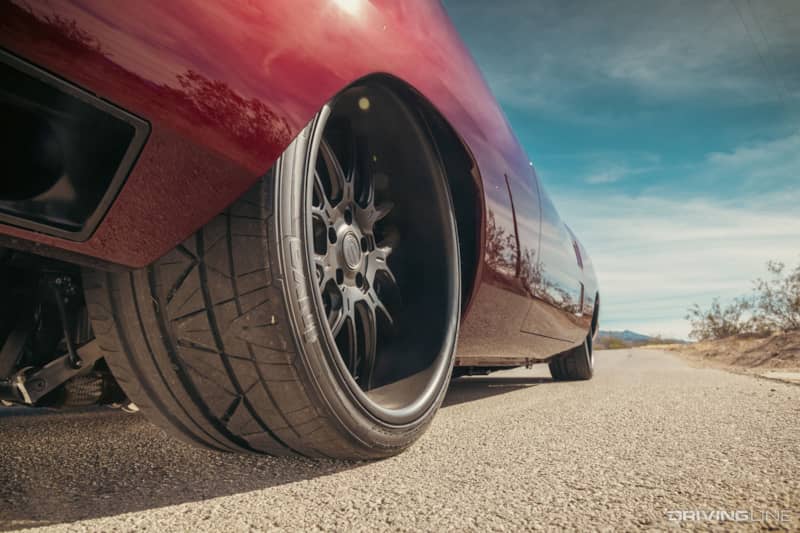 It's All in the Details
Like the best pro touring builds, the Charger is filled with unique one-off details like a flush mount windshield, a handbuilt custom front grille, and an LED taillight setup inspired by the ones used on the modern Charger sedan. And it's all set off by a striking coat of Brandywine Kandy paint from House of Kolor.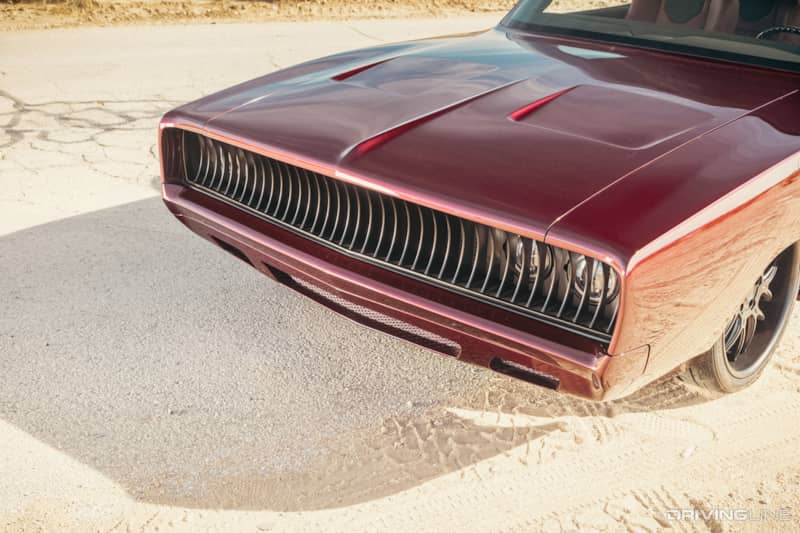 Finally, there's the interior—which has a surprisingly luxurious vibe thanks to the custom cinnamon and black leather upholstery, one-off instruments and modernized bucket seats.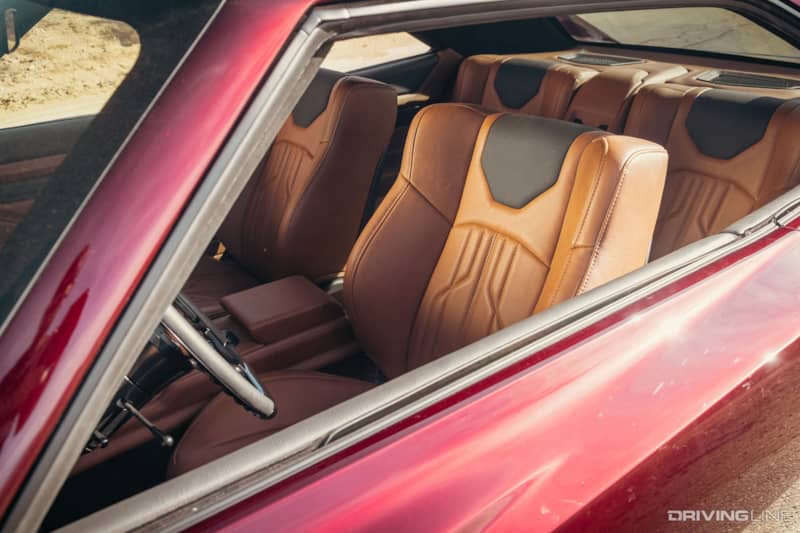 Even in the pro-touring heaven that was the 2022 SEMA Show, the Charger stood out from the crowd and was easily one of the most talked about muscle car builds around.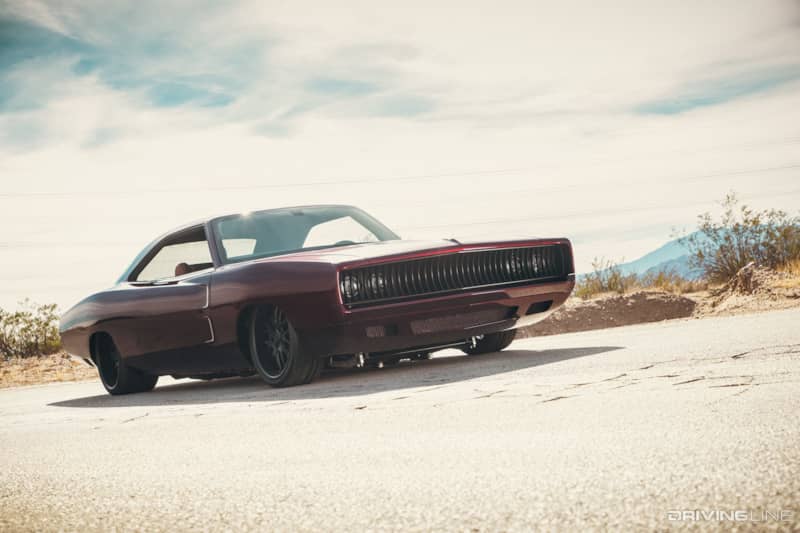 And that was just the beginning. As of this writing, Jesse and Russ just returned from the Detroit Autorama where the Charger picked up a handful of awards, and this year the car will be hitting the road to car shows all across the midwest and beyond.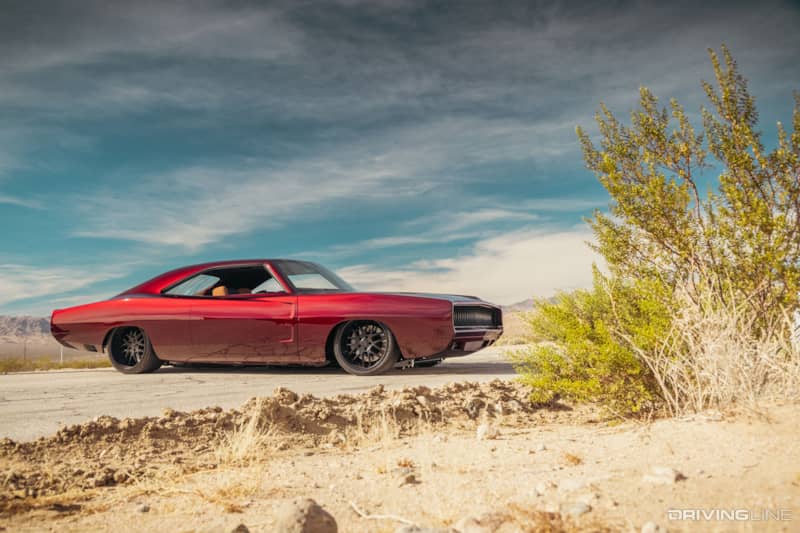 For some people, that elusive muscle car barn find might be the end goal, but for Russ and Jesse it ended up being the start of a fantastic journey and the origin story for one of this year's hottest pro touring builds.