Black Velvet: ExoMod Classicizes a Hellcat SRT in Carbon Fiber
What if instead of taking a classic American muscle car and modernizing it, you took a Hellcat SRT and classicized it? It's one thing to add new tech to old metal but what happens when you not only reverse that dynamic while upgrading said tech in the process? Ask Rick Katzeff at ExoMod because that's exactly what he and his company do. Or you could ogle Black Velvet here. We did both.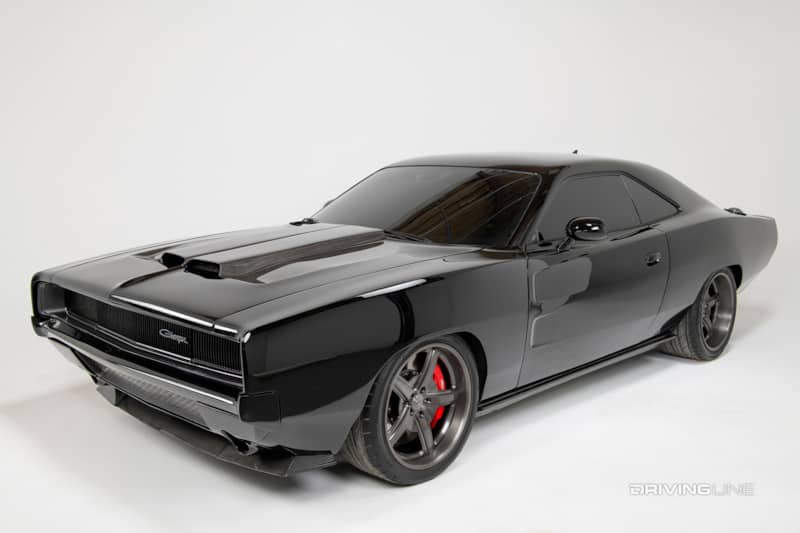 Rick has a long and distinguished history in the world of OE Concourse-level MOPAR resto-mods. It was all good until a customer wanted a '69 Charger with Hellcat pedigree. And to simplify and complicate the process at the same time, the guy had an unlimited war chest with which to attack the problem. When money is no object, you're free to go to town on a project and really spread your creative wings. You're also obligated to go to town on it creatively. In other words, you have no budgetary pressure but all the creative expectations on Earth at the same time. It's the dichotomy from which legendary ideas are made reality. And that's pretty much what took place here. 
Building out the car as a Hellcat-inspired '69 Charger was the first incarnation of that car, though. It packed a ton of one-off's, belted out 890hp, and had some chassis work done to it. And then Rick took it for a test drive. 
That's Just the Tip
You could say he was less than thrilled. The car definitely delivered in the power department. Comfort and handling? Well, let's just say if they were a Door Dash driver, the only tip you'd give them is, "Don't look directly into the sun." Rick later brought new coilover shocks into the mix but even after that it still didn't perform as well as his own 2008 Hellcat.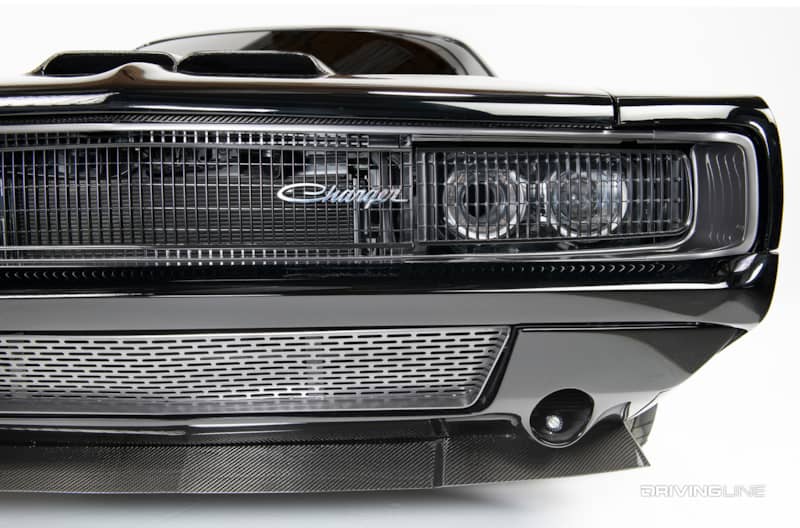 Rick found that was the nature of the beast, though. When you bring a bunch of aftermarket mish-mash to an aftermarket chassis, they're not necessarily engineered to perform together as a team. There's a lot of modifying, bleeding, and cursing that we writer types don't talk about when typing up resto-mod stories. In his case, Rick went to the drawing board (and the cutting torch, and the design software, and the 3D printer). In time he worked out the prototype Charger panels needed to make '68 Charger carbon fiber bodywork for a '68 chassis.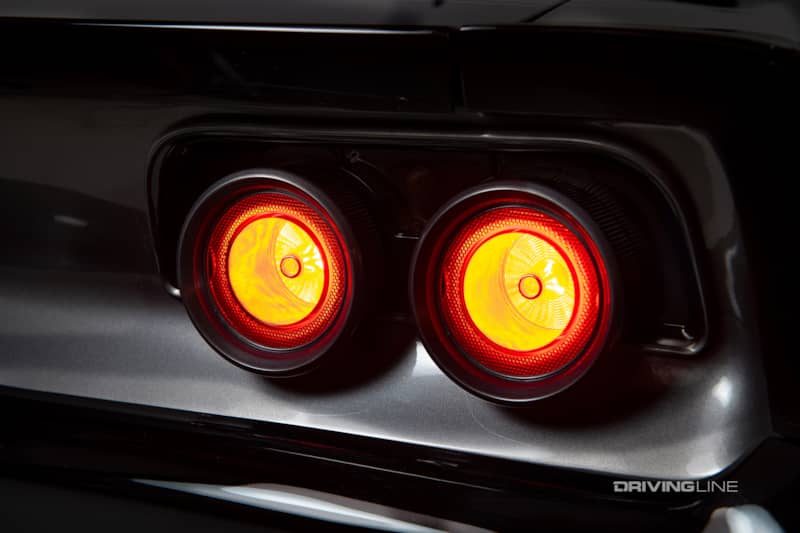 All of that research and hard work percolated in Rick's noggin, cooking into what is now ExoMod. The basic concept behind ExoMod projects are reliability, high performance, and legendary American muscle car style. The general idea is easy to grasp but ExoMod really went all-out to bring that trifecta of automotive perfection together. The overall motif has been termed Retro-Mod and that's a pretty apt description for it. 
Haute Rod
Black Velvet epitomizes that idea. Like all of ExoMod's build packages, it's founded on a SRT Hellcat chassis, flexes classic American muscle, and has high-end upgrades throughout, from the Italian leather interior to the carbon fiber in the bodywork.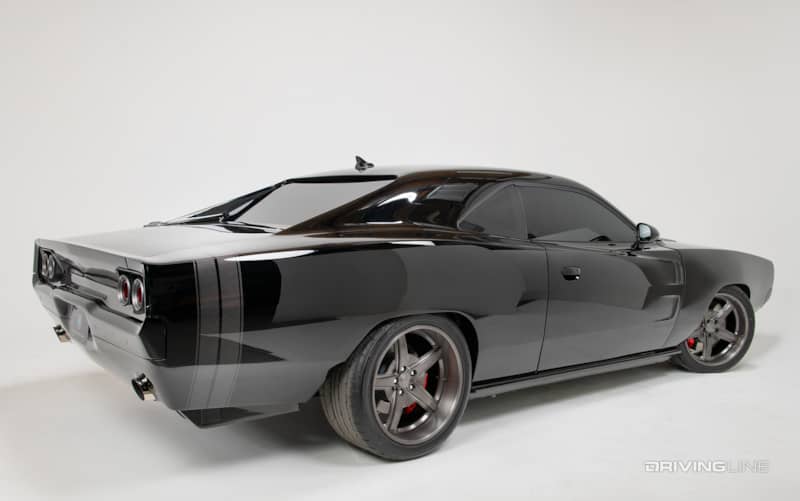 The car runs on a 6.2L Supercharged Hemi V8 in a custom-built engine compartment, mated to a custom exhaust. A 8HP90 8-speed Torquelift transmission sends gobs of power to the axles. 
Its frame is four inches wider than that of a `68 Charger, too. With its SRT Competition suspension and adaptive damping system, Black Velvet slices corners and curves like a scalpel. The only major variable is the skill level of the surgeon at the wheel. 
Sticky Situation
And of course credit some credit for that precision handling goes to the Nitto NT555 G2 tires Rick opted for on the build. "I used 555 G2's on some builds in 2018 and 19. That's when I fell in love with them. They stick for launches, do nice smoky burnouts, and I love the tread profile. They're perfect for Pro Touring vehicles. Just the perfect tire," he says.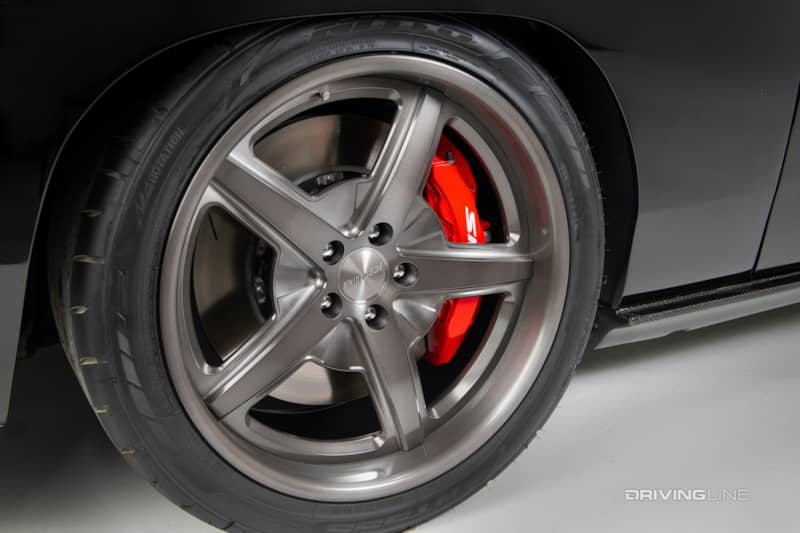 Because if you're going to go high end on a car, Nitto NT555's are the perfect choice. Both the 285 front and 315 rear tire sets run with Forgeline Rodster wheels (20x10-inch front, 20x12-inch rear) in a brushed finish. Black Velvet relies on Brembo 6-piston calipers with 15.70-inch slotted rotors to slow things down. 
Style Points
Stylistically, the big star of this show is probably the skin. This is a fully carbon fiber widebody bathed in Black Velvet paint. It brings all of the carbon fiber benefits (lower weight, durability, cool factor) but it also gives this ride its sweet '68 Charger lines that are such an important part of the whole project.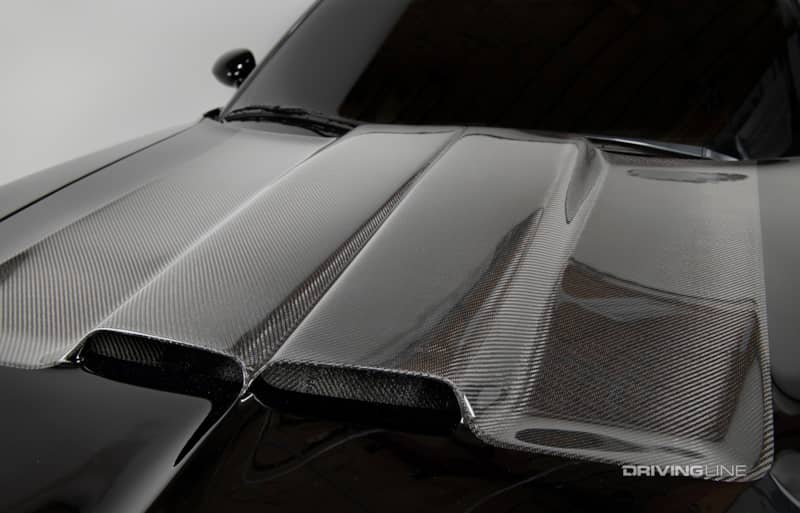 The carbon doesn't begin and end with just the panels, though. Just check out the hood, Bumblebee stripe, rocker moldings, and rear diffuser.  Black Velvet is also accented with Satin Graphite grille and tail light trim as well as a Gloss Graphite lower front grille and tail panel. If Bullitt had an evil twin, this sinister machine would definitely be it (if Bullitt had a carbon body and LED sequential tail lights, of course). 
Inner Beauty
Inside, Black Velvet's Italian leather interior just oozes sexy class. Not only that, heated and ventilated front seats keep you comfy when it's hot or cold while Advanced Multistage SRT front airbags run interference in case of an accident.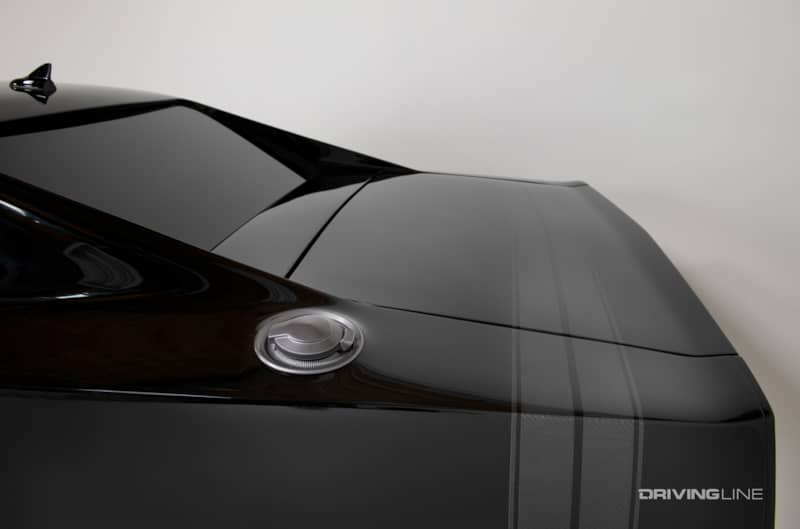 ExoMod also gave Black Velvet a boomin' Harman Kardon 18-speaker premium audio system with subwoofer and GreenEdge amplifier, plus Surround Sound. In case you don't like the badass purr of the engine for some reason.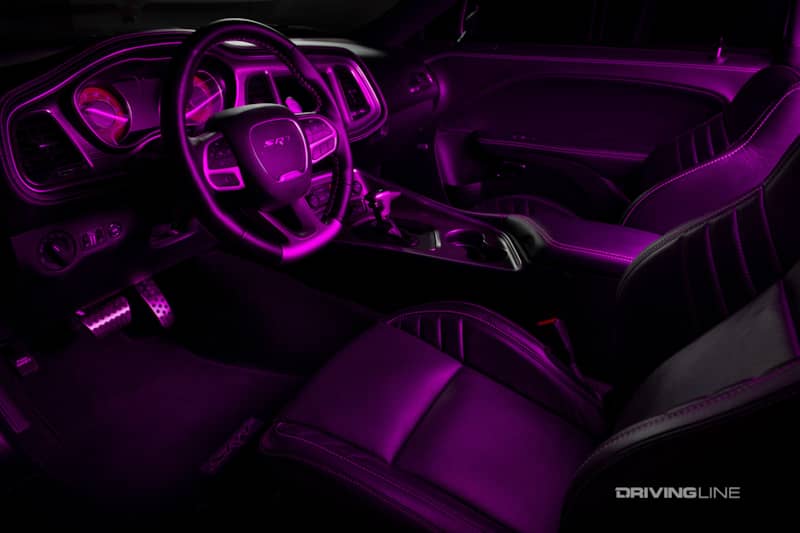 And lastly there's the hidden beauty that comes into play with the great custom projects. Usually that means a completely sanitary styling but in this case, it has to do with the factory warranty. Part of the beauty of ExoMod's upgrade packages is that the finished cars still retain the 5 year/60k mile warranty. How many full-blown custom jobs can make that claim?