Fugu Z: The Possible Dream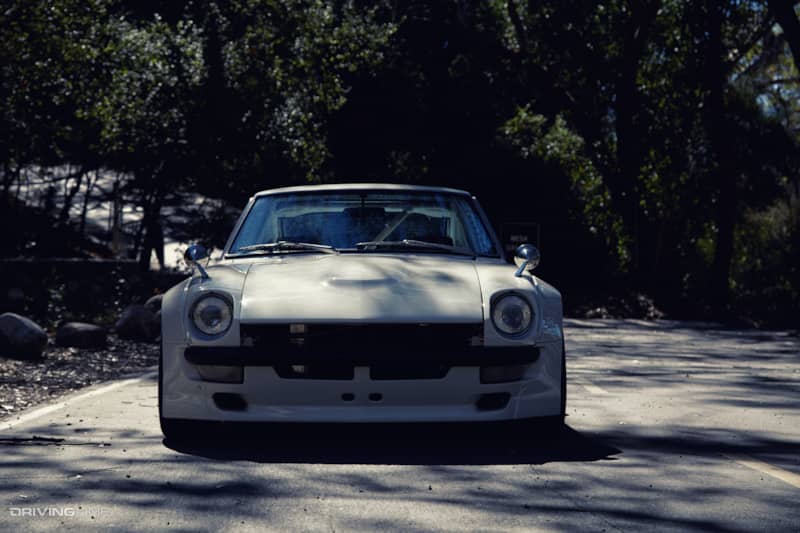 Fugu Z has come a long way, baby. In only three months, it went from being nearly inoperable for the 2015 SEMA Show to being driven by Jay Leno for his own Jay Leno's Garage. In between that it was (finally) fired up, made it to the Driving Line booth, drove fan boys and Fast & Furious fans absolutely wild at SEMA and won a very prestigious award, given out by none other than Kazunori Yamauchi, lead designer at Polyphony Digital, the creators of the Gran Turismo franchise (the award also means the car will be available for play in a future edition of the game, lucky you). Given its famous owner, Sung Kang, was any of this a shock? Not really, but if it's done this much in so little time, how does one take Fugu Z to the next level? We're soon going to find out…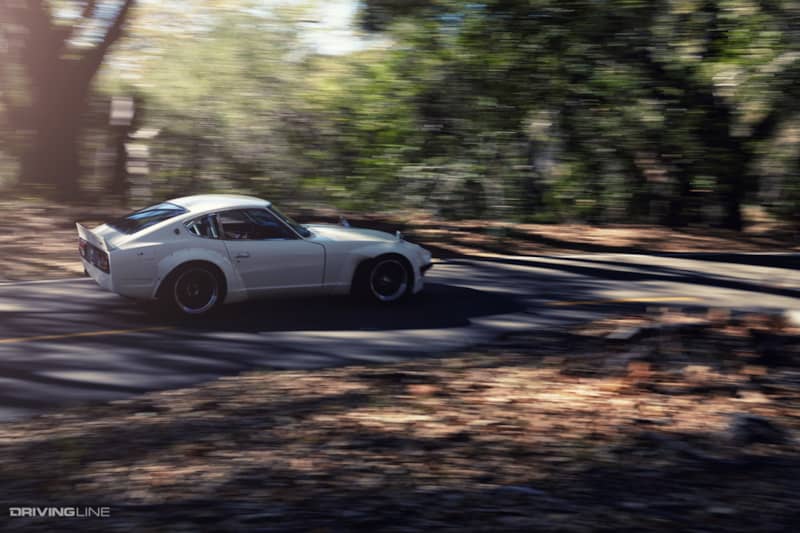 A little more background before we move on: Fugu Z's original mission was plain and simple—be a weekend racer for a trio of friends to share and enjoy the time with. Research led Sung specifically to the Rocket Bunny kit, and with the help of social media, connected him with GReddy USA, which in turn, jumped in to lend a hand in crafting the build. This immediate connection linked the project to Kei Miura at Rocket Bunny, so the aero was locked. Next was deciding which engine to go with—after unsuccessful attempts at securing an OS Giken TC24-B1Z L-series ($50K) and an actual S20 Hakosuka GT-R ($60K) motor in time for the show, GReddy's Kenji Sumino suggested something a little more unique. An engine that would be more budget-friendly and readily available: the RB26DETT…except with a twist—decommission it from turbocharged status, which comes with its own set of challenges.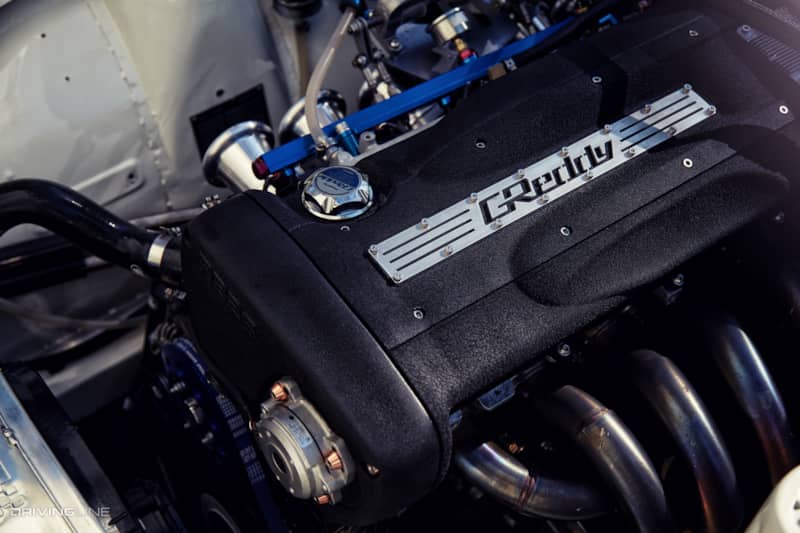 The first hurdle to overcome was the cams—naturally aspirated cams aren't available for a RB26, so maximizing power (as far as duration, overlap and lift is concerned) isn't ideal using a pair of turbo cams. Next is the exhaust manifold—again, nobody makes an NA header, either, so HyTech came in personally to weld the beautiful, stainless-steel equal-length header and exhaust together. Next, they rebuilt the bottom end and bumped the compression up using 12:1 CP pistons, the valvetrain was reworked by Portflow and GReddy added individual throttle bodies for the wow factor. Now the RB26 had become something unique.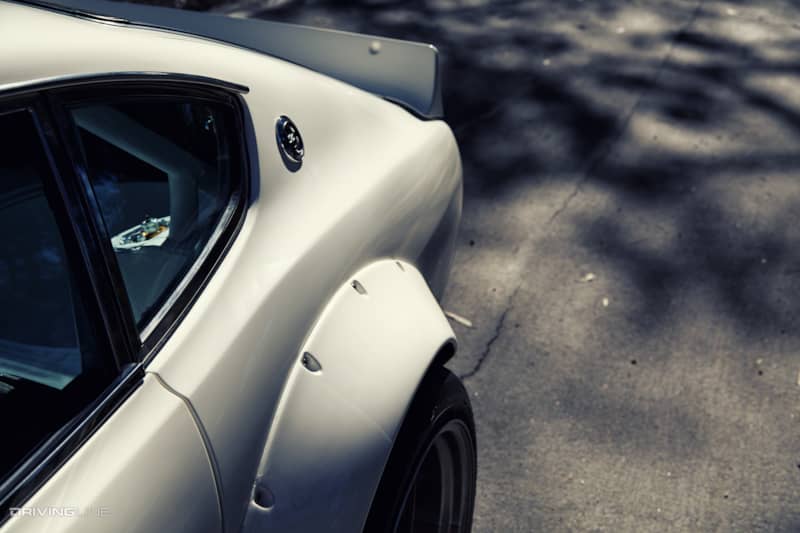 The body was then stripped down to the bare metal, stitch-welded and strengthened with a rollcage at GReddy before it was sent to Signature Autobody for bodywork. It was sprayed in Kilimanjaro White, an original old-school Datsun color, and all its imperfections removed to make Fugu Z a perfectly flawless specimen. The interior was put back together minimally, using a new dashboard, door panels, center console and seats, all commissioned by Carbon Signal, out of Dubai of all places. An extremely simple suspension setup consisting of parts from Techno Toy Tuning help lower the car plenty right while keeping the Rocket Bunny fenders from being ripped off by the Volk TE37V SLs and beefy Nitto NT01 rubber.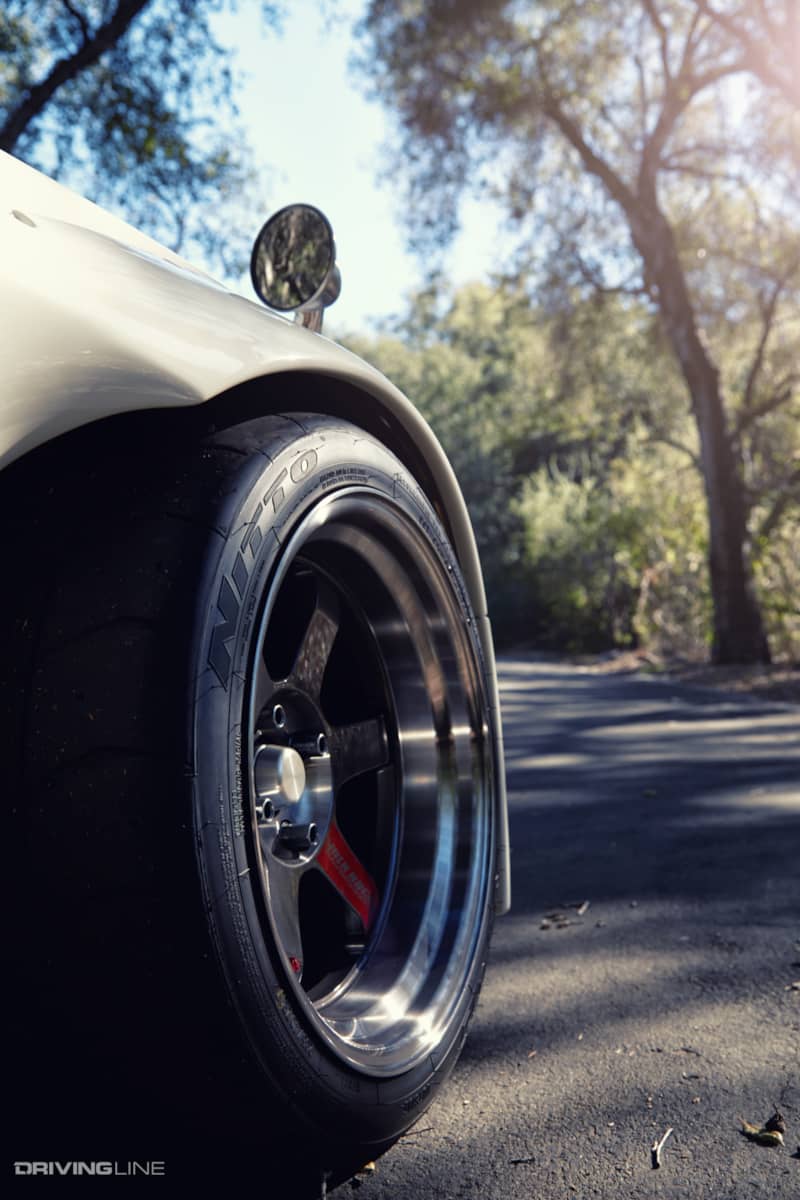 Now that accolades have been won, there are more of us who are eager to see Sung (or anyone willing to) get behind the wheel of Fugu Z so we can see what it can really do at the track. After all, that is its original purpose. But the car still needs a little more work to get it where it needs to be in order to be competitive; bigger brakes are needed and Sung is looking for seats that are a bit more secure. The engine, while it sounds sexy on paper, could stand to use a little more oomph in the power department. An initial tune saw it come in the low 200hp range, and some cam timing play brought it up to 240 hp but GReddy thinks it can hit 300 hp with more tuning, raising the rev limiter and switching to E85 fuel. Fugu Z does sound wicked at open throttle but since the boost is gone, it takes some time for it to come up to full speed. It currently sips 91-octane to hit 9K rpm and power still climbs as it reaches redline, so there is more horsepower up top to be discovered.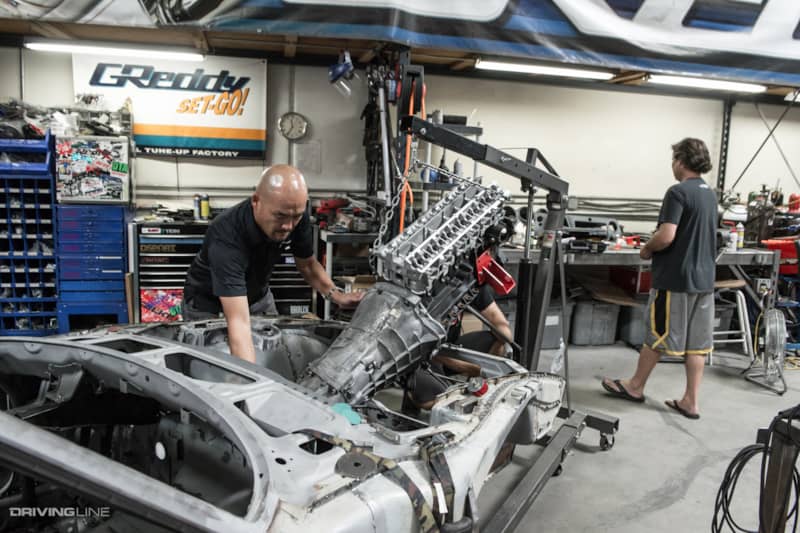 From a dream build conceived amongst friends, brought to fruition with the help of social media and a solid team in GReddy, whatever journey it is that Fugu Z takes on next, it seems as though its true destiny may finally be fulfilled.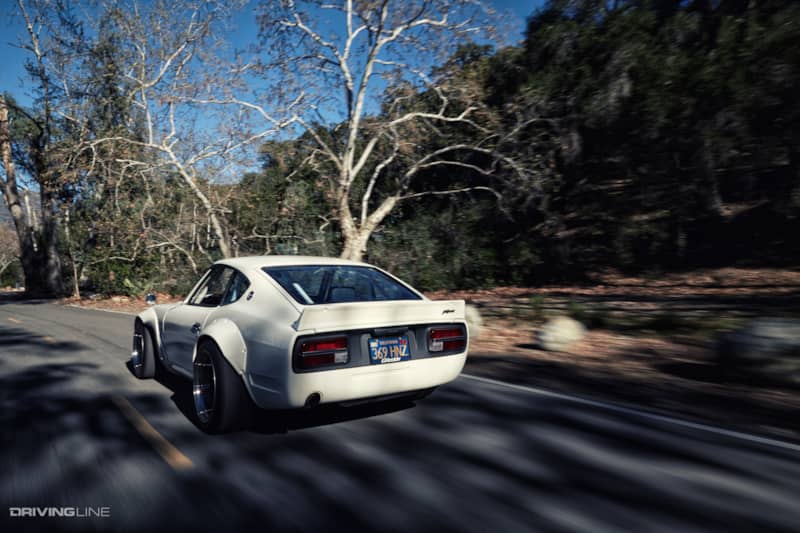 SPECS
1972 Datsun 240Z aka "Fugu Z"
Owner: Sung Kang
Hometown: Los Angeles, CA
Engine: Custom Nissan Skyline RB26DE by GReddy; CP pistons; Carillo rods; cylinder head work by Portflow Design; Supertech valves and valve springs; custom individual throttle bodies; GReddy spark plug wire cover, fuel rail and oil cooler; custom HyTech exhaust and stainless manifold; custom TSR Fabrication fuel tank; Aeromotive fuel pump, filter and pressure regulator; Koyo radiator; McKinney Motorsports engine mounts
Drivetrain: Nissan Skyline RB25 5-speed manual transmission; OS Giken twin-plate clutch, flywheel and limited-slip differential; McKinney Motorsports driveshaft and transmission kit; custom Techno Toy Tuning CV axles and R200 rear-end conversion
Engine: Management AEM Infiniti ECU; Wiring Specialties RB engine harness
Suspension & Chassis: Techno Toy Tuning full suspension; custom GReddy chassis work and rollcage
Brakes: Techno Toy Tuning big brake upgrade with custom Fugu Z-etched calipers
Wheels & Tires: 17x9.5"/17x10.5" Volk Racing TE37V SL wheels; Nitto NT01 235/40ZR17 NT01 (front)/255/40ZR17 (rear) tires
Exterior: Rocket Bunny/Pandem body kit; custom Fugu Z rear emblem; new OEM trim pieces; Datsun Kilimanjaro White paint and body work by Signature Autobody
Interior: Carbon Signal carbon-fiber dash, door panels, center console and seats; GReddy floor panel; Takata Racing harnesses
(Main article photos: Bernooo; GReddy engine test fit: Rob Shaw)