Growing the Industry: 9 Hot Products From the 2017 Scheid Diesel Extravaganza
Whether you're looking to solve a problem, add some aesthetic appeal or build a bulletproof engine, the Scheid Diesel Extravaganza is the place to hunt down the parts you'll need. Every August, the products that drive the diesel industry forward debut here. In 2017, the Fleece Performance camp would win the "Wow Factor" award, with its all-new, forged-aluminum Cummins crankcase on display within the event's extensive manufacturer's midway. Other trick products included Flight Fabrication's well-crafted four-link front suspension for fourth-generation Rams, plug-and-play Allison transmission conversion components from Custom Automatic Conversions and a mock-up compound turbo arrangement for the '17 L5P Duramax, courtesy of Wehrli Custom Fabrication.
Over the weekend, we also got the full scoop on Wagler Competition Products' budget-friendly Duramax connecting rods, spotted a high-quality Cummins oil pan that doesn't cost an arm and a leg and took note of a new diesel clothing line geared specifically toward women. From T-shirts to hard parts and product debuts to coming technology, you'll find no shortage of variety in our final installment. We hope you enjoyed our coverage from this year's Scheid Diesel Extravaganza and we look forward to seeing you there in 2018!
1. BILLET-ALUMINUM CUMMINS BLOCK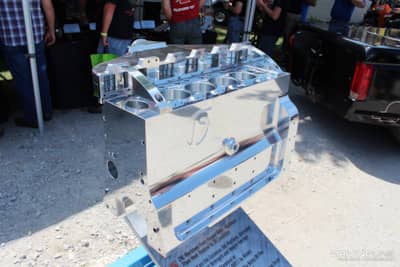 The 2017 Scheid Diesel Extravaganza presented the opportune time for the folks at Fleece Performance Engineering to thrust their new, forged-aluminum Cummins block into the limelight. CNC-machined from forged 6061 aluminum and then heat treated to T6 condition, utmost strength and weight savings are its biggest strongpoints. In fact, the competition crankcase is said to be capable of handling 3,000+ horsepower. The visually stunning block received eight hours' worth of polishing to remove all tool marks and establish the mirror finish you see here.
Competition-Provisions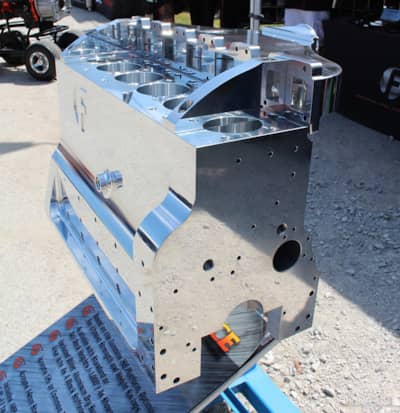 Additional upsides to the Fleece block include its ability to accept either a 12-valve or common-rail front timing cover, provisions to accommodate 14 mm standard length head studs and the inclusion of a billet-aluminum dry sump oil pan, which doubles as a block stiffener. Both standard and tall deck heights are available, ARP Top Fuel stepped main studs are included and cross-bolted billet-steel or aluminum main cap options exist. Blocks can be had in 4.125-inch or 4.250-inch bore, which when used in conjunction with a 6.7L Cummins crankshaft brings overall displacement to either 6.4L or 6.8L, respectively.
2. FISCALLY-RESPONSIBLE CONNECTING RODS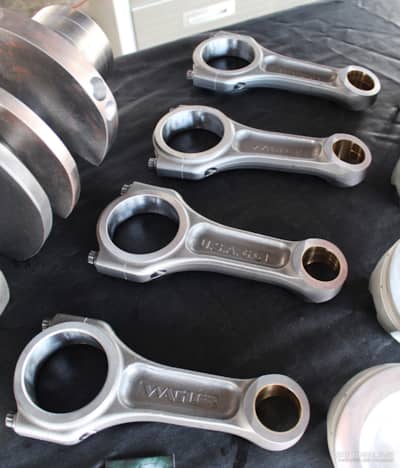 Up until Wagler Competition Products released its As-Forged connecting rods for the 6.6L Duramax, GM enthusiasts yearning for more power had no other choice but to fork over nearly $3,000 for a set or roll the dice on the stockers. Priced at a wallet-friendly $1,700, Wagler's forged-steel rods are shot-peened to reduce stress risers and can support up to 1,000 hp. They are also machined to accept factory pistons, fit standard crank journals, come with 7/16-inch ARP rod bolts and each set is balanced to within +/- 6 grams.
3. HIGH-FLOW 12-VALVE HEAD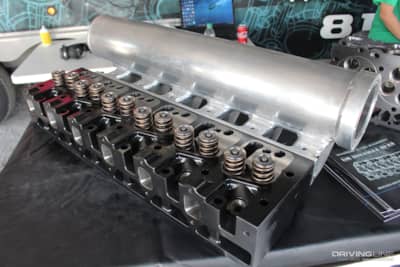 On the competition-only front (namely truck pullers), Wagler Competition Products' solid ductile iron, high-flow 12-valve cylinder head was available for all to see. Although it shares the same port design as the company's billet ductile iron head, it begins life as a casting — which makes it legal for use in both Pro Stock and Limited Pro Stock truck classes. Wagler's high-flow head retails for $8,000 and is shown here with one of its side draft intake manifolds attached.
4. 7.3L + A1000 = THE ULTIMATE WORKHORSE COMBO?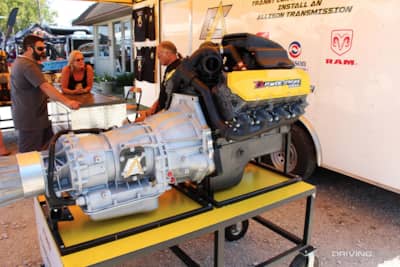 Stacking reliability on top of durability, check out this 7.3L Power Stroke/Allison 1000 combination. While the folks at Custom Automatic Conversions are best known for offering the parts that allow you to bolt an A1000 behind any B series Cummins, they recently began supporting the Power Stroke segment. In the future, look for the company to potentially offer custom adaptors, flex plates and wiring harnesses to mate the venerable five- or six-speed Allison to the Power Stroke mill of your choice.
5. FOURTH-GEN 4-LINK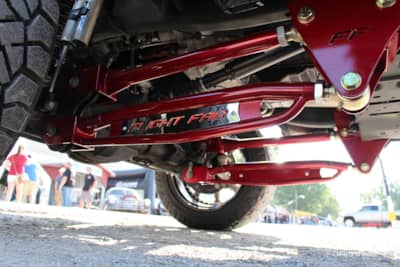 From the same minds that brought innovative, LED-backlit traction bars to the diesel market, Flight Fabrications has released a four-link front suspension system for fourth generation Rams ('10+). Thanks to the system's ability to maintain positive caster throughout the suspension's full range of travel, the steering wander and bump steer associated with the factory radius arm front suspension is eliminated. The result is a firm and confident feel when traversing off-camber terrain or rough roads.
Supreme Strength & High Visibility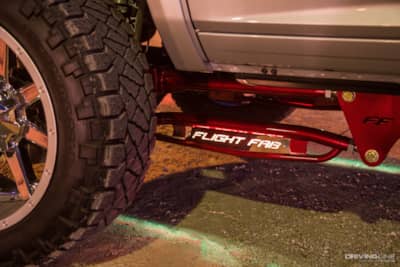 For uncompromising strength, the Flight Fabrications four-link is precision TIG-welded. For a simple install, the system is 100 percent bolt-on and comes with Grade 8 hardware. Last but not least, the system's adjustability makes it possible to accommodate various lift heights, as well as fine-tune the degree of caster that best suits your needs. Here you can see what the product looks like at night, with the company nameplate lit up via LED's.
6. L5P COMPOUNDS COMING SOON…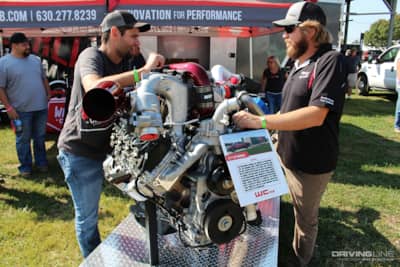 Thanks to an all-new, heat-treated block, stronger connecting rods, higher-flowing heads and a promising Denso common-rail injection system, the L5P Duramax found in '17 and newer Chevy Silverado and GMC Sierra's has power-hungry enthusiasts chomping at the bit. And even though aftermarket calibrators have yet to infiltrate GM's new ECM (i.e. tuning), it hasn't stopped industry visionaries from preparing for the future.
One company that will be ready to help customers match extra fueling with increased airflow is Wehrli Custom Fabrication. Revered for the high quality and superb fit and finish found on its compound turbocharger systems, the company had a prototype arrangement, complete with an S400-based BorgWarner unit feeding the factory turbo, fitted to an L5P engine at the Extravaganza.
7. OEM QUALITY, BETTER FUNCTIONALITY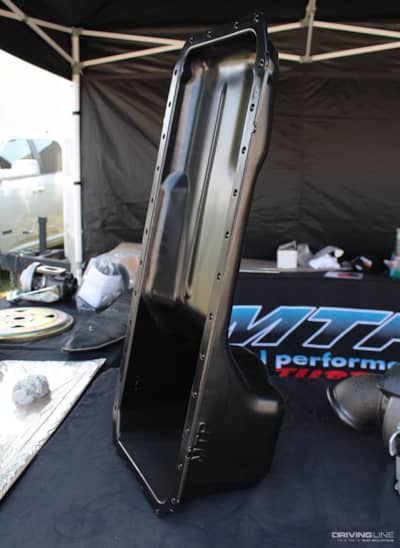 Midwest Truck Products' new oil pan for '03-'12 5.9L and 6.7L Cummins engines is ideal for anyone performing an oil pan replacement or an overhaul. The stamped steel pan offers OEM longevity and better-than-factory functionality in terms of draining (four drain holes are present in the nut). A heavy-duty lip is also utilized for a tighter seal against the block. Midwest's oil pan starts at $138 and is currently available with or without the appropriate gaskets (oil sump and pan) and bolts.
8. FREE TRUCK PARTS?!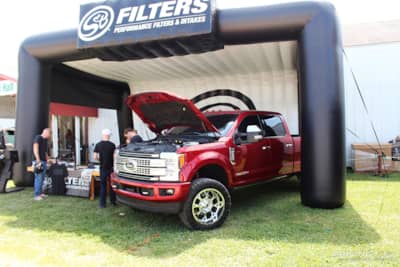 What would you do for a free cold air intake? As it turns out, all Jason Bannon had to do was park his '17 F-350 in the S&B Filters booth for the weekend. The trade seemed fair to us: S&B got to showcase its latest intake system for the new 6.7L Power Stroke and a lucky owner received a 54 percent increase in airflow.
Less Restriction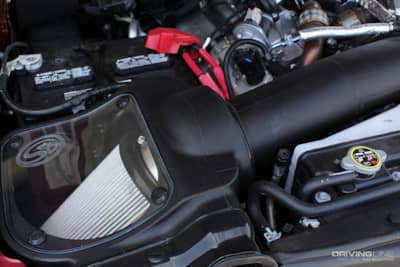 So what sets S&B Filter's intake for the '17 Power Stroke apart from the competition? For a smoother routing of air toward the turbo, the S&B kit swaps the location of the airbox with the passenger side battery — and it even comes with a new battery tray. The airbox is also equipped with a sizeable secondary air inlet (which comes with an optional plug).
9. DIESEL DRIVEN: APPAREL FOR WOMEN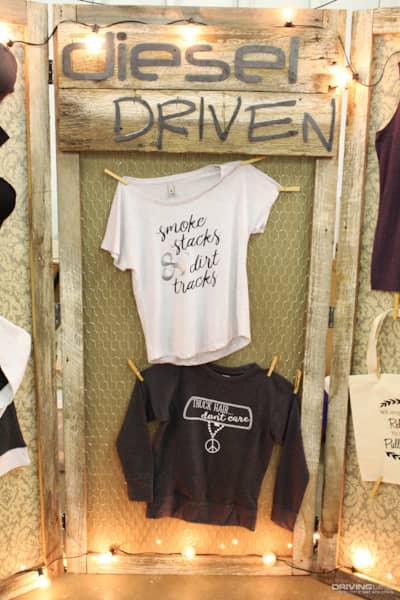 Although it's fun to elaborate on all the cutting edge hard parts, suspension systems and power adders on display at the Scheid Diesel Extravaganza, the simple truth about diesel events is that T-shirt sales trump everything else. Armed with this knowledge — not to mention there is a serious lack of women's wear in the diesel realm — Diesel Driven Designs was born. Despite the Scheid event being their very first show, it was nothing short of a successful weekend for the recent apparel upstart. The free koozies didn't hurt matters, either…